On my journey of exploring the hotdish, I have decided to try and construct a complete tater tot hotdish from scratch. Thus far, I have provided a recipe for tater tots and now we are going to work on a cream of mushroom soup. Sure, you can open a can of Campbell's premade condensed cream of mushroom soup and dump it in the casserole dish, but that is not how I roll. If you want to learn how to make a good tasting creamed mushroom soup that we can use in a from scratch tater tot hotdish, stick with me. Go Straight to Recipe.
Ok, We Really Aren't Going to Make Soup
If you look at the recipes for most hotdishes, they call for condensed cream of something soup. We really don't want soup, but condensed soup. Really, we are going to be constructing a gravy appropriate for a hotdish that could easily be turned into soup.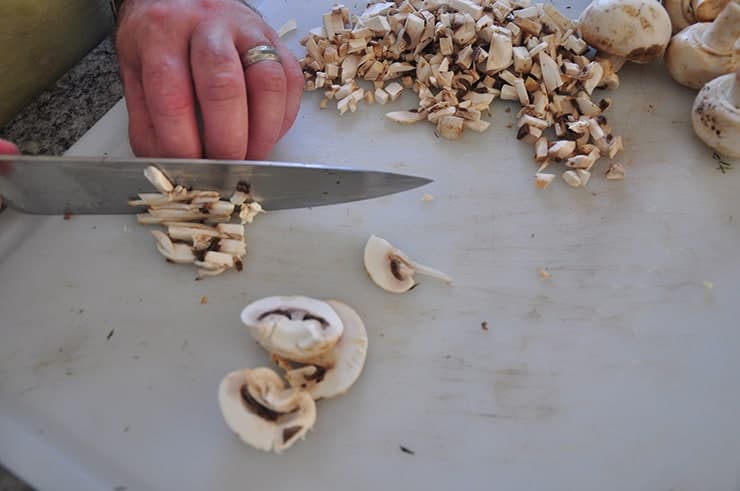 The Sensitive Topic of Mushrooms In Our Household
I get it. Some people hate mushrooms. I think they are crazy. I guess my wife might fall into this category, as she does not like mushrooms. Her relationship with mushrooms is a bit more complicated than it first appears, though. You see, she is not a fan of hunks of raw mushrooms or a plate of cooked mushrooms. We do, however, put mushrooms into things and I can use them if they are chopped small enough to make it difficult to even notice. Even this cream of mushroom soup is acceptable to her and she thinks it tastes great! On my first run, I blended my mushrooms with a little water to totally emulsify it, but I didn't really like that version as much as the current. If it were just me, I might have just cut up the mushrooms roughly instead of dicing them, but it turned out really good with the diced shrooms.
Not Going To Over Complicate This Cream Of Mushroom Soup
Look, this is mushroom soup. The other major ingredient is also in the title. Cream. Yes, there are a few other ingredients, but really this comes down to a simple roux with mushroom flavors. We are going to get the mushroom flavors by allowing butter to cook with diced mushrooms and then constructing the soup from that.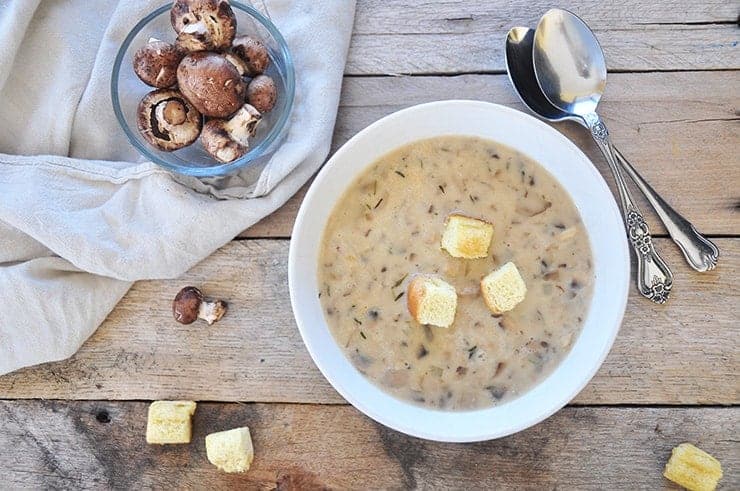 Condensed Cream of Mushroom Soup Recipe
Ingredients
4 tablespoons butter

8 ounces diced mushrooms

1 Tablespoon minced onions

1 Clove minced garlic

¼ cup Flour

1 Cup Vegetable stock

1 Cup Whole Milk

1/2 Tablespoon Salt

1 Tablespoon Fresh Thyme (optional)

OPTIONAL FOR NON-CONDENSED SOUP:

1 cup Additional Vegetable stock

1 Cup Additional whole Milk
Instructions
1
Heat medium saucepan and add butter, mushrooms, thyme, onions, and garlic
2
Let butter melt and lightly cook the ingredients while stirring
3
Once the butter is melted, slowly add flour to pan. The butter should turn into almost a paste. Continue stirring to make sure nothing is burning.
4
Slowly add one cup of milk while stirring. We want the paste to incorporate with the milk so it becomes a consistent fluid.
5
Turn up the heat to medium-high and continue stirring until sauce thickens to a gravy consistency.
6
Add 1 cup of vegetable stock and continue to stir until everything incorporates evenly and bring to a boil.
7
If making non-condensed soup, add remaining vegetable stock and milk.
8
Lower heat and simmer 15 minutes being mindful to stir so it doesn't scorch on the bottom