Today we are making a sweet Holiday cookie, Kringler. This traditional Scandinavian treat is light, crumbly, and is a great Christmas cookie. Baked in the shape of an infinity sign and they are great with a cup of coffee or just on their own as a sweet holiday treat. Give this beautiful and historic recipe a look, learn a bit about its origin, and bake these delicious Scandinavian Kringler.
Kringler Summary
Kringler means 'Pretzel' in Danish and this cookie has a history tied with pretzels. Catholic monks brought pretzels to Norway many years ago and there are a few different versions of the Kringler recipe. While this cookie recipe shares a history with pretzels, it has evolved into the sweet treat we are making today.
There are other Kringle, Kringla, or Kringler recipes that have evolved into different things and this is one of the variations that we enjoy in America. It is an easy recipe to make and is done in under an hour.
This has many of the ingredients we see in cookies, but we make this with sour cream. Use a homemade sour cream recipe for the best results, but store-bought is fine, as well. This recipe is as simple as mixing the ingredients together, shaping them into our figure-eight or infinity symbol, and then baking them. Then, after just a bit of time in the oven, we remove and sprinkle with sugar. A little bit of a rest on wire rack and they are ready to go.
Recipe Inspiration
This particular recipe was inspired by an old cookbook I found in a 1924 book named Cook Book of Popular Norse Recipes under a recipe named "Flad Kringler", which literally translates to Flat Pretzel.
I used that recipe and both expanded the instructions and changed the recipe to make it the tasty cookie it deserves to be. If you aren't accustomed to really old cookbooks, they tend to be very brief and sometimes hard to follow.
The spirit of these recipes, however, are fun to explore. I love updating heritage recipes to a more modern recipe that still embraces heritage and culture. Finding recipes like this inspire me to bake and cook more.
Obviously, Christmas is an inspiration for this recipe, as well. If you like Christmas cookies, make sure to check out our Krumkaka recipe and our delicious Soft Ginger Cookie.
Other Kringler Recipes
There are many other variations of this recipe that share the name Kringler (plural), Kringla(singular), or Kringle(variation of singular). In Wisconsin, you will find a popular version of Kringler that is more like a filled pastry that is a circle. Almost like a puff pastry cake.
More traditionally, you will see kringler that are risen dough and cooked like a pretzel. Sometimes they share the shape of our infinity sign. Other times, you fill find them holding a more traditional pretzel shape. The word literally means pretzel, so should it be surprising that sometimes it is actually a pretzel?
OK, so not all Kringler recipes are not the same. This does not detract from the traditions, heritage, and flavors that we each love about our Kringler. The recipe I am exploring today is one version and I think it is super tasty.
Sour Cream In This Recipe
One thing that is notable and interesting about this recipe is the use of sour cream. You can use store-bought, but I highly recommend using our homemade Sour Cream recipe in making this dish. It is really easy to make although you do have to start the night before in order to make this work.
Mixing the Dough
With the exception of a bit of sugar for topping at the end, this recipe really is as simple as adding all of the ingredients and letting the mixer doing the work. Who doesn't love an easy and simple cookie recipe?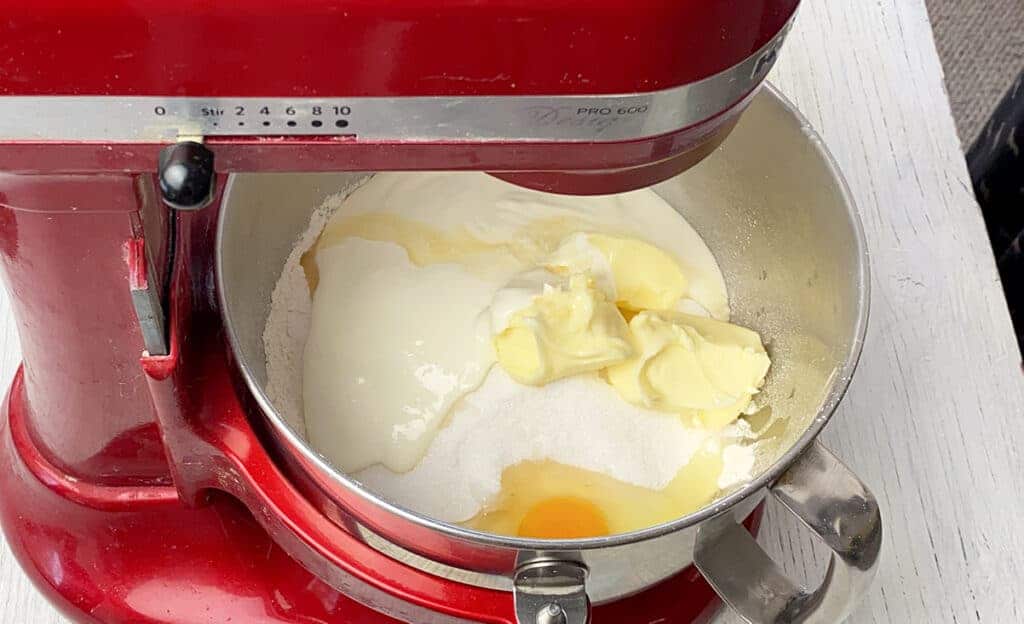 Rolling Out Kringler
Once you have mixed, now comes the rolling of the dough. To get an accurate cookie count, I get out my trusty scale to measure the entirety of my dough. Divide that by 24 and there you have the weight of each cookie.
Form each individual cookie into a ball. Then, on a cutting board, roll it out to be about 12 inches. It should be a uniform rope at this point. Connect the ends and push them together a bit. Then, twist in the middle to make a figure eight where the middle cross covers where you connected the ends. Check out the video or process pictures if this does not make sense to you.
Infinity Symbol or The Number Eight?
I have no idea, but I prefer to tie my cookies to infinity. Why? Cookies represent love and love is infinity. Ok, that is a bunch of hooey, but I stand beside it. Right up until the time that I devour infinity. Call it whatever you want.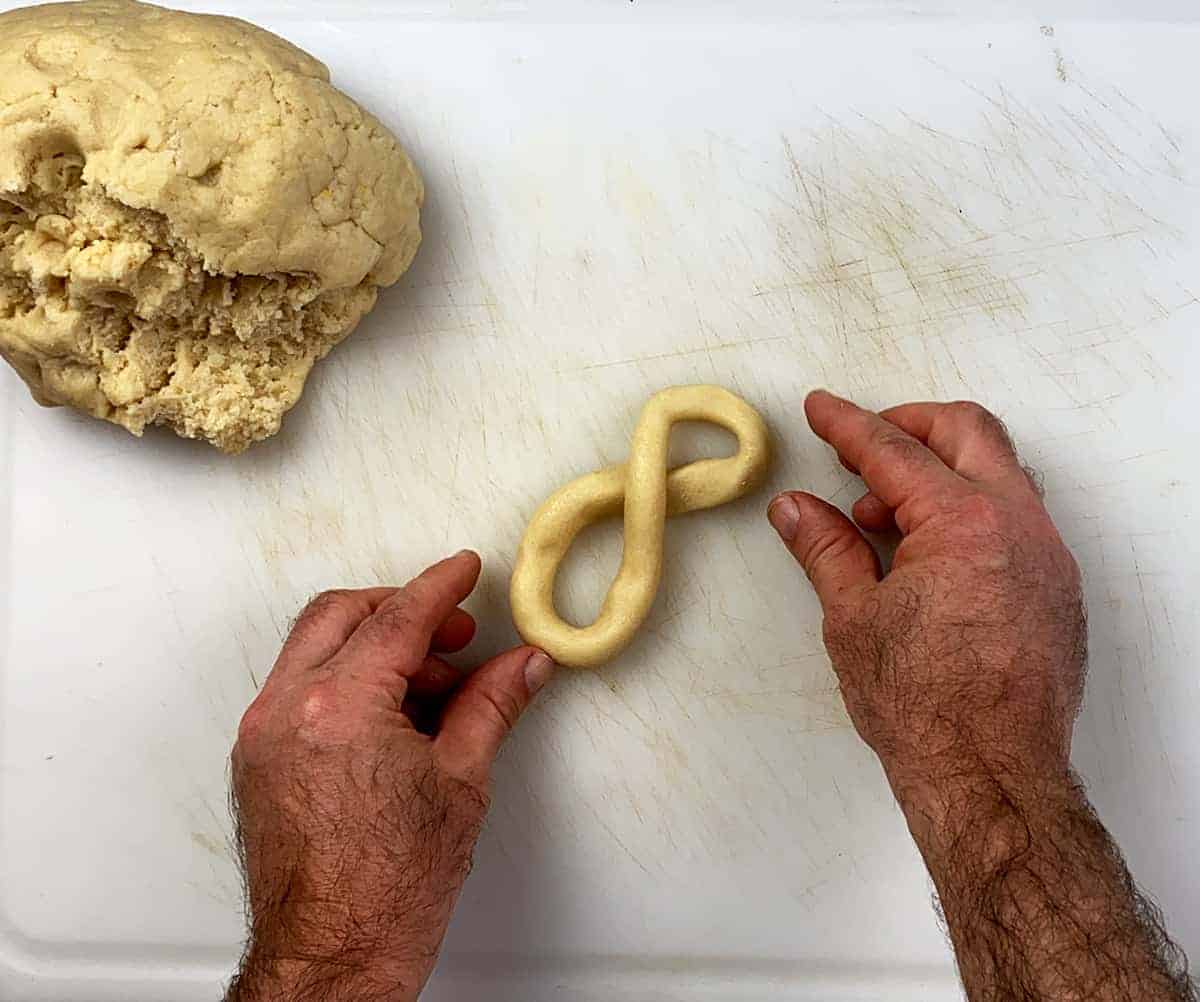 Cookie Sheet For this Recipe
The sheet I normally use for this is a typical 9x13 cookie sheet (Affiliate Link). Since this makes 24 cookies and I recommend using the center rack, you will either need to spend a bit of time between each sheet or use multiple cookie sheets.
I have two 9x13 cookie sheets, so that is what I use. The last batch of cookies end up on the same sheet as the first. As much as I would love to have unlimited equipment and supplies, I am but a mere food blogger. Two 9x13 cookie sheets it is, for me. If you have three cookie sheets, use them.
Watch For a Very Light Golden Brown
I have the timing set for 12 minutes on these cookies when they are in the center rack. You will want to watch for excess browning. This should appear to be a light colored cookie with just a kiss of golden brown. Bake these cookies for 12 minutes or until a very light golden color starts to appear on top.
A Sprinkle of Sugar
When you remove your cookies from the oven, give them a light dusting of sugar. The cookies are hot enough and moist enough that some of the sugar will stick to the cooking. This sprinkle of sugar adds a tad of sweetness and a nice texture to the top of your cookies.
Allow Your Cookies To Cool
When your cookies are removed from the oven, they will be too soft to handle. Let them sit for a few minutes. Once they are solid enough to place a spatula under, move them to a wire rack for cooling. Give them at least thirty minutes of cooling before you remove them or try and sample the goodies.
A Little Kringler History
We already stated that this cookie is tied to pretzels. In fact, the name translates to pretzel in Danish, but it doesn't look like any pretzel we find in the store, does it? This cookie found its way to Norway via Roman Catholic Monks, who often had skills such as making wine or baking bread. A traditional pretzel is bread, so it is right up a Monk's line of work.
How our version of Kringler became to be, I am not quite sure, but it does have a few things in common with a traditional pretzel. First, it is a flour-based item, much like a pretzel. Second, it has a shape.
The shape is not that of a traditional pretzel, but of an infinity sign. Who knows why they started making it in this manner, but this is a common version of the recipe.
Today, in a America, you will find many different versions of Kringler. You might find the more traditional Pretzel version that is risen like a bread. You may find versions that are more like a pastry. One that is very popular in our region is what I am serving today, a cookie.
I am not sure why these different versions formed, but the world is a big place and Norwegians emigrated all over the world and United States. There was plenty of time and place to make slightly different versions of the same recipe.
Origin of My Specific Recipe
I am including both the link and image to the recipe that inspired me. My recipe comes from a 1924 cookbook named Cook Book of Popular Norse Recipes.

As you can tell, they are not very specific about instructions and this was commonplace. I suppose they just did not feel that clear instructions were important.
One interesting thing in this cookbook is that even they have different versions of Kringler. They include two other recipes that involve a yeast rise. Even in this one cookbook, it shows a variety of Kringler recipes.
Tips for Making This Recipe
Cook each pan one at a time on the center rack.
If you don't have 3 9x13 cookie sheets, just use the 1st pan twice.
Save some sugar to sprinkle on the top immediately after removing from oven.
These cookies go marvelously with coffee.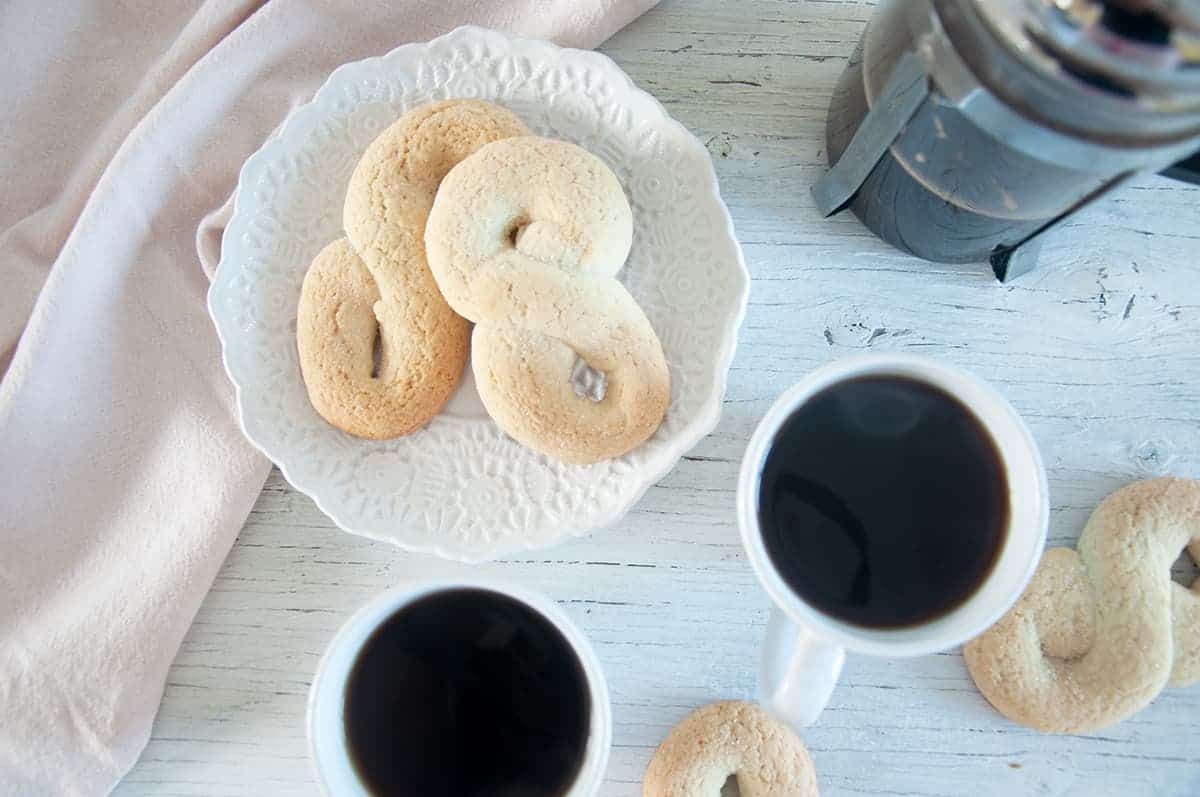 Products I Used In this Recipe
Did you Try our Kringler?
I am so happy you have it a try! Tell me how it went in the comments section below and leave a rating. That gives me a heads up on how it went for you and also for future visitors. If you really liked it, make sure to share it with your friends and family on Facebook or Pinterest. Most of all, I really appreciate you visiting Ramshackle Pantry and I hope you stop back to try some other recipes!
Print
📖 Recipe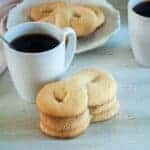 Kringler Cookies Recipe
Author:

Ben Myhre

Prep Time:

15 minutes

Cook Time:

40 minutes

Total Time:

55 minutes

Yield:

24

cookies

1

x

Category:

Dessert

Method:

Bake

Cuisine:

Scandinavian
---
Description
These sweet Scandinavian Kringler are tasty, delicious, and a beautiful Christmas treat. Easy to make and great with a cup of coffee, or on their own. Give this sweet treat a try today.
---
4 Cups

All-Purpose Flour

¾ cup

butter, softened

1 ½ cups

sugar + extra sugar to top once out of the oven

1 ½ teaspoon

baking soda

1 cup

sour cream (optionally, homemade)

½ teaspoon

vanilla extract

1 teaspoon

almond extract

½ teaspoon

salt

1

egg
---
Instructions
Preheat oven to 400 Fahrenheit.
Mix all ingredients, minus extra sugar for topping at the end.
Beat in a stand mixer for a minute or knead for about three minutes.
Divide dough into 24 equal parts and form into ball.
Roll a ball into about a 12-inch rope that is of equal thickness.
Form into circle and twist into 8 or infinity sign.
Place onto lightly oiled cookie sheet.
Repeat for all cookies and leave room for each cookies. This requires three cookie sheets.
Cook on center rack for 12 minutes OR until a very light golden brown on top.
Remove from oven and lightly sprinkle with sugar.
Allow to cool for a few minutes and then move to a wire rack for cooling for about 30 minutes.
Serve
Notes
Cook each pan one at a time on the center rack.
If you don't have 3 9x13 cookie sheets, just use the 1st pan twice.
Save some sugar to sprinkle on the top immediately after removing from oven.
These cookies go marvelously with coffee.
---
Nutrition
Serving Size:

1 Cookie

Calories:

126 Calories

Sugar:

14 g

Sodium:

117 mg

Fat:

8 g

Saturated Fat:

5 g

Unsaturated Fat:

3 g

Carbohydrates:

14 g

Fiber:

0 g

Protein:

1 g

Cholesterol:

23 mg