This post may contain affiliate links. As an Amazon Associate I earn from qualifying purchases. Please read our disclosure policy.
Today, we are making our traditional Swedish Pancakes Recipe and I am sure you are going to fall in love with them. They are called Pannkakor in Swedish, but I just call them delicious. A bit different than your typical pancakes, it is a great way to mix up your typical breakfast fare into something that tastes great and is still easy to make. Give our Swedish Pancakes recipe a try!
Swedish Pancakes Recipe Summary
There is something about a heritage recipe that really makes me happy, and this Pannkakor recipe is no exception. Recipes that have been passed down generation to generation have passed the rigors of time and taste. That is, people have been liking these pancakes for generations and I feel there is something really special about that.
Along with being a super tasty dish, they are easy to make. It is fairly similar to an American pancake, but closer to a crepe. The bulk of this recipe is mixing the batter and there really is not much to it. Butter, eggs, flour, milk, a bit of sugar, and a pinch of salt all mix together to make up this batter. Once thoroughly mixed into a smooth batter, we cook them.
Then, the final part, that really separates this recipe from a crepe is the toppings. We top ours with lingonberry jam, a bit of whipped cream, and a little powdered sugar. There are many different possibilities with toppings, but lingonberry jam is a very traditional way to serve this Swedish breakfast classic.
Mixing the Batter
This is really a simple batter, but there are a few things you can watch out for to make sure you are making the best Swedish Pancakes possible. The enemy of our pancakes are lumps, so the first thing you can do is to just make sure you are whisking your batter well and until you know that it is a smooth batter.
Also, I add only half of the flour to the liquid at a time. This allows me to well incorporate the solids into our wet ingredients and help make sure our batter is thoroughly mixed into smooth perfection. When I add the second half of my flour, it already is smooth, so I just don't have as much to try and incorporate.
We also add melted butter into our batter and you want to ensure that the butter is not too hot. I melt my butter in the pan I am cooking our Pannkakor and set it to low heat. As soon as the butter is melted, I move it to the batter. I don't want the butter to be bubbling or piping hot. The issue is that the butter can interact with the batter and cause it to cook when it hits the batter, making lumps. Add melted butter, but just make sure it is warm butter, not really hot butter.
Cooking The Swedish Pancakes
These pancakes and the batter are a bit delicate, so they must be handled with a bit of care. I recommend using a non-stick frypan that has a flat bottom. I use a 7" Swiss Diamond fry pan [AFFILIATE LINK] for these and it works great. It is an expensive brand, but the quality is definitely there. These are my favorite pans, by far.
To keep the timing on and keep my rhythm in place, I follow certain steps in making Swiss Pancakes. Here they are:
Put ¼ cup of the batter into a pourable 1 cup container.
I pour the batter into the very center of the pan that has been adequately heated to medium-high and do not disturb the pan. Some folks spread the batter around the pan, but I don't feel this is needed.
I start the timer on my phone and let it go for about 45 seconds.
During this time, I load my pourable cup back with ¼ cup of batter in preparation for the next pancake.
At 45 seconds, I carefully flip the pancake.
Allow to cook for about another 10-15 seconds.
Remove and start process over.
For me, it seems like the first pancake or two are always the worst ones, but you can help stop this by making sure your pan is fully heated.
Difference between Swedish Pancakes and American Pancakes.
The biggest difference between a Swedish Pancake and an American Pancake is the absence of a leavening agent. For a typical American pancake, an ingredient like baking powder is added that helps make a thicker, fluffy pancake. This helps it rise.
For Swedish pancakes, there is no leavening agent and the result is a flatter, almost crepe-like consistency for our pancakes. The batter for our Swedish Pancakes also is quite a bit lighter than when I make traditional American Pancakes.
Difference between Swedish Pancakes and French Crepes
There might be some slight batter differences, but the big difference is that crepes are much thinner. With our Swedish Pancakes, we need to flip them to finish. When making crepes, you may not even need to flip, although some recipes do call for that.
With crepes, there is a special tool for spreading the batter to make it very thin. For our pancakes, we just let gravity do the work.
Toppings
Part of what makes Swedish Pancakes unique can include the toppings. For this recipe, I use a lingonberry jam. If you don't have lingonberry jam or don't want to buy it, any kind of jelly or jam should work good with this. I have also eaten this with strawberry jelly and it tasted great. I also add whipped cream and powdered sugar to my recipe and this all works together to make for a really nice sweet breakfast.
While I advocate for Lingonberry jam in this recipe, you can really change it up. These pancakes are often served as a side for pea soup. Most Americans associate this pancake with breakfast and sweet flavors rather than savory.
Of course, serve it with whatever you like best. We know one common usage in Sweden is to serve Pannkakor with a Pea Soup, but eat it the way you want! I prefer fruits and this as a beautiful breakfast.
Tips for Making Swedish Pancakes
When melting butter, do not allow the butter to get too hot.
Make sure to allow your pan to heat up!
Use a great non-stick pan. I use a 7 Swiss Diamond pan.
These are delicate, so be gentle when flipping.
Know your stovetop. When I say medium-high, it is sitting at 6/9 on my dial.
If you don't have Lingonberry jam, any jam or jelly works great!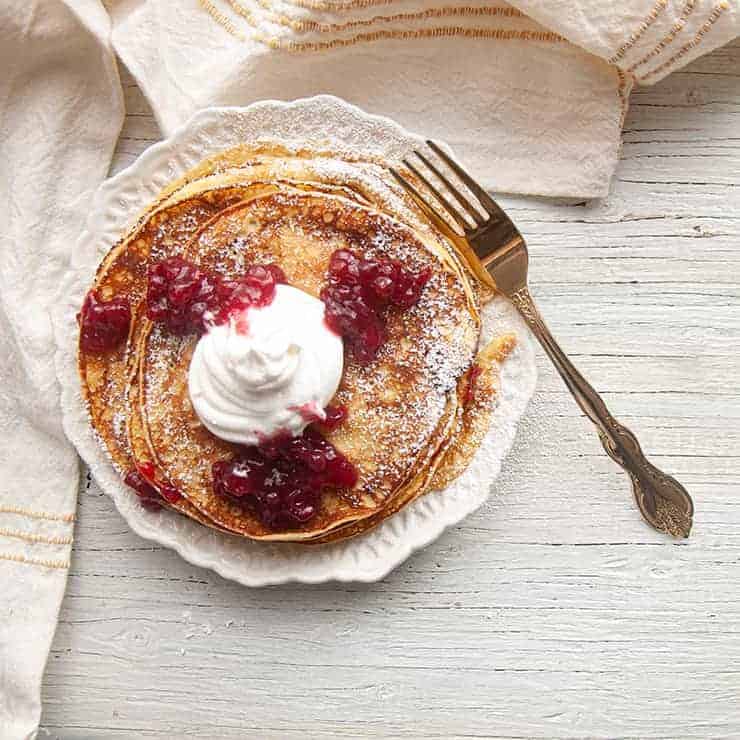 Products I used in this recipe
Did you Make These Pancakes?
ooo… I hope you loved them as much as I do! Let me know how it went or let me know your family traditions with these Swedish Pancakes. If you could share this recipe on your Facebook or Pinterest, it would be really helpful and I would be very grateful. If you would like to get updates in your email box, make sure to sign up to get those emails from the link on this page.
Print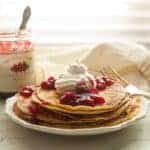 Swedish Pancakes Recipe – Pannkakor
Author:

Ben Myhre

Prep Time:

10 minutes

Cook Time:

20 minutes

Total Time:

30 minutes

Yield:

10

pancakes

1

x

Category:

Breakfast

Method:

Pan

Cuisine:

Swedish
---
Description
This Classic Swedish Pancake Recipe is a heritage recipe at it's finest. So tasty and an easy Scandinavian recipe that can be enjoyed by anyone. If you want to make it extra tasty, try adding some Lingonberry Jam, powdered sugar, and whipped cream!
---
4

eggs

1 cup

milk

½ cup

flour

1 tablespoons

sugar
Pinch salt

4 tablespoons

salted butter
---
Instructions
Whisk all ingredients, except butter, together until smooth
Turn non-stick pan on low and melt butter.
Once melted, whisk melted butter into batter.
Using same pan, turn heat up to medium-high and allow to warm up.
Pour ¼ cup of batter into pan and allow to cook for approximately 45 seconds
Flip and cook for another 10-15 seconds.
Remove from heat and repeat until all batter is gone.
Serve with lingonberry jam (or whatever you have), whipped cream, and powdered sugar
---
Notes
When melting butter, do not allow the butter to get too hot.
Make sure to allow your pan to heat up!
Use a great non-stick pan. I use a 7 Swiss Diamond pan.
These are delicate, so be gentle when flipping.
Know your stovetop. When I say medium-high, it is sitting at 6/9 on my dial.
If you don't have Lingonberry jam, any jam or jelly works great!
---
Nutrition
Serving Size:

5 cakes

Calories:

537

Sugar:

12 g

Sodium:

403 mg

Fat:

34 g

Saturated Fat:

18 g

Unsaturated Fat:

7 g

Trans Fat:

0 g

Carbohydrates:

36 g

Fiber:

1 g

Protein:

19 g

Cholesterol:

430 mg
Keywords: Swedish Pancakes Recipe