This Grilled Sweet Potato Fries with Sriracha Maple Dipping Sauce is going to be the talk of your next cookout. Sometimes I like to say that wrapping anything in bacon just makes it better, but this recipe brings it a step further. All of the pieces of this delicious grilled dish complement each other so well. The bacon-wrapped fries are awesome and the Sriracha Maple dipping sauce is out of this world. Join me and learn how to make this tasty grilled dish that will have your next backyard grill guests cooing with delight.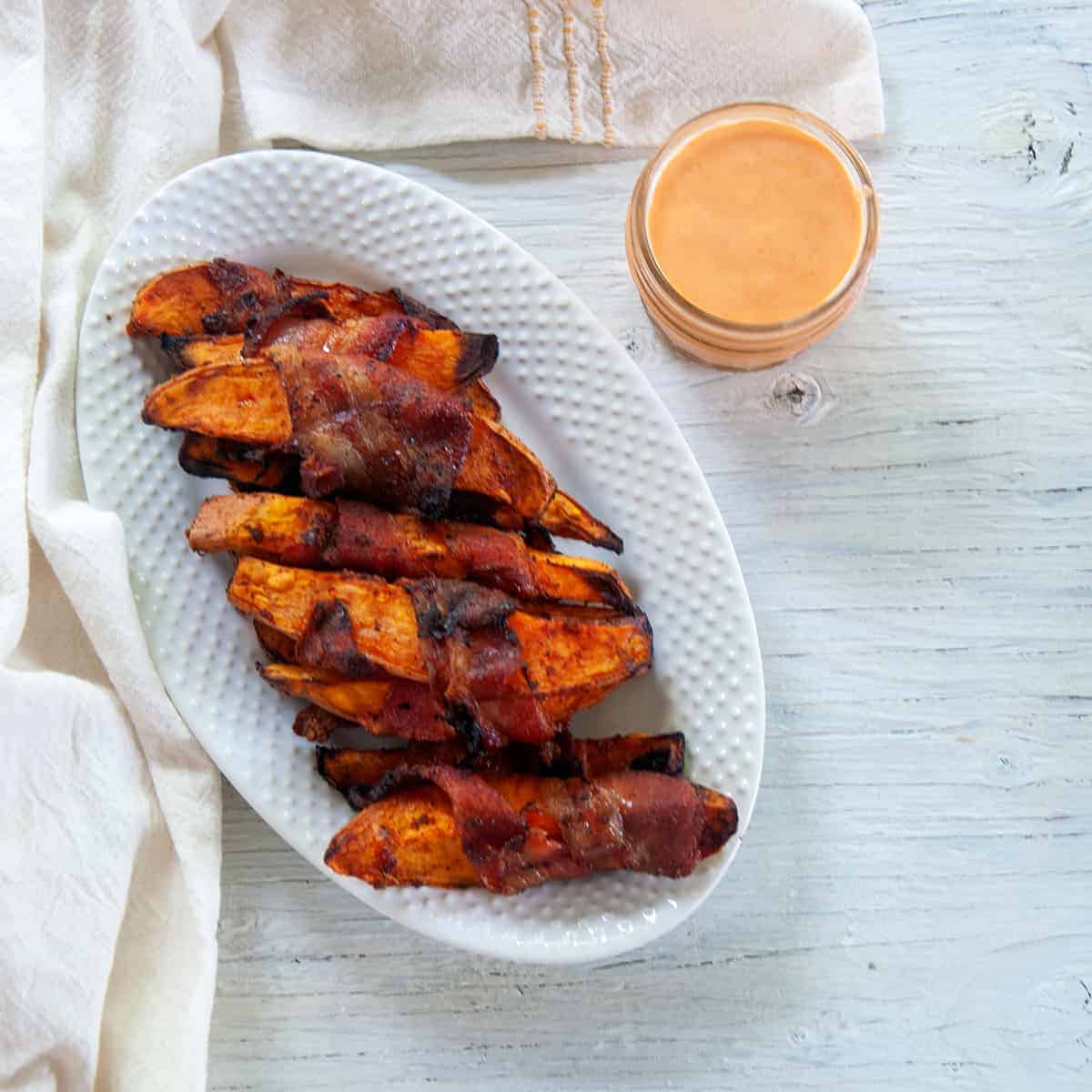 Bacon-Wrapped Grilled Sweet Potato Fries Summary
This is an easy recipe, so anybody here with a grill should be able to throw this one together. To make this, we take our sweet potatoes and cut them into bite-sized fry wedges. Toss them in a bit of oil and then wrap them in bacon. Then, we grill them over indirect heat until done, but we still have the sauce.
The sauce is delicious, so you are going to want to remember it for other dishes, as well. It is that good and so easy to make. It is as simple as mixing mayo, maple syrup, and Sriracha together. Yup, that is it. The ratios are listed in the recipe below, but really, you could change that up a bit, as well.
Preparing The Fries
Once the sweet potato fries on the grill, it is merely a waiting game. Most of the work happens before they hit the grill and I am going to walk you through some of the obstacles I encountered during the development of this recipe and things I was thinking about.
Sweet Potato Size Matters
I call for two medium sweet potatoes, but if you have ever shopped for them, you know that they come in a large variety of sizes. Shapes and sizes of sweet potatoes tend to be wonkey and you can have an enormous sweet potato right next to a small one.
For this recipe, finding the ones that are medium-sized and have a fairly consistent shape is important. Yes, you can make any sweet potato work, but you will have to adapt the rest of the recipe to work with inconsistency.
Usually, when dealing with fries, we want some consistency. If we don't have fries that are consistent, it can impact cook time and the amount of bacon needed to cut the fries. Finding medium-sized sweet potatoes that are fairly uniform in shape will just make your grilling adventure a bit smoother.
Cutting the Sweet Potatoes
To cut these sweet potatoes in perfect grilling wedge size and the right size for bacon takes a little planning. We do not want our wedges to be too big, so if you chose really big sweet potatoes, you are going to have to go with the flow and adapt on this one, as these instructions are for 2 medium-sized sweet potatoes.
Cut them in half, length-wise. Then, once you have them cut length-wise, lay the flat side down on your cutting board. You should be able to make half-inch slices, length-wise again, to form some perfect sweet potato fries. Because nature isn't perfect, neither will your wedges. That is ok.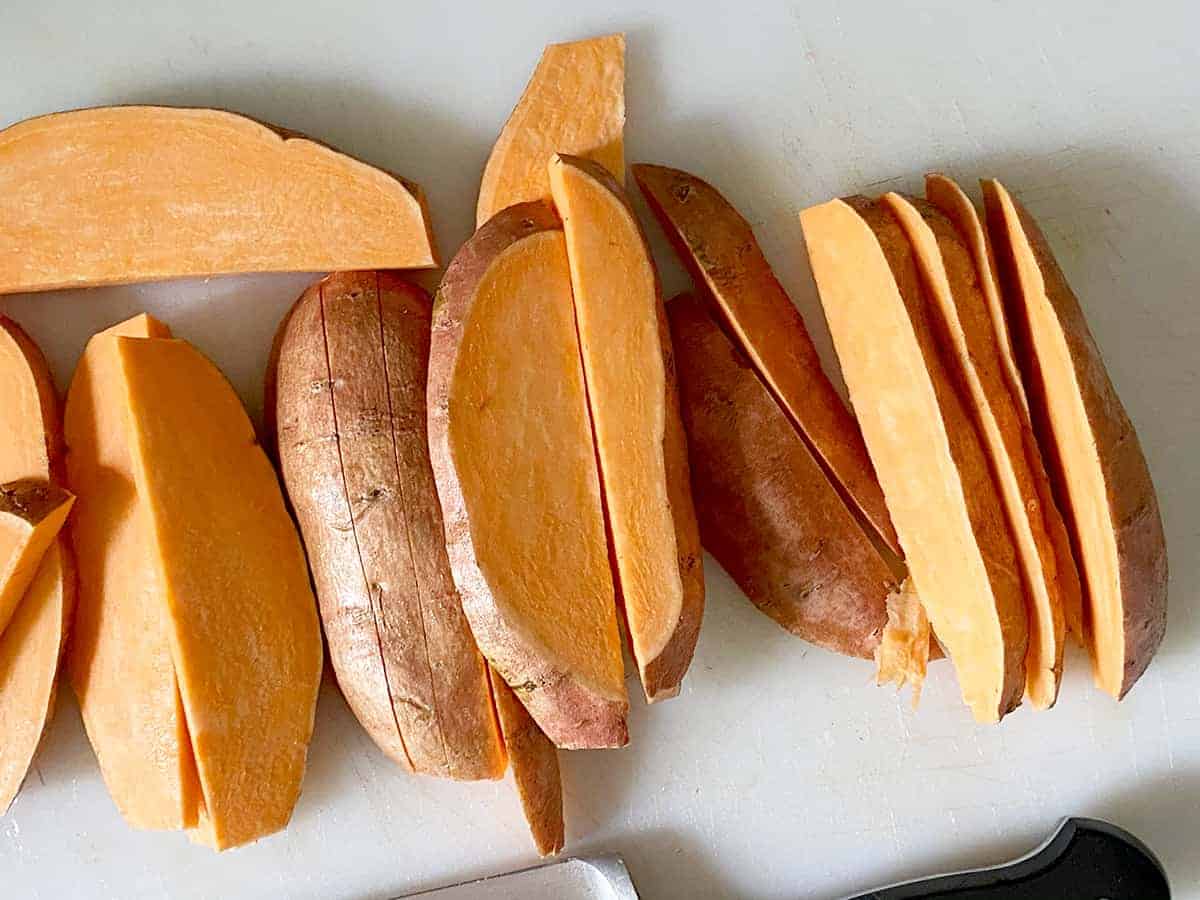 Tossing Fries in Oil
I give the wedges a nice coating of oil. This serves two purposes. First, oil helps the seasoning stick to the fries. Second, it provides a nice layer of fat around the fries and helps prevent charring and burning.
Wrapping Fries in Bacon
This step is pretty straightforward, but I did encounter an issue worth mentioning. Not all fries are the same and neither is all bacon. If your sweet potato fries are of a normal size, this should not impact your experience, but if your fries are very big, it could.
I portion out the bacon so that ½ slice of normal-sized bacon should be enough for one sweet potato fry. If you have a particularly large fry, consider using either a full slice of bacon or cutting the fry down into two pieces.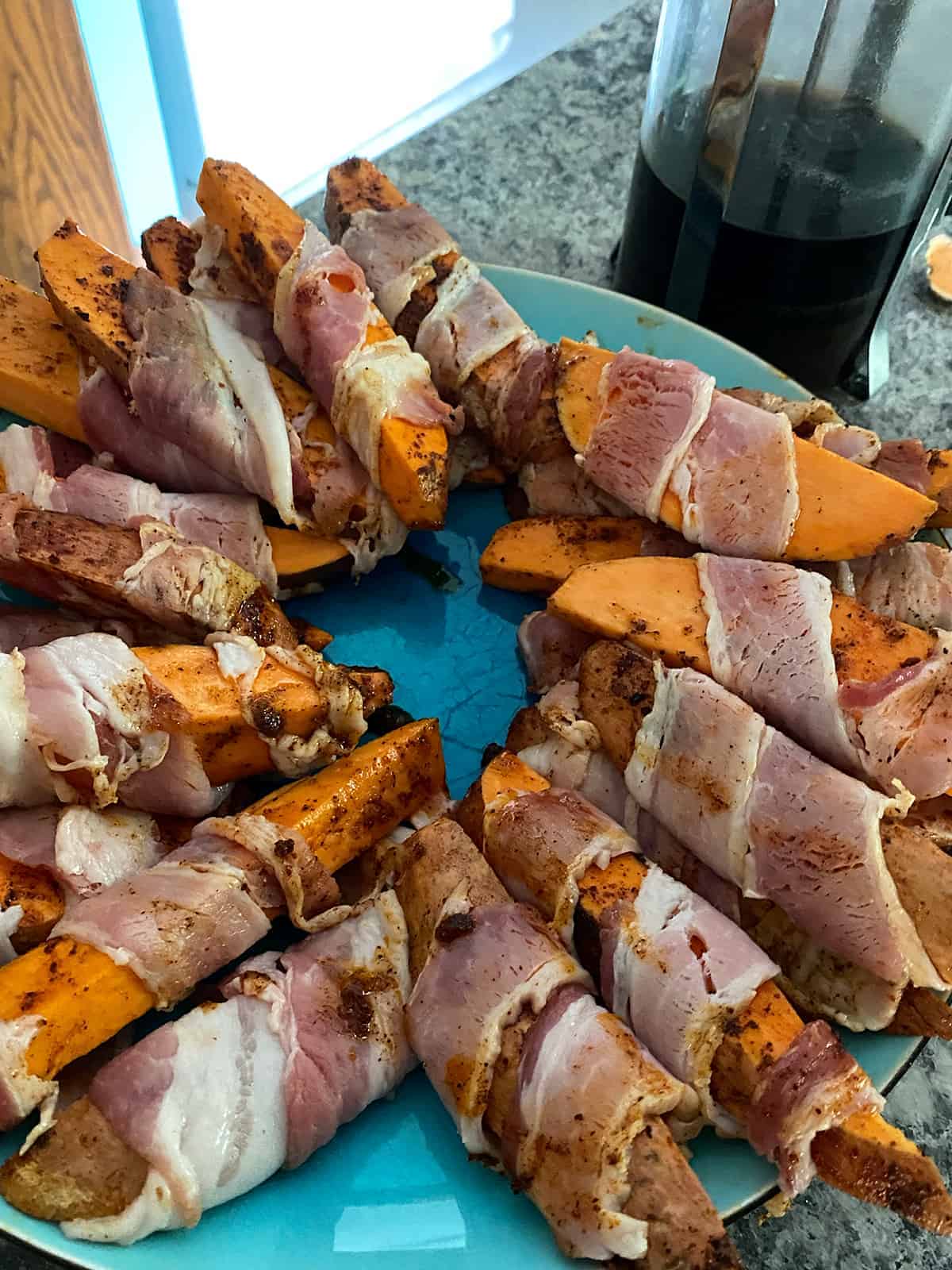 Don't Use Thick-Cut Bacon
If you use thick-cut bacon, the fries are harder to work with. It is still possible for your fries to turn out great, but they are just a bit more difficult to work around the fries. I learned this while experimenting with the recipe. So, if all you have is thick-cut bacon, I would suggest still cooking the recipe, but if you have a choice or are making a shopping list, go with the normal cut bacon.
Grill Over Indirect Heat
If you don't know what zone grilling is, now is a great time to learn about it. Basically, you arrange the charcoal briquettes in a manner where there is a hot side and a side that does not have direct heat. For those of us that use propane, as I do with my Weber Genesis [Affiliate Link], It is just a matter of turning on one of the burners and cooking it near, but not directly over, that side of the grill.
I allowed my grills thermometer to get up to 400 Farenheit before I started cooking my wrapped sweet potato fries. When I open the lid, it loses a lot of heat and usually it bounces between 350 Fahrenheit and 400 Fahrenheit, That is ok.
Usually, these potatoes take 30-35 minutes and I flip them around the 15 minute mark.
The Sriracha Maple Dipping Sauce
This sauce is delicious and super simple. Just mix the ingredients together and put aside in the refrigerator until ready to eat. It works great for this recipe, but for many other things. I have been making this maple sriracha sauce for so many things since I started making these fries. The simple truth is that this sauce is marvelous.
Grilled Sweet Potato Fries Cooking Tips
Don't use thick-cut bacon, as it will be harder to wrap.
If one fry is far too big to be edible as a fry or for your bacon to wrap around, just cut the wedge in half.
For extra-large fries, you could use a full slice of bacon to wrap with.
Choose uniform looking, medium-sized (erroring on the small-sized) sweet potatoes when shopping
Use indirect heat to cook these sweet potato fries.
Would go great with our Blackberry Homemade BBQ Sauce Recipe on Grilled Chicken Thighs or our Black and Blue Burger recipe.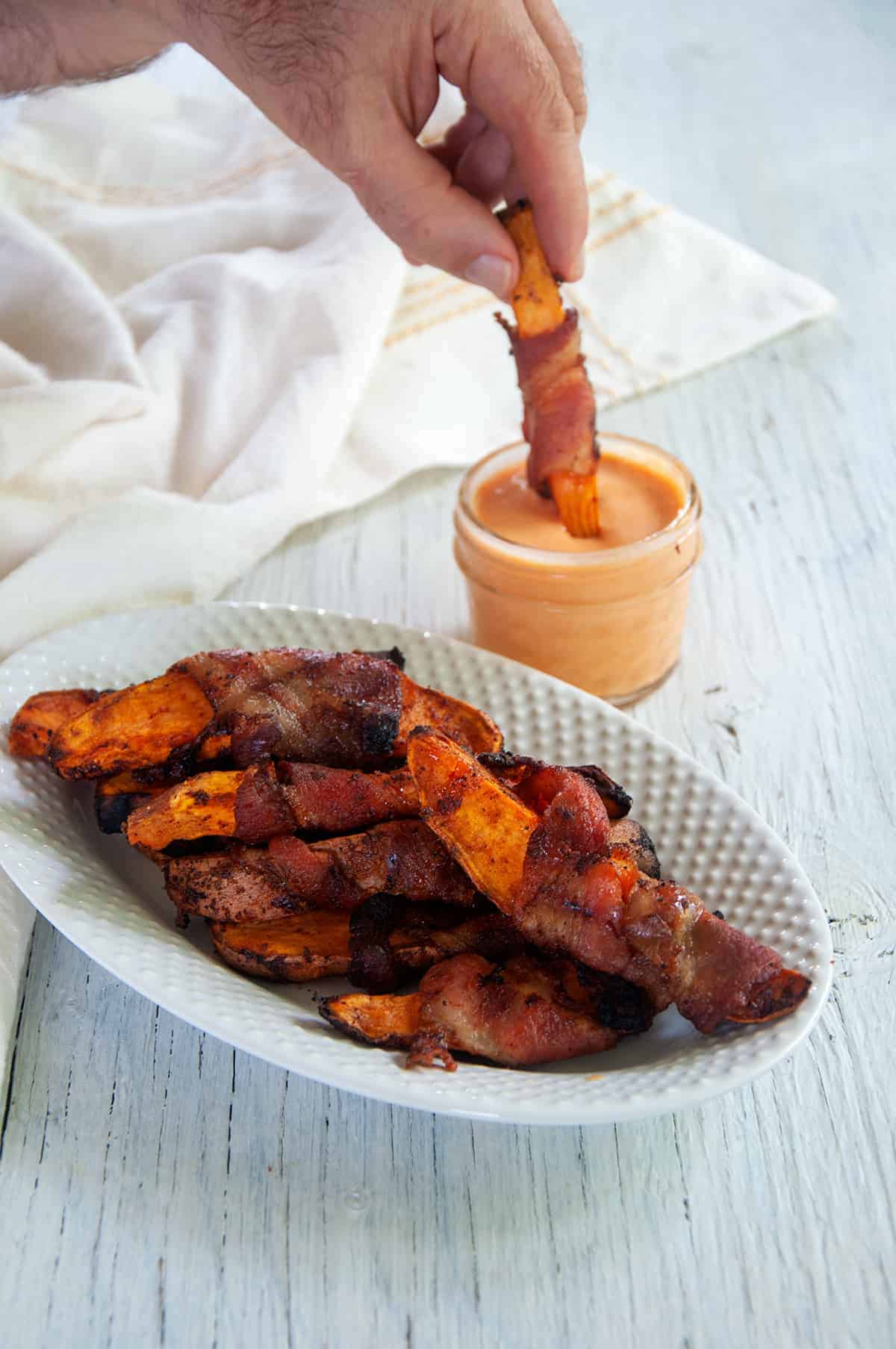 Products I Used in this Recipe
Did You Make This Recipe
Sweet! Let me know how it went in the comments section below. I love to hear from you and when you leave a comment with ratings it will help this recipe get more attention. It helps me out. Also, if you share this on Pinterest and Facebook, it will help spread the word about this delicious side dish and snack. These Bacon-Wrapped Grilled Sweet Potatoes with Sriracha Maple Dipping sauce is delicious. Try this recipe out and also let me know how it goes in the comments section below.
Print
📖 Recipe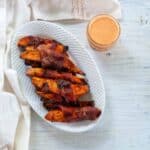 Bacon-Wrapped Grilled Sweet Potato Fries
Author:

Ben Myhre

Prep Time:

10 minutes

Cook Time:

35 minutes

Total Time:

45 minutes

Yield:

4

Servings

1

x

Category:

Side Dish

Method:

Grilling

Cuisine:

American
---
Description
Bacon-Wrapped Grilled Sweet Potato Fries are an excellent way to make use of your grill. The Sriracha Maple sauce that comes with it is also super tasty and complements these fries really well.
---
For Potatoes:
2

Medium Sweet potatoes

¼ cup

olive oil

1 tbsp

chili powder

1 tablespoon

brown sugar

1 teaspoon

garlic powder

1 teaspoon

onion powder

1 teaspoon

salt

1 teaspoon

paprika

½ teaspoon

pepper

12

slices bacon, cut in half, approximate
For Sriracha Maple Dipping Sauce
½ cup

mayo

2 tablespoon

sriracha

2 tablespoon

maple syrup
---
Instructions
Cut sweet potatoes in half, length-wise
With the flat side down, cut potatoes into approximately ½-inch fries
Add fries to a large bowl. Add olive oil, chili powder, brown sugar, garlic powder, onion powder, salt, paprika, and pepper to the bowl and mix. Cover as much of the fries as possible.
Wrap each fry with ½ slice of bacon or a full one if it is an exceptionally large fry.
Preheat Grill to 400 degrees Fahrenheit and make sure there is a zone for indirect heat.
While grill is preheating, mix all sauce ingredients together and stir until well combined.
Once grill is preheated, add the bacon-wrapped sweet potatoes to the indirect heat.
Grill for 30-35 minutes, flipping ½ way through heating.
Once the bacon is done and fries are tender to the fork and have a crispy outside.
Remove, Serve with dip, and Enjoy!
---
Notes
Don't use thick-cut bacon, as it will be harder to wrap.
If one fry is far too big to be edible as a fry or for your bacon to wrap around, just cut the wedge in half.
For extra-large fries, you could use a full slice of bacon to wrap with.
Choose uniform looking, medium-sized (erroring on the small-sized) sweet potatoes when shopping
Use indirect heat to cook these sweet potato fries.
---
Nutrition
Serving Size:

6 Fries

Calories:

567 Calories

Sugar:

14 g

Sodium:

1396 mg

Fat:

48 g

Saturated Fat:

10 g

Unsaturated Fat:

34 g

Trans Fat:

0 g

Carbohydrates:

26 g

Fiber:

3 g

Protein:

10 g

Cholesterol:

37 mg
Keywords: Grilled Sweet Potato Fries