This post may contain affiliate links. As an Amazon Associate I earn from qualifying purchases. Please read our disclosure policy.
This Baked Shrimp Po' Boy recipe is such a tasty, classic New Orleans sandwich. Serve it with a delicious homemade Remoulade Sauce that is about as sassy as it gets.
There is so much flavor going on in this yummy sandwich. Take a trip south and try a great meal with this Baked Shrimp Po' Boy with Remoulade Sauce.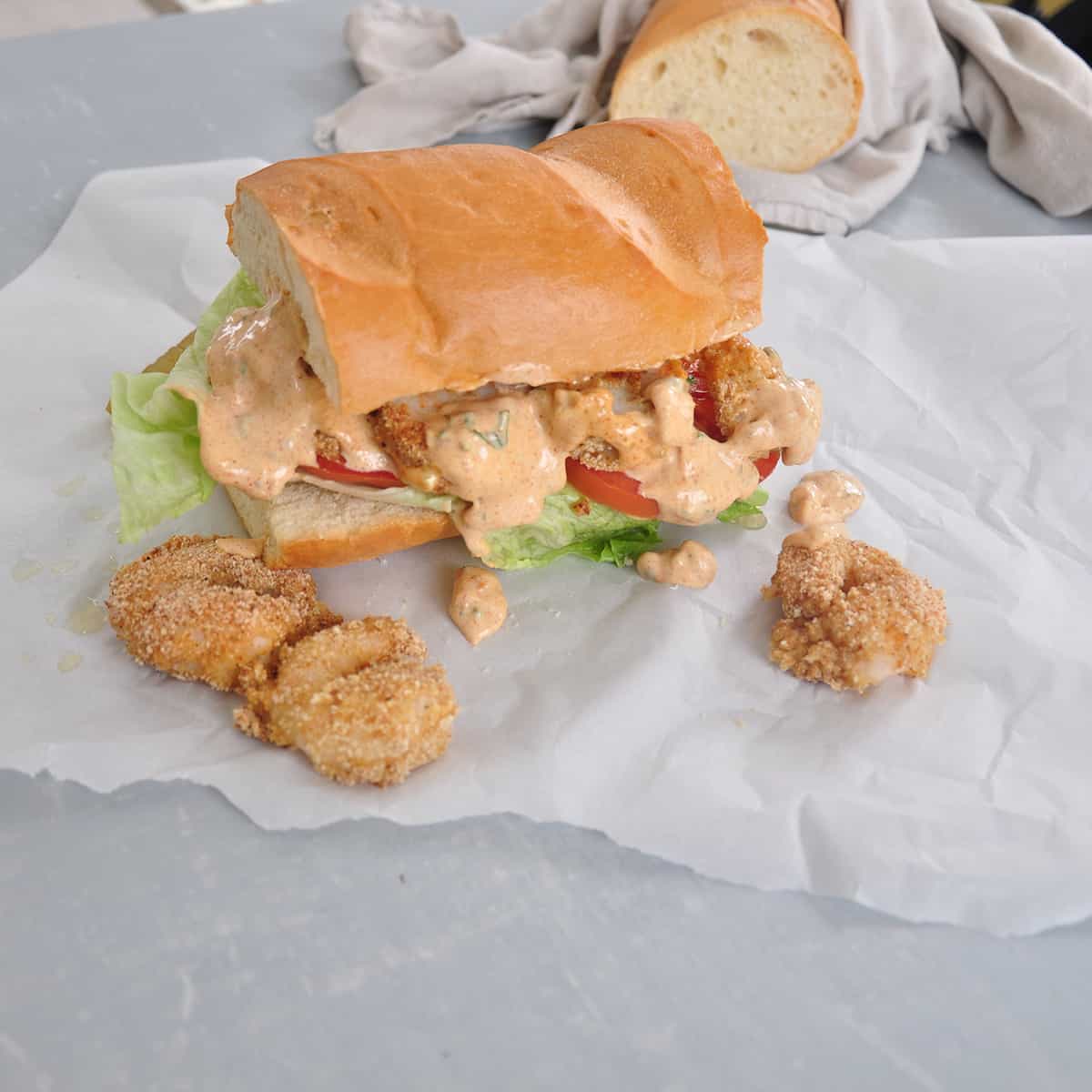 🥖 What makes this recipe special?
The food of Louisiana is definitely an American tradition and part of our national culture, so I wanted to honor that tradition by finding a delicious southern food recipe!
We previously spent time in New Orleans drink classic, the Sazerac, but I also want to give some props to New Orleans food. Today, I am sharing the tasty po' boy sandwich with baked shrimp and a perfect remoulade sauce.
A Po' Boy is a sandwich of Louisiana origin. French Bread or a baguette is the bread of choice for this sandwich. Lettuce, tomato, pickles, and mayonnaise are added if wanted.
I decided to use a remoulade sauce as it looked really yummy and like something I really wanted to make! What a great sauce, and it went really well with the proteins I used.
Some other great sandwich recipes are this Bison Philly Cheesesteak and this Hawaiian Roll Baked Pizza Slider recipe. Some great coleslaw would be great for this recipe.
🍤 Ingredients
There are quite a few ingredients in this sandwich, between the sauce, breading, and sandwich, but don't let that scare you. This is an easy recipe. Here is what you will need:
French Bread
Shrimp
Lettuce
Tomato, Sliced
Breadcrumbs
Eggs
Cajun seasoning
Cayenne pepper powder
Mayonnaise
Garlic
Onion
Dijon Mustard
Lemon juice
Parsley
Hot Sauce
Capers
Tamari
Paprika
Salt
See the recipe card for quantities.
What Protein To Use In A Po' Boy?
There are many different fillings for a traditional po' boy. Items like fish, crawfish, oysters, roast beef, and crab are all good fillings. I decided to use shrimp for my sandwich and bake it instead of deep-fat fry it.
I am not a fan of all the mess and hubbub it takes to deep-fat fry most things. It sounds blasphemous, but I do think a person can get a great taste from most things when they are battered and baked instead of fried.
It saves calories and saturated fat and plenty of cleanup. So, I used shrimp and baked them instead of frying them.
Cajun Seasoning
I used this Louisiana Cajun Seasoning in my ingredients. We always have this stuff around, and we both like it on things. I list it as an optional ingredient, but this stuff tastes pretty good. Or, perhaps, you have a different Cajun seasoning you like around the house.
🍲 Instructions
The po' boy sandwich is as simple as using a standard dredge with the shrimp. Coat the shrimp with a mixture of bread crumbs, Cajun seasoning, and cayenne pepper.
Bake the shrimp for just a bit (8-12 minutes). Add French bread to the mix and toast that in the same oven for about 4 minutes.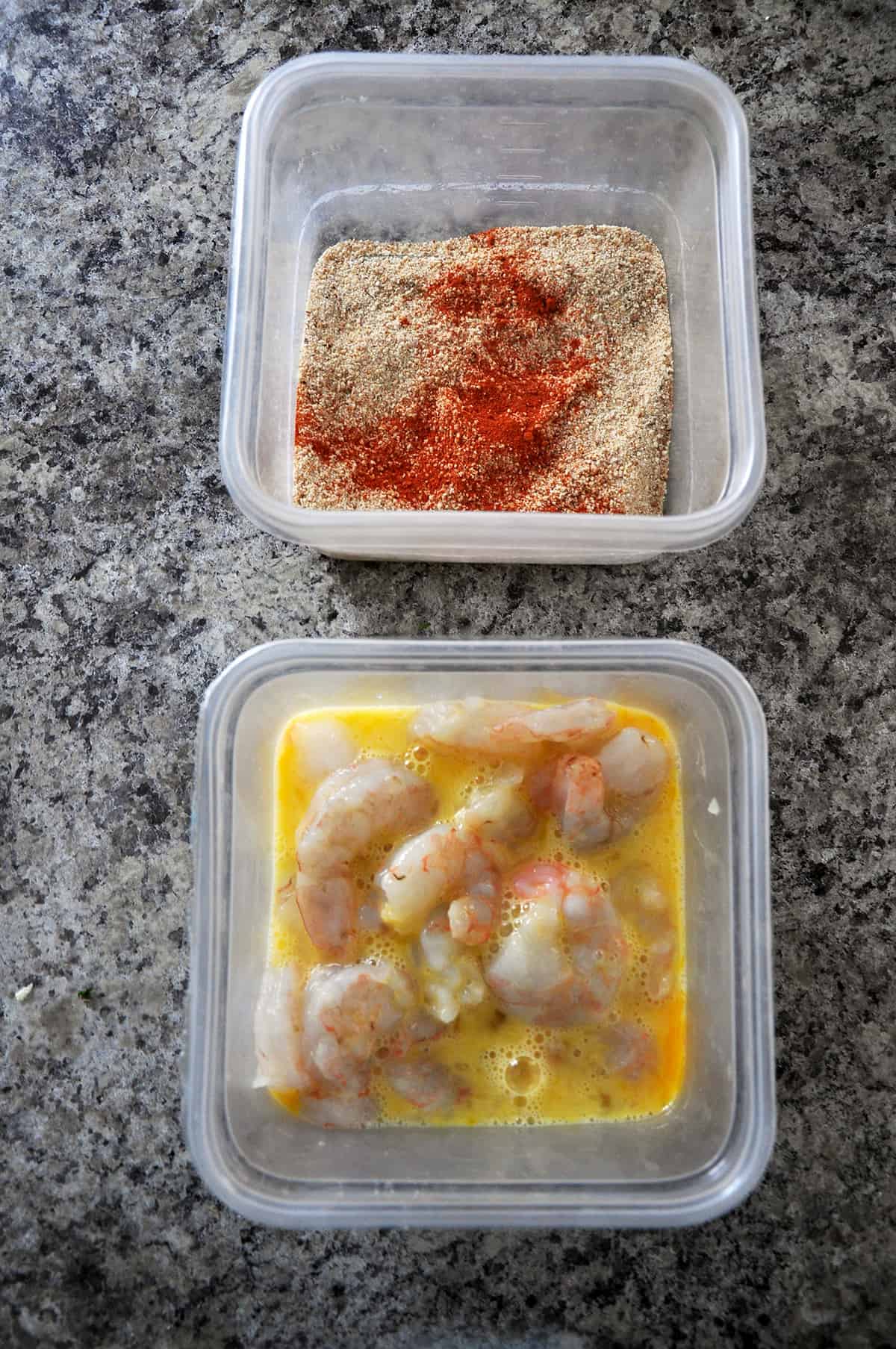 For the remoulade sauce, it as simple as mixing the sauce ingredients together. Then, put it in the fridge for a while. Preferably, this had been done a bit before you started the recipe.
🤷 Substitutions and variations
There are a few ways that this can be changed.
Vegetarian option – I made a vegetarian-friendly sandwich for my wife when making our po' boys. Instead of shrimp, I cut up half a block of extra firm tofu and gave it the same treatment as the shrimp. She seemed to like it, which was a straightforward substitution.
Sauce – Remolaude sauce is excellent for this, but any creamy sauce with a bit of spice would probably work.
Bread – French bread is called for by the recipe, but any toastable, nice sandwich bread or hoagie could work.
📦 Storage
These sandwiches can be stored in the refrigerator for a short period. However, it's best to consume them soon after they're made, as the ingredients can become soggy and lose their flavor over time.
To store a Shrimp Po' Boy sandwich, wrap it tightly in aluminum foil or plastic wrap and place it in an airtight container in the refrigerator. It should last for about 1-2 days in the fridge.
When you're ready to eat the sandwich, remove it from the refrigerator and wrap it in foil or a paper towel. Place it in a 350°F oven for 5-10 minutes or until it's heated through. You can also microwave it on high for 1-2 minutes.
It's important to note that reheating the sandwich can also cause it to become soggy, so if you're storing it for later consumption, it's best to keep the ingredients separate until you're ready to eat it.
🎓 History Tidbit
The legend goes that there was a long labor strike from the streetcar workers in New Orleans. Bennie and Clovis Martin, two brothers, who had opened a restaurant together, were once streetcar workers.
The Martins were sympathetic to the striking workers and gave the 'poor boys' free sandwiches. Say 'poor boys' in the best Louisiana accent in your head, and you got a po' boy.
❓ FAQ
What is a Shrimp Po' Boy sandwich?
A Shrimp Po' Boy sandwich is a type of sandwich originating from Louisiana that typically consists of fried or grilled shrimp, lettuce, tomato, and mayonnaise served on a French baguette or long roll.
Can shrimp be substituted for another type of seafood in a po' boy sandwich?
Yes, other types of seafood such as oysters or catfish can be substituted for the shrimp in a Shrimp Po' Boy sandwich.
Is a Shrimp Po' Boy sandwich typically served hot or cold?
A Shrimp Po' Boy sandwich is typically served hot, with the fried shrimp and sauce being heated before being added to the sandwich.
What type of bread is typically used for a Shrimp Po' Boy sandwich?
A French baguette or a long, crusty roll is typically used for a Shrimp Po' Boy sandwich. The bread should be soft and airy on the inside with a crisp crust.
📝 Tips and tricks
Deep-Fried Shrimp would also work well for this recipe. This baked recipe, however, is 100% delicious and cuts back on calories.
The bread you use matters. Find French bread you like and use that.
For a vegetarian recipe, use extra firm tofu and bread it like you would the shrimp.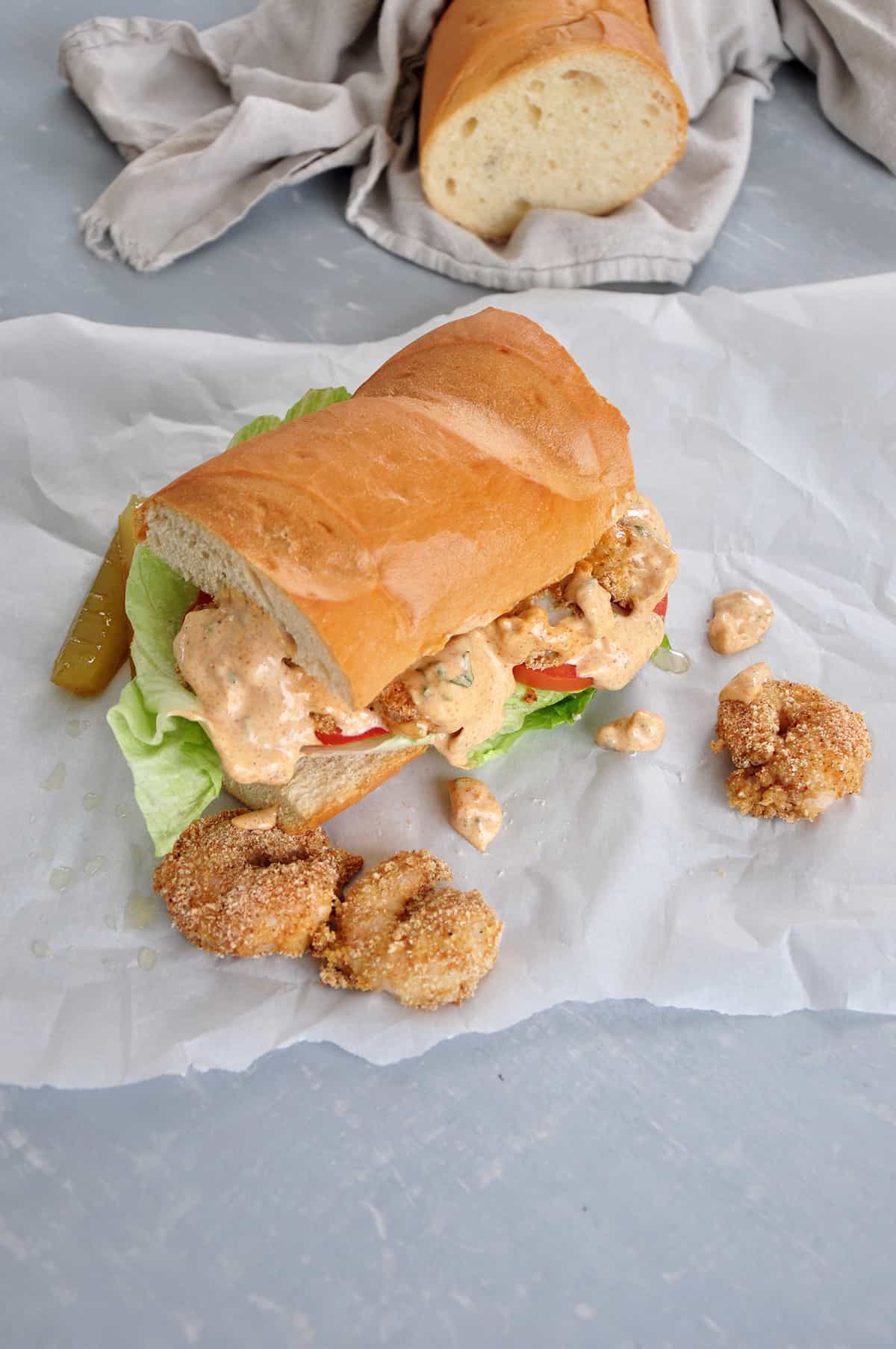 🛠 Products used in this recipe
😋 Did you make this recipe?
That is awesome, and thank you so much for giving this Baked Shrimp Po' Boy Recipe with Remoulade Sauce recipe a try. If you could leave a rating in the comment area below, it would be greatly appreciated. This lets me know how I am doing and also helps others decide if they want to make this recipe. Most of all, thanks for visiting Ramshackle Pantry.
Print
Baked Shrimp Po' Boy Recipe With Remoulade Sauce
Author:

Ben Myhre

Prep Time:

10 hour

Sauce Resting Time:

1 hour

Cook Time:

20 Minutes

Total Time:

1 Hour 30 Minutes

Yield:

2

Sandwiches

1

x

Category:

Sandwich

Method:

Baking

Cuisine:

New Orleans
---
Description
This Baked Shrimp Po' Boy Sandwich With Remoulade sauce is about as tasty as you can get! Everything from the sauce to the French bread to the shrimp are super tasty!
---
2

pieces of French Bread, 8 Inches in length each

12

–

16

Prepared Shrimp (See Below)
Lettuce
Tomato, Sliced
Remoulade Sauce (See Below)
For Shrimp:
12

–

16

deveined, tail off raw shrimp

1

cup

plain breadcrumbs

2

eggs, beat

2 tablespoon

Cajun seasoning (optional)

1/4 teaspoon

cayenne powder
For Remoulade Sauce:
1/2

cups

mayonnaise

1

garlic clove, finely diced

1 Tablespoons

finely chopped onion

1 Tablespoon

Dijon Mustard

2 Teaspoons

freshly squeezed lemon juice

1/2 Tablespoons

finely chopped parsley

1/2 Tablespoons

Hot Sauce (I used Frank's)

1 teaspoon

capers, chopped

1/2 teaspoons

Tamari

1/8 teaspoon

cayenne pepper powder

1/8 teaspoon

cajun seasoning

1/8 teaspoon

paprika

1/8

teaspoon salt
---
Instructions
For Remoulade Sauce:
Add all ingredients to a bowl and stir
Let sit in fridge for at least one hour, ideally, prior to starting to cook shrimp
For Shrimp:
Preheat oven to 400° Fahrenheit
Add breadcrumbs to one bowl
Add eggs to another bowl
Dunk each shrimp into the egg wash and then place in breadcrumbs to coat
Lay on baking pan
Once all are coated and oven is preheated, bake the shrimp for approximately 8-12 minutes, until shrimp are pink and coating is golden brown
For po' Boy Sandwiches:
Slice bread lengthwise if needed to give it a sandwich shape
If you like your sandwiches toasted, toast bread in oven for a few minutes. I add it to the oven for 4 minutes while the shrimp is baking
Add lettuce, tomato, and shrimp
Top with Remoulade sauce
Serve
---
Notes
Deep-Fried Shrimp would also work well for this recipe. This baked recipe, however, is 100% delicious and cuts back on the calories.
The bread you use matters. Find French bread you like and use that.
For a vegetarian recipe, use extra firm tofu and bread it like you would the shrimp.