This post may contain affiliate links. As an Amazon Associate I earn from qualifying purchases. Please read our disclosure policy.
These Hawaiian Roll Baked Pizza Sliders are dang delicious and a perfect weeknight dinner or a flavorful game day meal. A great way to get pizza flavors in beautiful little slider sandwiches.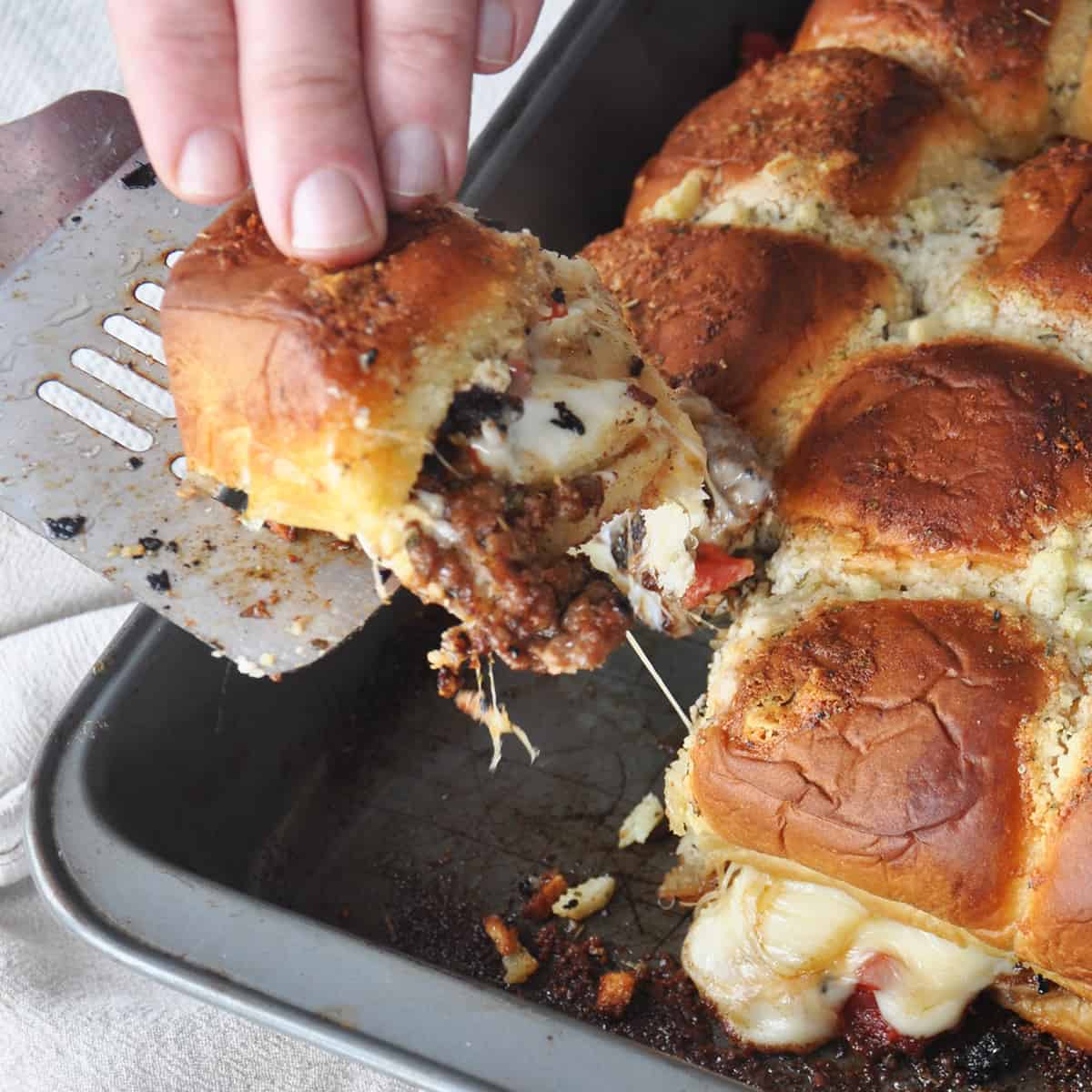 🍕 🍔 What makes this recipe special?
I love pizza, and not all flavors have to come in the traditional circular package we are used to. That is where these pizza sliders come into play! Pizza flavors in a baked sandwich!
We take inspiration from a traditional Chicago Deep Dish pizza for this one. Add some Italian Sausage to make this an excellent little baked sandwich that is great for a weeknight dinner or game day munchies.
You don't think I love pizza? Check out this crispy Detroit Style Pizza recipe, Panzerotti Recipe (homemade pizza pockets), or this Coney Island Pizza recipe. We love pizza in our house!
🌭 Ingredients
Pizza Ingredients and Hawaiian rolls are the stars of this baked dish, but there is more to it. This is what you will need:
King's Hawaiian Rolls
Block Mozzarella
Italian sausage
Canned tomatoes
Butter
Garlic
Italian Seasoning
Parmesan mixed
See the recipe card for quantities.
Bread in our Baked Pizza Sliders
We are going to be making our crust with King's Hawaiian buns. King's Hawaiian all the way. This recipe is comfort food, and I won't skimp on the buns.
King's Hawaiian is like brioche buns in that they are made with plenty of butter and eggs. Additionally, there is a sweetness to them.
If I focused on this meal a bit more, I might try to make our own brioche or challah buns. We are not that ambitious today.
Besides, I already really love the King's Hawaiian sweet buns. Whenever I go to a potluck, I always watch for any sandwiches that might be made with these awesome little guys.
We will try and keep in the tradition of the Chicago deep dish, and the construction is pretty straightforward. There will be some mozzarella, crushed and drained tomatoes, sausage, and topped with our special sauce.
The special sauce is butter, parmesan, garlic, and an Italian herb mixture. Pour the sauce over the top of this dinner bomb to finish it off with some big flavor.
🍲 Instructions
Assemble the sliders and then bake is the just of this recipe's instructions. There is not much to it other than that.
For the bread, use a large bread knife to cut the entire set of buns in half. You can do them individually, but it is best if you can keep it all together and just cut them.
Then, add the slider meat insides. Cheese and sausage. I use Italian Sausage, but you can use any cooked ingredients here.
Then, put the top layer of buns on and brush the butter mixture on top. The butter mixture is just melted butter, garlic, Italian seasoning, and parmesan cheese.
🤷 Substitutions and variations
There are a few ways to change the recipe up.
Italian Sausage – I use basic Italian Sausage, but you could use Hot Italian Sausage. You could substitute ground beef, pepperoni or any other cooked meat to make this your own.
Vegetarian – Just get rid of the Italian sausage and substitute it with the veggies of your choice. I would cook a bunch of veggies on the stovetop with a bit of olive oil before putting them on the sliders.
Cheese – This can be changed up to use any meltable cheese. Pepper Jack would be great on the sliders.
📦 Storage
This will last in the refrigerator for up to three days if you accept that the bun may become a bit soggy. To best keep, place in an airtight container or bag.
To freeze, just wrap them in foil and place them in an airtight container or plastic bag. They will stay fresh in the freezer for up to 3 months. Before reheating, thaw in the refrigerator.
To reheat, either put in the microwave until heated through or reheat in the oven at 300° Fahrenheit. In either case, cook until the sausage reaches a safe temperature of 160°.
🎓 History Tidbit
The origin of the term "slider" is uncertain. Still, it is believed to have originated in the US, possibly in the 1940s or 1950s. Some sources suggest that the term "slider" refers to the sandwich's small size and ability to "slide" down easily. Others suggest that it may have originated from the practice of cooking the sandwiches on a "sliding" grill.
White Castle, an American fast-food chain, has been credited with popularizing the slider sandwich. Their small square burgers are called sliders. White Castle began selling sliders in 1921. The term 'slider' came after White Castle started making burgers.
❓ FAQ
How can I keep the pizza sliders warm if I'm serving them at a party?
You can keep the pizza sliders warm by placing them in a slow cooker on the "warm" setting, or by covering them with foil and keeping them in a warm oven.
Are there any dipping sauces that would pair well with pizza sliders?
A marinara sauce or a ranch dressing would pair well with pizza sliders.
Can I use King's Hawaiian Rolls for sandwiches or burgers?
Yes, King's Hawaiian Rolls are often used for sandwiches and burgers due to their soft texture and sweet flavor. You may have to adjust the size of your patty.
📝 Tips and tricks
While I recommend mozzarella cheese, really any meltable cheese could be a good substitute.
Italian Sausage is great, but try using other ground meats for different flavors.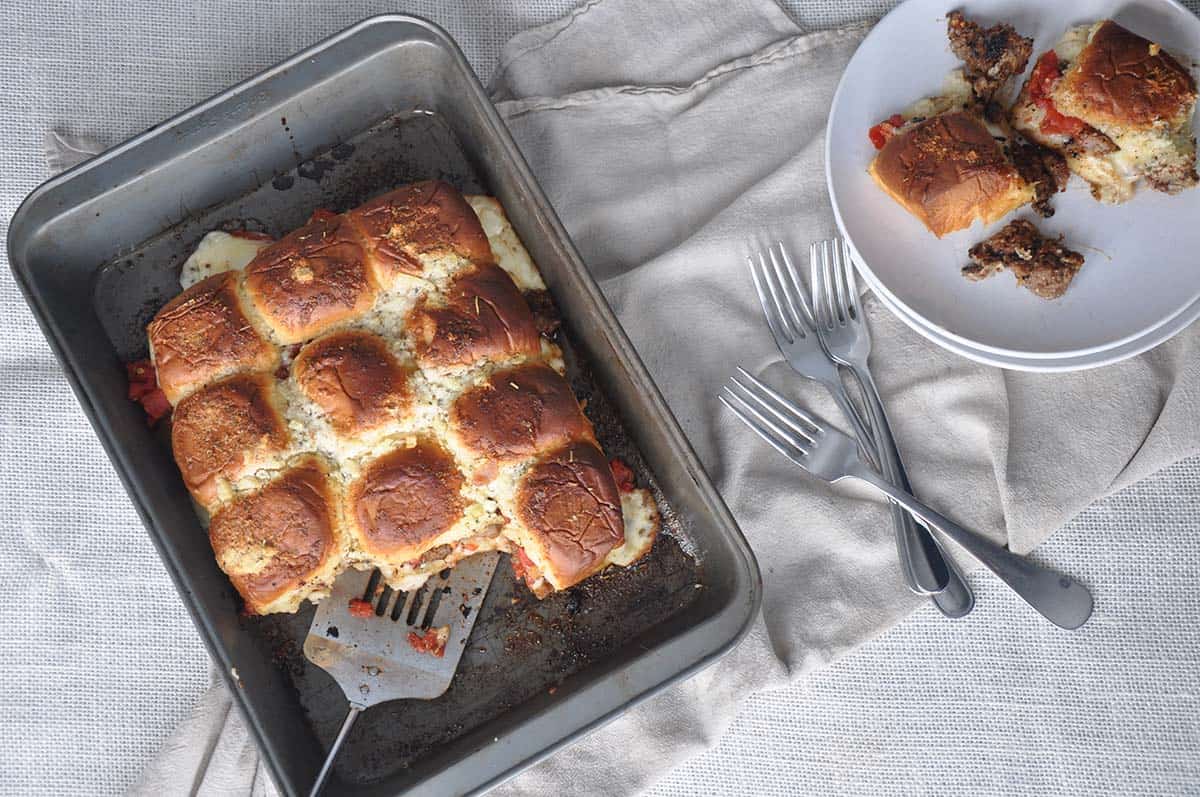 🛠 Products used in this recipe
😋 Did you make this recipe?
That is awesome, and thank you so much for giving this Hawaiian Roll Pizza Sliders recipe a try. If you could leave a rating in the comment area below, it would be greatly appreciated. This lets me know how I am doing and also helps others decide if they want to make this recipe. Most of all, thanks for visiting Ramshackle Pantry.
Print
Quick and Easy Baked Pizza Sliders
Author:

Ben Myhre

Prep Time:

20 Minutes

Cook Time:

20 Minutes

Total Time:

40 Minutes

Yield:

12

Sandwiches

1

x

Category:

Sliders

Method:

Baking

Cuisine:

Italian
---
Description
These Quick and Easy Baked Pizza Sliders are tasty and can feed your whole pack with not very much time. Such a tasty meal to be made any night of the week.
---
12

King's Hawaiian Buns

8 Ounces

Mozzarella, sliced

8 Ounces

Ounces Italian sausage, crumbled and cooked

14 ½ Ounces

Canned tomatoes, petite diced and drained
For Butter Mixture:
½ cup

salted butter

2

garlic cloves, diced

1 teaspoon

Italian Seasoning

¼ cup

grated parmesan mixed
---
Instructions
Preheat oven to 350° Fahrenheit
Using a bread knife, cut the entire slab of buns in half
Place bottom halves (still connected) in bottom of oven safe pan. I used a 9-inch by 11-inch pan, but as long as it fits.
Layer mozzarella to cover
Spread Italian Sausage
Spread Tomatoes
Melt butter in microwave or stovetop and mix in the rest of the butter mixture ingredients.
Place top on buns and spread butter mixture evenly over top
Bake on oven middle rack for 20 minutes
Cut and serve
To make Butter Mixture:
Melt butter in bowl
Add rest of ingredients and stir
---
Notes
While I recommend mozzarella cheese, really any meltable cheese could be a good substitute.
Italian Sausage is great, but try using other ground meats for different flavors.