This post may contain affiliate links. As an Amazon Associate I earn from qualifying purchases. Please read our disclosure policy.
Look at this beautiful riff on the Greyhound. This Blackberry Black Dog Cocktail is a Summer favorite and a smooth deck sipper!
"Hey, hey mama said the way you move/Gon' make you sweat, gon' make you groove" are the immortal lyrics of the Led Zeppelin song Black Dog and today we are going to make a Black Dog Cocktail! While 17 year-old-me couldn't have enjoyed a cocktail, he really did love that song and thought the world of Black Dog. This cocktail is a part of our Greyhound cocktail series and is a variation of the Salty Dog cocktail. It really is a lovely drink that brings Spring to mind and gets our fruit flavors going.
Blackberries and the Salty Dog
I had been toying with variations of the Greyhound and blackberries are a favorite in our house. My wife, Ashley, had actually brought up the idea of blackberries in this drink and I knew it would be good. Then, I thought of the name and the potential tie to Led Zeppelin and I was sold. I mean, I get to make (and drink) a tasty adult beverage with a clever name that honors one of my go-to teenage songs.
Led Zeppelin and This Drink
I just couldn't help myself to make the mental connection in my head. This testosterone filled anthem sparks so many memories. Well, more like memories of feelings that I had as a teenage young man. I have to admit that I sang karaoke as a young man far too many times. And I might be able to get away with Black Dog, but Whole Lotta Love was another of my favorites to sing to. Jeez… I am embarrassed to even thinking about it. Do you ever wish that today you could go back in time and slap past you in the face a few times? That is how I feel about me singing Led Zeppelin during karaoke, but particularly songs like Whole Lotta Love. Really, about singing at all. Uff. Well, except singing to my wife, because she loves my singing (sarcasm check).
Oh, adolescence
So, I still really like Black Dog and Led Zeppelin, but it certainly doesn't get the playtime it did as a young man. Yeah, the songs are still good, but part of my love for the song is remembering that feeling of 17 year-old-me hearing it. Music still does profoundly impact me, but there is something special about hearing these kinds of things for the very first time. I think it was a game changer for me. This is the kind of song that hits a person like a brick, which is I think what teenagers need to get the feels.
Now, I am an adult and it takes much more nuanced things to get remotely close to those kinds of feelings. It is almost is like as time goes on, we become numb to external influences on our emotions. As a young dude, my brain meats were still tender and I was just reading poetry for the first time, reading good books for the first time, and listening to Black Dog for the first time. My not-done head was still tender and easily influence. Like when a parent gives a baby a lemon for the first time, that pang of understanding is extreme. Sort of like this baby video, but more of in a good way.
Let's Get Back to the Blackberry Black Dog Drink
Enough musing about teenage feelings and let's get back to the drink. I think it is important to distinguish this specific cocktail. There is a Black Dog scotch and a Black Dog winery. This is neither of these. This is a variation on the Salty Dog that incorporates blackberries into a sweeter version of the drink. The blackberries help combat tartness that the grapefruit may have and really makes for a great cocktail.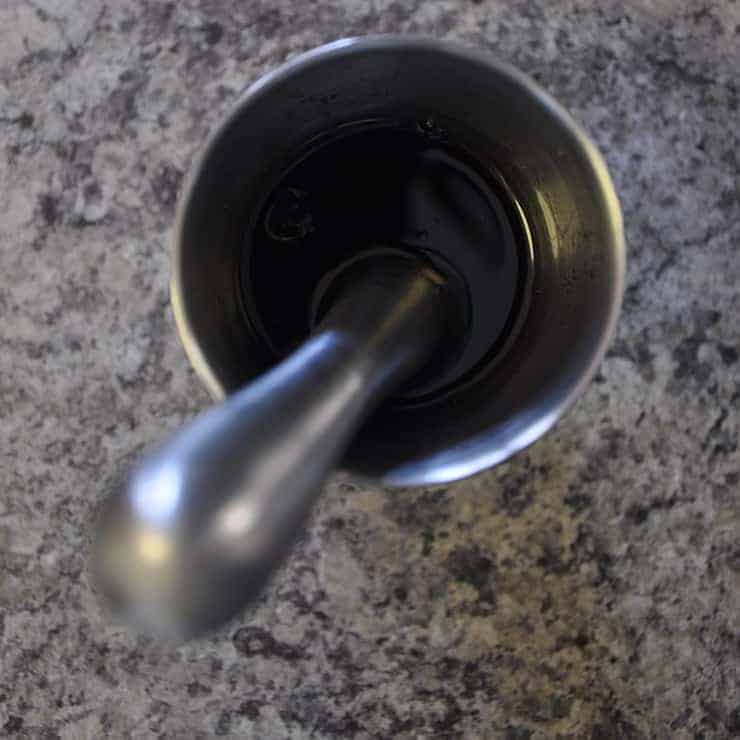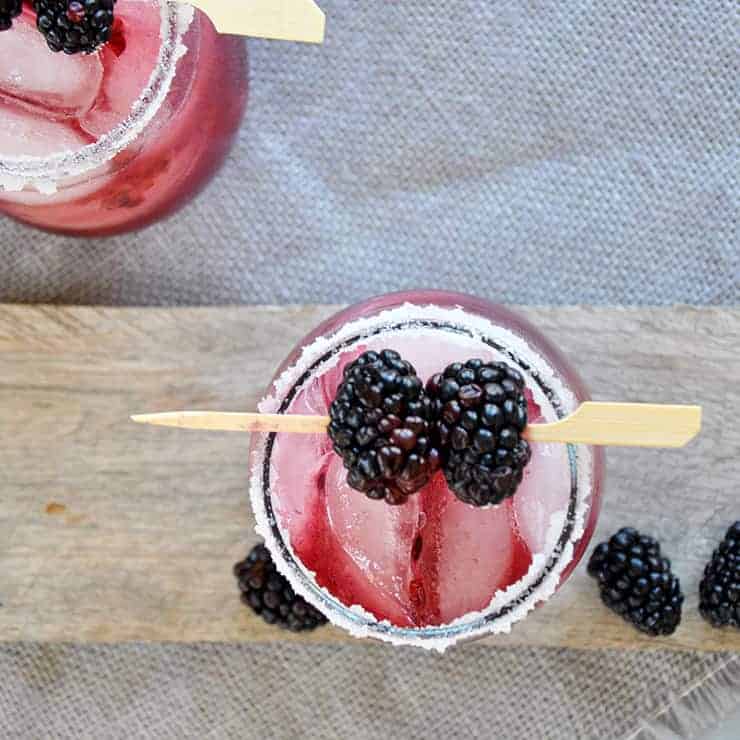 Products Used for this Recipe
Print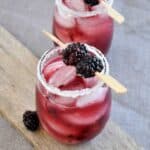 Blackberry Black Dog Cocktail
Author:

Ben

Prep Time:

1 Minute

Cook Time:

4 Minutes

Total Time:

5 Minutes

Yield:

1

Drink

1

x

Category:

Cocktails

Cuisine:

American
---
Description
This Blackberry Black Dog Cocktail recipe is a change up of the traditional Salty Dog Recipe. Imagine a Salty Dog, but with sweeter flavors and berries.
---
1/4 cup

sugar for rimming glass
Ice for shaker and glass

4

large blackberries

1 Ounce

Simple Syrup

2 Ounces

of Vodka

3 ounces

Grapefruit juice

2

Blackberries for garnish
---
Instructions
Moisten glass rim and dunk in sugar to give a sugar rim
Fill highball glass with ice
Add 4 blackberries, simple syrup, grapefruit juice, and vodka to shaker
Muddle
Add some ice to shaker, cover, and shake for 20 seconds
Strain into highball glass
Add blackberries as garnish and serve.
---
Notes
Those blackberries have some thick seeds, so make sure to be a little careful of that with straining. I used the shaker 'hat' as the strainer, but a traditional bar strainer is probably more approp
Keywords: Black Dog Cocktail