This post may contain affiliate links. As an Amazon Associate I earn from qualifying purchases. Please read our disclosure policy.
If you haven't heard of this delicious drink, you probably have never spent time in Canadian bars. This Bloody Caesar Cocktail Recipe rivals the bloody mary and maybe even better! Get the skinny on this famous cocktail below.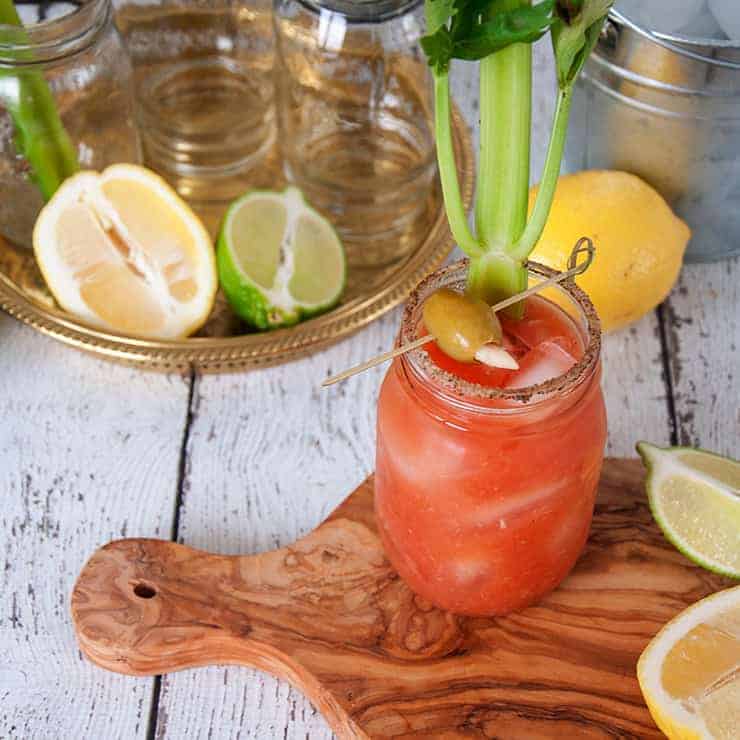 If you haven't heard of a Bloody Caesar, you are in for a treat. It has been claimed as one of the most popular mixed drinks in Canada, even though it is practically unheard of in many areas of the US. As a resident of a state bordering the great white north, I am certainly familiar with the drink and made several of them during my time as a bartender. In fact, I have enjoyed more than my fair share. It really is a great cocktail in the spirit of a Bloody Mary and I am sure you will find many that claim the Bloody Caesar to be better. Today, we are going to share a basic Bloody Caesar Cocktail as a part of our bloody mary series.
What is a Bloody Caesar?
It is in the spirit of the bloody mary, but the reality is that it is almost identical to the bloody mary. You can use many different ingredients and sides to adorn your cocktail. It is a kissing cousin, or maybe even the red-headed stepchild of, the bloody mary. The primary difference in this cocktail is Clamato juice.
What is Clamato Juice?
Clamato is a commercial drink produced by Mott's. It is a tomato drink that has several seasonings and spices, including clam juice. That's right… clam juice. If the idea of this is not appealing to you, stop right there. To me, it doesn't really taste like clams or anything like seafood, in my opinion. It certainly has a unique and interesting flavor, but if you are not a seafood eater because of flavor, you might want to still give this a try.
Even when I flew on a plane as a kid, I would just order a can of Clamato juice. Its primary use is in Bloody Caesars and Micheladas, but that does not mean you can't drink Clamato bare. It is a salty, tasty drink.
Difference Between a Bloody Caesar and a Bloody Mary
Beyond the use of Clamato, you can use any number of ingredients to make your Bloody Caesar. It is as varied and interesting as the bloody mary. It may even be more interesting because of the use of clam juice. If you like bloody mary cocktails, you should really give a Caesar a try if you have not done so yet. It is a great drink.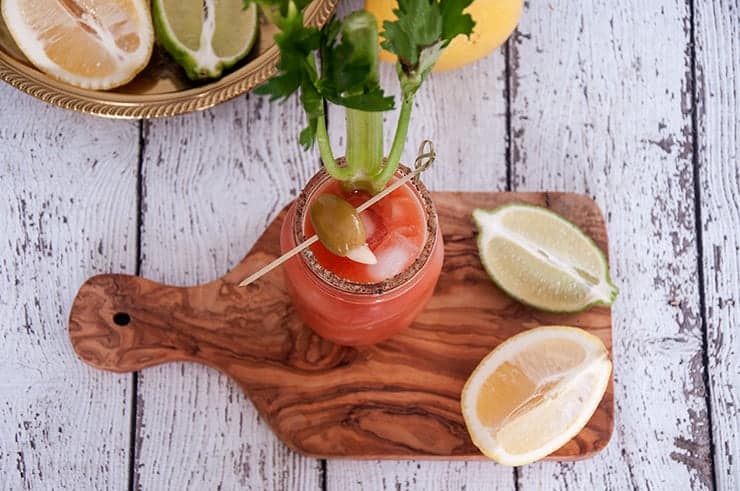 We have been covering the Bloody Mary and I felt it would be a shame to cover that drink without talking about the Caeser. The Bloody Caeser is a very popular drink north of the border and it should be more popular than it is in the USA. So, give it a try! If you like this recipe, please share it and don't forget to follow me on Instagram, Pinterest, and sign up to get updates via email.
Products I Used in this Cocktail
Print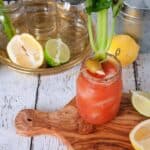 Bloody Caesar Cocktail Recipe
Author:

Ben Myhre

Prep Time:

2 minutes

Cook Time:

3 minutes

Total Time:

5 minutes

Yield:

1

Cocktail

1

x

Category:

Cocktail

Method:

Shake

Cuisine:

Canadian
---
Description
As a kissing cousin to the Bloody Mary, the Bloody Caesar cocktail might even be better. This clam and tomato drink is super tasty and a great brunch cocktail!
---
Celery Salt

1

lemon wedge +

1

for garnish

1

lime wedge +

1

for garnish

4 ounces

Clamato juice (maybe more to top off)

2 ounces

vodka

4

shakes of Tobasco or if you like it really spicy, try making our Carolina Reaper Hot Sauce recipe and using that

4

shakes of Worcestershire sauce

2 teaspoons

of prepared horseradish
Splash of pickle juice
Pinch black pepper
Celery for garnish
Pickle for Garnish
Olive for Garnish
Pepperoncini for garnish (optional)
Beef stick (optional)
---
Instructions
Moisten pint glass rim with one lemon or lime wedge
Put rim on celery salt plate to coat the rim with the salt
Fill the glass with ice
In shaker, squeeze 1 lemon wedge and lime wedge into it
Drop spent wedges into the shaker.
Add vodka, Clamato juice, Tabasco, Worcestershire sauce, horseradish, pepper, and a splash of pickle juice to the shaker
Lightly shake
Strain into pint glass
Top with any Clamato, if needed.
Garnish with lemon, lime, pickle, olive, and celery stalk.
serve
---