This post may contain affiliate links. As an Amazon Associate I earn from qualifying purchases. Please read our disclosure policy.
Savory Bloody Mary flavors in beef form! These flavor-packed snacks are so tasty and you can make them right at home by following this Bloody Mary Beef Jerky Recipe.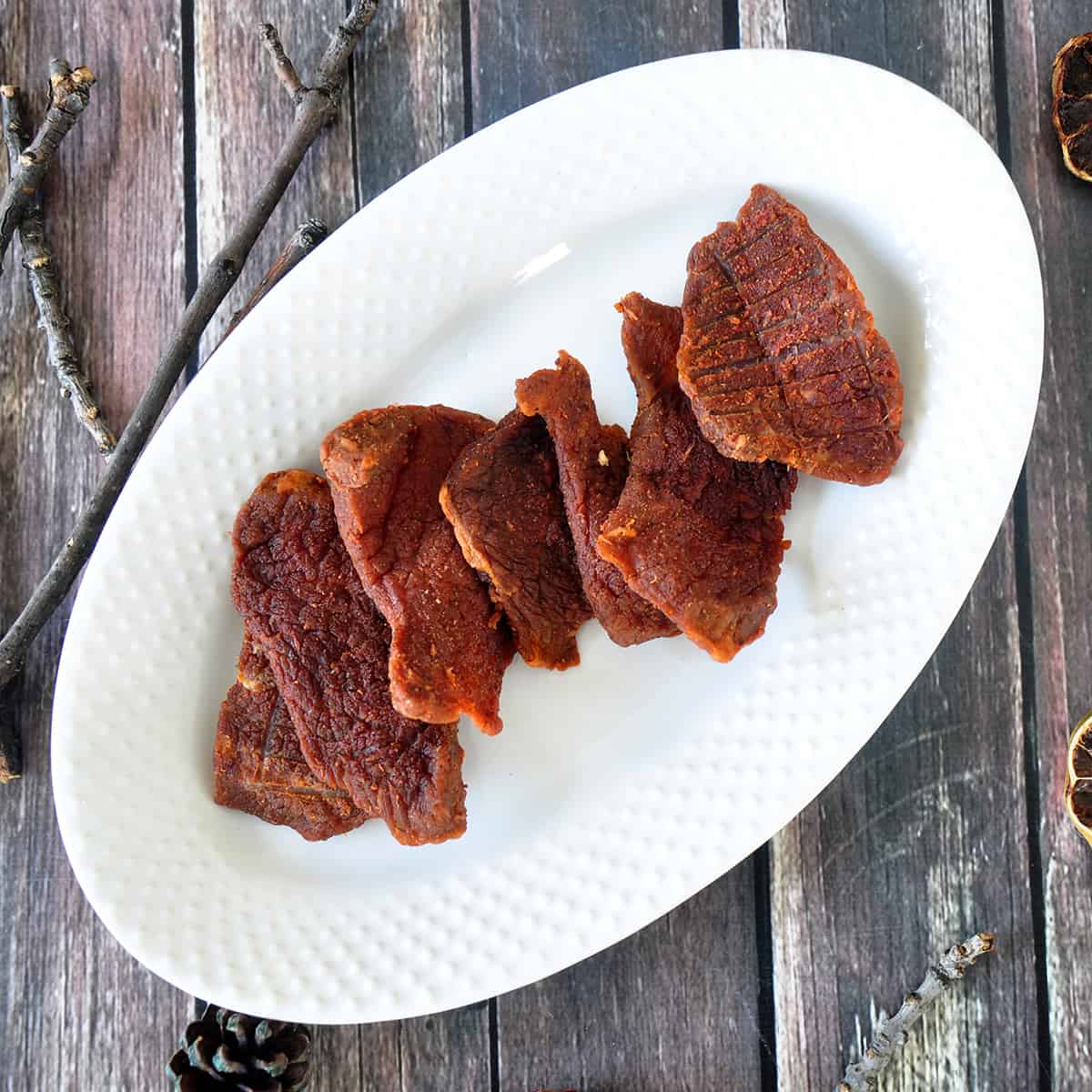 We are going to round out our Bloody Mary series with a wonderful, beefy, Bloody Mary Beef Jerky recipe. This can be eaten alone as a snack or even be included in your bloody mary as a side or garnish. I really wanted to get my food dehydrator out and this gives me a great opportunity! So join along as we delve, for the first time on Ramshackle Pantry, into the wizarding world of dried beef and our Bloody Mary Beef Jerky recipe.
The idea behind this recipe was really two-fold. First, I love it when I can take cocktail flavors and place them in a food recipe. This allows me to exercise my creative culinary mind and experiment with the food I am exploring. It literally allows me to play with food! Second, beef sticks or beef jerky are something that can be served with a bloody mary. We have included beef sticks in our previous bloody mary recipes and I thought it would be a fun way to get a bit deeper into this classic cocktail.
Beef Sticks or Beef Jerky?
The difference between the two is that beef sticks are typically ground beef that has been placed into a casing and dried that way. The seasoning and meat are all included inside of the casing. Beef jerky is just a tad different. It is beef that has been sliced and then marinated in your flavorings.
I tried both variations and found that I was better able to highlight and impart the bloody mary flavorings onto beef with the jerky style vs beef sticks. Plus, with beef sticks, I had an additional step of grinding meat, which is something I enjoy doing, but it does add a bit of time and complexity to the process.
What Cut of Beef To Use?
For this recipe, I choose an eye of round roast. Fat is the enemy of beef jerky, so we need a cut that is very lean. The eye of round beef roast is perfect for this cut of meat. Not only is it usually very lean, but the muscle fibers are placed in a way that are perfect for beef jerky.
How Much to Cook at a Time?
I generally tried to keep it at a pound of raw eye of round. This roughly translates to half a pound of jerky, or about 8 servings. That's right. It loses weight as it dehydrates.
Cut Against the Grain
One of the keys to making great beef jerky is to cut the meat properly. In this case, it is important to cut against the grain of the meat and the eye of round should make this very easy for you. Check out the cutting pictures and you should be able to easily see what I mean. I may cut with the grain to separate a larger roast into different sections (for freezing), but when actually making your cuts for the bloody mary beef jerky, cut against the grain.
Cut Your Jerky Thin and uniform
For this recipe, we cut it thin and uniform. About ¼ inch cuts of meat, making it as uniform as possible. The thinness allows as much of the bloody mary goodness to seep into the meat as possible. The uniformity makes it so it cooks/dehydrates evenly and gives a great experience to whoever eats your jerky.
Safety First!!
The last thing I need for you to do is to get sick using one of my recipes, so I feel it very important to discuss beef temperatures and the USDA recommendations on temperatures.
Ultimately, you need to raise the temperature of your beef to 160 degrees Fahrenheit. Many dehydrators do not have temp gauges (like mine) and many don't even reach 160 degrees. The solution, if your dehydrator does not reach 160, is to briefly bake your meat in the oven to get it to the right temps.
Preheat your oven to 300 degrees and about 10 minutes should get it to the right temperature if your thickness is ¼ inch. No matter what, use a thermometer to make sure your meat temps reach that 160 degree mark at some point in the process! If you don't have one, they are good to have.
When Is the Beef Jerky Done?
Here is where the real balance comes. If it is underdone, you get something that has too much moisture and doesn't feel like jerky. If you dehydrate it too much, you get a brittle brick that is unpleasant to eat. After 3 hours, you should start testing your jerky. Remove a piece and bend it. If the jerky bends and cracks, but does not break in half, you should be good to go. If it snaps and crumbles like a twig, it is overdone. If it just bends and is floppy, it isn't done and test again in a half hour to sixty minutes. Also, make sure that the temp has, at some point in the cooking process, reached 160 degrees.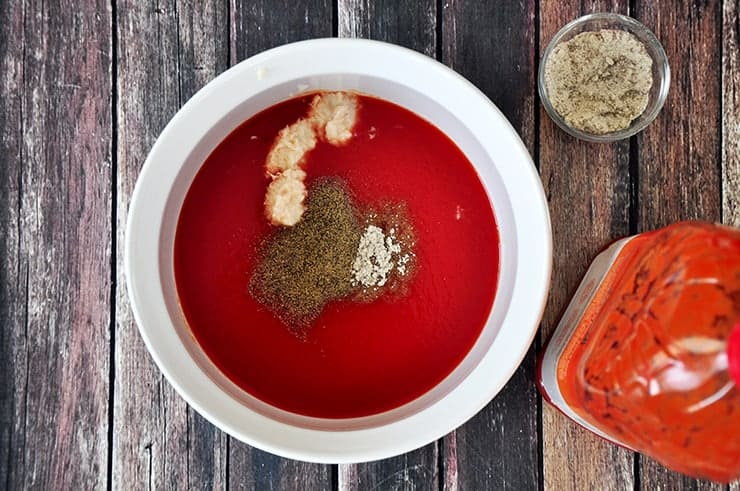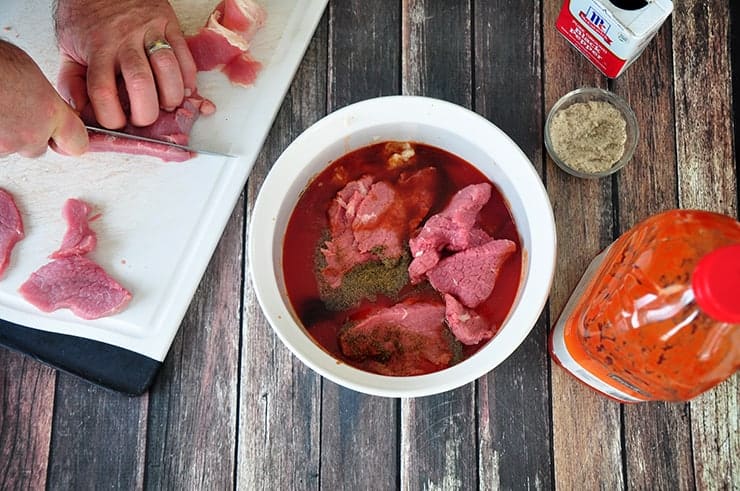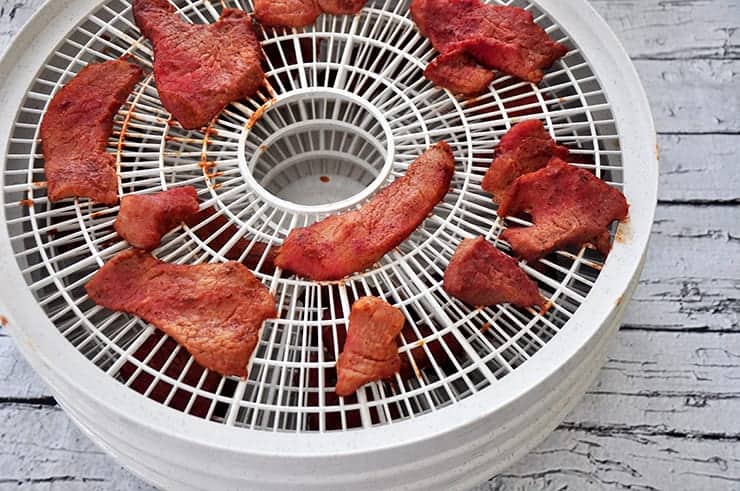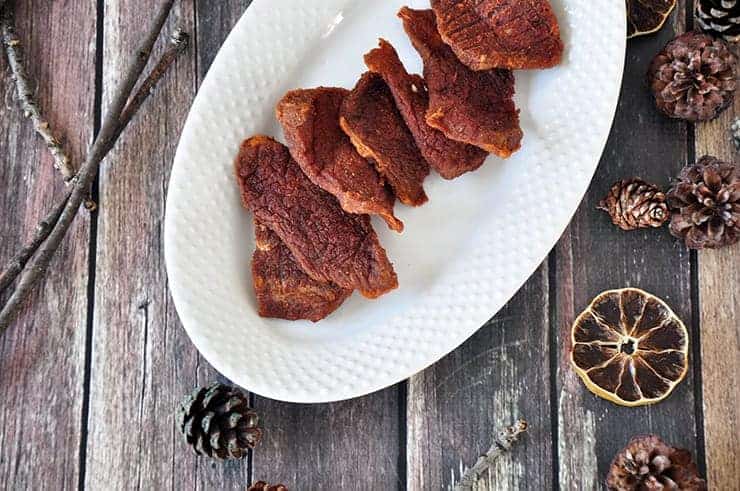 This is not my first rodeo with beef jerky, but it was fun putting it together in a way that gave us this great bloody mary beef jerky flavor. It really is a tasty treat and might be a perfect part of your next great bloody mary. If you like what we are doing here, please be sure to check out my Instagram, Pinterest, and subscribe to get updates from email!
Products Used In This recipe
Print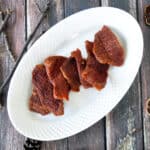 Bloody Mary Beef Jerky Recipe
Author:

Ben Myhre

Prep Time:

6 hours

Cook Time:

3 hours

Total Time:

9 hours

Yield:

8 Ounces

1

x

Category:

Snacks

Method:

Dehydration

Cuisine:

Rustic
---
Description
This Bloody Mary Beef Jerky recipe is a great way to get the comforting flavors of the classic cocktail into beef jerky! It is tasty and a great snack that is jam-packed full of protein.
---
1

pound Eye of Round Beef Roast

3 cups

tomato juice

1 teaspoon

pepper

1 teaspoon

celery salt

1 tablespoon

prepared horseradish

1 tablespoon

Worcestershire Sauce

1 tablespoon

Tabasco sauce

1 teaspoon

liquid smoke (optional)
---
Instructions
Cut eye of round roast into ¼ inch slices against the grain
Add rest of ingredients to a large bowl
Add meat to bowl and mix well
Cover and allow to marinate overnight and up to 24 hours
If your dehydrator does not reach 160° Fahrenheight degrees:

Preheat oven to 300° Fahrenheig
Lay meat on cookie trays and cook for 10 minutes or until the beef reaches 160 degrees.
Remove

Lay strips evenly across dehydrator trays and run dehydrator for 3 hours.
At three hours, start testing your beef. Remove a piece and if the jerky bends and cracks, but does not break in half, and it has reached a temp of 160° degrees at some point in the cook, it is done. If it snaps easily, it is likely overdone and also remove
If not done, allow to dehydrate for another 30-60 minutes and repeat at previous step
Once done, allow to cool.
Place in airtight container and use within 7-10 days.
---
Keywords: beef jerky recipe