The Dude Abides, and you can, too, by making this delicious Classic White Russian recipe. This is a big drink with big flavors.
Perfect for any time of the year, but especially wonderful in the colder months. A great holiday drink or a Friday night belly warmer. Give our delicious creamy Classic White Russian recipe a try.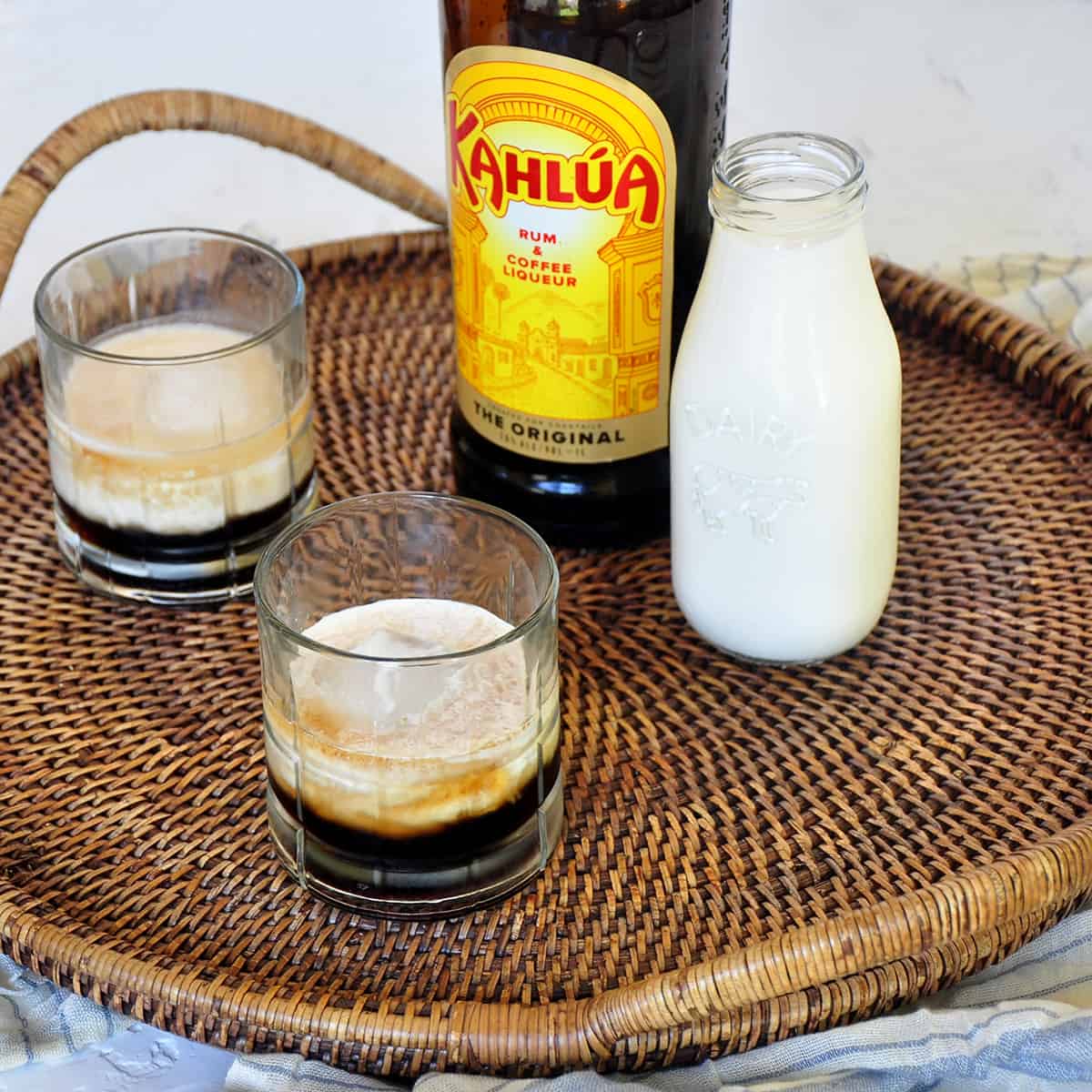 🥃 What makes this recipe special?
This is a hardy and bold cocktail. We love White Russian cocktails and have made a few spin-off recipes, but you can't beat the classic drink.
Yes, we have made some great drinks inspired by this one, but today is devoted to our Classic White Russian Recipe that you should try. If you are looking for some other tasty creamy cocktails, maybe check out this Rumchata Cider Cocktail or a cool Mojitarita Milkshake. Whatever you do, make sure to treat yourself
Jump to:
☕ Ingredients
Such a simple cocktail. Three ingredients are all it takes, plus some ice.
Vodka in the White Russian
This is a big drink, and vodka is not a big flavor, so the vodka brand is not that important. I am a fan of Smirnoff Vodka for most of my mixed drinks.
If I were to drink the spirit alone, I might look a bit further at vodkas I want to try, but we are putting this in a drink with strong flavors. There is a strong coffee flavor, and the cream brings a heaviness to this drink that would likely hide the nuances of any vodka flavor.
Reach into your liquor cabinet and grab that vodka you would use on the regular. Keep the top-shelf stuff where it is. Of course, if you like fancy vodkas, consider a Grey Goose White Russian or whatever great vodka you have!
Coffee Liquor or Kahlua
There are a few choices for Coffee Liquor, but I look to Kahlua as my go-to for this drink. It has a long-established history and really is a staple Coffee Liqueur. When I bartended as a job, it certainly got the most use out of all coffee liquors.
I don't even call it coffee liquor, but Kahlua. They are almost synonymous. Other brands, like Tia Maria, also have some historical claim to the drink. There are new kinds of coffee liqueurs coming out. As always, I say drink what you like and today I will stick with Kahlua.
If you want real fun, try making your own Kahlua.
Heavy Cream
Use milk in a pinch, but let's stay true to the heaviness of this drink and use heavy whipping cream. Half and half works, too. I have used whatever was in the refrigerator when I didn't have cream, but the cream can add a specialness to the cocktail.
See the recipe card for quantities.
🥛 Layering or Mixing The Cream
I have seen the White Russian cocktail served in two different ways. First is the drink, where the cream is mixed right in. The second is a recipe where the cream is layered on top. For this recipe, I am using the layering technique.
Either method is acceptable. The layered method will give a more interesting look as the cream starts to intermingle with the other alcohols. It does, however, give a more separated flavor.
I generally use a spoon for layering, but if my ice cube is a big one rather than smaller cubes, slowly pouring also seems to work.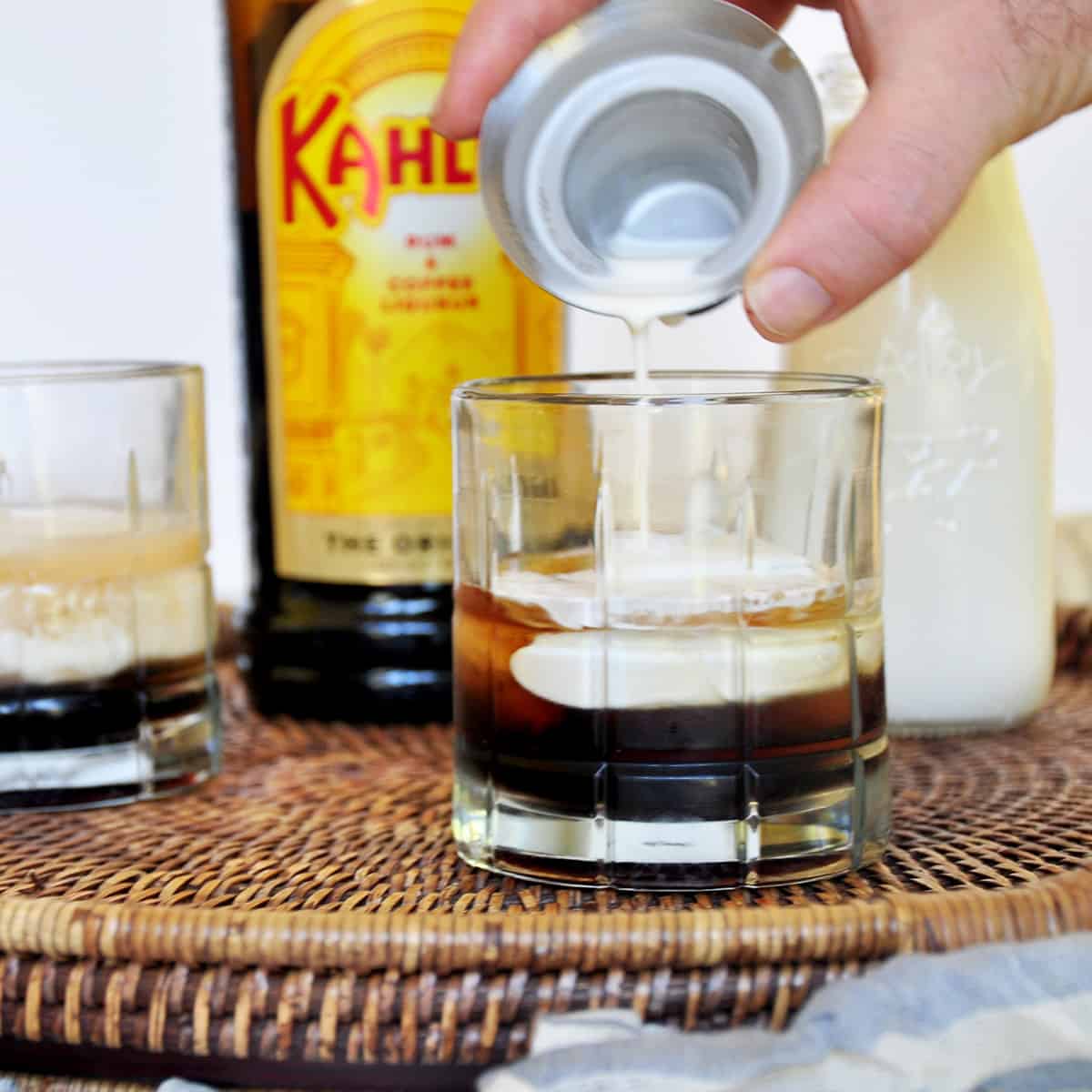 ☕ Difference between a Black Russian and a White Russian
The answer to this is simple. Cream. A White Russian recipe calls for cream, while a Black Russian has none. The original Black Russian was created in 1949, and eventually, the cream was added to the mix. So, if you prefer a Black Russian, just leave the cream out!
🎓 History tidbit
Many of us know the drink from the famous movie, The Big Lebowski. This cocktail's history has much more going on than just a movie, which we previously wrote about. The ratio for this classic cocktail is one to one to one! How did we get that? History.
❓ FAQ
What is the difference between a White Russian and a Black Russian?
A White Russian has cream in it and a Black Russian does not.
What does The Dude put in his White Russian?
I use heavy cream, but I am pretty sure The Dude used whatever dairy was in his fridge.
📝 Tips and tricks
Layer your cream for an interesting visual effect in the cocktail.
🛠 Products used in this recipe
😋 Did you make this recipe?
That is awesome, and thank you so much for giving this White Russian recipe a try. If you could leave a rating in the comment area below, it would be greatly appreciated. This lets me know how I am doing and also helps others decide if they want to make this recipe. Most of all, thanks for visiting Ramshackle Pantry.
Print
📖 Recipe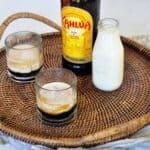 Classic White Russian Recipe
Author:

Ben Myhre

Prep Time:

2 minutes

Cook Time:

3 minutes

Total Time:

5 Minutes

Yield:

1

Cocktail

1

x

Category:

Cocktails

Method:

Stir

Cuisine:

American
---
Description
This Classic White Russian Recipe is like a double dessert of drink. If you have not had this vodka and Kahlua cocktail before, I suggest you run with this recipe. It is tasty.
---
1 Ounce

Vodka

1 Ounce

Kahlua

1 Ounce

Heavy cream
---
Instructions
Add ice to Lowball Glass
Add Vodka & Kahlua to glass
Stir
Layer Heavy Cream on Top
Serve
---
Keywords: White Russian Recipe