Coca-Cola Salad is a heritage recipe treat that is easy, interesting, and a lot of fun. You read that right. This is a Coca-Cola Salad recipe. Inspired by old local cookbooks, this Jell-O based salad incorporates Coke, fruit, nuts, and whipped cream to make a dreamy, creamy dessert. If you want to try something unique for your next dinner or potluck, give this Coca-Cola salad a try!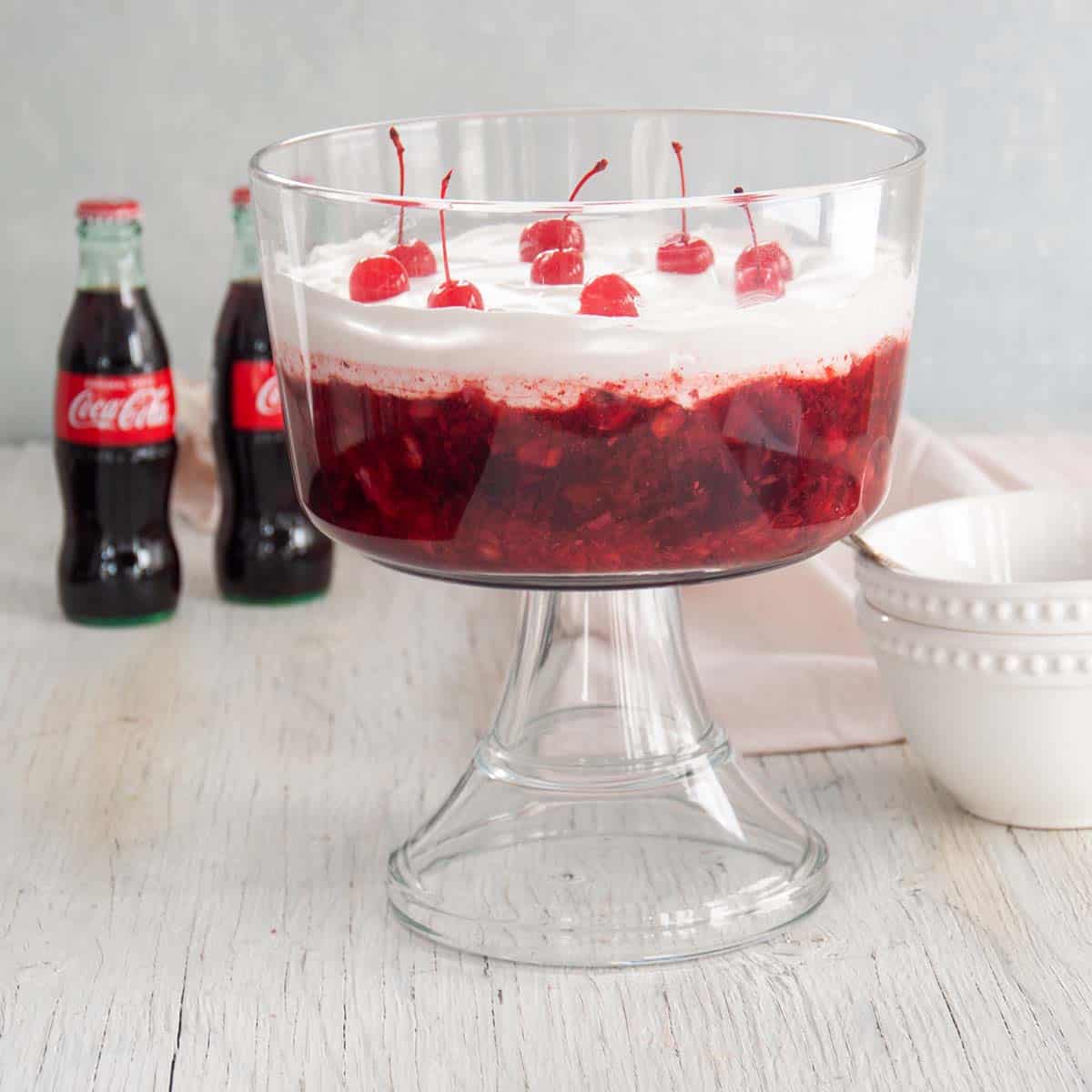 Similar to many old-timey Jell-O salads, but we incorporate Coke. The instructions for a Jell-O package indicate to stir in one cup of boiling water to the gelatin mixture. Then add one cup of cold water.
Also, add in canned crushed pineapple, a can of dark sweet cherries, and some chopped nuts. Once the salad has chilled for a bit, it is topped with whipped cream and cherries.
I chill this in a trifle dish, but any large dish works well for this easy-to-put-together recipe.
Jump to:
What makes this recipe special?
The recipe that inspired this was in an old cookbook, and really it was the name that stood out to me. I had to try it. If you are here, you are here because you remember someone making this recipe, or the name sparked your curiosity, as well.
Having put this recipe together, I am glad I did, as it is super unique and tasty? What makes Coca-Cola salad special? It is a soda-inspired Jell-O salad in Midwest, Southern, and Mormon recipes. If you really like Coke or like trying new things, this recipe is for you.
Can I taste the Coke?
Yes, I can taste the Coke. At four and six hours of resting, I could get a faint hint of the carbonation still remaining in the liquid. We recommend at least six hours of rest or preferably overnight for best results.
Once rested overnight, there are no bubbles that I can taste. I still can taste the flavors of Coke, though. This really comes across with a cherry Coke flavor.
Found in an old cookbook
The recipe listed in this post is inspired by an old 1994 cookbook called North Dakota - Where Food Is Love. Like many small cookbooks from that era and before, the instructions aren't necessarily clear, and some translations need to be made for ingredients.
If you are interested in brevity, here is the text from the Coke Salad recipe I found:
"Drain juice from the fruit into separate cups. Fill each with water. Heat and dissolve Jello. Remove from heat and add pineapple, nuts, and cherries. Add Mixture to Coke. Chill."
Where liquid went, what kind of nuts to use, and some of the processes had questions that left me wondering, so I dived in and, using that as the inspiration, made a new recipe.
Challenges with this recipe
The big challenge I had with this recipe was it setting well. Originally, I had hoped to put this in a Jell-O mold, but the ingredients in this recipe just do not fully set the Jell-O. It is still gelatinous, but not enough to fully hold the product.
I did try a few things with some limited success, but I decided, in the end, I wanted to stick close to the recipe that inspired this one. I am happy with the outcome, but I do not recommend a Jell-O mold for this recipe.
What kind of cherries to use
The original recipe called for 1 No. 2 can of black cherries, but this isn't easy to find. I tried a few different kinds of cherries. Canned sour cherries worked alright, and maraschino cherries are always good, but I found something better.
Oregon Sweet Dark Cherries worked great for this recipe. They are the right flavor, sweetness, and texture for this recipe. I thought about chopping them up, but I really like the idea of just dumping and going, so that is what I did.
Walnuts or pecans
While the recipe that inspired this called for one cup of chopped nuts, it didn't clarify what kind of nuts. I use walnuts, but pecans would be a great alternative.
Use canned pineapple
Fun fact. Fresh pineapple prevents Jell-O from setting. The canning process heats pineapple and changes the chemical compounds to no longer an issue. It involves smarty-pants chemistry stuff. Learn more about why pineapple prevents Jell-O from setting here.
Don't use fresh pineapple for this recipe, but canned. I use crushed pineapple, but I suspect tidbits or even chunks could work well in this recipe.
Allow to rest
Don't make the mistake of serving this too soon. As mentioned above, this recipe doesn't set quite as firmly as a normal Jell-O. Give it at least 6 hours to rest before adding whipped cream, but overnight works best.
Cool Whip for the win
I list Cool Whip as an optional ingredient, but it really adds to the recipe. It adds a sweet, creamy element to the recipe.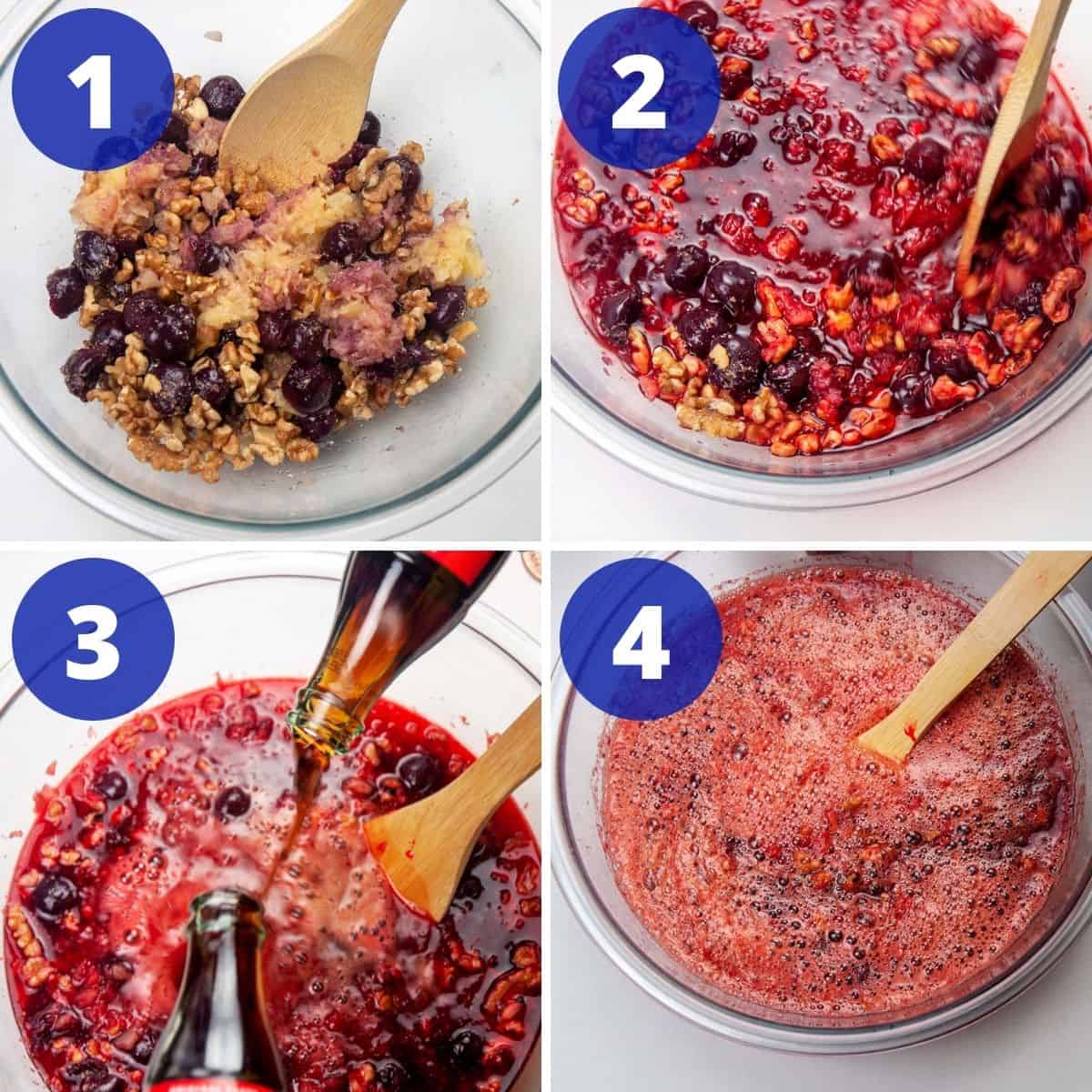 Coca-Cola salad history and retro recipe fun
C'mon now… this recipe has you thinking, doesn't it? If you are already into Jell-O salads, this has to pique interest for you. Only a certain combination of events could make this recipe possible. The products of instant Jell-O and Coca Cola have a timestamp on them.
Jell-O was invented in 1897, and Coke was invented in 1892. Refrigerators became widely adopted in the 1930s, which also helped catapult Jell-O into mass consumption. Time-saving tools that we take for granted today like refrigeration and instant-anything gave way to a whole new way to prepare things.
Add in Cool-Whip, which was invented in 1966, and a whole world of sugary gelatin salads became possible.
And it isn't even that people couldn't make gelatin before instant Jell-O, but it was a big ordeal to make it, as it came from animal products. Whipped Cream has been around for a long time, but Cool Whip and its ability to be frozen made it so much more reachable to an average family.
The modern kitchen gave rise to Jell-O salad. Using Coca-Cola as a part of this really hits some mid-20th century retro Americana feels for me. This recipe does not disappoint.
I could find recipes going all the way back to the 1950s, which makes sense. The recipe book that inspires this recipe is from the 90s, but traces of it go back to the 50s. Maybe, you will make this dessert for your family today.
FAQ
Why Doesn't Fresh Pineapple Work with Jell-O?
A chemical called bromelain interferes with the setting up of the Jell-O gelatin. The heat that is required in the canning process neutralizes this effect.
What are The Best Cherries For Coca-Cola Salad?
Canned sweet Dark Cherries work really well for Coca-Cola salad, but sour red cherries or maraschino cherries work well, as well.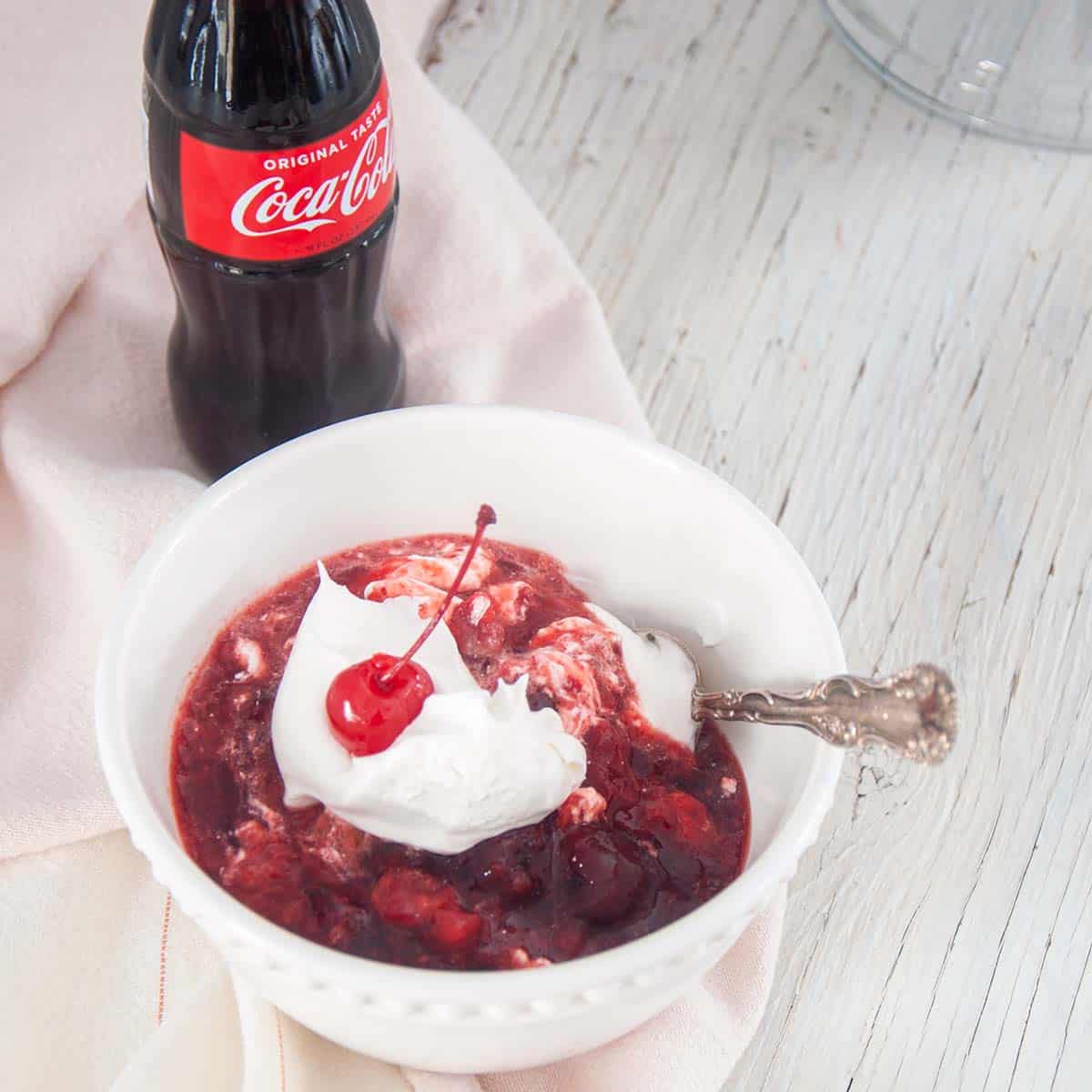 Tips
Calls for walnuts, but pecans work well.
If you can't find dark sweet cherries, I tested with canned red cherries, which was good. Maraschino should work, as well.
Don't let your Jell-O set before you add the rest of the ingredients.
Products used in this recipe
Did You Make This Recipe
I hope you like it as much as I do! This Coca-Cola Salad is an interesting side dish or dessert that brings together a whole mix of comfort foods. You could do me a favor and leave a review and rating in the comment section below. This helps me understand what you like about the recipe and also helps others decide if they want to make it. Most of all, thanks for visiting Ramshackle Pantry.
Print
📖 Recipe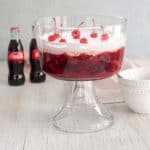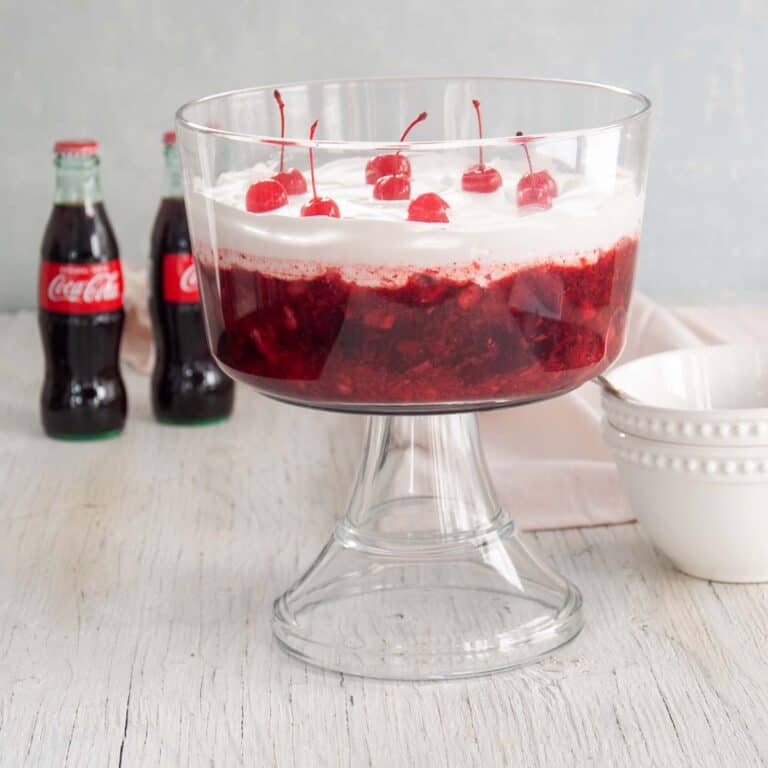 Coca-Cola Salad
Author:

Ben

Prep Time:

10 minutes

Inactive time:

6 hours

Cook Time:

20 minutes

Total Time:

6 hours 30 minutes

Yield:

8

1

x

Category:

Dessert

Method:

Stovetop

Cuisine:

American
---
Description
A tasty, unique, and wonderful retro dessert is a must-try for anybody that likes a good Jell-O salad. It combines Jell-O, Coca-Cola, cherries, nuts and whipped cream to make a great dessert to share with your family or guests.
---
2

3 Ounce packages of Cherry Jell-O

2 Cups

water

20 Ounce

can crushed pineapple, drained

15 Ounce

can dark sweet cherries, drained

1 Cup

crushed walnuts

16 Ounces

Coke

8 Ounce

Tub of Cool Whip
Maraschino Cherries (optional)
---
Instructions
Add Jell-O to medium bowl
Bring 2 cups of water to a boil and then add to dish with Jell-O powder
Stir Well
Put in refrigerator for 15 minutes.
While cooling, mix pineapple, cherries, and walnuts to a large dish
After 15 minutes, add Jell-O mixture to the other dish.
Add Coke to same bowl and mix
Place in fridge for at least 6 hours
Top with Cool Whip and maraschino cherry (optional)
---
Notes
Calls for walnuts, but pecans work well.
If you can't find dark sweet cherries, I also tested with canned red cherries and it was good. Maraschino should work, as well.
Don't let your Jell-O set before you add the rest of the ingredients.
---
Nutrition
Serving Size:

1 cup

Calories:

329

Sugar:

37 g

Sodium:

187 mg

Fat:

8 g

Saturated Fat:

2 g

Unsaturated Fat:

6 g

Carbohydrates:

60g

Fiber:

3 g

Protein:

3 g

Cholesterol:

0 mg
Keywords: coca-cola salad