This post may contain affiliate links. As an Amazon Associate I earn from qualifying purchases. Please read our disclosure policy.
Probably the most iconic St. Patrick's day dish is corned beef. Today, we pull out our sous vide machine and make the most tender, delicious, fall-apart corned beef recipe.
We combine the beef recipe with a classic combination of potatoes and carrots for a spectacular pairing. This Sous Vide Corned Beef recipe is perfect for this holiday or any time you want a great meal.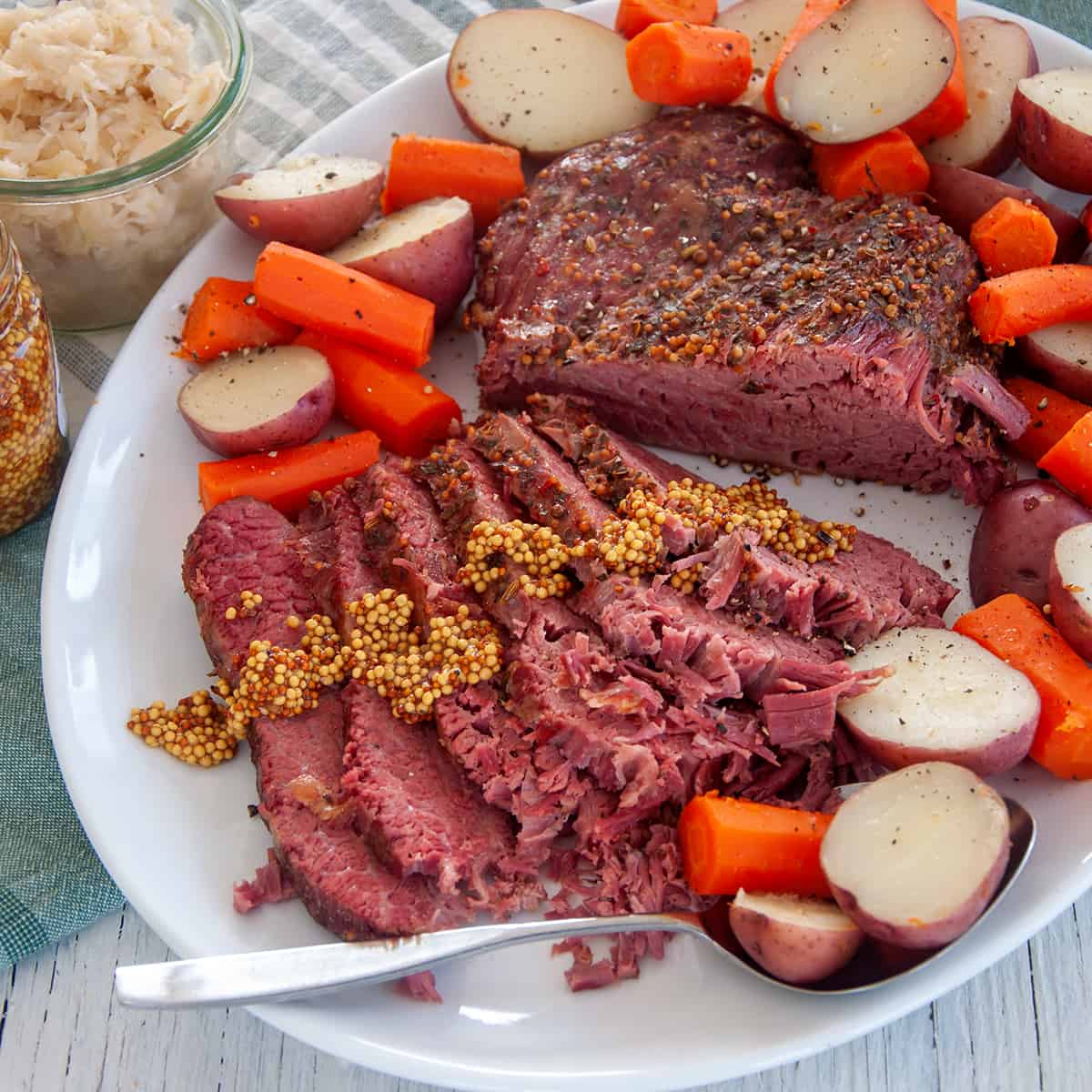 🥩 What makes this recipe special?
This slow-cooked sous vide recipe is worthwhile if you love your corned beef to fall apart and super tender. This is my favorite way to cook a straight-up corned beef roast, and it might soon be yours.
Not only is it a fall-apart roast, but this cooking method also helps keep the juices in the roast. While I don't use a vacuum seal like many sous vide recipes, no outside liquid impacts this.
Many recipes have you boiling the beef, but that is just a way to lose flavor. Cooking this in sous vide keeps the flavor in the roast.
Also, if you have a sous vide and like to use it, it is just fun to try new things. This is a great way to use your sous vide machine and enjoy another delicious meal you can make with it.
This recipe is served with potatoes and sauerkraut for a great St Patrick's day meal. This also makes for a great Corned Beef Hash, or check out this Reuben Casserole recipe. No matter what you make, make sure to treat yourself!
🧂 Ingredients
There is not much to this recipe, and it reflects in our short ingredients list. This is what you will need:
Corned Beef
Potatoes
Carrots
Salt & Pepper
See the recipe card for quantities.
Flat cut or tip cut corned beef?
You will find two different cuts of Corned Beef in the stores. It will be available as either the flat or the point. I have done this recipe with both cuts, and it works for either.
The Flat cut is generally leaner but likely has a fat cap on top. The flat is probably easier to cut and gives a nice-looking roast cut.
The tip is the end of the cut of meat, and it tends to have more fat marbled within the cut of beef. Usually, this means the meat will be a bit more tender and probably fall apart easier.
Both will work, and flat is probably the more common cut to find in the store. If I had both in front of me and I had to pick one, I would likely choose the tip. You know me… I like fat.
Oven Bags
Much like our Sous Vide Prime Rib recipe, we use oven bags for this recipe. Usually, this is meant for turkeys or hams.
There are two differences between how this is traditionally cooked that can be important for this recipe. Time and temperature.
The time and temperature we cook our sous vide corned beef makes for a delicious roast. We cook this for a full day at 175° Fahrenheit.
This combination, however, can test the strength of the bags. For that reason, I suggest using two oven bags.
Only once did I have an issue with holes in my bags with a single bag. Even then, it was only after the corned beef finished cooking and I was handling the bag at the end did I run into issues.
I don't, however, like losing the beef juice and want to cook our vegetables in it. The corned beef leftover juices are great for cooking the vegetables and potatoes.
Also, I would recommend using a good brand of oven bags. You are more likely to have a good outcome if you use good bags.
🍲 Instructions
If you have made corned beef before, you may have baked or boiled it. Today, we put it in two oven bags and allow the sous vide to cook it low and slow at 175° for 24 hours. This creates a delicious, fall-apart end product.
Once cooked, take the juices that are produced and put them in a pot with vegetables. Put carrots and potatoes in the pot, the juices from the meat, and a bit of water. Bring to a boil.
While the vegetables are boiling, bake our finished corned beef at a high temperature for just a short time. This gives a nice finish to the roast. When the roast is done and rested for a few minutes, the vegetables should be tender and ready to go.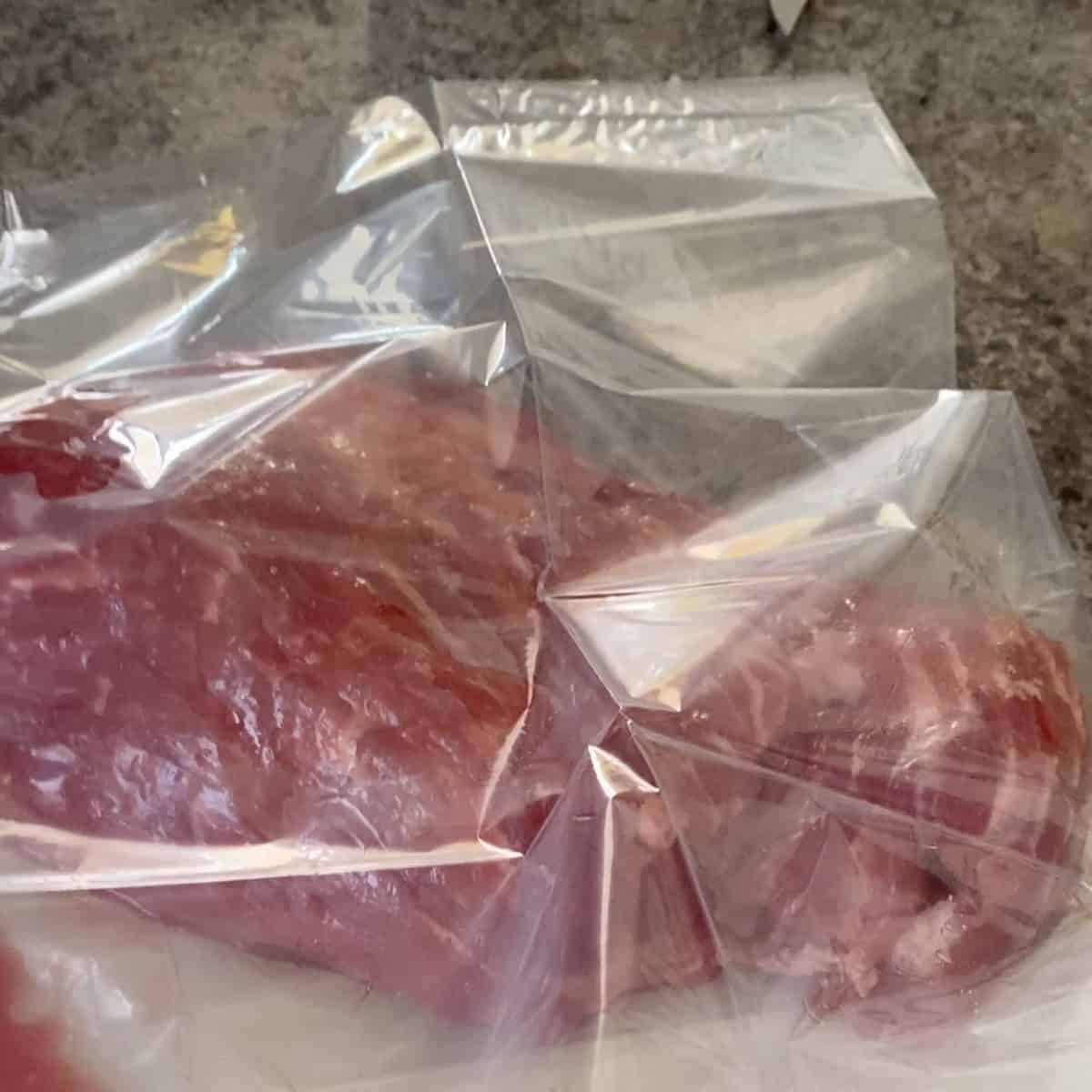 Displacement method vs. vacuum bags
There are two main ways to cook with a sous vide machine, either with vacuum bags or the displacement method. The vacuum bag involves getting specialized bags and sealing it with a machine. With a big roast like this, you might have difficulty finding a bag that fits a roast this big.
With the displacement method, put the roast in a bag big enough to hold the roast… in this case two bags. Then, submerge the bagged roast.
Do your best to remove any air from the bag and put it under. Using a clip, make sure the bag is tied to the side of the container.
Bag of water for a weight
One issue I had with cooking a roast this big was keeping it submerged. The goal of sous vide is to bring the roast to a temperature and cook it evenly for a long time.
Apparently, these cuts of meat like to float. To get around this, I filled up a ziplock freezer bag with water and placed it right on top of the roast.
There are food-safe weights for sale meant to solve this problem, but the water bag worked well for me. Using a clothesline clip, I clipped the bag over the oven bags to ensure the roast remained submerged.
Time and temp in sous vide
I found many recipes recommending cooking corned beef at 140° Fahrenheit for two days. I cook mine at 175° Fahrenheit over one day. Fat will start to render at 140°, but it will do the job at 175°, particularly when cooking it over a long time.
The time and temperature I use in my recipe is perfect for making corned beef that falls apart. My favorite corned beef is when it falls apart.
Watch those water levels
Evaporation can become an issue. Because of the time and temperature, you will lose water in your sous vide bath.
Most sous vide machines have an alarm on them, but I did want to make sure you know this will likely be an issue. You will probably have to fill it with water. If you fill it up before you go to bed, it might prevent a late-night visit to the sous vide bath.
Oven, resting time, and cutting
Cook this in the oven for 10 minutes at 500° Fahrenheit. This gives just a nice outer finish to the roast.
High temps, but it isn't in the oven long enough to change the internal temperature negatively. Once removed from the oven, it only needs about five minutes to rest.
Then, when you cut the roast, cut against the meat's grain. This will give you the slices that people are looking for.
Because I cook this to fall apart, you may find that the meat falls apart. Just be careful with cutting, and you should be able to provide some great cuts of meat.
Timing, potatoes & carrots
One thing that is really important in this recipe is the timing at the end. While the roast is in the sous vide, timing is not very important. When that time is over, however, make sure that our process is timed out.
The key is to be prepared. Have your potatoes and carrots cut and ready to go. Preheat your oven before you remove from your sous vide. If you time this well, by the time you finish your roast, your potatoes and carrots will be ready.
🤷 Substitutions and variations
There are a few ways that this can be changed.
Type of potato – Use whatever kind of potato you have
Sides – I call for carrots and potatoes in this dinner recipe, but really use whatever you like.
📦 Storage
Allow the meat to cool to room temperature. Then, you can wrap it tightly in plastic wrap or aluminum foil or place it in an airtight container. It's important to ensure no air is in the packaging, as this can cause the meat to spoil more quickly.
Cooked corned beef can be stored in the refrigerator for up to four days. If you need to keep it longer, you can freeze it for up to two or three months.
When ready to use the corned beef, you should thaw it in the refrigerator overnight before reheating it. Reheat the corned beef in the oven, stovetop, or microwave until it is heated through.
🎓 Corned beef history tidbit
We tie corned beef to St. Patrick's day and Ireland, but this dish has some interesting history. The reality is that Corned Beef was not traditionally an Irish dish.
Really, Ireland became a part of the industry because of the taste for beef by other nations. The land and beef industry was brought to Ireland. Still, according to this Smithsonian article, Irish folks couldn't even afford the beef raised there.
An interesting contrast, however, is that corned beef became a product for the poor in other parts of the world. Because it was preserved meat, it was great for naval rations.
It became a product of sustenance for slaves and the poor. As the Irish immigrated to America, the dish became more widely available.
While beef was expensive in Ireland, it was much cheaper in America. Additionally, in places like New York, you would find that pastrami was common.
Pastrami was a traditionally different cut of meat than corned beef but shared the preservation technique. Today, you may find Pastrami made from the same beef brisket cut of meat.
❓ FAQ
What does 'corned' mean in corned beef?
The legend is that beef was preserved with salt chunks that were the size of corn kernels. That is where the name came from.
Can I sous vide corned beef straight from the package?
No. The package is not designed to be cooked.
Can I slice the corned beef before or after sous vide cooking?
It's generally recommended to slice the corned beef after sous vide cooking, as it can be more tender and easier to slice. However, if you prefer to slice it beforehand, you can do so and then vacuum-seal the slices in a bag for sous vide cooking.
📝 Tips and tricks
I like serving mine with sauerkraut. Another option is to cook some cabbage along with the potatoes and carrots.
Double bag with oven bags if you are using the displacement method.
Make sure to have your potatoes and carrots prepared and oven preheated before you remove your beef from the sous vide.
For nutritional information, I am using a 4 pound roast. Your serving size might vary depending on appetites and the size of the roast.
Mustard goes great with this dish.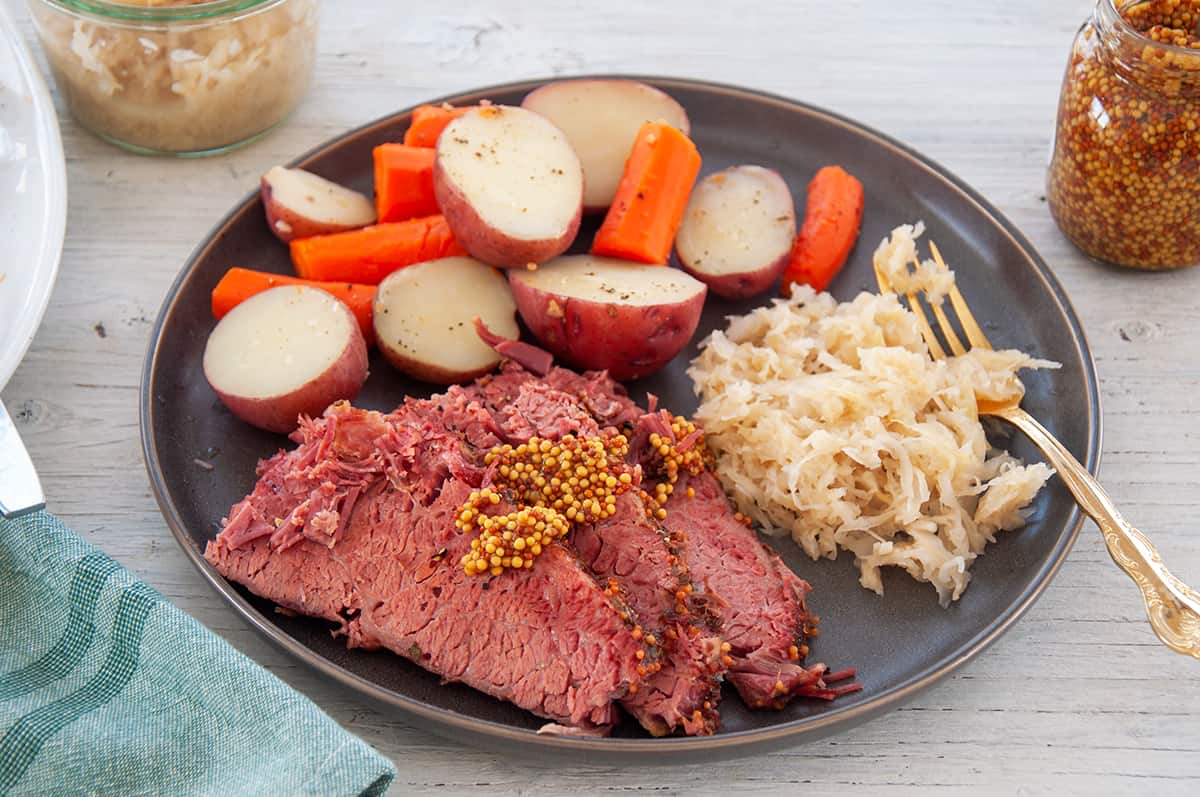 🛠 Products used in this recipe
😋 Did you make this recipe?
That is awesome, and thank you so much for giving this Sous Vide Corned Beef dinner recipe a try. If you could leave a rating in the comment area below, it would be greatly appreciated. This lets me know how I am doing and also helps others decide if they want to make this recipe. Most of all, thanks for visiting Ramshackle Pantry.
Print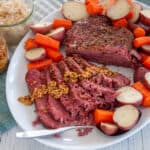 Sous Vide Corned Beef
Author:

Ben

Prep Time:

15 minutes

Cook Time:

24 hours 30 minutes

Total Time:

24 hours 45 minutes

Yield:

6

servings

1

x

Category:

Beef

Method:

Sous Vide

Cuisine:

Irish
---
Description
Sous Vide Corned Beef can be tender, delicious, and perfect. Use this recipe to make a great fall-apart Corned Beef dinner using your Sous Vide machine. We also include a potatoes and carrots recipe that can be served as a wonderful side to the dish.
---
1 Corned Beef 3-

5

pounds

2

pounds

of small red potatoes, halved or quartered

6

medium carrots, cleaned and roughly chopped
Salt and pepper, to taste
---
Instructions
Add corned beef roast to 2 oven bags and sous vide at

175° Farhenheit

for 24 hours.
Near the end of cooking time, preheat the oven to 500° Fahrenheit
Remove roast from sous vide and remove from bag. Reserve liquid
Place roast on roasting pan
Cook in oven for 10 minutes
While cooking, put bag juices, potatoes, carrots into a large pot
Cover with water and bring to a boil and cook over medium-high until tender
When roast is done, remove and allow to rest for 5 minutes
Cut against the grain.
Serve roast with potatoes and carrots.
---
Notes
I like serving mine with sauerkraut. Another option is to cook some cabbage along with the potatoes and carrots.
Double bag with oven bags if you are using the displacement method.
Make sure to have your potatoes and carrots prepared and oven preheated before you remove your beef from the sous vide.
For nutritional information, I am using a 4 pound roast. Your serving size might vary depending on appetites and the size of the roast.
Mustard goes great with this dish.
Nutrition
Serving Size:

1/6 of Total

Calories:

676

Sugar:

3 g

Sodium:

2994 mg

Fat:

40 g

Saturated Fat:

13 g

Unsaturated Fat:

27 g

Carbohydrates:

32 g

Fiber:

6 g

Protein:

45 g

Cholesterol:

147 mg
Keywords: sous vide corned beef