This delicious Cotton Candy Margarita Recipe brings the fair to your cocktail glass. It is sweet, colorful, and a fun way to celebrate Summer flavors.
Summer in a glass, and what better way to honor the season than with a drink that screams fun and sun? I'm talking about a treat that'll bring back memories of the fair, the ballpark, or that special carnival you visited as a kid. Give this special margarita recipe a try today.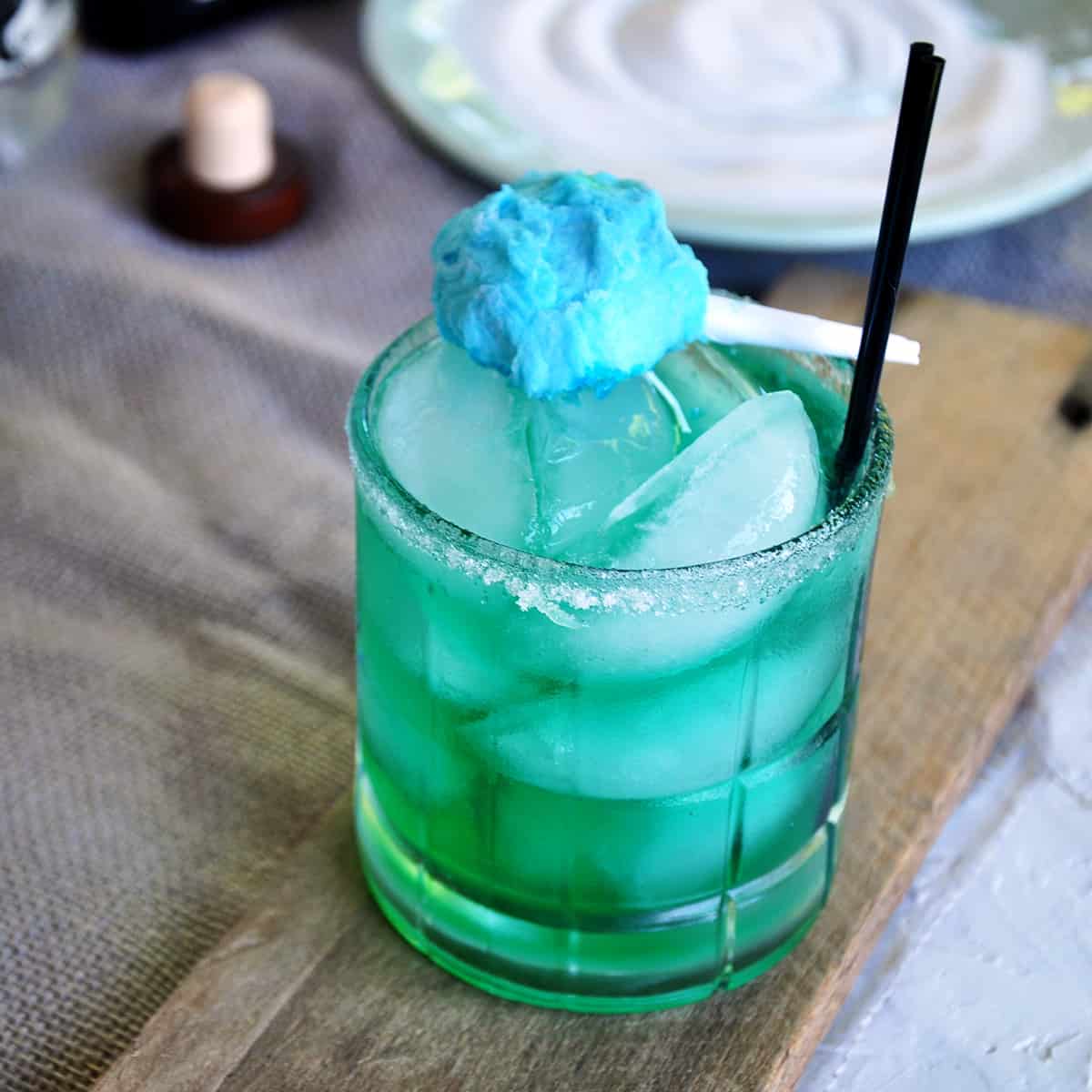 🌈 What makes this recipe special?
Think about what makes a party pop. It's when something unexpected and delightful shows up, right? That's exactly what this Cotton Candy Margarita is. It's a margarita, yes, but with a twist. It's a margarita wearing its party hat!
Cotton candy is the life of this party. Not just a treat for kids or a fair novelty anymore; we're using it to spin sweet magic into our margarita. The cotton candy infuses a rush of sweetness, and it's a sight to behold as it dissolves into the drink.
Then there's the color. The cotton candy you pick will give your margarita a splash of stunning color. Imagine the surprise and delight when you serve these at your next party.
But we haven't forgotten the heart of a margarita. We're keeping the tequila and triple sec but adding a bit of UV Cake Vodka. It's not a typical addition, but it brings a candy flavor to the party, amping up the sweetness.
In essence, this Cotton Candy Margarita keeps the spirit of a traditional margarita but dresses it up with some new, fun flavors. It's unique, it's fun, and it's exceptional.
Jump to:
🍬 Ingredients
Cotton Candy is the star of this recipe, but it takes a bit more. Here is what else you need.
Cotton candy
Lime juice
Sugar
Tequila Blanco
Triple sec
UV Cake Vodka
See the recipe card for quantities.
🍲 Instructions
Let's dive right into the fun part of making this Cotton Candy Margarita, the instructions. This isn't your everyday cocktail, so get ready to enjoy the process. It's all about creating that perfect fusion of classic margarita spirit and the whimsical sweetness of cotton candy. Are you ready? Let's go!
Start by filling your shaker halfway with ice. Then, add in the cotton candy. This isn't just for sweetness; it's going to give our margarita that authentic cotton candy flavor that sets this drink apart. Next, squeeze in your lime juice. The citrus punch will balance the sweetness and add a refreshing twist.
Now, let's get our glass ready. Moisten the rim with a spent lime half, then coat it with sugar for an extra hint of sweetness with every sip. Fill the glass with ice, and we're ready for the next step.
Back to our shaker, it's time to add the remaining ingredients: tequila blanco, triple sec, and UV Cake Vodka. This mix of spirits brings in the classic margarita essence while the UV Cake Vodka amplifies the sweet cotton candy taste.
Shake it vigorously for fifteen seconds, and strain it into your prepared glass. Pop in a small dollop of cotton candy for garnish, and voila! You've just made a delightfully sweet Cotton Candy Margarita. Enjoy!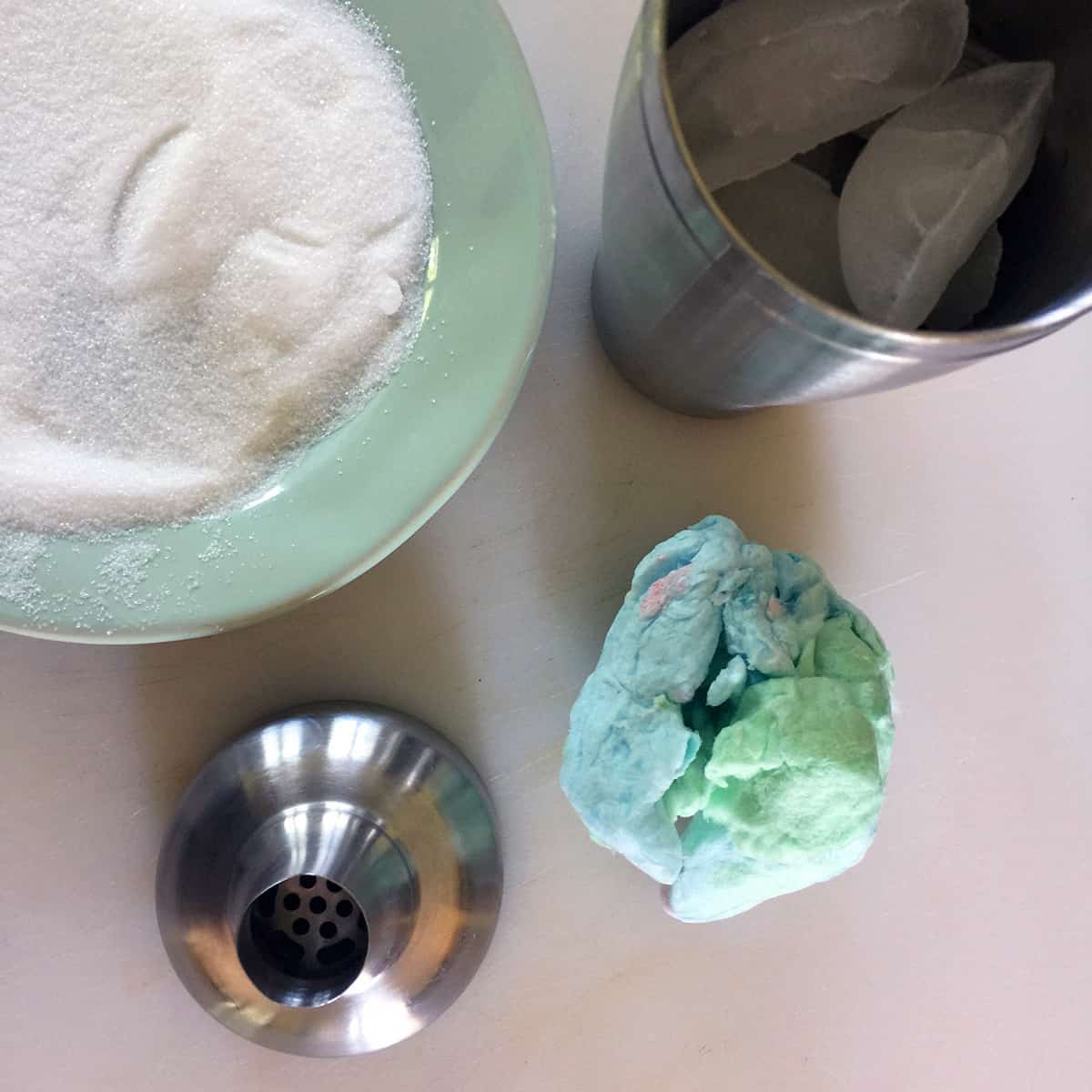 🤷 Substitutions and variations
There are a few ways that this can be changed.
Don't have UV Cake Vodka on hand? No worries! You can swap it for a different flavored vodka. Vanilla or marshmallow vodka could be great alternatives.
If you're not a fan of tequila, try using white rum instead. It'll change the taste profile a bit, but it could make your Cotton Candy Margarita smoother and even more enjoyable. After all, making a cocktail you love is the ultimate goal here.
Want to play around with the color of your margarita? You sure can! The color of your cotton candy will change the color of your drink. Just remember, stick to one color to avoid ending up with a greyish cocktail.
Lastly, if you're looking for a non-alcoholic version, try using lime soda instead of spirits. You'll end up with a fizzy, sweet, and refreshing cotton candy mocktail. Remember, making this recipe your own is part of the fun! Enjoy experimenting.
🎓 History tidbit
Cotton candy has been delighting sweet tooths since the early 20th century. In fact, it was invented in 1897 and introduced to the world at the 1904 World's Fair. Imagine people's faces when they first tasted this sugary, cloud-like treat!
Now, the Cotton Candy Margarita is a more recent invention. It's part of the trend of adding playful and nostalgic flavors to traditional cocktails. By blending the classic margarita with the whimsical taste of cotton candy, we've created a drink that's both familiar and delightfully unexpected. It's a sweet trip down memory lane in a glass. Enjoy!
❓ FAQ
What is the origin of the Margarita?
The exact origin of the Margarita is somewhat uncertain, with multiple stories claiming the invention of this classic cocktail. It's generally agreed upon that it was created in the 1930s or 1940s in Mexico or the southwestern United States. Despite the mystery surrounding its origin, the Margarita has become one of the most popular cocktails worldwide.
When was cotton candy first made?
Cotton candy, also known as fairy floss or candy floss, was first introduced to the world at the 1904 World's Fair. It was created by William Morrison and John C. Wharton, candy-makers from Nashville, Tennessee.
What is the purpose of a cocktail shaker?
A cocktail shaker is used to mix the ingredients of a cocktail together. By shaking the ingredients with ice, the cocktail is chilled, diluted, and aerated. This process helps to blend the flavors together and create a smoother, more enjoyable drink.
Why is it important to rim a glass in a cocktail recipe?
Rimming a glass can add an extra layer of flavor to a cocktail and also enhance its presentation. Depending on the cocktail, you might rim the glass with salt, sugar, or even spices. For a Cotton Candy Margarita, a sugar rim complements the sweet flavors of the drink.
What are some tips for creating my own cocktail variations?
Creating your own cocktail variations is all about experimentation and balance. Start with a classic recipe, then think about what flavors or ingredients you might want to introduce. Remember to balance your sweet, sour, and alcoholic elements, and don't be afraid to try something new!
📝 Tips and tricks
If you can get the 'freshly made' stuff, use it. If not, buy cotton candy from Amazon [Affiliate Link].
Make this on hot days when you want something sweet!
For garnish, take note that cotton candy will dissolve as soon as it hits liquid.
🛠 Products used in this recipe
😋 Did you make this recipe?
That is awesome, and thank you so much for giving this Cotton Candy Margarita recipe a try. If you could leave a rating in the comment area below, it would be greatly appreciated. This lets me know how I am doing and also helps others decide if they want to make this recipe. Most of all, thanks for visiting Ramshackle Pantry.
Print
📖 Recipe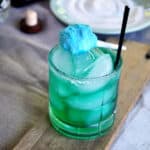 Cotton Candy Margarita
Author:

Ben Myhre

Prep Time:

3 minutes

Cook Time:

2 minutes

Total Time:

5 minutes

Yield:

1

Cocktail

1

x

Category:

Cocktails

Method:

Shaker

Cuisine:

Mexican
---
Description
Can't get enough cotton candy? Well, this Cotton Candy Margarita might be just the drink for you. Sweet flavors combined with the great classic margarita. Cool down your hot Summer day with this sweet Cotton Candy Margarita
---
15

grams

cotton candy + a small dollop for garnish

½

ounce

lime juice (about ½ a lime)
Sugar, for rimming

1

ounce

of tequila blanco

1

ounce

of triple sec

1

ounce

UV Cake Vodka
---
Instructions
Fill the shaker half full with ice
Add 15 grams of cotton candy
Add lime juice to the shaker
With spent lime half, moisten glass rim and rim with sugar
Fill glass with ice
Add rest of ingredients to the cocktail shaker
Shake vigorously for fifteen seconds
Strain, garnish and serve
---
Notes
If you can get the 'fresh made' stuff, use it. If not, buy cotton candy from Amazon [Affiliate Link].
Make this on hot days where you want something sweet!
For garnish, take note that cotton candy will dissolve as soon as it hits liquid.
Nutrition
Serving Size:

1 Drink

Calories:

290 Calories

Sugar:

26 g

Sodium:

13 mg

Fat:

0 g

Saturated Fat:

0 g

Unsaturated Fat:

0 g

Trans Fat:

0 g

Carbohydrates:

55 g

Fiber:

0 g

Protein:

0 g

Cholesterol:

0 g
Keywords: Cotton Candy Margarita