Bring the fair to your cocktail glass with this scrummalicious Cotton Candy Margarita Recipe. It is sweet, colorful, and a fun way to celebrate Summer flavors.
If you have a sweet tooth that can't be satiated, this Cotton Candy Margarita is for you! The margarita is such a festive drink to begin with and that I thought it would be fun to bring a little extra party to this classic cocktail. This drink is a great addition to our margarita series. If you are interested in a sweet, sweet drink with cotton candy flavors, check out this Cotton Candy Margarita.
Is This Margarita Really Sweet?
Yes, this margarita is really sweet. Cotton candy is really sweet, right? Well, I wanted to embody that sort of flavor in drink form. I did my best to stay true to some of the spirit of the traditional margarita by making sure it had tequila and triple sec in it, but we did change it up a little with some UV Cake Vodka. If you are looking for something that highlights a sweetness, this Cotton Candy Margarita is for you. If you are looking for an alcohol forward margarita, check out our traditional margarita recipe.
Does This Margarita Really Use Cotton Candy?
Yes. I feel that we have to use the namesake in the drink, right? So, I purchased my cotton candy from my local grocery store, but if you have fresh, homespun cotton candy, I would recommend using that. We actually have our fair going on locally right now, so it would have been a possibility to use some of the 'good stuff' for this drink, but I realize that fresh cotton candy isn't always available. For that reason, I use the stuff I can find in the store and on Amazon, Fluffy Stuff Cotton Candy.
Does The Color Of The Cotton Candy Make a Difference?
The color of the cotton candy will alter the color of your drink. We made a decision to try and just use one color for the cotton candy margarita. If you start blending all the colors together, you can end up with a greyish mess of a cotton candy margarita. So, if you want a good presentation, try to use a uniform color.
UV Cake Vodka
I tried to make this drink with just cotton candy and I could not make that flavor pop with just the cotton candy. I decided to change up the alcohol composition of the Cotton Candy Margarita to also include UV Cake Vodka. This isn't my typical alcohol, but it certainly does add some candy flavor to this drink. It also adds to the sweetness. So, we still maintain the tequila and triple sec flavors, but we dial them down a little and add that UV Cake flavor.
This was a fun drink to explore. I was able to explore cotton candy flavors and it is always a challenge to accurately put flavors like that into a classic cocktail. If you love a sweet drink and love having fun with margaritas, this Cotton Candy Margarita is for you. If you like what we are doing at Ramshackle Pantry, subscribe to get updates via email and then also make sure to follow me on the Instagram.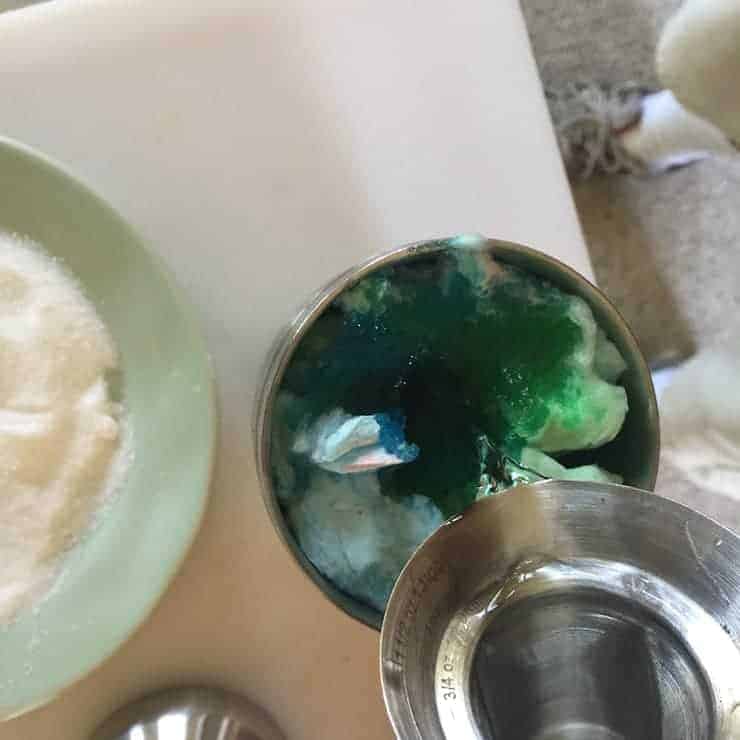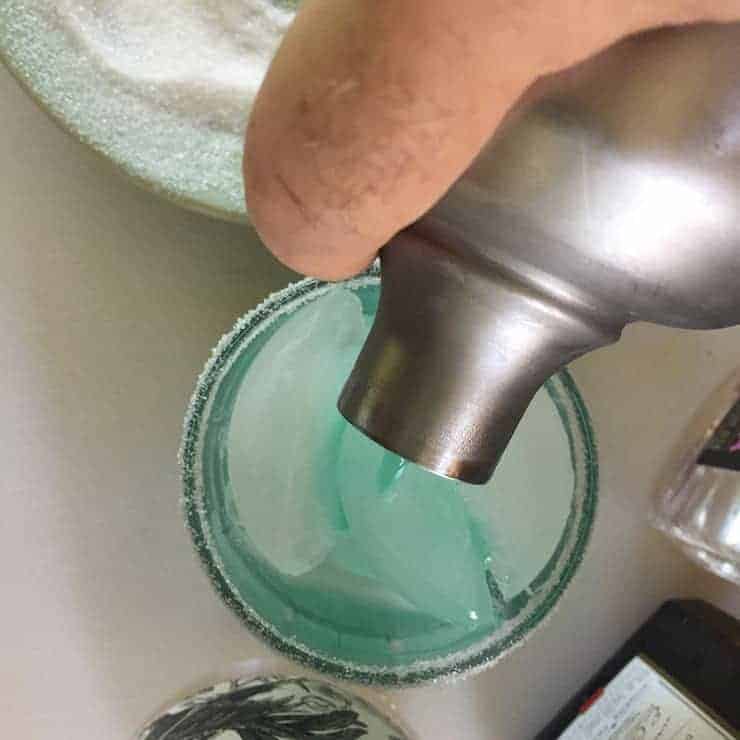 Products I Used In This Recipe
Print
Cotton Candy Margarita
Author:

Ben Myhre
Prep Time:

3 minutes

Cook Time:

2 minutes

Total Time:

5 minutes

Yield:

1

Cocktail

1

x
Category:

Cocktails

Method:

Shaker

Cuisine:

Mexican
---
Description
Can't get enough cotton candy? Well, this Cotton Candy Margarita might be just the drink for you. Sweet flavors combined with the great classic margarita. Cool down your hot Summer day with this sweet Cotton Candy Margarita
---
Scale
Ingredients
15 gram

s cotton candy + a small dollop for garnish
.5 ounce lime juice (about ½ a lime)
Sugar, for rimming

1 ounce

 of tequila blanco

1 ounce

 of triple sec

1 ounce

UV Cake Vodka
---
Instructions
Instructions
Fill the shaker half full with ice
Add 15 grams of cotton candy
Add lime juice to the shaker
With spent lime half, moisten glass rim and rim with sugar
Fill Glass with ice
Add rest of ingredients to the cocktail shaker
Shake vigorously for fifteen seconds
Strain, garnish and serve
---
Notes
For garnish, take note that cotton candy will dissolve as soon as it hits liquid
Keywords: Cotton Candy Margarita