Mangonada is a tasty frozen Mexican drink that has it all. Sweetness, tartness, a touch of spice, a ton of color, and even more. This Mangonada recipe is easy to make and is a wonderful treat for a hot Summer day or just when you want a special frozen blended drink. Get out your blender and make this beautiful Mangonada recipe today.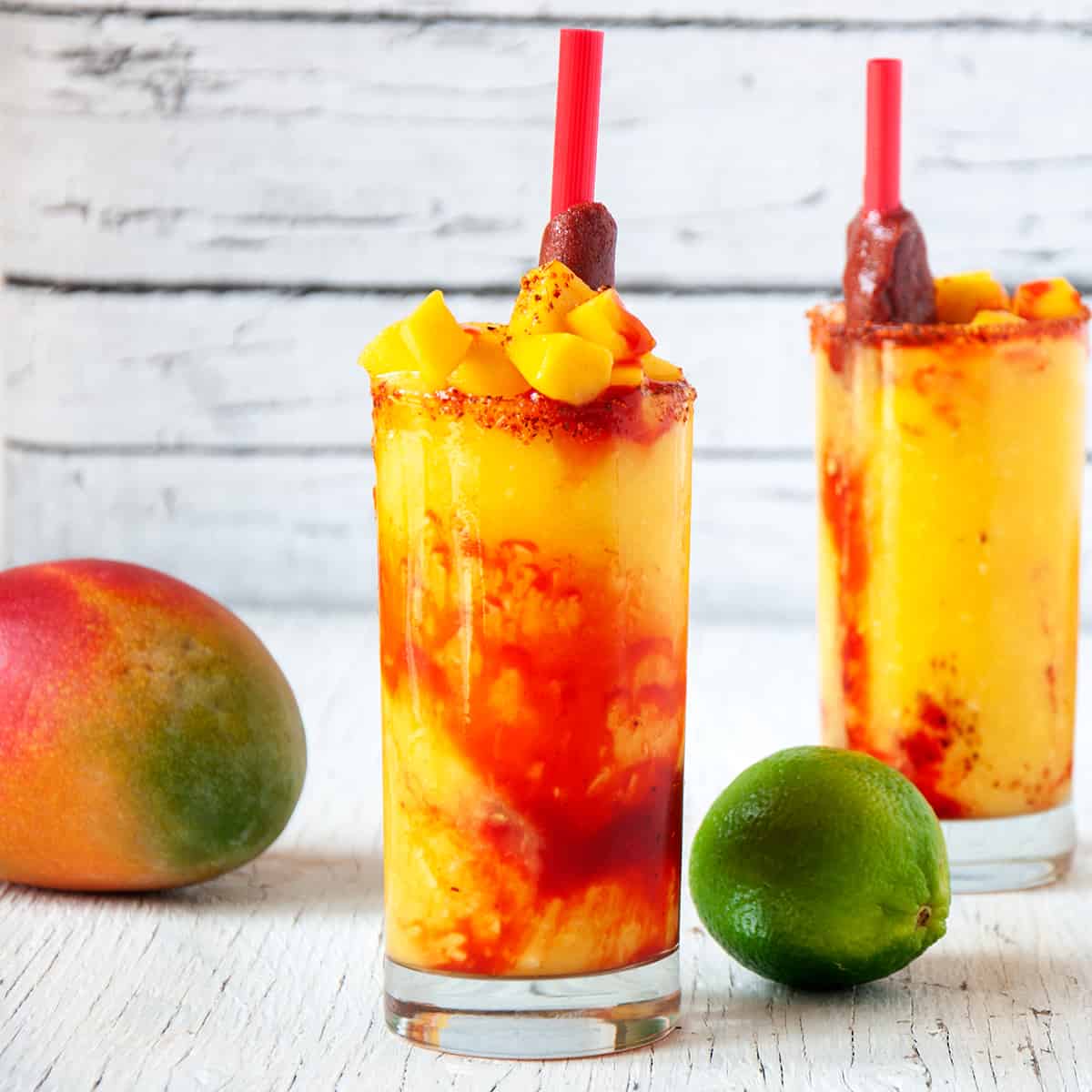 Mangonada Summary
The Mangonada is a specific kind of Chamoyada or fruit-based frozen dessert drink with the Mexican sauce Chamoy. While a Chamoyada can be made with many different types of fruit, the Mangonada is specific to, surprisingly, Mangos.
First, rim a glass with some chamoy and Tajin Seasoning. Then add a dash of the chamoy to the bottom of the glass. Using a spoon, add some along the sides of the glass. This is for flavor but also helps give it a beautiful orange and red coloring.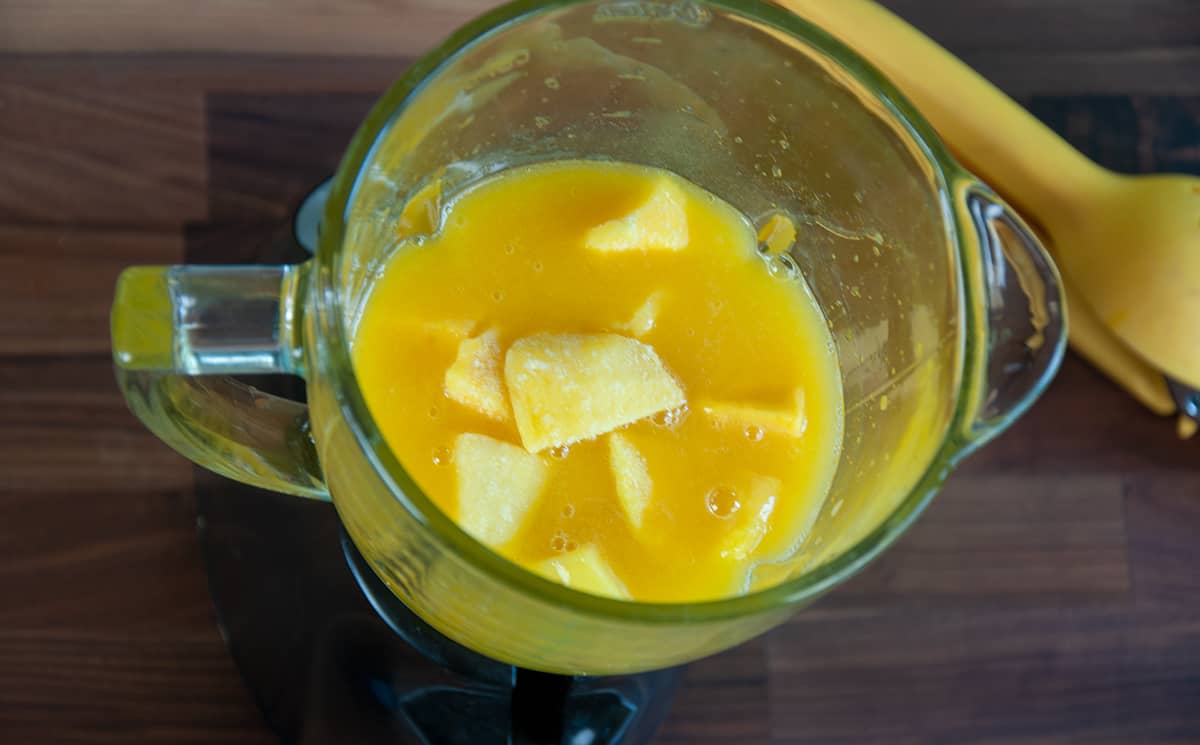 Blend up some frozen mangos, lime juice, and sugar. Once that is blended, add the frozen mixture to our prepared glasses. Not completely full, but close to full.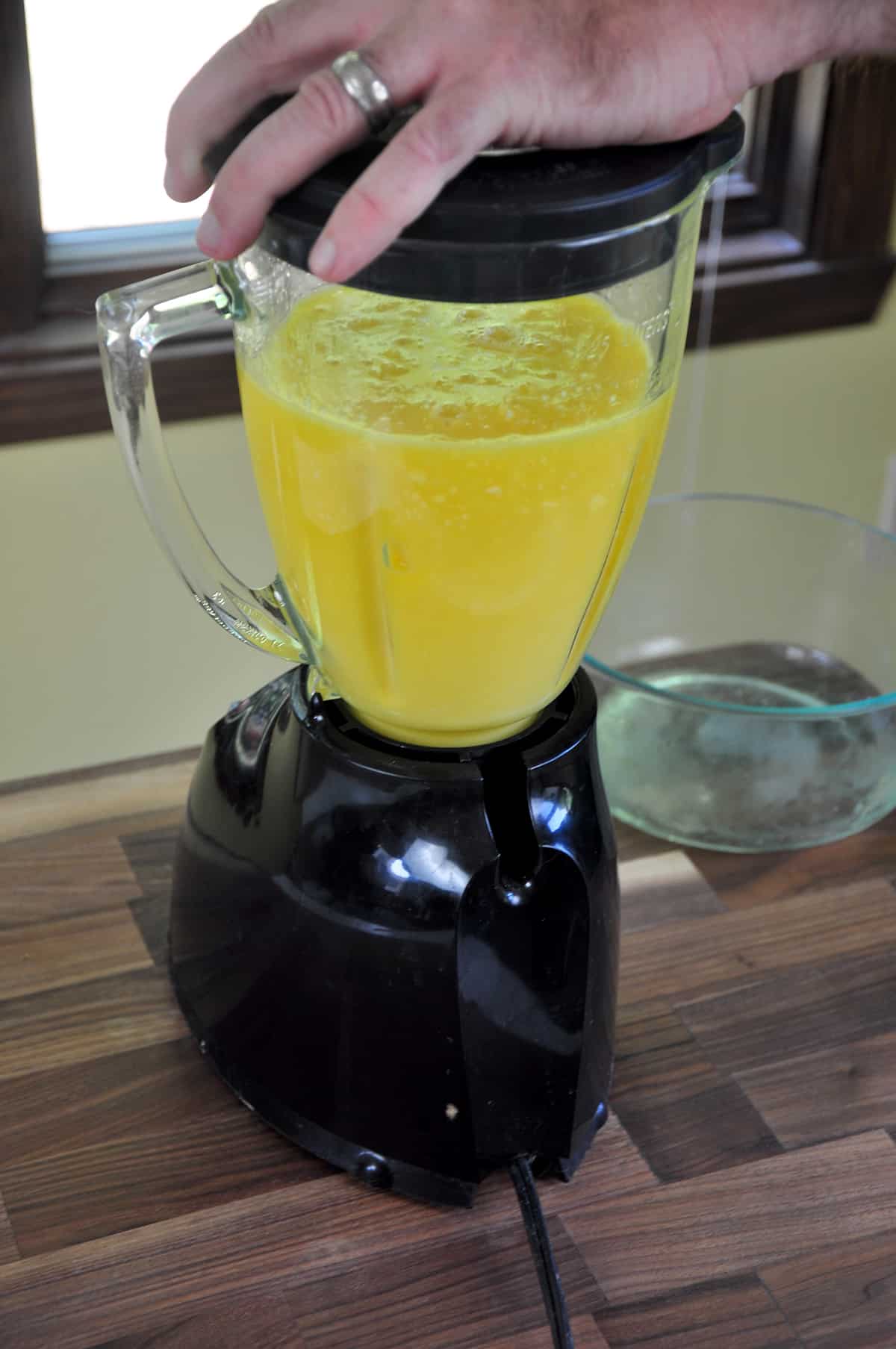 Add a dash of chamoy and a sprinkle of Tajin. Layer on some fresh-cut mango. Then, on the top, another little dash of chamoy and sprinkle of Tajin.
Finally, and optionally, add a Tamarind Candy straw. Drink up!
What is and where to find Chamoy Sauce?
Chamoy is a condiment for fruit and snacks. It is a brined fruit mixture that has chili powder to it. It has a salty, sweet, chili, and maybe even vinegary flavor to it. I have seen it described as a hot sauce for fruit. All I really know is that it is a tasty and exciting product.
Being a Midwest guy with a Norwegian background, I had just never tried Chamoy until I first tried a Mangonada, and now I am hooked. Chamoy is super interesting, and I am glad I found it, but where can you find it? First, if you have a local Mexican market, you should check that out.
Locally in the Fargo area (where I live), I found it (and our tamarind candy straws) at a great local spot called La Unica. La Unica is such a great place for products, but they also serve some wonderful food. If you are outside of our region and don't have a Mexican market, you can try Walmart or your store. You can also find Chamoy on Amazon (Affiliate Link)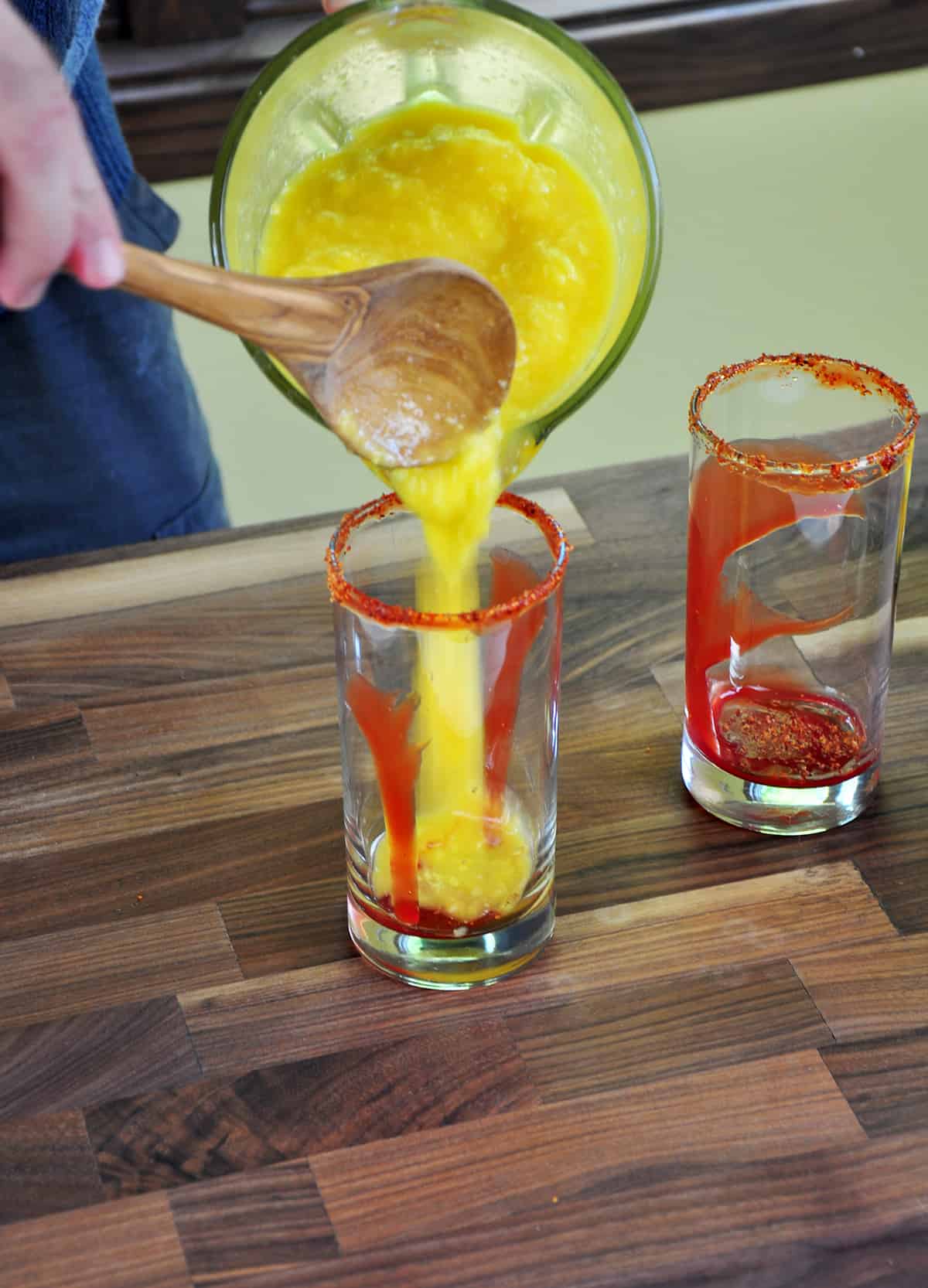 What is and where to find Tajin?
Tajin Seasoning is a mild flavoring of chili and lime. Outside of Mangonadas, this is an excellent seasoning for fruit or even meats. It is great to sprinkle on watermelon. Yum!
I found this to be a bit easier to find than chamoy. Your local grocery store may already carry Tajin, but if not, you can also purchase Tajin on Amazon. (AFFILIATE LINK)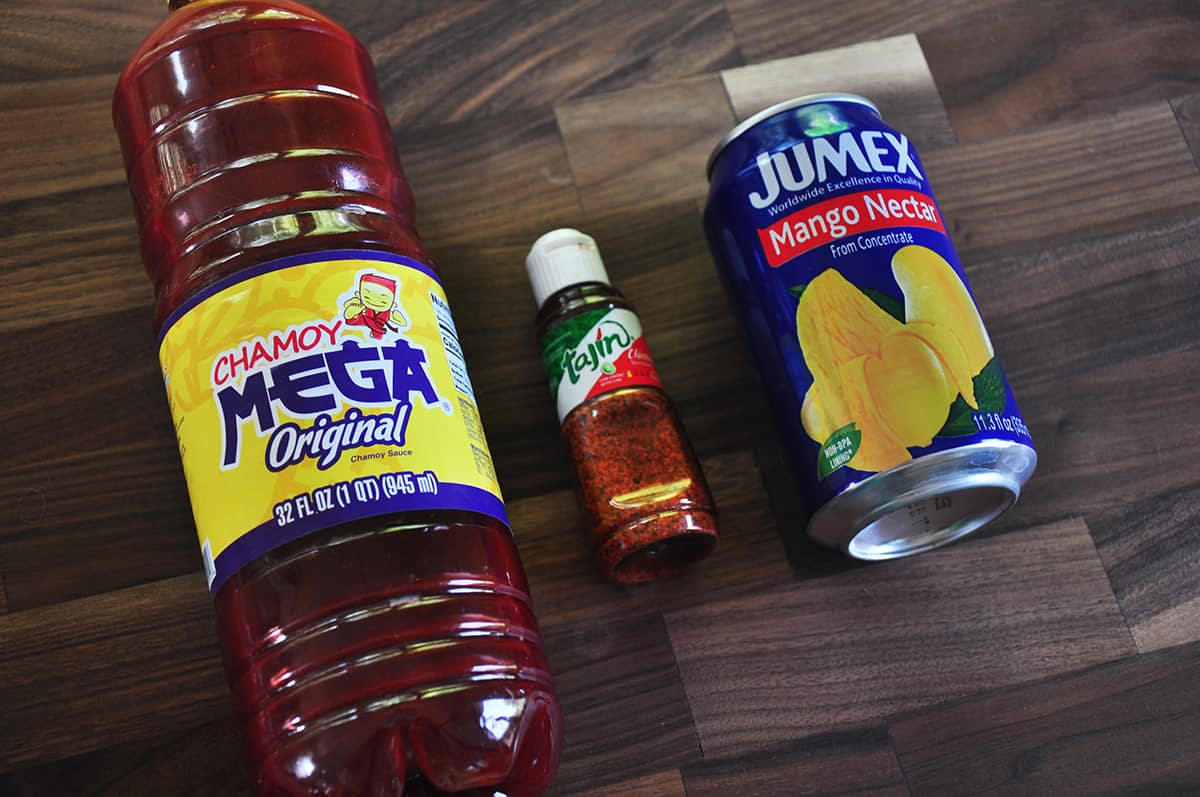 Tamarind Candy Straws
Tamarind Candy Straws are a fun bonus to make a Mangonada just a little bit more special. These add more chili, sweet, and sour flavor to the mix. The drink has all of this already, but Tamarind Candy Straws are fun, and tamarind has a unique flavor that adds to this.
I do think they add to the overall recipe, but if you are trying to cut down on calories, omitting the candy straw is an easy way to lighten up this recipe a bit.
Cutting a Mango
We use both fresh and frozen mangos in this recipe. While the frozen stuff should already be cut and chunked, cutting fresh mangos can sometimes be tricky if you don't know how. Check out this great video on how to cut and clean a mango.
Can I add Alcohol to a Mangonada?
Oh yeah! I think for us adults, a shot of Rum or maybe Tequila is great in this recipe. One shot for each drink and add it to the blender when you blend up frozen mango.
We have made many great frozen adult drinks before and I would suggest checking out our Frozen Strawberry Margarita recipe or maybe our White Russian Alcoholic Milkshake recipe.
Mangonada Recipe Tips
For added adult fun, consider adding Rum or Tequila to your mangonada
In your blender, add liquids before the frozen mango
If you have a less powerful blender, add ½ the frozen mango and blend. Then add the second ½ of the mango.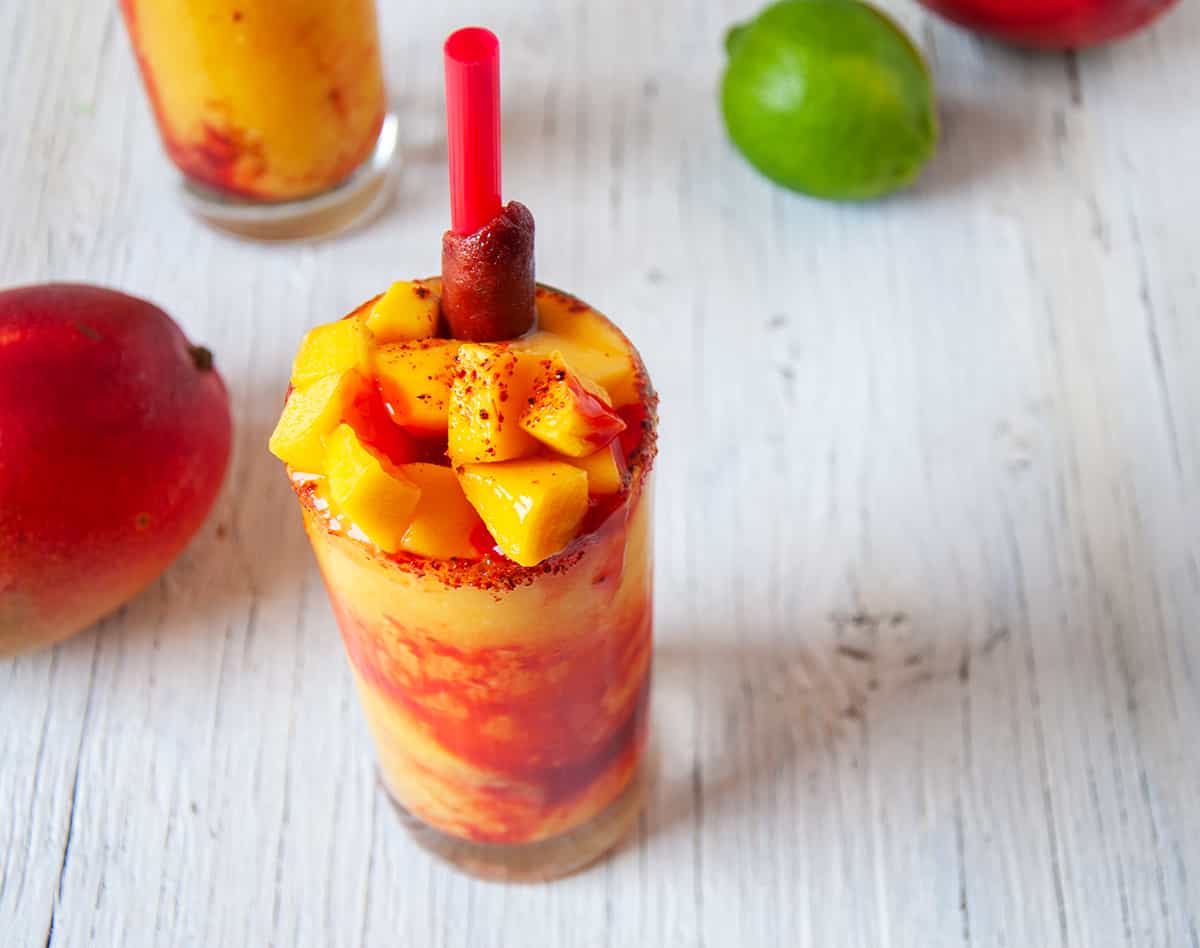 Products Used In This Recipe
Did You Make This Recipe?
Awesome! Let me know how it went. I always appreciate when people give my recipes a try, and this Mangonada is a great place to start. If you liked it, it would be great to take a second to leave a review down below and share this on your social media. This helps me out and other readers who might want to try. Most of all, thanks for visiting Ramshackle Pantry, and have a great day!
Print
📖 Recipe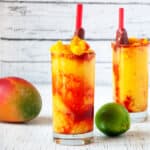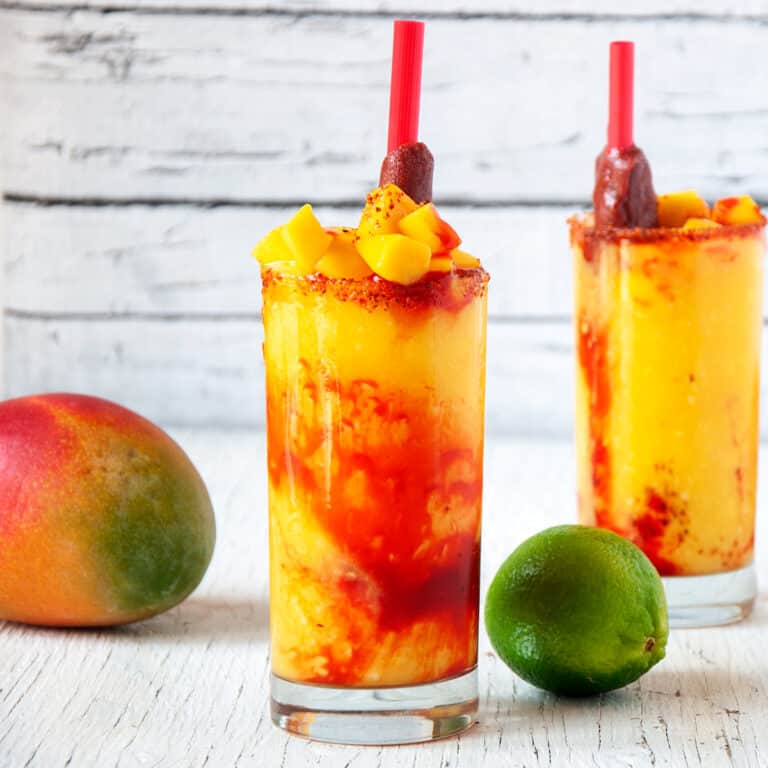 Mangonada
Author:

Ben Myhre

Prep Time:

3 minutes

Cook Time:

3 minutes

Total Time:

6 minutes

Yield:

2

drinks

1

x

Category:

Frozen Drink

Method:

Blend

Cuisine:

Mexican
---
Description
Mangonada is a sweet and tasty Mexican frozen treat. Full of flavors and colors, this mango-flavored chamoyada is easy to make and a great Summertime drink.
---
1

12 ounces can mango juice

1

lime, juiced

¼ cup

sugar

1

16 ounce bag frozen mango chunks

4 teaspoons

chamoy sauce (approximate) + more for glass rimming

½ teaspoon

tajin (approximate) + more for glass rimming

1

fresh mango, cut into chunks

2

tamarind candy straws (optional)
---
Instructions
Add manjo juice, lime juice, and sugar to blender
Add mangos and blend until mango is well incorporated
On one plate add some chamoy sauce and spread out for glass rimming
On second plate, add tajin
For each of two glasses, dip top in chamoy and then tajin to give each glass a spiced rim
In two glasses, add about 1 teaspoon (each) of chamoy sauce to bottom
Using spoon or container, place some more chamoy along the inside of the glass. This will help flavor and give a colorful look
Sprinkle just a dash of tajin inside each glass
Fill each glass until almost fill
Add just a splash of chamoy
Add fresh mango. Then sprinkle with more chamoy and tajin
Add tamarind candy straws and serve (optional)
Notes
For added adult fun, consider adding Rum or Tequila to your mangonada
In your blender, add liquids before the frozen mango
If you have a less powerful blender, add ½ the frozen mango and blend. Then add the second ½ of the mango.
Calories are NOT considering a tamarind candy straw, as that can vary widely.
---
Nutrition
Serving Size:

½ total

Calories:

319

Sugar:

71 g

Sodium:

226 mg

Fat:

0 g

Saturated Fat:

0 g

Carbohydrates:

78 g

Fiber:

4 g

Protein:

1 g

Cholesterol:

0 mg