This post may contain affiliate links. As an Amazon Associate I earn from qualifying purchases. Please read our disclosure policy.
All of the delicious White Russian flavors in an adult alcoholic milkshake. This is one tasty number and a perfect drink to enjoy a bit of summer treat while imbibing in sweet Kahlua flavors. Give this White Russian Alcoholic Milkshake a try today.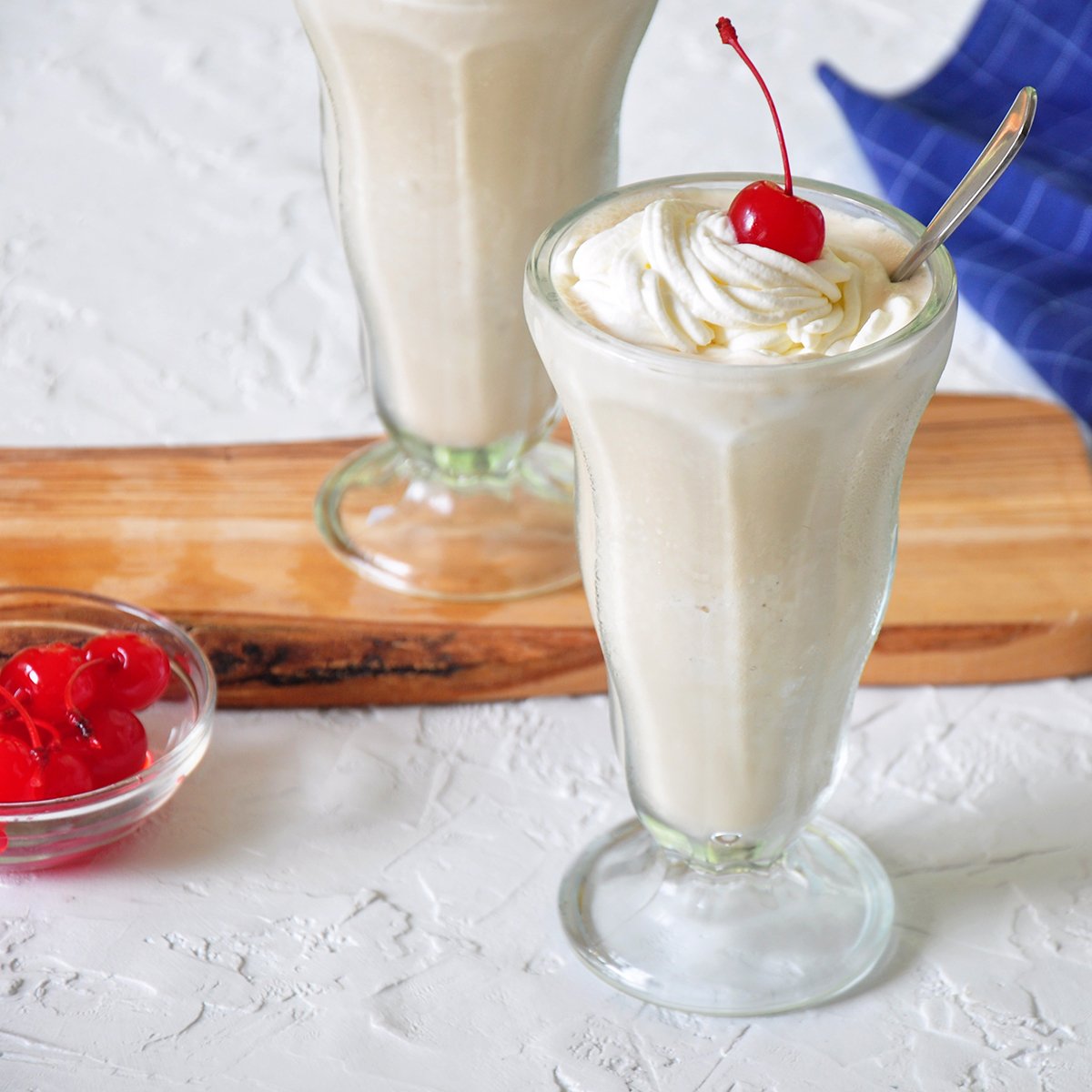 Today we are furthering our exploration of the White Russian by making an adult, boozy, dessert drink. Our White Russian Alcoholic Milkshake has all of the flavors of the classic cocktail, but presents in all the splendor and tastiness of a milkshake.
We already learned about the history of this great cocktail and now it is time to get down to the drinking. Our first recipe in the White Russian series is the White Russian Alcoholic Milkshake recipe. I hope you enjoy it! Also make sure to check out our Classic White Russian Recipe.
Why An Alcoholic Milkshake?
Why not! I feel like the flavors of a White Russian lend themselves really well to a dessert. Coffee Liqueur (or Kahlua) really is a very sweet drink and the cream that goes into a White Russian adds a rich dessert feel to it.
The cream easily translates to ice cream, since cream is the primary ingredient. The other flavors make this such a tasty adult treat. So, why make this White Russian Alcoholic Milkshake? Because it is damn tasty and I can do want.
How Much Is In a Scoop?
One of the obstacles I found in creating this recipe is being consistent with scoops. This really can make a difference between an ice cream drink that is difficult to blend and one that is perfect. To alleviate this problem, I measured with some exactness the amount of ice cream I used in this recipe.
If I were to give you an estimate, I would say it was six heaping scoops of ice cream in this recipe. I did, however, measure it out to be 500g of vanilla ice cream.
Soften The Ice Cream
Another obstacle I encountered was that there was a fine balance between having chunks of ice cream in my drink and a soupy mess. I want a nice, somewhat thick, ice cream shake.
What I did to help with this is that I took my ice cream that I just took from the freezer, scooped it out, and then left it in the refrigerator for 30 minutes. At the end of the 30 minutes, it was softened just enough to make it easily manipulated by the blender.
If the ice cream in your freezer is soft to begin with, you might not need to do this. I generally start with ice cream that provides resistance when I scoop it. It is a bit harder, but I know that some ice creams are different and some freezers are different.
Leave Room for Whipped Cream
This piece of advice really is for any milkshake and not just this recipe. Leave room at the top of your drink for whipped cream. In stretching to put as much of the cocktail into my milkshake glass as possible, on more than one occasion I found I added too much.
It wasn't until I added whipped cream at the end where it really made a difference. The shake glass seemed fine until I tried to pack that top full of tasty homemade whipped cream. Before you know it, I had alcoholic milkshake running down the side of my glass.
I guess in the grand scheme of things, this is a pretty ok problem. But still, I am here to cover you, dear readers, and this was one of the plights on this man's journey of making the White Russian Alcoholic Milkshake.
Homemade Whipped Cream
Use whatever whipped cream you want, but I need to put in a plug for homemade whipped cream. We posted our own whipped cream recipe not too long ago and you can get it here . It really is tasty and so easy.
I get that sometimes it might be easier to just buy the stuff, but it really takes just a few minutes and tastes better than the store bought whipped cream. For this milkshake recipe, we used our homemade stuff and I like to think it certainly adds a bit extra to the cocktail.
Difference Between the White Russian Alcoholic Milkshake and a Mudslide
Mudslides are definitely tasty adult drinks and a classic. I am, however, covering White Russians so I want to keep on that theme. There are definitely differences between these two drinks, however.
The mudslide is a frozen ice drink. Much in the same way that a frozen margarita is. You would put ice into a blender and mix the cocktail. In the drink we are making today, the primary item is ice cream.
Additionally, the mudslide contains Bailey's and is traditionally served in a Hurricane glass. We are leaving all that in the liquor cabinet and, instead, trying to bring you to the old-fashioned soda shop, where you would get a milkshake. The difference is that instead of a soda shop where kids go to, this one is for you adults!
We will leave the mudslide ingredients at home and, instead, focus on this alcoholic milkshake!
White Russian Alcoholic Milkshake Process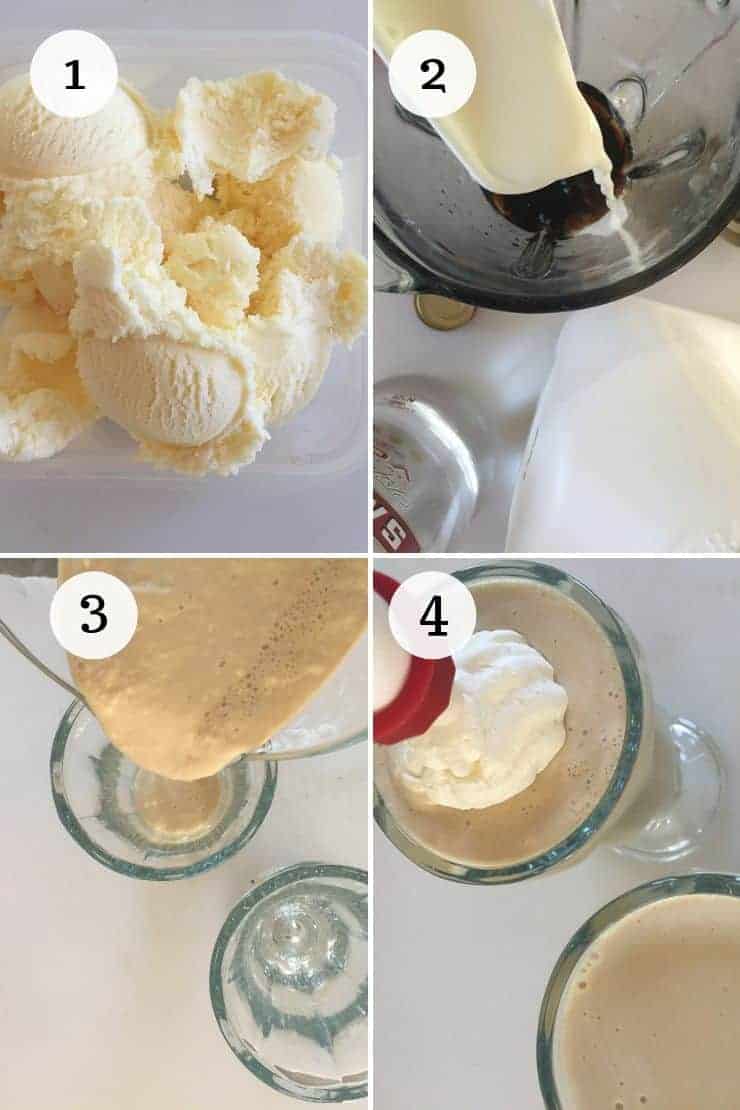 Measuring out the ice cream for use in our White Russian Alcoholic Milkshake.
Putting all ingredients into the blender to mix.
Pouring mixed frozen drink into shake glasses.
Adding homemade whipped cream on top as a tasty topping.
White Russian Alcoholic Milkshake Recipe Tips
Using a food scale can really help you keep your milkshake measurements and final product consistent.
Not all ice cream is equal and not all freezers are the same. Because my ice cream was pretty hard, I let it sit out a little bit to soften it for making a good shake.
Homemade whipped cream can really add a unique element to any milkshake.
This really was a fun one to experiment with. Who is going to argue with milkshakes? Make sure to check out our Classic White Russian Recipe after you give this one a try. I certainly am not and had quite a bit of fun developing this recipe. I hope you enjoy it as much as I do! Make sure to subscribe to my email, follow me on Instagram, and follow me on Pinterest!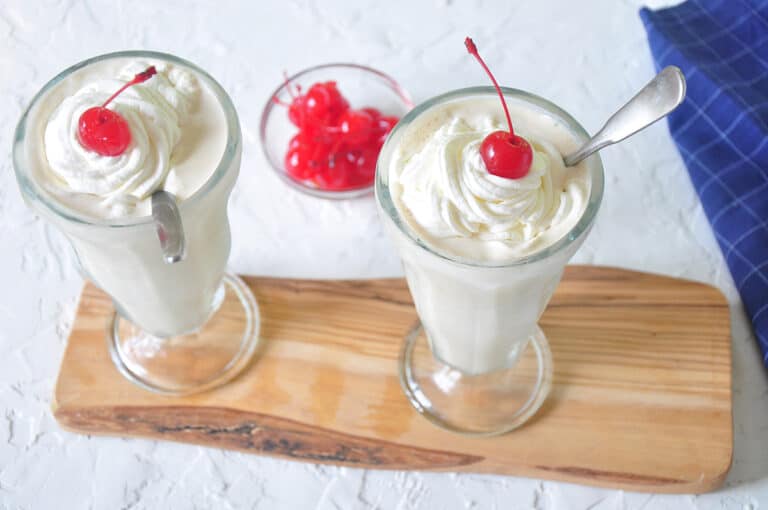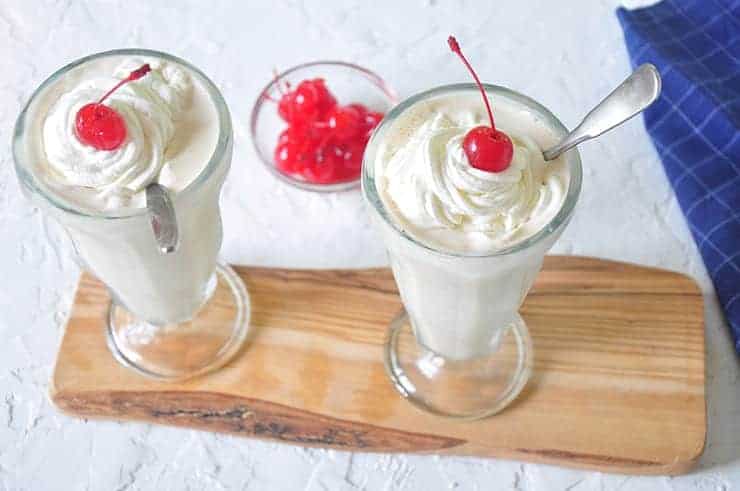 Products I Used In This Recipe
Did You Drink This White Russian Alcoholic Milkshake?
Let me know! I put a lot of time and effort into this little blog and your feedback can really help me improve. Leave a comment and rating below. Of course, if you want to see more, make sure Make sure to sign up to get our newsletter! Thanks so much for stopping by and reading.
Print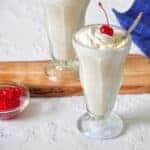 White Russian Alcoholic Milkshake
Author:

Ben Myhre

Prep Time:

30 minutes

Cook Time:

5 minutes

Total Time:

35 minutes

Yield:

2

Shakes

1

x

Category:

Dessert

Method:

Blend

Cuisine:

Boozy Dessert
---
Description
This White Russian Alcoholic Milkshake is a great way to booze up a classic milkshake! All the flavors of the classic cocktail, but with that ice cream yumminess. Whipped cream, cherries, Kahlua, and vodka!
---
500 grams

Vanilla Ice Cream (approximately

6

large scoops)

3 Ounces

Vodka

3 Ounces

Kahlua

¼ cup

milk
Whipped Cream
Cherry
---
Instructions
Measure out the Ice cream and place in refrigerator for 3o minutes to soften.
Add milk, Kahlua, and vodka to the blender.
Add ice cream to the blender
Mix on low setting until it reaches a shake-like consistency
Pour into shake glasses, top with whipped cream and cherry
serve!
---
Keywords: Alcoholic Milkshake