This classic French garlic soup is so comforting and tasty. A Julia Child classic that grabs my heart and warms my stomach. At first glance, it may seem like just a vegetable soup, but it is much more than that. This soup is very hardy, comforting, and delicious. Yes, it has the fancy French name of Aigo Bouido, but I call it Julia Child's Garlic Soup.
I have been reading Julia Child's book My Life In France which details much of the time before she became a famous television chef. It inspires me to cook. In the book, Julia describes, in detail, a garlic soup called Aigo Boido and I just knew that I had to make it. Just as I suspected, it is so good. This soup will forever be a part of my cooking arsenal and I am going to share it with you today. So, I am going to set aside our normal series for a moment and take time to make and share this spectacular garlic soup recipe.
What Is Aigo Bouido?
The literal translation of the recipe name is "boiled water" in Provencal. There is, however, much more to this recipe in terms of flavor and comfort. As indicated in the title of this post, we have garlic in this soup, but we also have some delicious herbs that really bring something special to the mix. The base of it is just boiled garlic and herbs. A very simple, but garlic heavy, broth. It makes our house smell spectacular and really is a treat.
Mayonnaise in Garlic Soup?
Part of this recipe includes making homemade mayonnaise and then ladling the garlic broth into it. I had not made a soup in this manner before, but it really kind of makes sense when you taste it. It almost gives it a creamed soup richness and texture to it, but with no dairy. So, if the idea of using mayo in this garlic soup gives you second thought of making it, don't worry. It is good and worth it.
What Herbs to Use For This Garlic Soup
While I mostly stay true to the original recipe, I think there is some wiggle room with this. The broth will take on the profile of garlic and the herbs that are used. My advice is to try this recipe as-is but then add and remove your herbs as you see fit. The one spice that I thought might not fit well, but the recipe calls for, is cloves. To my surprise, it really added quite a bit of awesome to the recipe. The flavor is great and complements this soup well.
Also, if you can, use fresh ingredients. It will make a difference.
Toast as a Side Dish
The soup is great, but I do think it needs a crispy side to go along with it. Serve it with a toasted bread or maybe even croutons. I used my homemade bread and put it in my toaster oven with butter and parmesan cheese for a few minutes. It really gave a nice accompanyment to the recipe and while I do not include it here, I suggest you add some crispy startch, like toast, as a side to this soup.
Julia Child Is Inspiring
I picked up this book about Julia Child not knowing what to expect and I love her story. She didn't even graduate from cooking school until she was in her late 30s. Her first book was published when she was 49. It seems like she had an openness and curiosity about the world that I admire. It is never too late to follow one's dreams, passions, and to live life to the fullest. That is what I get from Julia Child.
Here I am... a 46-year-old dude who is still learning, trying to follow my dreams and passions. Just like Julia Child seemed to continue to do throughout her life. And she did it so well.
There are other foodie authors I find inspiring and Julia Child is now among them. I love Anthony Bourdain, as he opened up worlds of unique and interesting cuisines to me, as well as the inner workings of the professional kitchen.
I love Jim Harrison, as he writes about food and eating in such a beautiful and unapologetically indulgent way. Harrison is probably best known for writing Legends of the Fall, but also writes some stunning food stories. Now, I love Julia for her passion for French cooking and her painstaking research in making great French food for Americans. I love her for this soup.
I have this suspicion that my love might go beyond this soup. Last Christmas, my wife gifted me Julia Child's cookbooks. I have not been disappointed. The Julia Child Foundation is probably where I will take my next steps.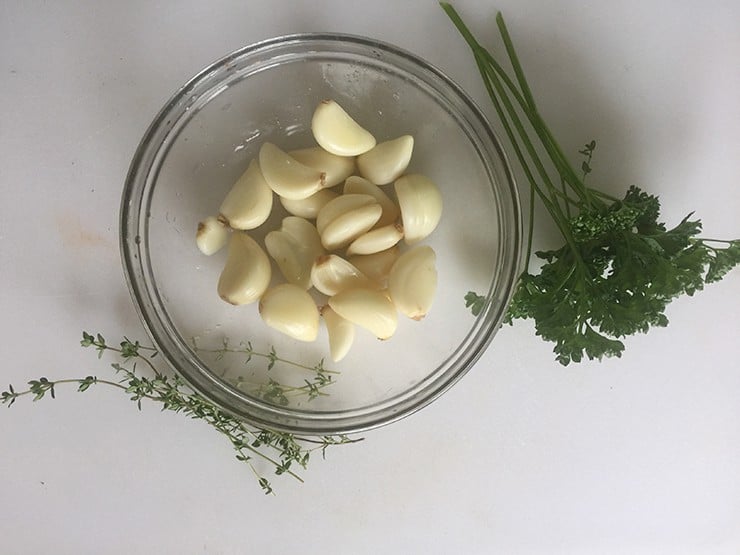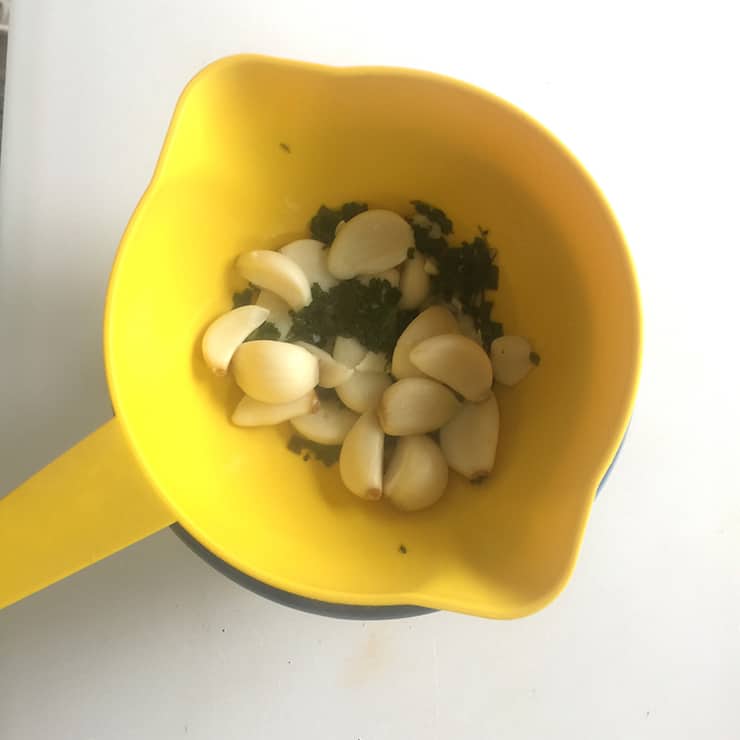 Garlic Soup Tips Summary
Since this recipe has so few ingredients, the ingredients you use are important. Find nice looking herbs and garlic for the recipe.
If you don't want to make fresh mayo, you could substitute ¼ to ⅓ cup store-bought mayo into this recipe, although I have not tested it.
Serve with a nice toast or bread as a side dish.
Products I Used in this Recipe
Did You Make This Garlic Soup?
If you liked this recipe, you could do me a real solid by taking some time to let me know how it went in the comment section below and by sharing this recipe on Pinterest. I always appreciate hearing from you. If you want to see more from me, make sure to subscribe to get updates via email.
Print
Garlic Soup - Julia Child's Aigo Bouido Recipe
Author:

Ben Myhre

Prep Time:

15 minutes

Cook Time:

35 minutes

Total Time:

50 Minutes

Yield:

4

servings

1

x

Category:

Soup

Method:

Boil

Cuisine:

French
---
Description
This Aigo Bouido, or garlic soup, is a Julia Child classic. While it is so simple, it is restorative and so comforting.
---
16

Cloves garlic

2 Quarts

Of Water

2 Teaspoons

of Salt

½ teaspoon

pepper

2

cloves

2

Sage leaves, chopped or

¼ teaspoon

dried sage

2

Sprigs Thyme leaves or

¼ teaspoon

dried thyme

1

small bay leaf

4

Sprigs Parsley or

½ teaspoon

dried

3

egg yolks

¼ cup

Olive Oil (NOT Extra Virgin)
---
Instructions
Bring some water to a boil
Add unpeeled garlic for 30 seconds.
Run under cold water
Remove garlic skin
Add peeled garlic and all ingredients EXCEPT egg yolks and olive oil to pot.
Bring to a light boil for 30 minutes
While water is boiling, add egg yolks to large bowl that will eventually hold soup
Whisk
Slowly add olive oil to bowl a few drops at a time and vigorously whisk (or use mixer) until it is mayonnaise.
After soup has boiled for 30 minutes, dish one ladle into mayonnaise and mix.
Using strainer, strain broth into the bowl containing the soup/mayo mixture.
Feel free to press and squeeze garlic a bit to get some of the extra juices out.
Ladle into serving bowl
Garnish with garlic/cheese toast, crispy French bread, parmesan cheese.
Serve
Notes
Serve with a toasted French Bread
---
Nutrition
Serving Size:

¼ SOUP

Calories:

191 Calories

Sugar:

0 g

Sodium:

1181 mg

Fat:

17 g

Saturated Fat:

3 g

Unsaturated Fat:

14 g

Carbohydrates:

7 g

Fiber:

2 g

Protein:

3 g

Cholesterol:

138 mg