Caldo De Queso is a delicious Mexican soup with all the comfort of a soup that my grandma might have made, but with a dose of spice that would make her blush. Then we add some queso fresco right to the dish! Little cheese dumplings that are an oasis of flavor swimming in our delicious chicken broth. This is a unique soup recipe that really deserves a place right next to classics like chicken noodle soup. Try our Caldo De Queso recipe today!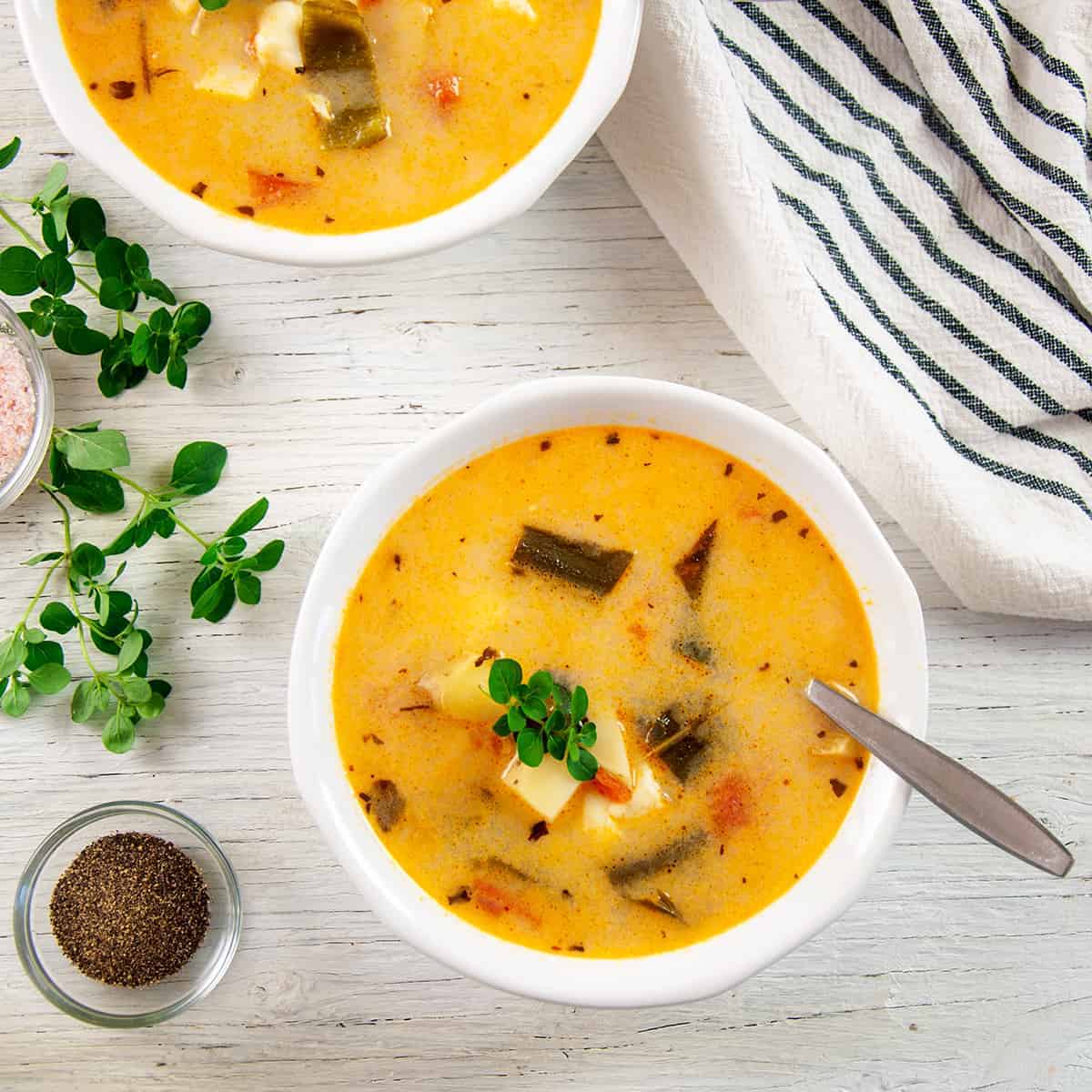 Recipe Summary
I already mentioned chicken noodle soup and I believe this to be as much of a classic soup, but with a spicy twist. We add a bunch of delicious ingredients to a single pot where the end result is something magnificent.
Onion, garlic. tomato and oregano marry in our soup pot to start off the recipe. Then comes the potatoes and we cook those in chicken stock until tender. In the last several minutes, we add some roasted poblano peppers, queso fresco, and finish it off with some whole milk.
What starts off as what might be a soup in any suburban kitchen ends with a flare of heat and cream that really makes this special. It can be served with tortilla chips or just by itself. All I know is that this is a great recipe and I am super happy to share it with you!
Roasting Poblano Peppers
I do call for three roasted Poblano peppers in this recipe and I don't include them in the instructions for the recipe, but they do need to be made somehow. You can find them canned in the grocery store, but you can easily make them, as well.
It is a simple process to make these. Preheating your oven to 400 Fahrenheit. Lightly coat three peppers with olive oil and place on a cookie sheet. Once your oven is preheated, add your peppers to the center rack and cook for 20 minutes.
Once they are cooked, chop them up and you are good to go. These could even be made the day before. I, however, tend to add these peppers to the oven and spend that time doing the prep work for the rest of the ingredients.
It really is a good time to chop all of the other ingredients and get everything ready. Twenty minutes in the oven is about the right amount of time to get all of the other ingredients ready.
Can I Use Other Peppers?
Sure, why not? That said, what peppers you use will impact your final product. The closest substitute for a poblano is going to be an anaheim pepper. Anaheim peppers are going to be a bit hotter than poblano peppers and they tend to be smaller.
You could also just use a normal green or red pepper. If you did this, you would end up with more pepper in your Caldo de Queso soup, but the heat is going to be missing.
If you can, use a poblano pepper, but it is reasonable to use other peppers if you find yourself in a pinch.
Cheese - Queso Fresco
The other ingredient that makes this recipe really special is the cheese. It is used in a way that I have not seen before and it blew my mind a bit that it actually works. At the end of the cooking process, we just add some crumbled cheese to the soup.
My instinct would tell me that this should melt right into the broth, but it doesn't! Instead, they act like little cheese dumplings that are so great and particularly in a spicy broth. In any given bite, you might encounter a bit of pepper or a small pillow of dairy goodness. It is such a great balance and between these two ingredients, something really special is happening in this soup.
I have kept this soup in the refrigerator and reheated it in the microwave with great results. Queso Fresco holds perfectly, even as the soup is reheated.
What is Queso Fresco
The name literally translates to "Fresh Cheese" and it is a Mexican cheese that has not been aged. It is soft and crumbles, much like a feta cheese might, but it is much lighter and far milder than feta. If you tried our Honduran Enchilada Recipe, you have some experience with Cotija cheese. This is very much like a Cotija cheese, but less salty and has less of that old-cheese stank that Cotija has.
In fact, if you like a bit more bite to your cheese, I think Cotija would be a great substitute in this recipe. The texture is very similar and it would still hold its shape. The big difference is that cotija would add some interesting flavor to the soup.
Like Cotija, you may find it in a round container and it looks very similar.
Where To Find Queso Fresco
You should be able to find it right at your grocery store, but it may not be next to all of the other cheeses. In fact, I have yet to see it next to the section where all the block cheeses are sold.
In our stores, there are generally two places where we see it. First, I have seen it in the refrigeration aisle where fresh salsa is kept. So, they have it designated almost as a Mexican flavors section.
I also have seen it near the sour cream, cottage cheese, and dairy section. Usually, it would be right next to the Cotija cheese and they often have the same manufacturer. Many stores are going to have Queso Fresco, but just be aware it might not be exactly where you expect it.
What Potato to Use?
I am using Yukon potatoes for this recipe. That said, I think any normal potato you have waiting to be used would be great to use. Many people already have red potatoes or russets in their pantry. I would not hesitate to use either in this recipe.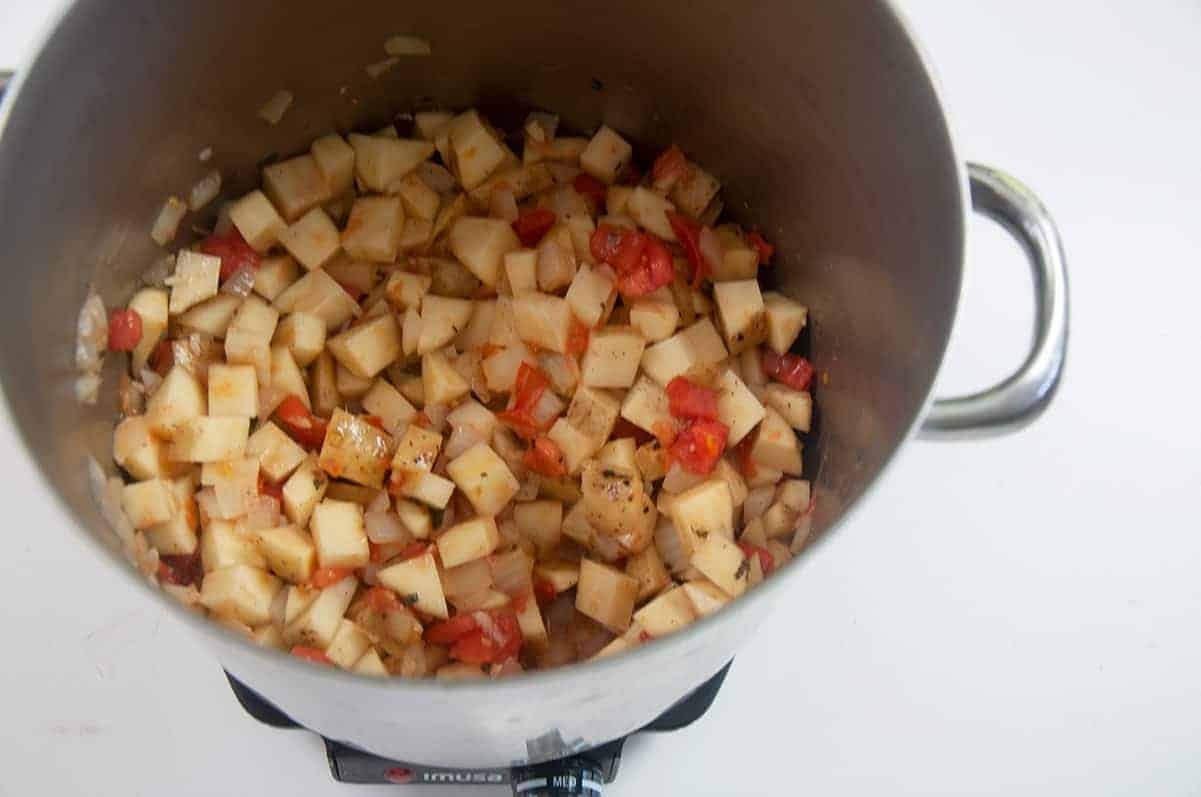 Chicken Stock
The simple reality is that what kind of broth you use will impact the flavor of this Caldo de Queso soup. If you want a really great homemade soup, use a great chicken stock! If you just don't have the time and resources to get a great stock, use what you have!
If you really want to go all out and make this one of the most beautiful and comforting soups of your life, I would consider using my Homemade Chicken Stock recipe as the base of your liquid. I know it might be quite a bit of work for a soup, but it would be worth it.
That said, I feel there are some good stocks at the store and this can be a relatively quick soup if you are not making your own chicken stock.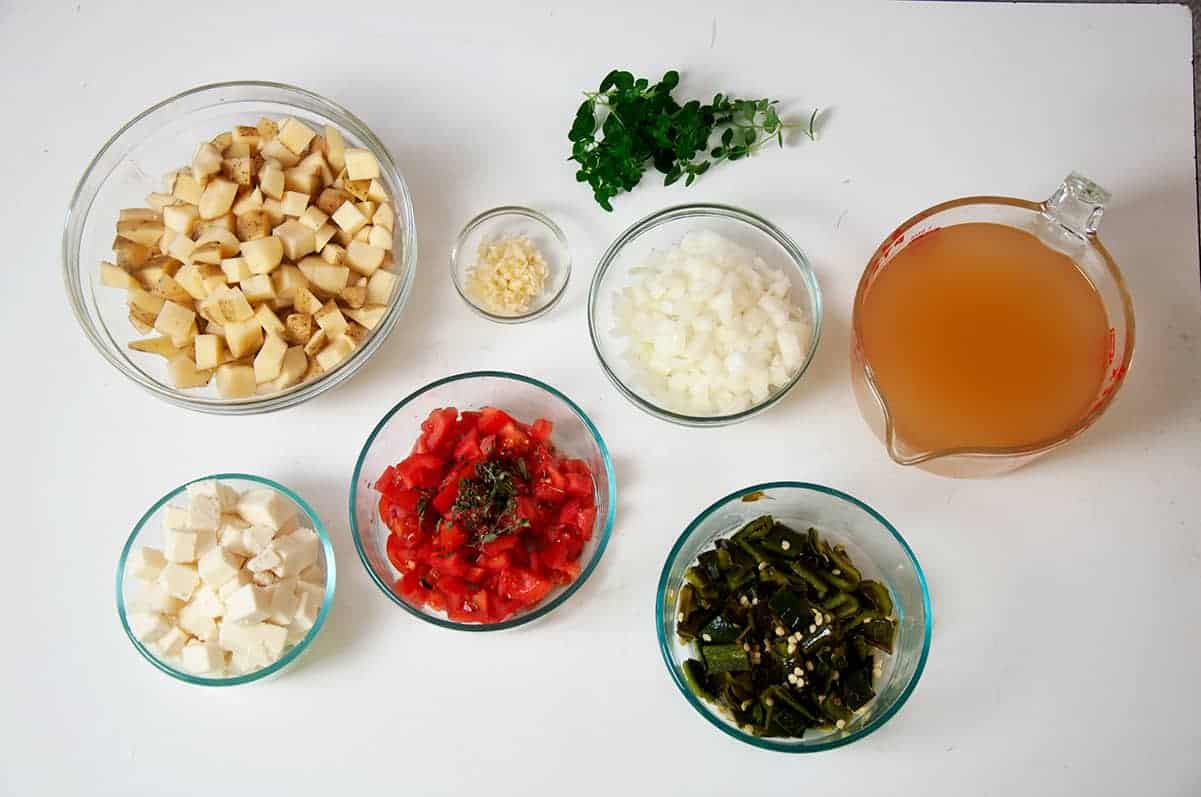 What to Serve With Caldo de Queso
Often, this soup is served with corn chips. You can sprinkle some crumbles on the top, or just some on the side. My wife loves this soup with a side of chips. Personally, I am fine with the soup without any sides. I do have some other recommendations of what you could serve as either garnish or a side.
Why not more cheese? A sprinkle of cheese on top of this soup is never going to hurt and may give it a pretty finish.
Perhaps add some herbs to the top of this soup. We used the fresh oregano we have growing in the garden. One I haven't tried, but I think would go great with this soup is a bit of cilantro. No matter what you top it with, the soup tastes great and can stand on its own.
Caldo de Queso Tips
Roast your own peppers for the best flavor, but stores do sell roasted poblanos.
You can roast the peppers the day before if it is easier.
You can roast them right before while you are performing all of the prep work.
Cotija cheese is a great substitute for queso fresco in this soup.
We call for Yukon potatoes, but Russet or Red potatoes are fine.
Use homemade chicken stock for the best soup ever.
Serve with corn chips and top with cheese, oregano, and/or cilantro
This soup refrigerates well.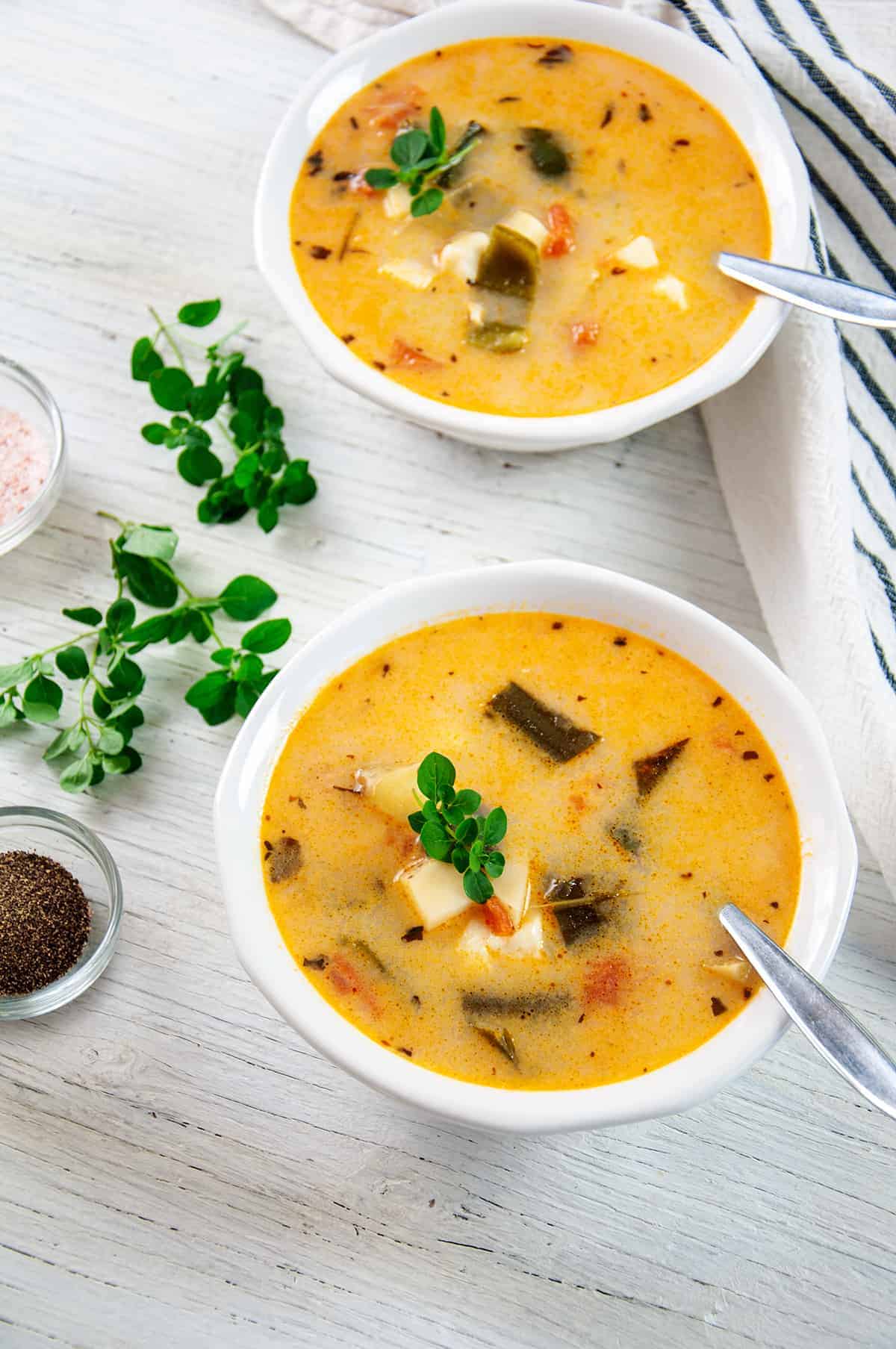 Products I Used in This
Did You Try This Recipe?
That makes me so happy and I hope you like it as much as I do. It is such a tasty and comforting soup. Perhaps you already make this or just are finding it, but either way, it is a lovely dish. If you liked it, I would really appreciate you leaving me a note and rating in the comment section below. Of course, we would love for you to share this on Facebook, Pinterest, or mail it to your friend! Thank you for reading Ramshackle Pantry and trying this Caldo De Queso recipe.
Print
📖 Recipe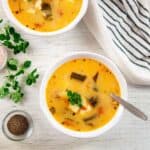 Caldo De Queso
Author:

Ben Myhre

Prep Time:

30 minutes

Cook Time:

40 minutes

Total Time:

1 hour 10 minutes

Yield:

6

Bowls of Soup

1

x

Category:

Soup

Method:

Stovetop

Cuisine:

Mexican
---
Description
Caldo De Queso is a delightful, comforting, Mexican soup that is easy to make, but unique enough to make it a special dish. Give this cheesy, spicy soup a try!
---
2 tablespoons

olive oil

3

garlic cloves, minced

1

medium onion, chopped (about

¾ cup

)

2

medium tomatoes, chopped

1 teaspoon

dried oregano or

one tablespoon

of fresh

4

medium Yukon potatoes, chopped

1 teaspoon

salt, more to test

¼ teaspoon

pepper

6 cups

chicken broth

3

roasted poblano peppers, loosely chopped

1 cup

whole milk, room temperature

10 Ounces

queso fresco chopped into

1

inch cubes
---
Instructions
In large pot, add oil and heat to medium
Add onions and cook until sweated, just a few minutes
Add garlic and allow to cook another minute
Add tomatoes and oregano. Allow to cook for about 2 minutes
Add potatoes, salt, pepper and cook for another 5 minutes
Add chicken broth and bring to a simmer
Cover and cook until potatoes are tender, about 15-20 minutes
Remove cover, add peppers and cook for 2 more minutes.
Add Cheese and cook for 2 more minutes
Remove from heat and add in milk and stir.
Serve
Notes
Remove milk from the fridge at beginning of cooking to bring to room temp and avoid curdling.
---
Nutrition
Serving Size:

⅙ of Total

Calories:

324 calories

Sugar:

5 g

Sodium:

464 mg

Fat:

20 g

Saturated Fat:

16 g

Unsaturated Fat:

5 g

Carbohydrates:

27 g

Fiber:

5 g

Protein:

11 g

Cholesterol:

15 mg