Put that limoncello back in the liquor cabinet and get ready for a flavor surprise with our very own delicious Homemade Orangecello. Your craft cocktails or your favorite sipping liqueur are gonna get that much better by using this diy libation!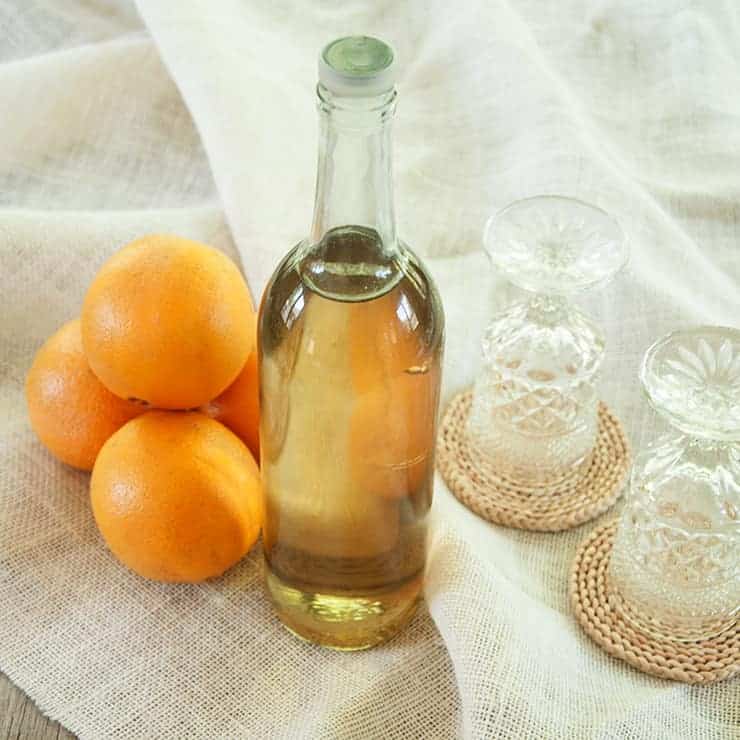 What is Orangecello?
Have you tried limoncello? It is that... except with oranges instead of lemons. They are both fruit-flavored liqueurs that are meant to be after dinner drinks to be served by themselves, but I do often include them in experimental cocktails. This liqueur is made with a neutral spirit, the zest of oranges, sugar, and water. It really is a simple recipe and all you need is some time to make this wonderful sipper. Traditionally, this Orangecello is known as arancello, but I wanted to make sure everybody can see what it is made of! Orangecello it is.
And to be fair, the person whose job it is to make the stuff around my house is my wife, Ashley. It is her recipe and she makes both the Limoncello and Orangecello. She found a Limoncello recipe a long time ago on Epicurious and we have been cello heads ever since.
What Can I use Orangecello for?
The first thing that comes to mind is to drink it! That is the most optimal. Either put a bottle in the fridge a few hours before serving or make sure to serve it in a chilled glass over the rocks. Another great idea for this is to give it as a gift! This recipe makes just about 1.5 Liters of the liqueur, so you could bottle it up into fancy gift pints and give it to your friends as gifts. I actually really like this idea and might do it.
Lastly, cocktails. Limoncello is traditionally a sipping liqueur, but it is a fun way to add some variety and interesting tastes to your drinks.
The Oranges
Use organic oranges. Because you are specifically using the zest, you should really use good quality oranges that don't have chemicals sprayed all over them. Even with your organic oranges, spend some time washing them under warm water to get any yuckies off of the fruits.
There will be leftover fruit
The recipe only calls for the zest of our oranges, so be prepared to eat some oranges up, make some nice mimosas, or use the fruit part of the oranges in other ways.
Neutral Spirit for Liqeuer
We use vodka. It is easy, reachable, and ideally has a very neutral flavor. You can easily use a spirit like Everclear in this recipe, as well.
Experiment with Flavor
You don't have to be limited to just orange. Seriously, you could try adding some fresh vanilla, rosemary, basil, mint or any other flavor that you think would go with orangecello. Think outside the box, but inside the bottle.
Orangecello takes time!
Plan ahead a bit for this one, as a full batch can, at the very minimum, 20 days. Additionally, you can age this for up to 2 years if you really want to get into it!
First Infusion - Zest
This is where the orange zest and vodka take time to marry. We zest our fruit into the liqueur, but you should understand that we will eventually strain it out. We keep it short at about 10 days to 2 weeks, but this is where the orange flavor comes from, so it is reasonable to let this sit for a few months if you want to get crazy about it.
Second Infusion - Sugar Water
In the second phase of this, we make a sugar syrup that we add to the concoction. Then... we let it rest even more!
Filtering the Zest
One of the final steps in making Orangecello is filtering and bottling our beverage. The thing about zest is that it tends to get through most strainers, so we use is coffee filters inside a strainer to make sure we are getting all the tidbits out.
Bottling the Orangecello
While you might end up using whatever you have to store your Orangecello, also recognize that this can also be an element to the entire experience of drinking a liqueur like this. If you have guests over and pull out an old huge milk jug filled with orangecello, it will detract from the experience. Indulge a bit and get a nice bottle, like these Grolsch style swing top bottles. Serving guests some of your very own Orangecello in a nice, ice-filled and chilled lowball glasses, might help enhance the experience, particularly if you are using a milk jug. Don't use a milk jug.
Orangecello Process Descriptions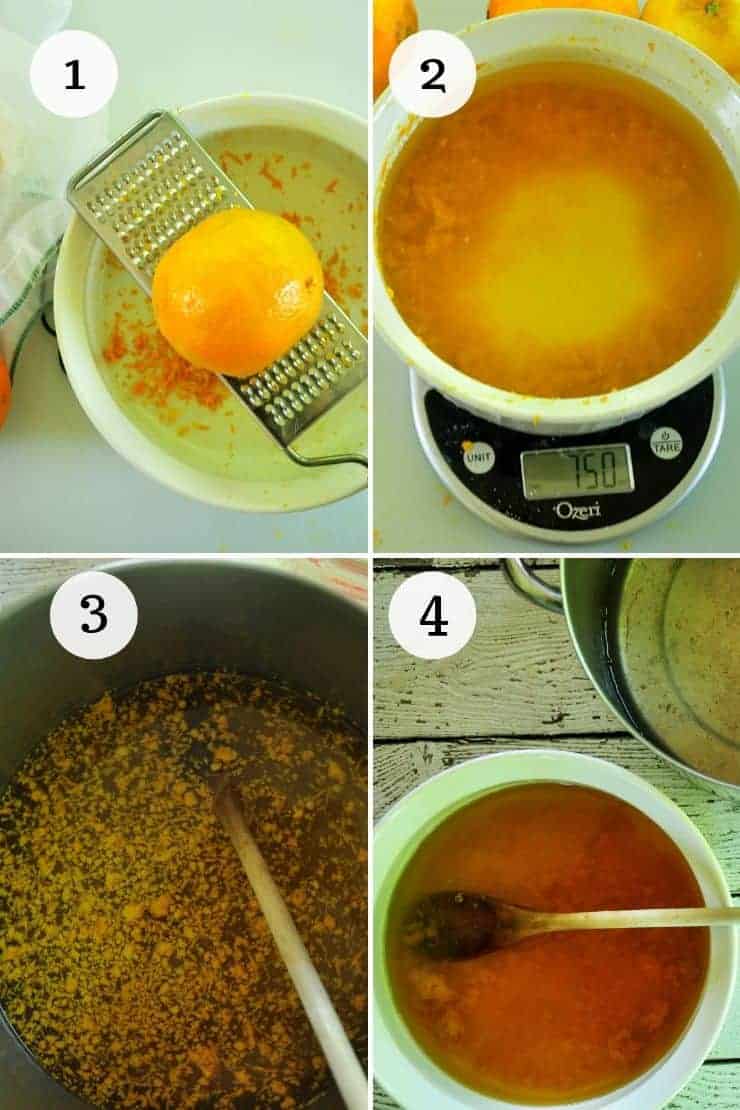 Zesting orange peel into vodka.
Filling the container we are going to rest this in to come to 750ml
Cooled sugar syrup after we just added the resting vodka/zest mixture.
Right before we allowed this to rest for another few weeks.
Homemade Orangecello Recipe Tips Summary
Make sure to use organic oranges, as the zest is key to this recipe and also most likely where bad stuff is living. Also wash your oranges.
If you want more orange flavor, you sure can use more zest than the recipe calls for. Also, allowing the liqueur to rest longer will give you more of an orange flavor, as well.
Use coffee filters to filter the zest from your drink.
Use nice bottles to serve this in.
When serving this orangecello, pop the bottle in the refrigerator an hour or two before so you can have a nice chilled drink. This is also smashing on the rocks in a chilled glass.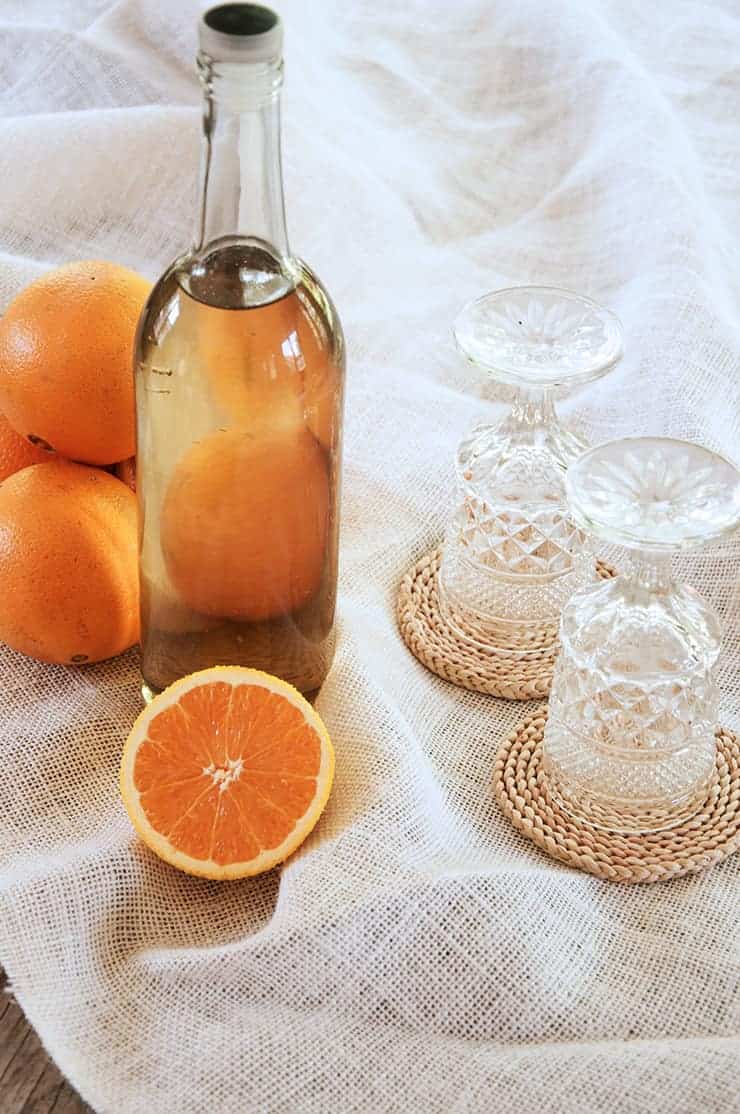 This liqueur really is divine. Making your own homemade orangecello is a great way to experiment with craft drinks and also to just make stuff that tastes great. Pick yourself up a bunch of organic oranges today to get started on this delicious drink.
Products I Used in This Recipe
Did you Drink This?
If you liked this recipe, you could do me a real solid by taking some time to let me know how it went. I always appreciate to hear from you and if you want to get updates from me, make sure to subscribe to my newsletter. Leave a comment and rating below. Share this recipe on Pinterest.
Print
📖 Recipe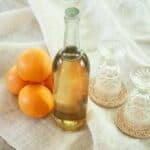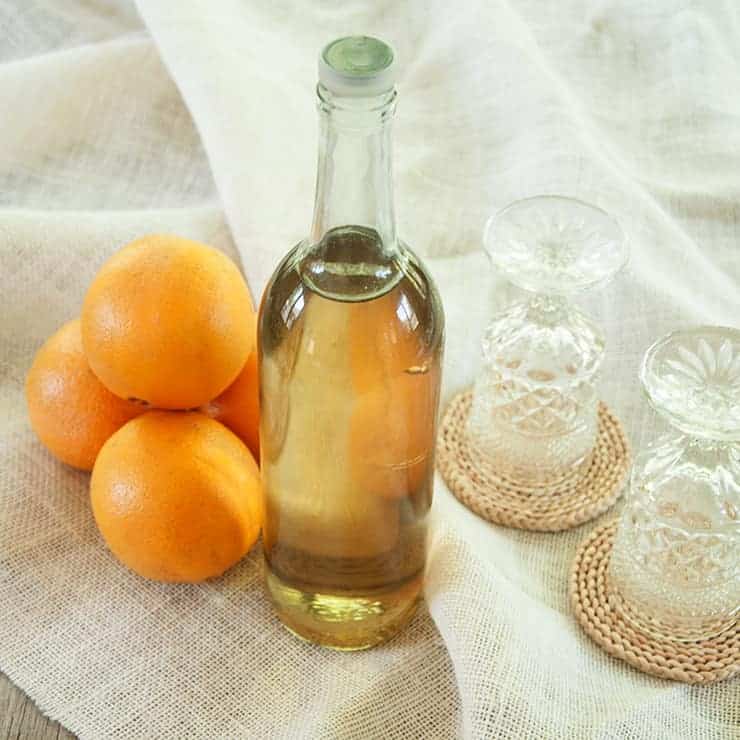 Homemade Orangecello Recipe
Author:

Ben Myhre

Prep Time:

1 Month

Cook Time:

1 hour

Total Time:

1 Month 1 Hour

Yield:

1.5

liters

1

x

Category:

Cocktails

Method:

Steeping

Cuisine:

Italian
---
Description
Put that limoncello back in the liquor cabinet and get ready for a flavor surprise with our very own delicious Homemade Orangecello. Your craft cocktails or your favorite sipping liqueur are gonna get that much better by using this diy libation!
---
Zest from

6

organic oranges

1.5 Liter vodka

4 Cups Sugar

5 Cups Water
---
Instructions
Zest 6 oranges into a large bowl that has cover. Use the rest of the orange for something else

Add Vodka to bring to 750 mL

Cover and let sit for 10 days to 2 weeks

After 10 days to 2 weeks, mix 4 cups of sugar and 5 cups water and bring to a boil

Simmer for 20-25 minutes to create a syrup

Allow syrup to cool

Add syrup to previous Vodka/zest picture

Add another 750mL of Vodka and mix.

Cover and let sit for an additional 10 days to 2 weeks

Strain the zest through a strainer lined with a coffee filter. This will take some time.

Bottle and serve!
---
---
Nutrition
Serving Size:

2 ounces

Calories:

166

Sugar:

32g

Sodium:

18mg

Fat:

0

Saturated Fat:

0

Unsaturated Fat:

0

Trans Fat:

0

Carbohydrates:

45g

Fiber:

0

Protein:

0g

Cholesterol:

0g