This post may contain affiliate links. As an Amazon Associate I earn from qualifying purchases. Please read our disclosure policy.
There isn't much better than a great, simple, bowl of Homemade Vanilla Ice Cream, We have you covered with this classic comfort food and creamy, sweet dessert. Real elegance doesn't need to be complicated or hard; sometimes, the best is simple. Give this Vanilla Ice Cream recipe a try today.
🍨 What makes this recipe special?
I scream. You scream. We all scream for ice cream. Simple ice cream is what we are going to make today.
Making fantastic homemade ice cream is not hard at all. It is so simple, and once you have your vanilla ice cream down pat, a whole world of ice cream possibilities can open up for you. Making the simple version can give a base for experimentation and improvement.
This ice cream is great, but it pairs perfectly with this American Apple Pie, Homemade Blueberry Pie, Rhubarb Pie, or this Easy Apple Crisp recipe.
🥛 Ingredients
Ice cream, the name, should be a giveaway as to what the star of this is. Cream. Well, sugar and vanilla, as well, but there is more. Here is the list of ingredients:
Heavy cream
Whole milk
Salt
Sugar
Pasteurized egg yolks
Vanilla Extract
See the recipe card for quantities.
Eggs In Ice Cream
I used to not understand why people used eggs in ice cream. That is, until I started experimenting and eggs make a huge difference. I used to make my homemade ice cream without eggs, but that has changed.
Five egg yolks is the answer to all of your ice cream problems. They add a texture to the ice cream that just can't be duplicated. Based on my friend's recommendations over at Serious Eats, I went with FIVE Eggs for this excellent homemade vanilla ice cream.
🍲 Instructions
While this ice cream recipe can be made the day of, I tend to put my ice cream maker bowl into the freezer the day before I make my ice cream. Better yet, a person could just store it in the freezer, so they don't need to worry about it when they decide to make some of that good stuff.
Additionally, allow your flavors to marinate a bit. With vanilla, it really should not take very long (3-4 hours), but time can be a good thing. If you are adding other flavors, this time can become even more critical.
Generally, I mix all of the ingredients and store in the refrigerator for a day. Since it really is easy to throw together, it isn't a big deal for me.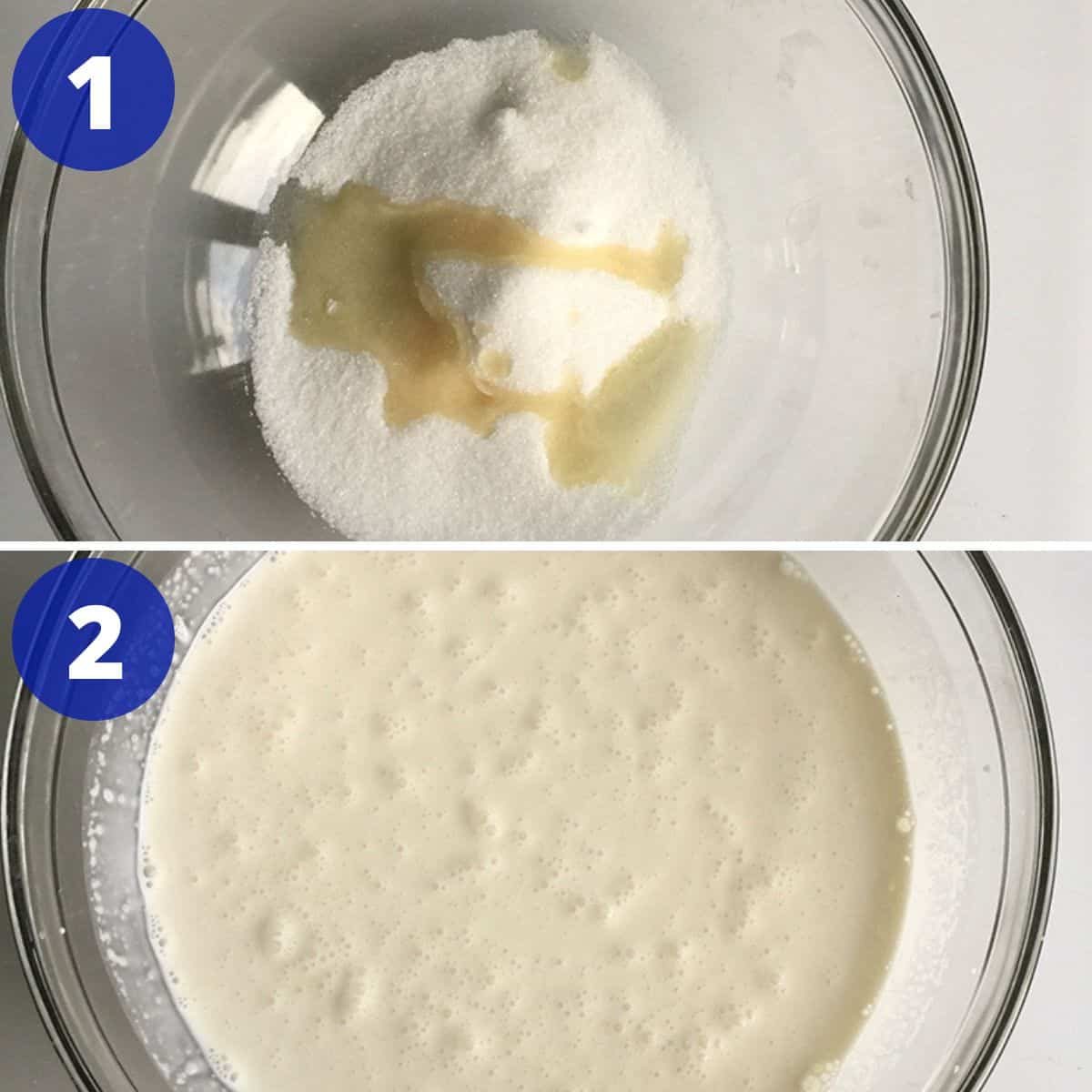 🤷 Substitutions and variations
This is a simple vanilla ice cream, but a few variations can be made to change it up.
Flavoring – I use vanilla extract, but many kinds of extract could be used. Additionally, I have added chopped fresh mint or basil in the past. Chocolate shavings or grated chocolate could easily be added.
Eggs – If you don't feel comfortable using pasteurized eggs, you can omit eggs altogether or temper them. You can also use fewer egg yolks.
📦 Storage
Store in the freezer until you want to eat, but I recommend removing the ice cream 5 or 10 minutes before scooping. This makes it a bit easier to scoop the ice cream.
🎓 History tidbit
Ice Cream originally originated in flavored snow, but the cream version has accounts going back to the 1500s. It appears to have come about in Italy and England around the same time.
❓ FAQ
How is Ice Cream made creamy?
Cream, of course. Egg yolks also give the ice cream a rich, creamy flavor.
Can you make Ice Cream without eggs?
Yes, but the egg yolks help add richness to homemade ice cream.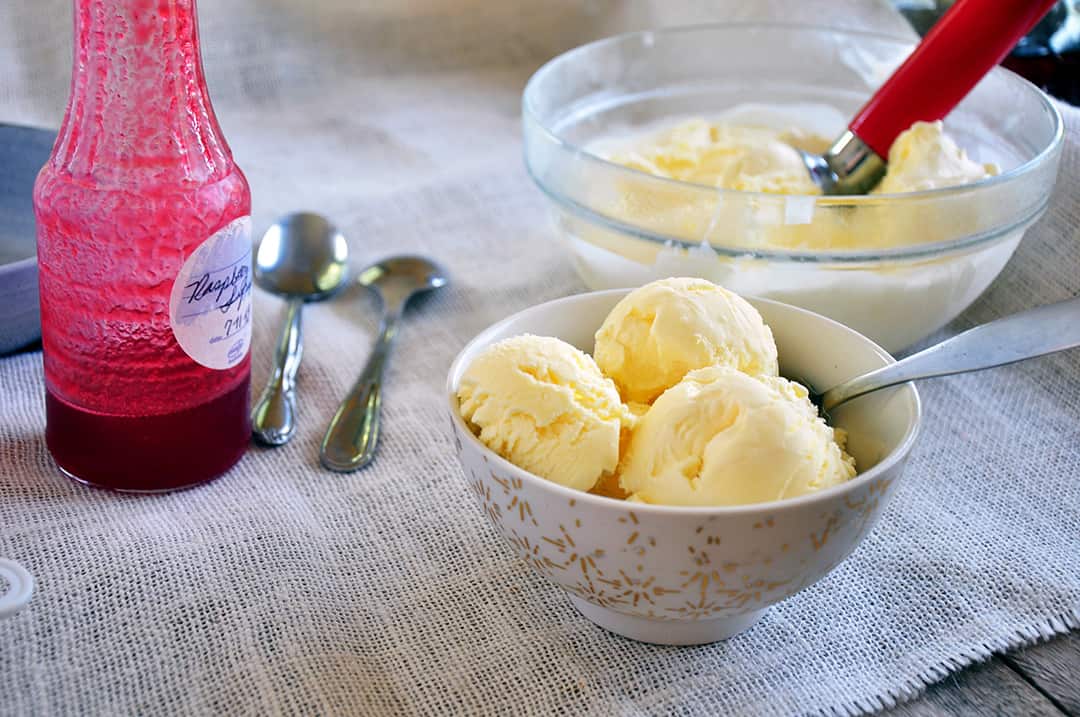 📝 Tips and tricks
This uses raw egg yolks, and there are health concerns with using unpasteurized raw eggs. Use pasteurized egg yolks, temper the eggs, or omit eggs.
Experiment with adding mint, jelly, or different extracts.
😋 Did you make this recipe?
That is awesome, and thank you so much for giving this Homemade Vanilla Ice Cream recipe a try. If you could leave a rating in the comment area below, it would be greatly appreciated. This lets me know how I am doing and also helps others decide if they want to make this recipe. Most of all, thanks for visiting Ramshackle Pantry.
Print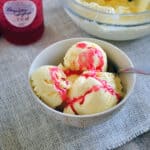 Homemade Vanilla Ice Cream Recipe
Author:

Ben Myhre

Prep Time:

2 hours

Freezer time:

12 hours

Cook Time:

2 hours 30 minutes

Total Time:

16 hours 30 minutes

Yield:

8

Servings

1

x

Category:

Dessert

Method:

Churn

Cuisine:

Dessert
---
Description
This homemade vanilla ice cream is so simple, but so elegantly tasty. If you haven't made your own ice cream before, now is the time. You won't be dissapointed.
---
2 cups

heavy cream

1 cup

whole milk

½ teaspoon

salt

¾ cups

sugar

5

egg yolks (optional – see notes)

1 Tablespoon

Vanilla Extract
---
Instructions
Make sure that Ice Cream Bowl is in freezer for at least a few hours, but preferably over night
Add all ingredients to a large bowl and whisk until well combined. Place in fridge for at least a few hours and preferably overnight.
Assemble ice cream maker and turn on
Add liquid to ice cream maker and allow to churn for 20 minutes
Place ice cream into bowl and place in freezer for 2 hours.
SERVE
---
Notes
This uses raw egg yolks and there are health concerns with using untempered raw eggs. Use your own judgment on whether this recipe is right for you. I highly recommend using pasteurized eggs if you make this recipe.
If you are not comfortable with raw yolks, consider making this without them or finding a different recipe.
Here is an article on raw eggs. Make this recipe at your own risk.
Or consider tempering your eggs.
There is a food safety element to this recipe that you should be aware of. Children, the elderly, pregnant women and anyone who has a weakened immune system should avoid eating raw eggs, so please use pasteurized instead.
Keywords: homemade vanilla ice cream