So many wonderful recipes call for raw eggs, and pasteurized eggs helps you make a safer kitchen experience. This has been challenging at home in the past, but sous vide cookers change the game. Get out your sous vide and learn how to pasteurize eggs with an Anova sous vide cooker.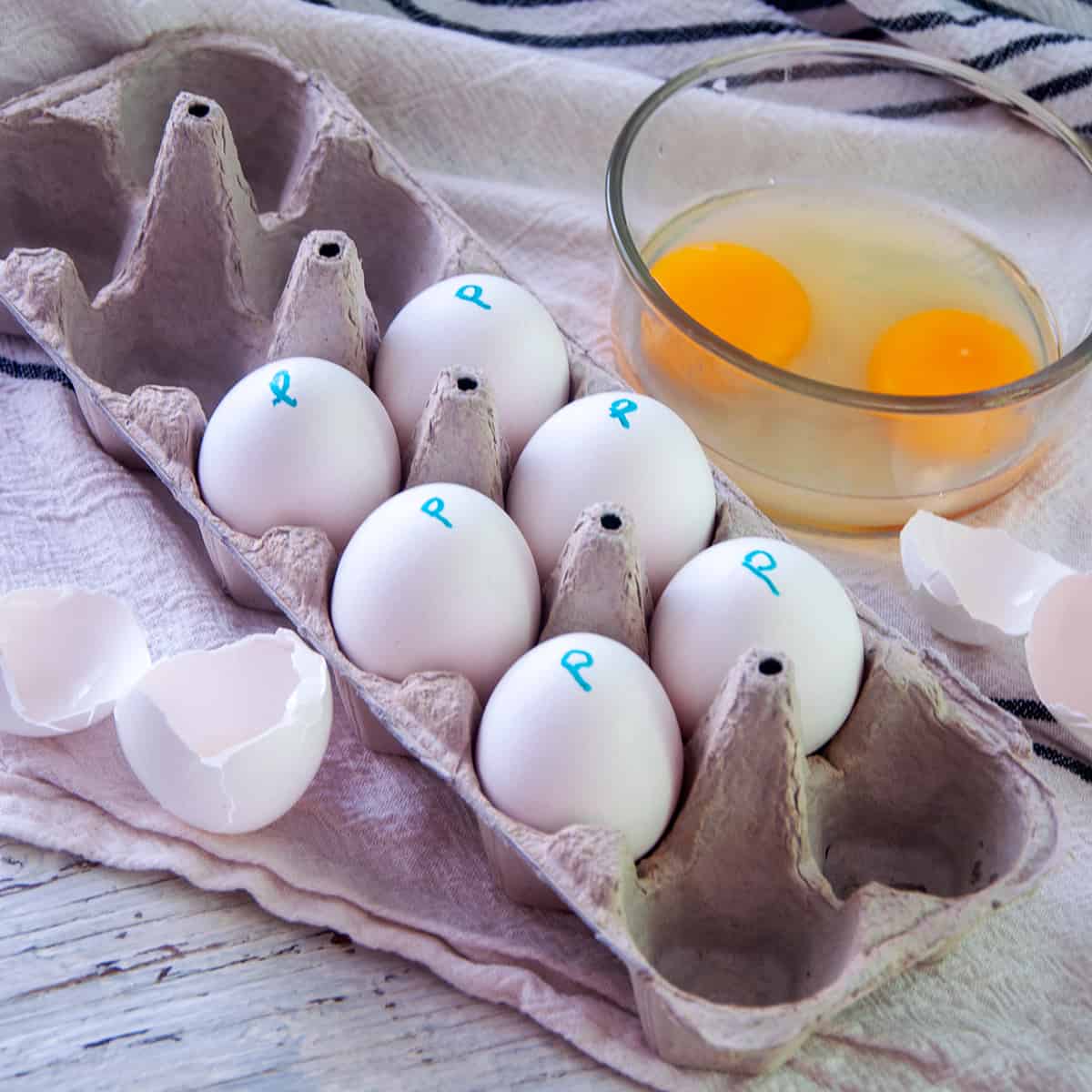 🐓 What makes this recipe special?
This brings the power of DIY egg pasteurization to your home kitchen! In-shell pasteurized eggs can be hard to find and if you do find them, they are often far more expensive than a regular dozen eggs.
Our process allows you to buy eggs and pasteurize them right from home in just 75 minutes in your sous vide. The USDA says that mayo (along with other products) can be "safely made if raw, in-shell pasteurized eggs or pasteurized egg products are used."
I have been dabbling with several recipes that call for raw eggs and instead of running around town to find spendy eggs, I wanted to learn how to pasteurize them myself.
Just as the FDA recommends, I also recommend not using raw eggs unless they are pasteurized. While using the sous vide may not be as safe as using store-bought pasteurized eggs, it gives us home cooks the opportunity to make safer eggs for raw use.
Jump to:
🍳 Ingredients & Equiment
This is just eggs. Nothing more to it, other than some equipment like the sous vide.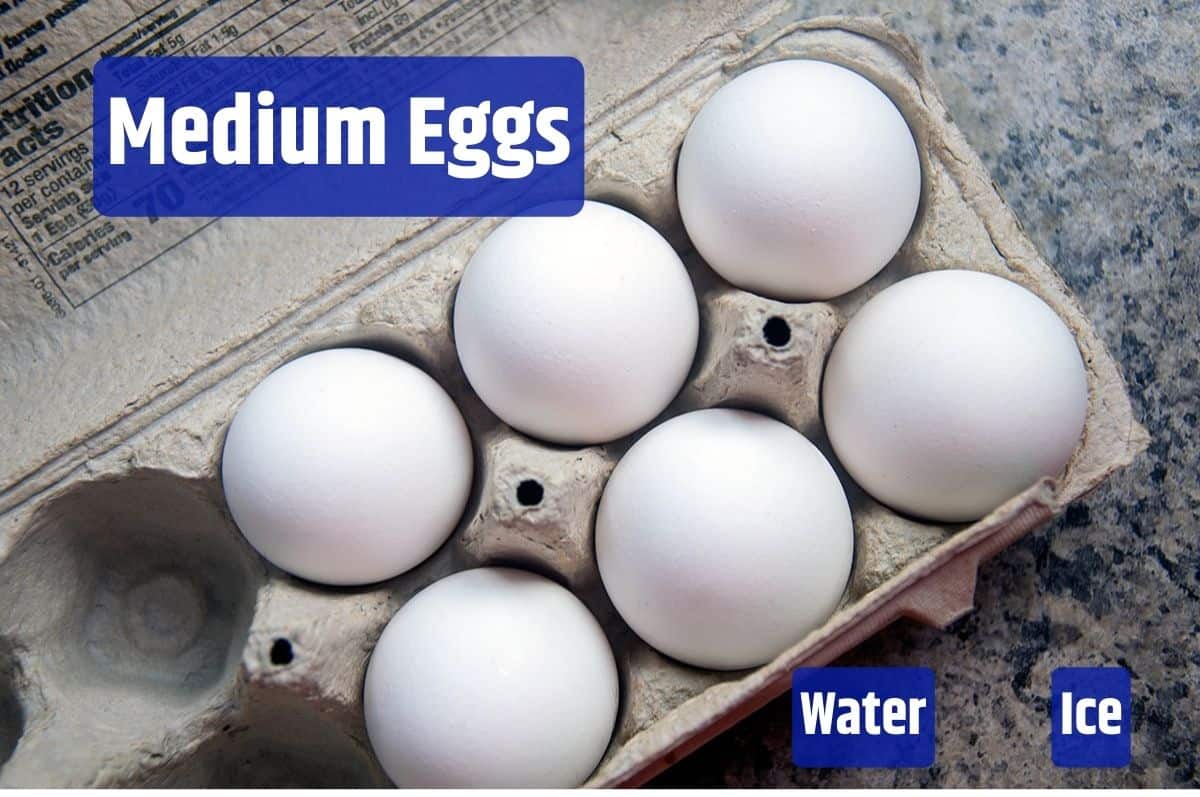 The water is used for the sous vide bath and the ice bath at the end.
🍲 Instructions
Once your sous vide bath is up to 135° Fahrenheit, carefully add your eggs to the path and allow them to cook for 1 hour and 15 minutes. This temperature and time are based on this egg safety study and sources like Douglas Baldwin.
After they are cooked, place the eggs in an ice bath to stop any further cooking. In twenty minutes or so, remove the eggs from the ice bath and dry them eggs off! Mark them with a marker or any means that will help you identify them as pasteurized.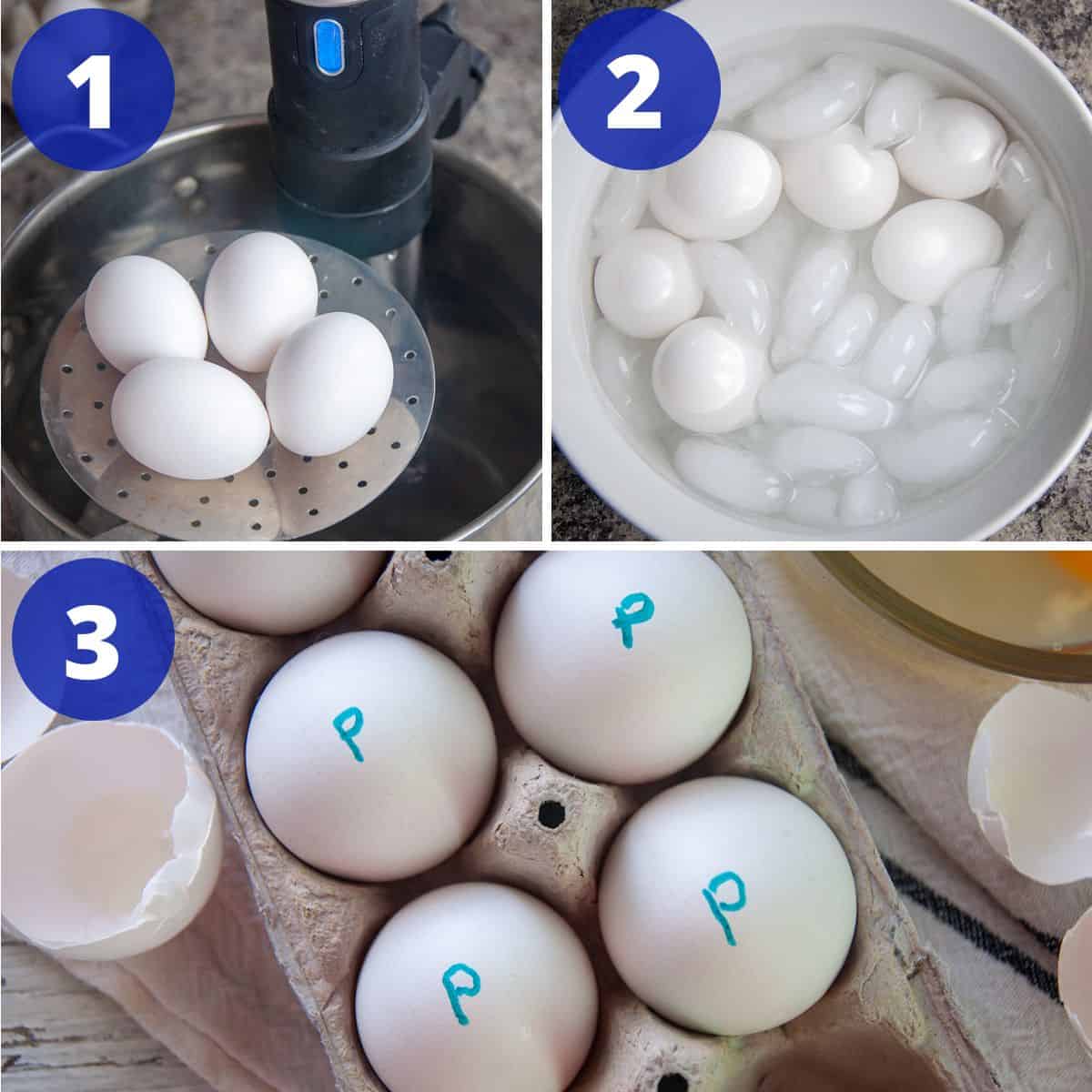 Some Differences between Pasteurized Eggs and non-Pasteurized Eggs
Pasteurized eggs are safer for raw use, as they are treated to help kill salmonella.
While egg yolks are about the same, egg whites are different. If used for meringue or whipped egg whites, they do not work quite as well. Cream of tartar or lemon juice added to the whites can allow them to act very similarly to non-pasteurized eggs. When it comes to whipping, however, they do require more whipping time.
🤷 Substitutions and variations
You can allow the eggs to cook for longer than 75 minutes. I would not allow them to sit in the bath more than 2 hours and 30 minutes.
One thing that I think is important to note is why sous vide works so well. Pasteurization of eggs happens with two elements, time and temperature. Eggs can be pasteurized much faster than in 75 minutes, but being able to control the temperature is a major issue.
At 140°, the egg will begin to cook, which is also something we don't want. So, we heat it to 135° and cook it for 75 minutes to hit what should make a safer raw egg.
The amount of time needed for eggs to become pasteurized is based on the diameter of the egg. This recipe is for regular eggs and larger eggs will need more time to become safer raw eggs.
You can really use any brand of sous vide, but I really like my Anova brand sous vide cooker.
📦 Storage
Store your pasteurized eggs in the refrigerator and use them by the date on the original package.
❓ FAQ
Are pasteurized eggs safe to eat?
Cooked, they are just as safe as any egg. When raw, they are a safer option than unpasteurized eggs.
Are all eggs pasteurized eggs?
No. If you are looking in the store, the package will be specifically marked as such.
Can you whip pasteurized eggs?
Yes. You will need to add ¼ ounce of cream of tartar per egg white. Also, it will take quite a bit longer for them to whip.
Where to buy pasteurized eggs?
Many grocery stores carry them, but my experience is that it can be sporadic and spotty. Eggland's Best is probably the most well-known brand in our area, but many egg producers make them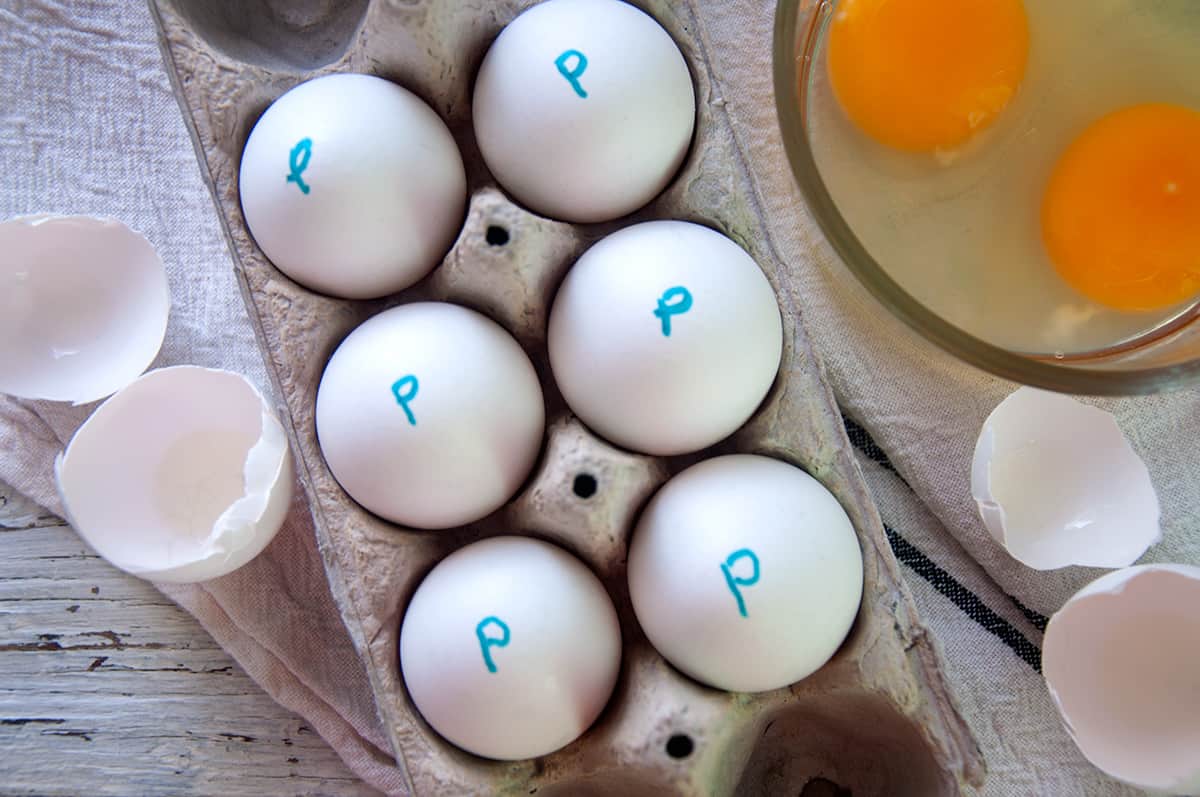 📝 Tips and tricks
Do not place your eggs in a bag before putting in the sous vide.
Use a big slotted spoon to gently place the eggs
Use a marker to note your eggs as 'P'asteurized before placing back in the refrigerator.
🛠 Products used in this recipe
😋 Did you make this recipe?
Thank you so much for giving this recipe a try! I am glad you now know how to pasteurize eggs at home. Could you do me a favor by leaving a review in the comments area below? This helps me know how I am doing and helps others decide if this is their recipe. Most of all, thanks for visiting Ramshackle Pantry!
Print
📖 Recipe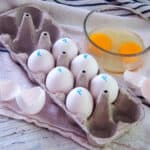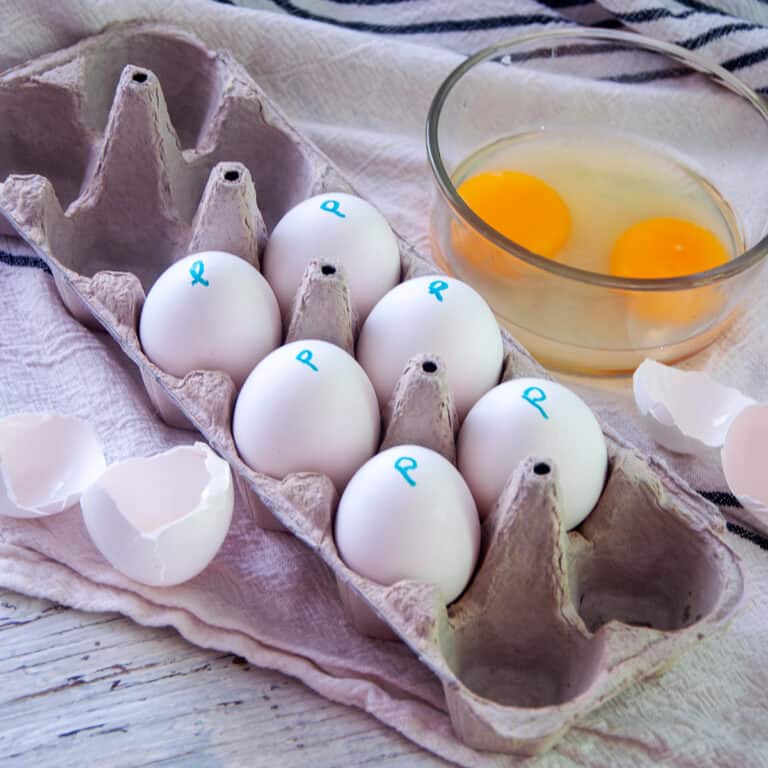 How to Pasteurize Eggs at Home
Author:

Ben

Prep Time:

20 minutes

Cook Time:

75 minutes

Total Time:

95 minutes

Yield:

6

eggs

1

x

Category:

Food Preperation

Method:

Sous Vide

Cuisine:

American
---
Description
Sous Vide makes it possible to pasteurize your eggs at home and make safer eggs for raw egg recipes like mayonnaise, meringue, and caesar dressing. Learn how to pasteurize your own eggs with a sous vide cooker today.
---
---
Instructions
Warm sous vide bath to 135° Fahrenheit.
Using a slotted spoon, gently submerge eggs directly into hot water bath.
Sous vide for a minimum of 75 minutes.
Notes
Do not place your eggs in a bag before putting in the sous vide.
Use a big slotted spoon to gently place the eggs
Use a marker to note your eggs as 'P'asteurized before placing back in the refrigerator.
Keywords: sous vide pasteurized eggs