This post may contain affiliate links. As an Amazon Associate I earn from qualifying purchases. Please read our disclosure policy.
Blueberry pie is one of my all-time favorite desserts and here is a recipe that will get you well on your way to baking bliss. This Homemade Blueberry Pie Filling recipe is perfect for your next pie, ice cream topping, or other blueberry baking needs. Give this delicious dessert a try today.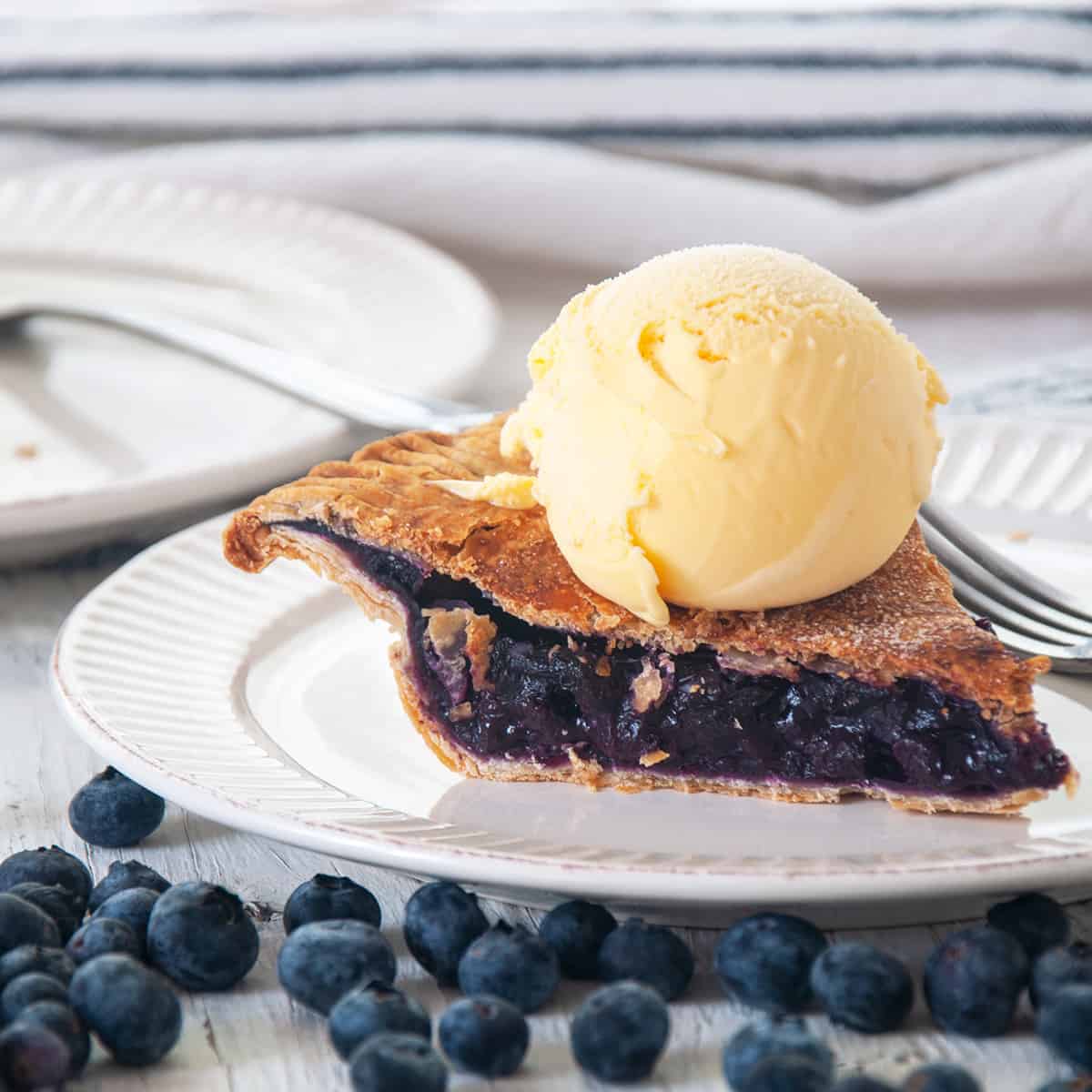 🥧 What makes this recipe special?
From spring through the Christmas holiday season, pies are a treat and if you can use fresh fruit, even better. We get fresh fruit from our bushes, apples from apple trees, and maybe blueberries. Frozen blueberries or fresh blueberries both great.
One thing about blueberry pie filling is that it can be used for many other things. It is delicious just as a simple dessert topping, but it can also be used in cakes, tarts, or for different baking needs. Heck, just put some whipped cream on top and eat it.
We have shared a rhubarb pie recipe and an All American Apple Pie Recipe if you are looking to pair this with a second pie. We also have our Best Butter Pie Crust recipe if you want to make this a special dessert.
🫐 Ingredients
Obviously, blueberries are the star of this recipe! You can use either frozen blueberries that have been thawed or fresh blueberries. They both work great.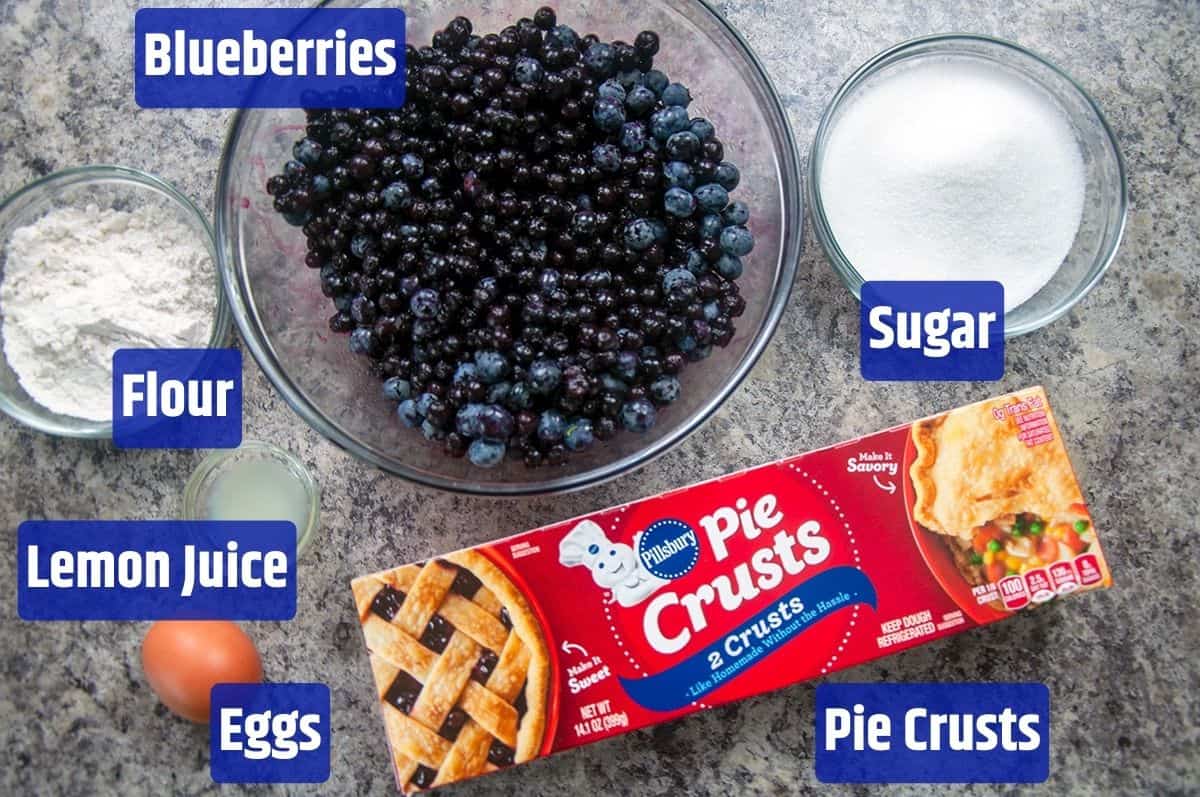 Blueberries
Sugar
All-Purpose Flour
Lemon juice
Pie crusts (optional)
egg (optional)
See the recipe card for quantities.
🍲 Instructions
The great thing about blueberry pie filling is that it is easy to make. It is as simple as adding all the filling ingredients to a pot and heating it up.
You will want to continue to stir these blueberries as they heat. This will help prevent scorching on the bottom of the pan.
Also, don't be afraid to break those little berries up. As they heat, they should open anyways, but I smoosh up the berries a bit with my wooden spoon when I make this.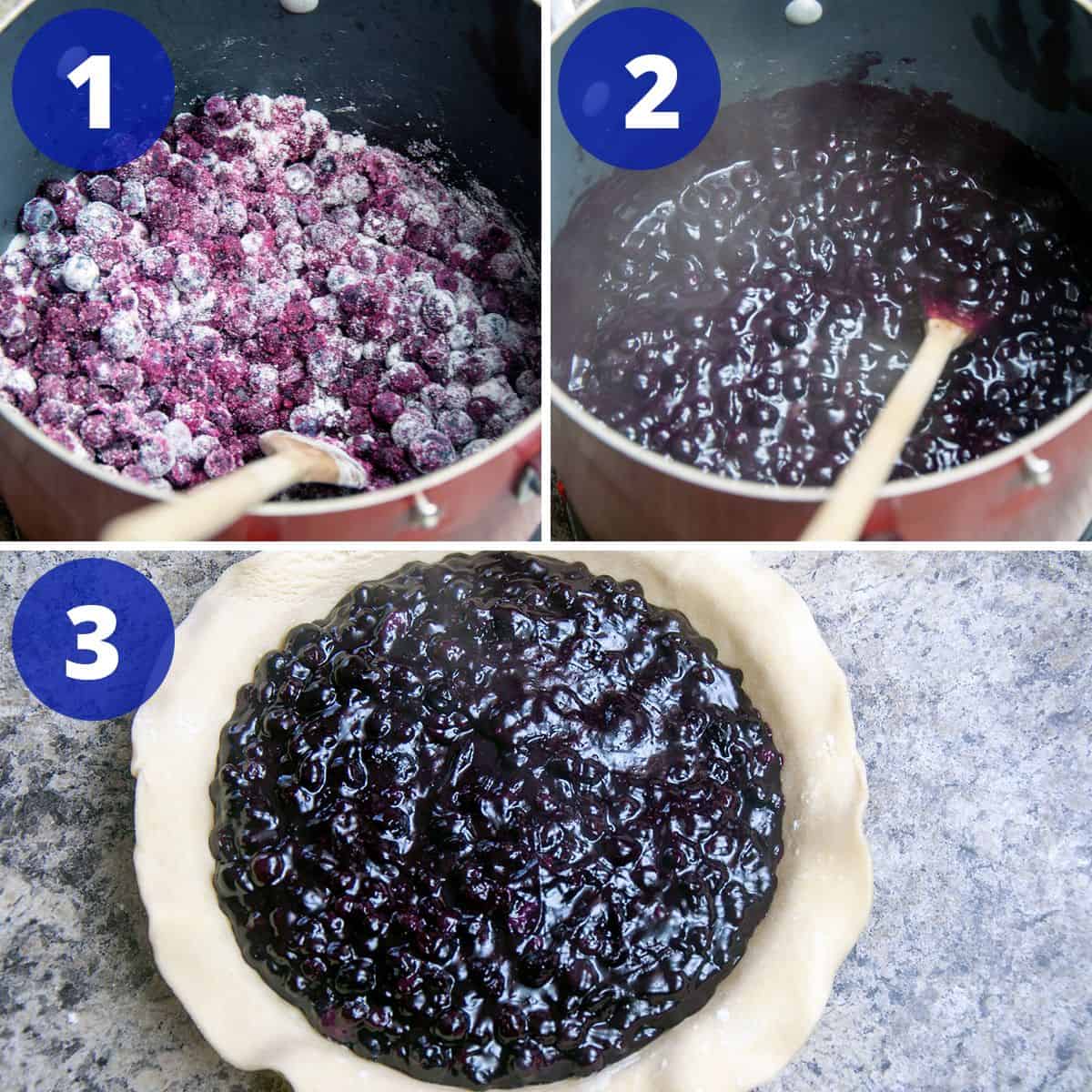 📦 Storage
Usually, when I make this, I tend to put it in the pie, and really it is good to go right off of the stovetop. You can, however, store this in the fridges.
I would suggest letting it cool down for 15 minutes before using it or putting it in a covered container and placing it in the fridge. Then, when you want to use this for ice cream topping or whatever, bring it out.
I would not store this for much more than a week. This can also be frozen.
🎓 Blueberry History tidbit
Blueberries are native to North America and have been around this part of the world for 13,000 years. While Natvie Americans were the first to use blueberries for food and medicine, they began being commercially produced in the early 1900s.
❓ FAQ
What is the best thickener for blueberry pie filling?
Some recipes use corn starch, but I put my money on all-purpose flour and sugar as the perfect thickener for blueberry pie filling.
How do I make blueberry pie filing less runny?
Make sure you have enough thickener in your blueberry pie filling. Also, if you store your pie in the fridge, it will add to the thickening.
Besides pie, what else can you use blueberry pie filling for?
You can use it as a great ice cream topping. Just add a bit of whipped cream to the filling and it is a great dessert all by itself.
📝 Tips and tricks
Continue to stir while the filling is heating. This helps prevent burning and a better end product.
Use fresh or frozen blueberries.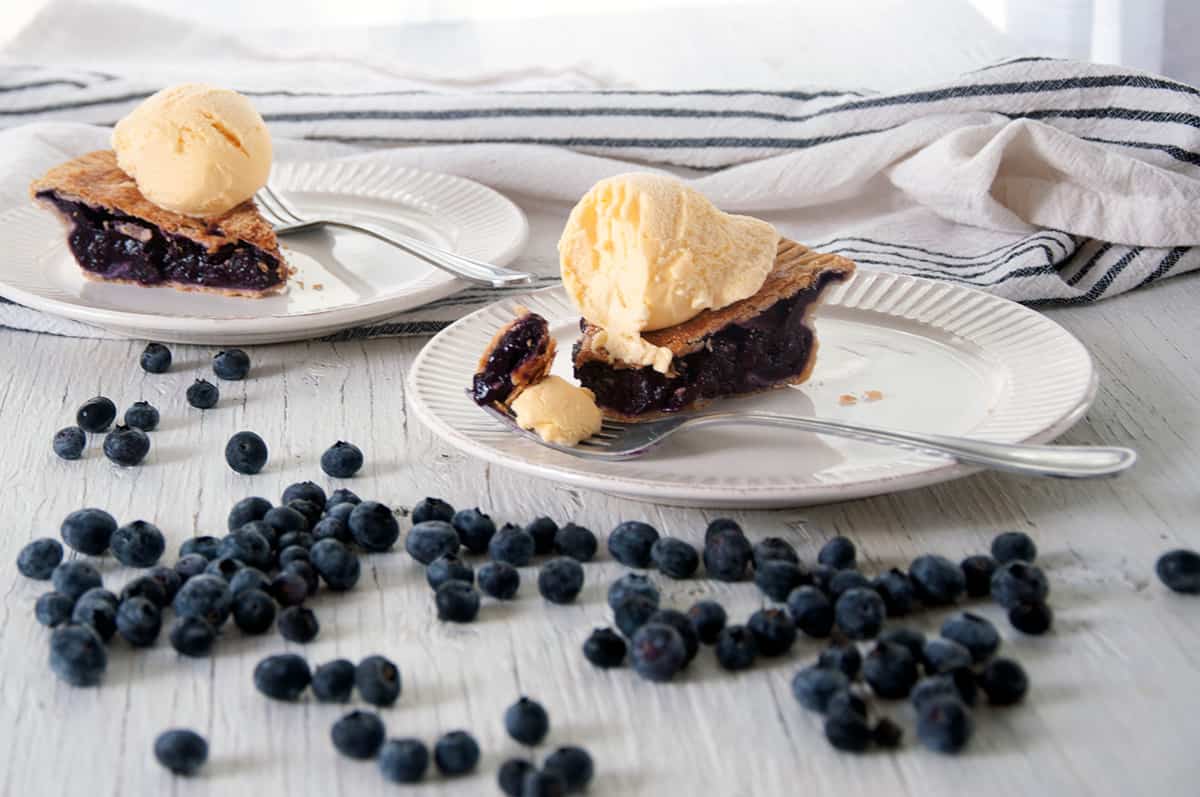 🛠 Products used in this recipe
😋 Did you make this recipe?
Thank you so much for giving this Blueberry Pie Filling recipe a try! Could you do me a favor by leaving a review in the comments area below? This helps me know how I am doing and helps others decide if this is their recipe. Most of all, thanks for visiting Ramshackle Pantry!
Print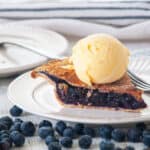 Blueberry Pie Filling Recipe
Author:

Ben

Prep Time:

15 minutes

Cook Time:

45 minute

Total Time:

1 hour

Yield:

1 pie

Category:

Dessert

Method:

Baking

Cuisine:

American
---
Description
A simple and delicious Blueberry Pie Filling recipe for a homemade blueberry pie, dessert, or other treats that call for tasty blueberries. While a pie filling recipe, this also includes a homemade pie that is perfect for your next event!
---
5 ½ Cups of blueberries

1 Cup sugar

1/2 Cup All-Purpose Flour

1 teaspoon lemon juice
For pie:
2 pie crusts

1 egg, beaten

1 Tablespoon Sugar
---
Instructions
Add blueberries, 1 cup sugar, flour, and lemon juice to a medium pot over medium-high heat.
Continue stirring as the mixture heats to a simmer
The mixture should start to blend together and thicken.
Once thickened, in about 10-15 minutes, remove from stovetop.
For Pie:
Preheat oven to 425° Fahrenheit
Place bottom pie crust in a lightly greased 9″ pie pan
Fill with blueberry pie filling.
Add top pie crust and crimp.
Using a brush, lightly coat the crust with egg wash
Put four small slits in pie crust to help hot air escape.
Sprinkle 1 tablespoon sugar on top.
Using tinfoil, cover crimped pie crust edges and bake for 35 minutes. This helps prevent burning.
Remove crust guard
Bake for an additional 10 minutes or until crust edges are golden brown
Allow to rest for 4 hours
Notes
Continue to stir while the filling is heating. This helps prevent burning and a better end product.
Use fresh or frozen blueberries.
Keywords: blueberry pie filling