This post may contain affiliate links. As an Amazon Associate I earn from qualifying purchases. Please read our disclosure policy.
Today you are in for a treat with this unique and tasty Honduran Enchiladas recipe. Packed with flavor, this is a Central American twist on the classic Enchilada. Interesting toppings like quick pickled onions, cotija cheese, and shredded cheese enhance the flavorful filling that rests on a tostada. There is a lot going on in this recipe, but it is quick to make and super tasty. Give our Honduran Enchiladas Recipe a try today!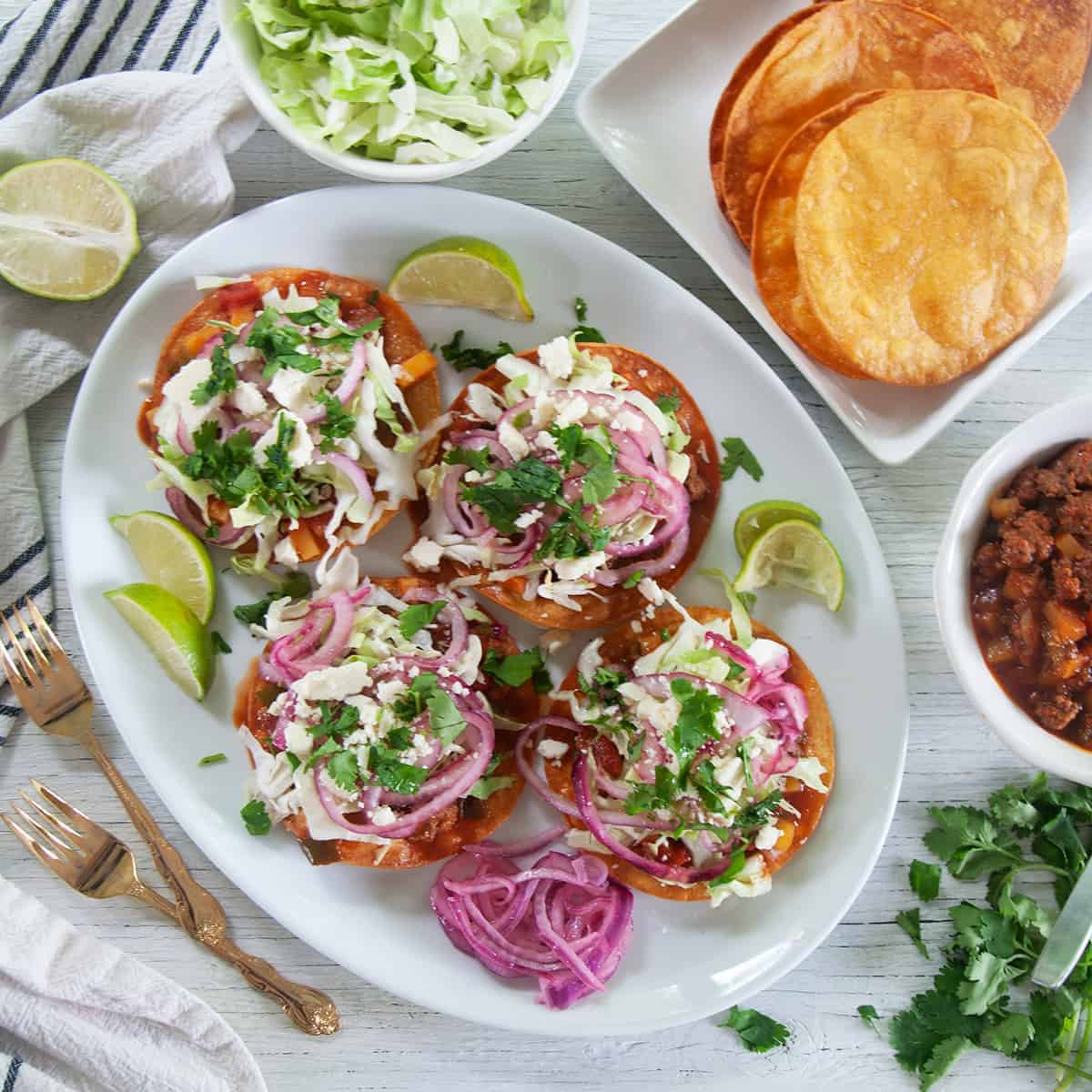 Honduran Enchilada Summary
This is not your average enchilada and has some key differences with a traditional enchilada recipe. First, this version is served on a tostada instead of wrapped in a corn tortilla. Second, the filling has potatoes in it, which doesn't seem like an obvious enchilada filling, but works so well in this recipe. After we put the meat and potato filling on top of our tostada, we add all the toppings.
Shredded cabbage, cajita cheese, a lightly pickled red onion, enchilada sauce, and cilantro all go on top of these beautiful little enchiladas. There is room to put whatever you want on top, but I am going to share how I made mine and hopefully you will find the flavors you love.
My traditional enchilada recipe is great and this version is a great way to explore Hispanic flavors and try something different. This recipe can be done in about an hour and fifteen, but I have had it down to an hour before. There are quite a few moving pieces to this recipe, but the outcome is really special, fun, and delicious.
Enchilada Filling
This filling is so tasty! One of the things that first surprised me when researching this recipe is that it contains potatoes. Surprisingly, it works really well. Other than the potatoes, this is a combination of hamburger, ground pork, veggies, spices, beef broth, and crushed tomato.
In a large pan, we add the veggies and they are sweated until they are nice and glassy. Then, we add the crumbled meat and cook that until almost completely done. Then, we add the potatoes, broth, tomato and rest of the spices. Allow this to simmer until the potatoes are cooked through and by then, it should be a nice sauce that is ready to go.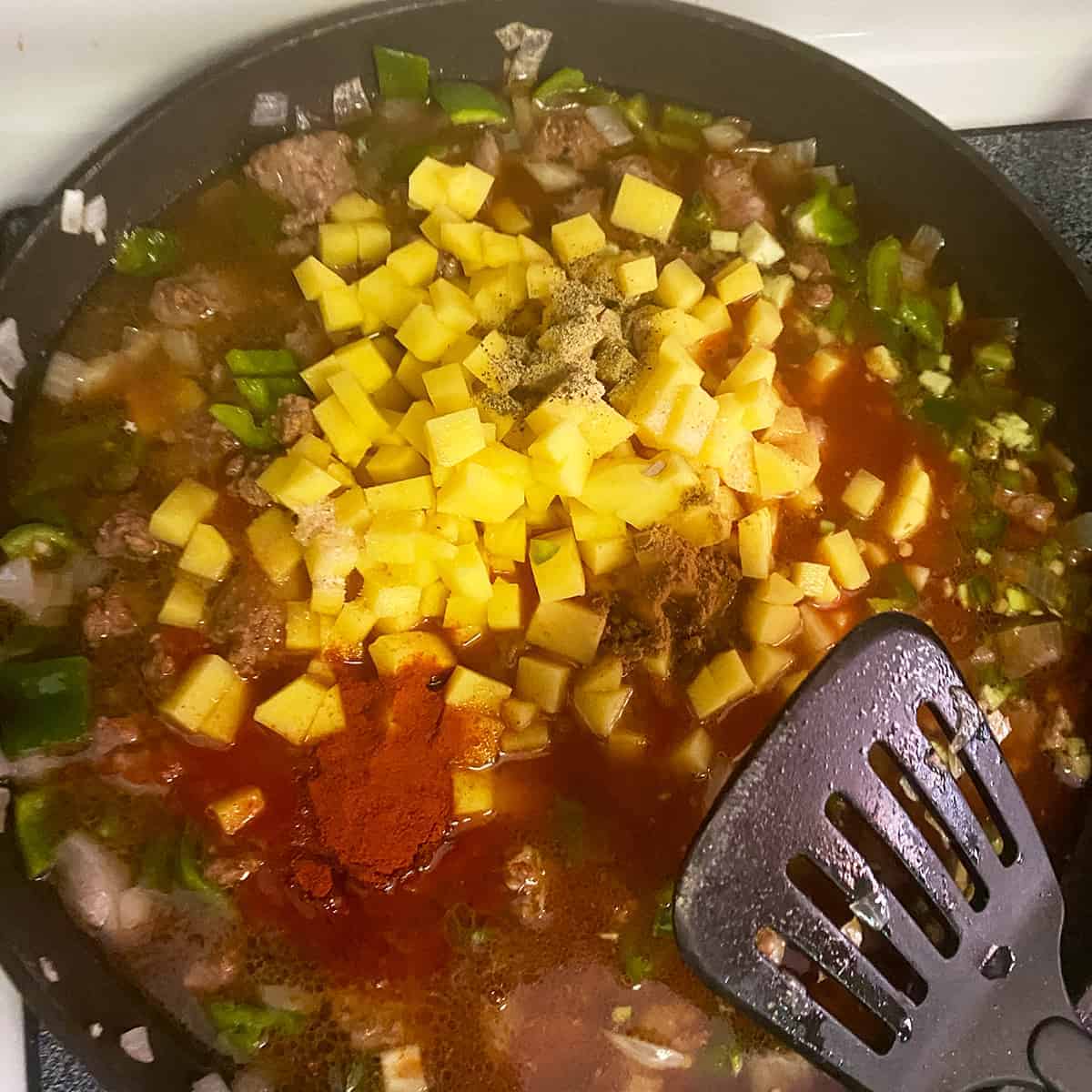 Kind of Potato to Use
I use Yukon Gold potatoes, but you can use others. Any waxy potatoes should work well in this recipe. New Potatoes and Red Bliss would work fine, as well. I would, however, suggest using more of the smaller varieties, as they are often smaller than Yukon Gold.
Dicing the Potatoes
While experimenting with different recipes, one stumbling block I found is cutting the potatoes too large. While the rest of the dish was ready to eat, I was finding my potatoes were not quite done.
The best answer to this is to make sure they are diced. If you don't know the difference between chopped and diced, now is the time. Diced potatoes are smaller. If you wanted to get even smaller, you would call them minced.
Dicing the potatoes instead of chopping them helps to eliminate the possibility of undone potatoes. Dicing is smaller than chopping and while it might be obvious for some of you, some of use still learn every day! Cut those potatoes small.
Tostadas
For this recipe, I am frying my own tostadas from corn tortillas. I use an extra-large cast iron that fits three normal-sized corn tortillas. Heat a bit of appropriate oil (vegetable, canola, peanut) to 360 Fahrenheit and cook each tortilla for about 1 minute on each side or until a nice golden brown.
Once they are a beautiful golden brown color, remove them from the heat and allow to drain on a paper towel-lined plate. Once the rest of your Honduran Enchiladas are ready, so should these tostadas.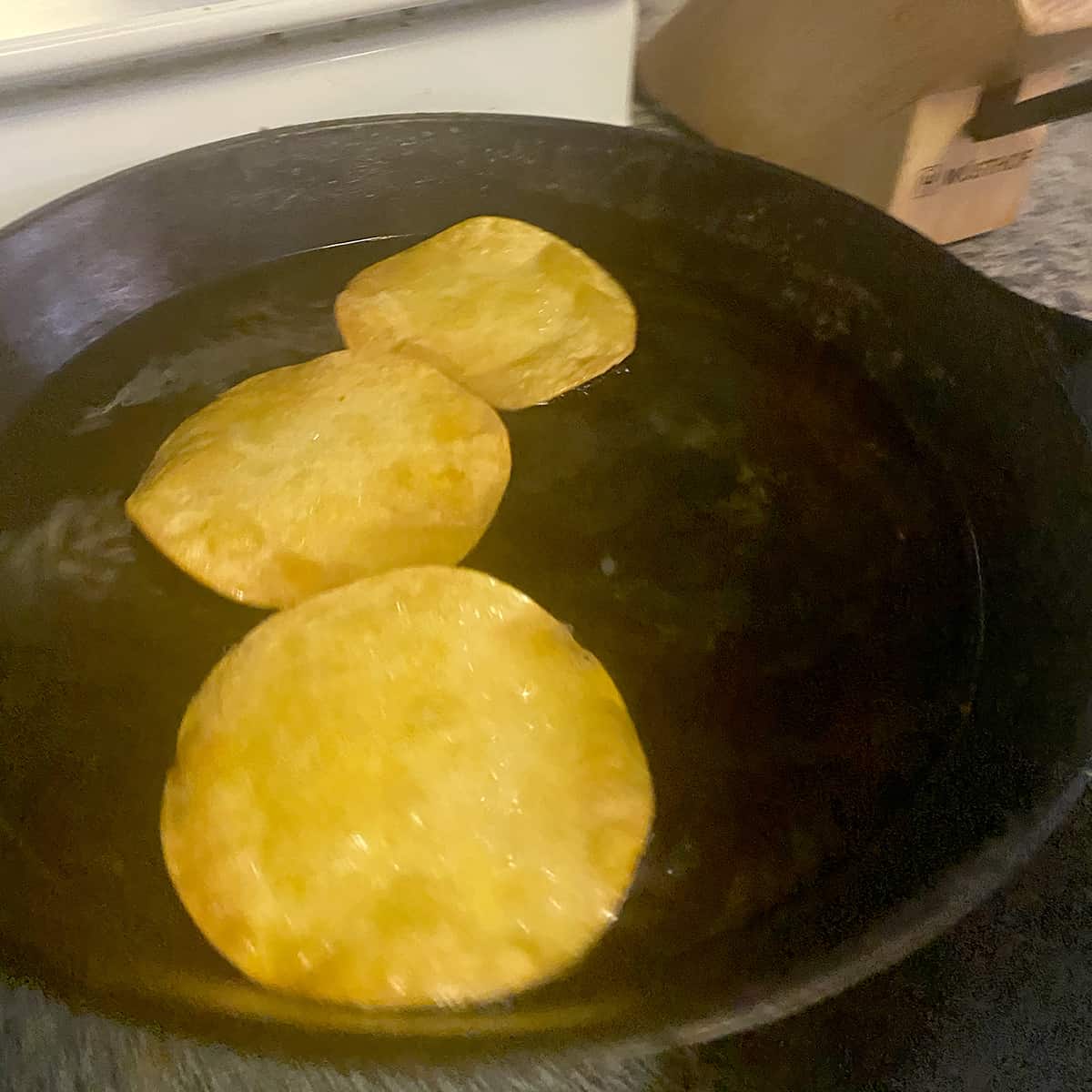 I provide one minute as a base for cooking these tostadas, but you will want to pay attention to the color and make sure they don't burn. My time is a guideline and your frying pan might have slightly different features that make them cook slightly different.
When to Cook Tostadas
I cook my tostadas while the rest of the dish is cooking, but you could do these beforehand. There are quite a few moving pieces to this dish, so a little forethought into time management might be a useful exercise. Are you ok with having the filling simmering, putting together the simple enchilada sauce, and frying tostadas at the same time?
If so, cooking the tostadas while you are preparing the rest might be the way to go for you. If you prefer to focus on only one thing on the time, consider cooking these prior to starting the rest of the dish. I have done it both ways and cooking it earlier is easier, but I am not afraid of a busy kitchen and stovetop.
If you feel comfortable having multiple things going on at once, cook the tostadas while your filling is simmering. If not, you can cook them before you start the rest of the dish. Of course, you could purchase premade tostadas instead of frying your own.
Toppings for Honduran Enchiladas
One of the great things about this recipe is the list of toppings that can be used. My topping list is not all-inclusive, but it is a good list of items I have found that works really well with these enchiladas.
Pickled Red Onions
We make a quick pickled onion that really adds some delicious flavor and a great color. These pickled red onions can be made up to a day in advance if you want the most out of the flavor, but I tend to start them right before I start cooking anything else. A quick hour of pickling is plenty to make these a delicious topping for our Honduran Enchilada recipe.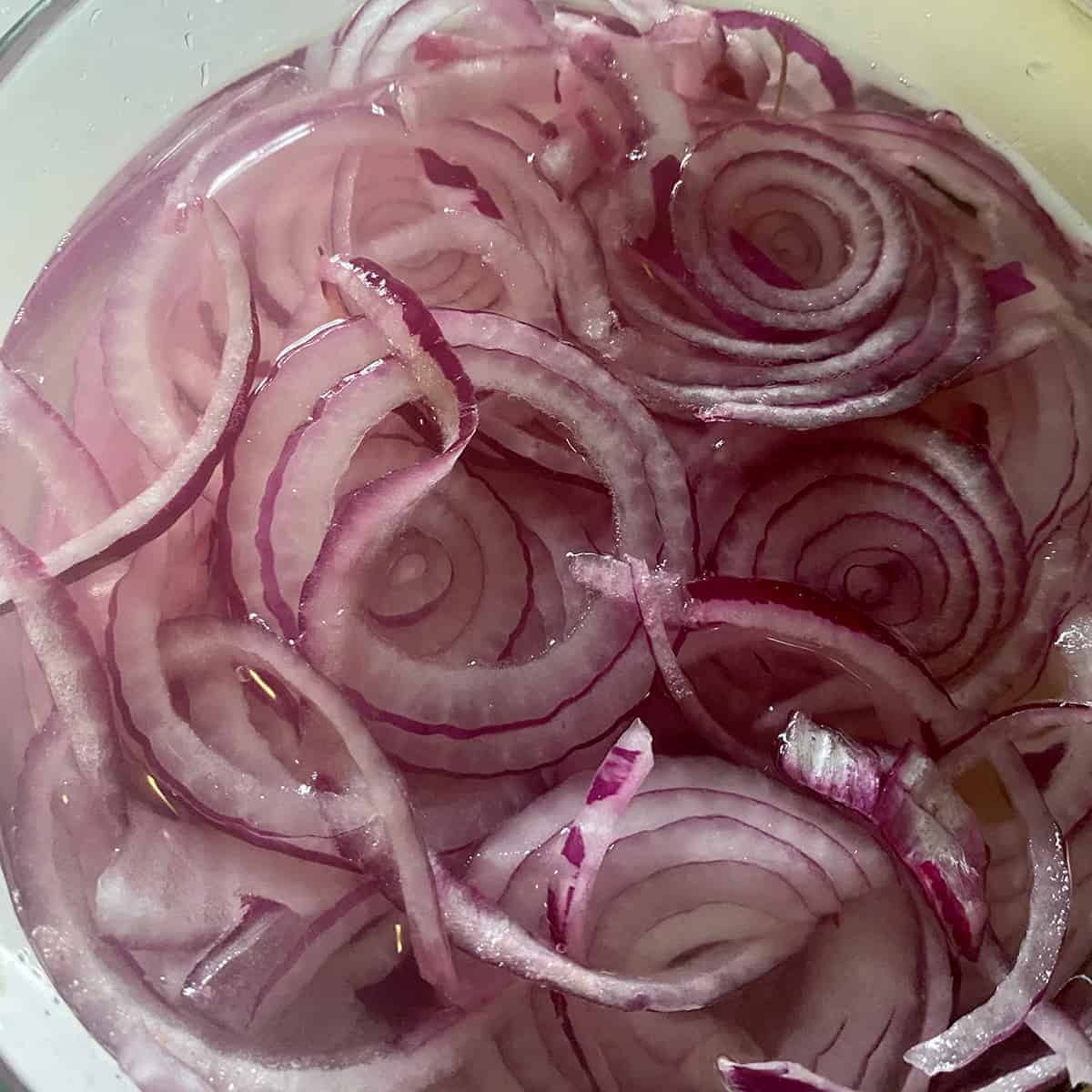 Cotija Cheese
Cotija cheese is a crumbly Mexican cheese that reminds me a bit of feta. In fact, I think feta would be a reasonable substitute for cotija in a pinch. It is a great cheese that most large grocery stores have, although you may not find it near the cheddar.
In my grocery store, it is near the section that has refrigerated salsa, cottage cheese, and sour cream. It actually is a pretty reasonable place for it, but if you don't know where it is, keep in mind that cotija cheese might be hiding.
Enchilada Sauce
We have made a homemade enchilada sauce before and it would be great here, as well. We are, however, already opening a can of crushed tomato, so I make a simple enchilada sauce with what we already have. This just takes a few minutes to put together and is a great, simple topping that works great for these Honduran Enchiladas.
Cilantro
I love cilantro. My wife hates it. I don't judge anybody for not liking an ingredient except my wife. 😉 Use it or not, but it really adds a nice flavor and a great pop of color to the rest of the ingredients
Others
Hey! It is your food. I make some suggestions to what I would add to the Honduran Enchiladas, but you need to do you! I love the red onions in this dish, but if you hate onions, don't use em! There are a lot of options that you could add to this recipe to meet your personal taste. Anything from salsa to sour cream to guacamole… I would say they could all work.
Take my suggestions and make these Honduran Enchiladas your own!
Tips For Making Honduran Enchiladas
We serve this buffet style so each person can make the enchiladas how they want and with the ingredients they like.
The toppings are estimated and feel free to use more or less to your taste
Depending on where you live and the stores you use, cotija cheese might be a bit hard to find in the store. For us, it is around the same areas as refrigerated salsa and sour cream.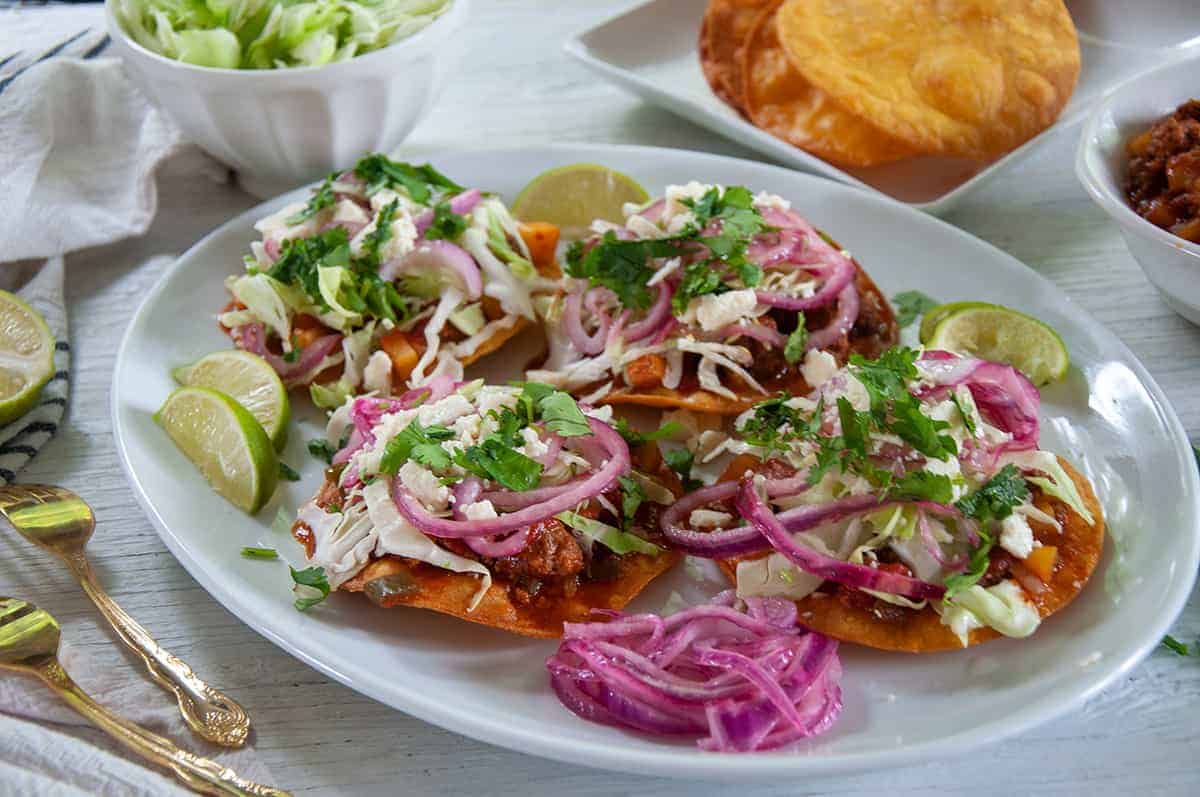 Products We Used For This Recipe.
Did You Make This Recipe?
Awesome! Let me know how it went! Did you like it? What toppings did you use? Are you a Honduran Enchilada expert and have some thoughts on this recipe? I want to hear it! If you liked the recipe, it would be great if you could leave a comment and rating below. If you share this on Pinterest and Facebook, it would be so great! If you want to get updates from Ramshackle Pantry, make sure to sign up to get updates.
Print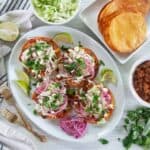 Honduran Enchiladas
Author:

Ben Myhre

Prep Time:

30 minutes

Cook Time:

1 hour

Total Time:

1 hour 30 minutes

Yield:

10

Enchiladas

1

x

Category:

Dinner

Method:

Stovetop

Cuisine:

Honduran
---
Description
Honduran Enchiladas are a unique and super tasty Hispanic dish that everybody should try at least once. Full of flavor and color, this recipe will not let you down. A ton of Mexican food flavors, but with a few surprises on the way.
---
For Pickled Onion:
1

red onion, sliced thinly

2 tablespoon

salt +

1 teaspoon

Juice of

1

lime

2 teaspoons

olive oil
For Filling:
2 tablespoons

olive oil

1/2 cup

white or yellow onion, chopped (about

1/2

large onion)

1

medium Bell Pepper, chopped

1

jalapeño, diced

2

garlic cloves, minced

1/2

pound ground 80/20 beef

1/2

pound ground pork

1 1/2 cup

beef stock

1 cup

crushed tomatoes

3

medium Yukon potatoes, peeled and diced

1 teaspoon

salt

1 teaspoon

paprika

1/2 teaspoon

pepper

1/2 teaspoon

ground cumin
For Tostadas:
10

corn tortillas
Oil, for frying
For Enchilada Sauce:
1 cup

crushed tomato

1/4 cup

beef broth

1/4 teaspoon

cayenne powder

1/4 teaspoon

salt
Additional Toppings:
5 Ounces

Cotija Cheese, crumbled

4 cups

shredded cabbage
chopped cilantro, to taste

2

hardboiled eggs, sliced (optional)
---
Instructions
Add 2 tablespoon salt, red onion, 1/2 of lime juice to container and mix well
Barely cover with warm water and allow to sit for 15 minutes
Drain.
Toss with remaining salt, olive oil, and lime juice
Place in the fridge for at least 15 mintutes and up to overnight
While onions are in the fridge, start on the filling. Heat olive oil, bell pepper, onion, and garlic cloves over medium heat until vegetables are sweated.
Turn up to medium-high heat and brown ground beef and pork until nearly done
Add beef stock, tomatoes, salt, paprika, pepper, cumin, potatoes and bring to simmer
Allow to simmer until potatoes are soft. If the sauce becomes too dry before potatoes are done, add a little water to keep a sauce-like consistency.
While simmering, heat oil in safe pan or skillet to about 360 degrees Fahrenheit.
Mix all enchilada sauce in small saucepan and heat to medium
Once the oil is hot, cook corn tortillas about 1 minute per side or until crispy and golden. My pan holds three at a time and then I put them on a paper-towel-lined plate to drain until everything is done.
Once filling is done, start constructing the enchiladas.
On each enchilada, add some filling, a spoonful of enchilada sauce, 1/4 cup shredded cabbage, pickled red onion, cheese, egg slices(optional), and cilantro.
Eat!
---
Notes
We serve this buffet style so each person can make the enchiladas how they want and with the ingredients they like.
The toppings are estimated and feel free to use more or less to your taste
Depending on where you live and the stores you use, cotija cheese might be a bit hard to find in the store. For us, it is around the same areas as refrigerated salsa and sour cream.
---
Nutrition
Serving Size:

2 Tostadas

Calories:

638 calories

Sugar:

9 g

Sodium:

5003 mg

Fat:

40 g

Saturated Fat:

10 g

Unsaturated Fat:

30 g

Carbohydrates:

44 g

Fiber:

9 g

Protein:

29 g

Cholesterol:

74 mg
Keywords: Honduran Enchilada