Combine corn tortillas, homemade enchilada sauce, and slow-cooker shredded beef for the best enchiladas and an absolutely delicious Mexican meal! A great enchilada with a wonderful homemade twist that makes this recipe yours. Give this Shredded Beef Enchiladas with Homemade Enchilada Sauce a try today.
🌯 What makes this recipe special?
Mexican food is so reachable and has such great flavors. Why make things out of a box, though, when you can easily make homemade ingredients that blow average stuff out of the water? That is what whe have with this delicious homemade enchilada sauce.
This recipe is unique because of the simple and tasty enchilada sauce, but it doesn't stop there. We use our own Slow Cooker Shredded beef in this recipe, which makes this recipe doubly special. Impress your family with all of these tasty and unique Mexican flavors.
Some other great recipes that you might also enjoy are our Honduran Enchiladas recipe, this Caldo de Queso soup, or how about a flavorful treat with this Mangonada frozen drink.
🍅 Ingredients
It doesn't take much to make these enchiladas.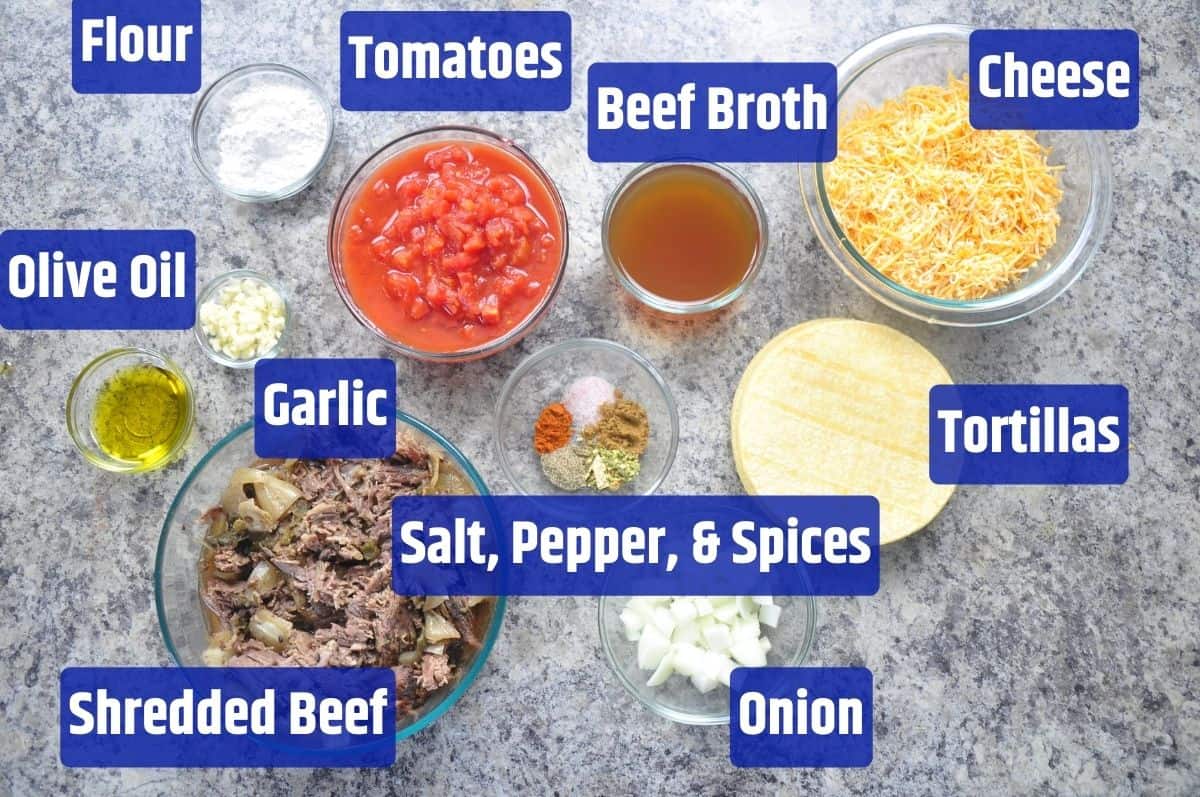 Corn Tortillas
Shredded Beef
Mexican cheese blend
Diced tomatoes
Beef stock
Onion
Garlic
Olive oil
All-purpose flour
Cumin
Red pepper flakes
Salt & Pepper
Cayenne pepper
See the recipe card for quantities.
Shredded Mexican Beef
We made a crockpot shredded mexican beef as our filling and the recipe is here. There are several different fillings that you can use, but shredded beef is a solid choice. With this recipe, you can start it in the morning before you go to work and come home to a great smelling house. Then, you can cook the other elements in a reasonable amount of time and enjoy some fantastic shredded beef enchiladas.
Corn Tortillas
Any quality corn tortillas will do, but make sure to soften them. I do this by heating up a cast iron on low and then cooking the shells on them for just a minute on each side. I dab my fingers in a bowl of water and just flick a few drops on the shells.
Once soft and pliable, I store them on a plate with some tinfoil on top until I am ready to use. If I don't do this, the corn shells are likely to break when you wrap your enchiladas.
Of course, you could make your own homemade corn tortillas, too.
Mexican Blend Cheese
You can purchase any Mexican blend, but you can easily make your own. Grate together some cheddar cheese and Monterrey Jack cheese together in equal amounts.
You could also add Colby cheese or Pepper Jack to the mix. Add every cheese in equal parts.
🍲 Instructions
This is as simple as wrapping your filling in a corn tortilla and laying in a baking dish. Covering up all of them with enchilada sauce, cheese and baking.
Enchilada Sauce
For the enchilada sauce, heat a pan and cook onions and garlic. Once softened, add seasonings and all-purpose flour. This makes a roux.
Slowly add beef broth to the roux and stir. This will result in a nice beef gravy with a lot of seasoning in it. Once all the beef broth is incorporated and thickened, add the tomatoes.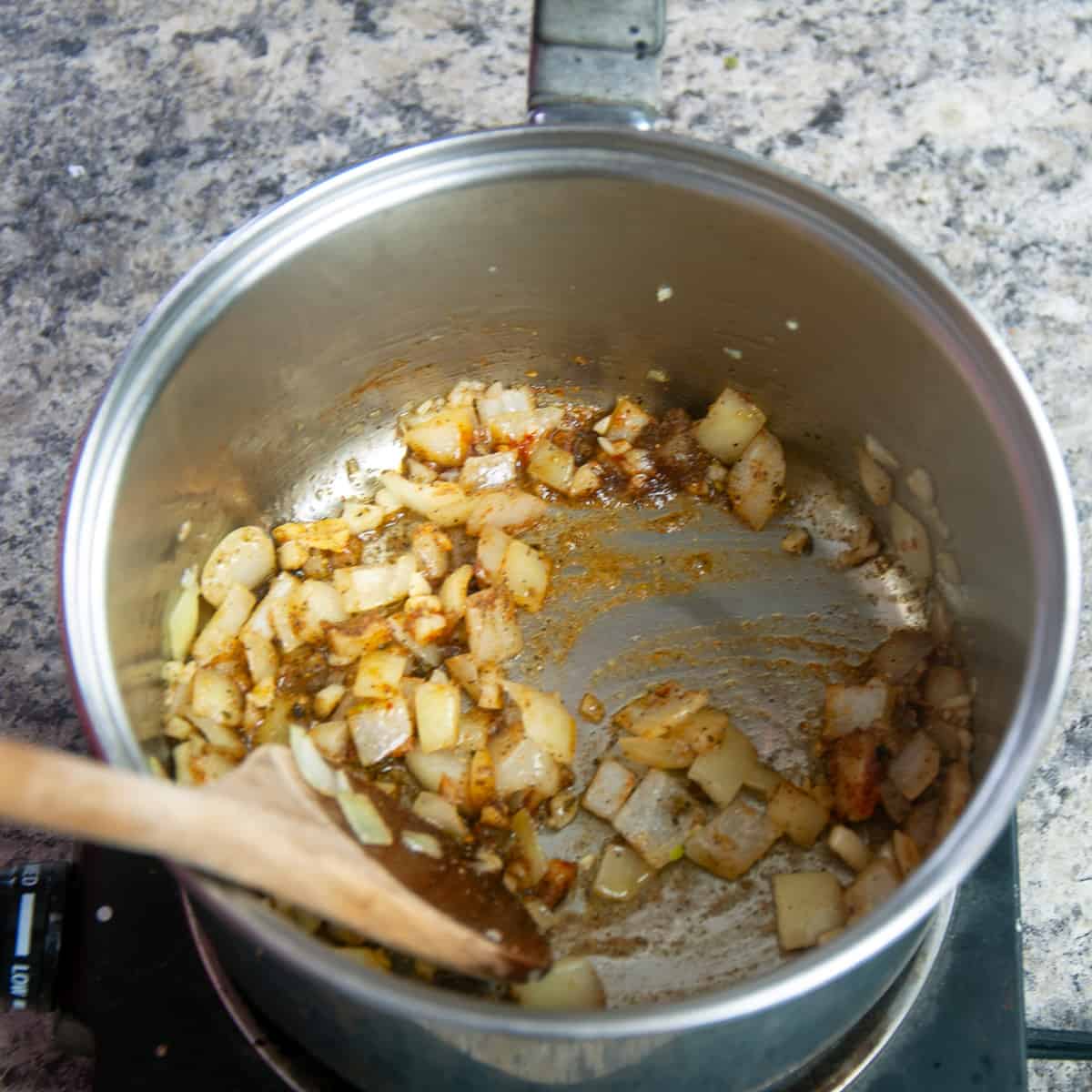 From here, it is a matter of simmering for about 30 minutes. During this time, you can wrap the enchiladas and place in the baking pan.
Optionally, use a hand mixer to make the sauce smooth. I have tried this both ways and think they are both good.
🤷 Substitutions and variations
There are a few ways that this can be changed up.
Tomatoes - I call for one can of petite diced tomatoes. This could be substituted for about 5 medium-sized tomatoes blanched and diced.
Shredded Beef - So, this is a beef enchilada recipe. Still, you could really use any meat filling and broth for the enchilada sauce.
Spices - If you don't like a specific spice, omit it. If you want other seasons added? Add them.
Fresh Peppers - I use ground cayenne pepper and red pepper flakes in this recipe, but you could use a fresh pepper or two in this instead. If you do that, add the peppers at the same time that you do the onions and garlic.
📦 Storage
To store enchiladas, first let them cool completely, then wrap them tightly in aluminum foil or plastic wrap. They can be stored in the refrigerator for up to 4 days.
To reheat, remove the foil or plastic wrap and place the enchiladas in a 350°F oven for 15-20 minutes or until heated through. You can also reheat individual enchiladas in the microwave for 30-60 seconds. Just be careful not to overcook them, as this can cause the tortillas to become tough and dry.
To freeze enchiladas, first let them cool completely, then wrap them tightly in aluminum foil or freezer-safe plastic wrap. Label the enchiladas with the date so you can keep track of how long they have been in the freezer. Enchiladas can be frozen for up to 2-3 months.
To reheat frozen enchiladas, remove the foil or plastic wrap and place them in a 350°F oven for 30-40 minutes or until heated through. You can also thaw the enchiladas overnight in the refrigerator and then reheat them in the oven or microwave.
Just be aware that the texture of the tortillas and the sauce can change after being frozen and reheated, so the enchiladas may not be as crispy or flavorful as when they were first made.
❓ FAQ
What are enchiladas made of?
Enchiladas typically consist of corn tortillas filled with various ingredients such as meat, cheese, beans, or vegetables. The filled tortillas are then rolled up and covered in a chili sauce, which can range from mild to spicy. They are often topped with cheese and additional toppings such as sour cream, avocado, or cilantro.
What is the difference between enchiladas and tacos?
Tacos are made with a smaller corn tortilla that is folded or rolled around a filling, while enchiladas are made with a larger corn tortilla that is filled and rolled, then covered in a sauce. Tacos are often served with a variety of toppings, while enchiladas usually have a more limited selection of toppings.
Can enchiladas be vegetarian?
Yes, enchiladas can be made with a variety of vegetarian fillings, such as beans, cheese, vegetables, or tofu. The sauce can also be made without meat for a vegetarian option.
Are enchiladas spicy?
The level of spiciness can vary depending on the recipe and the ingredients used, but enchiladas can range from mild to very spicy. Some recipes use mild chili peppers, while others use hotter varieties. You can adjust the level of spiciness to suit your taste.
📝 Tips and tricks
I used a shallow CorningWare 1 ½ quart baking dish, but a 9"x12" baking dish would work well for this, as well.
Consider making your own tortillas
Use this Slow Cooker Beef recipe for a great filling.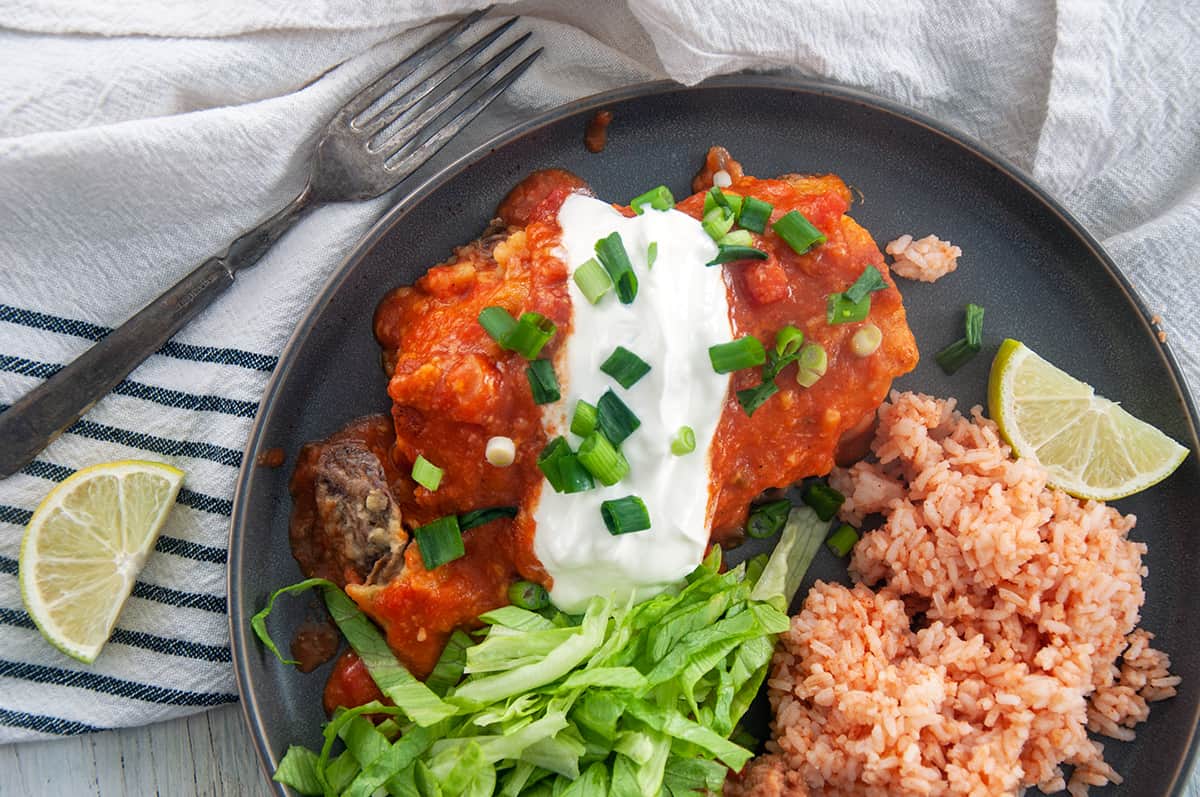 🛠 Products used in this recipe
😋 Did you make this recipe?
That is awesome, and thank you so much for giving this Shredded Beef Enchiladas with Homemade Enchilada Sauce recipe a try. If you could leave a rating in the comment area below, it would be greatly appreciated. This lets me know how I am doing and also helps others decide if they want to make this recipe. Most of all, thanks for visiting Ramshackle Pantry.
Print
📖 Recipe
Melt in your mouth shredded beef enchiladas
Author:

Ben

Prep Time:

10 minutes

Cook Time:

1 hour

Total Time:

1 hour 10 minutes

Yield:

4

Servings

1

x

Category:

Dinner

Method:

Baking

Cuisine:

Mexican
---
Description
We have covered each of the individual elements of a great enchilada dish in previous posts. Today we will be referring to those individual posts and putting them together for some melt in your mouth shredded beef enchiladas.
---
Eight corn tortillas, warmed and softened

1

to

1 ½

cups

shredded Mexican cheese blend

1 ½

to

2

pounds

chuck roast, cooked and shredded (or other meat).
Homemade Enchilada Sauce:
14 ½

ounce

petite diced tomatoes (1 can)

1

cup

beef stock

½

cup

chopped onion

2

garlic cloves, minced

2 Tablespoon

olive oil

2 Tablespoon

all-purpose flour

½ teaspoon

cumin

½ teaspoon

red pepper flakes

½ teaspoon

salt

¼ teaspoon

cayenne

¼ teaspoon

pepper
---
Instructions
Add olive oil to a large sauce pan and heat to low
Add ½ cup onion and garlic and cook until translucent
Add all spices
Add flour to saucepan and mix
Slowly add 1 cup beef broth while stirring
Let simmer until broth is gravy-like
Add a can of tomatoes
Optionally, use hand blender to blend if you prefer smooth sauce
Simmer covered on medium-low for 30 minutes
Preheat oven to 350° Fahrenheight
Wrap meat with corn tortillas
Place into 9 x 12 cooking dish or other appropriate baking container
Spread enchilada sauce over top of wrapped tortillas
Cover with cheese
Bake uncovered for 25 minutes
Remove and serve
Notes
I used a shallow CorningWare 1 ½ quart baking dish, but a 9"x12" baking dish would work well for this, as well.
Consider making your own tortillas
Use this Slow Cooker Beef recipe for a great filling.
Keywords: Beef enchiladas