Kladdkaka, or Swedish Sticky Cake, is a deliciously gooey chocolate dessert you should try today. Thin, sweet, and soft, this cake delivers excellent flavors in a small package.
It is easy to make and quick in the oven, but don't let this simple recipe fool you. Our Kladdkaka is packed with flavor.

We include a simple raspberry sauce that compliments it so well. Give this recipe a try, put a dollop of the fresh raspberry sauce on each slice, and enjoy this delicious cake.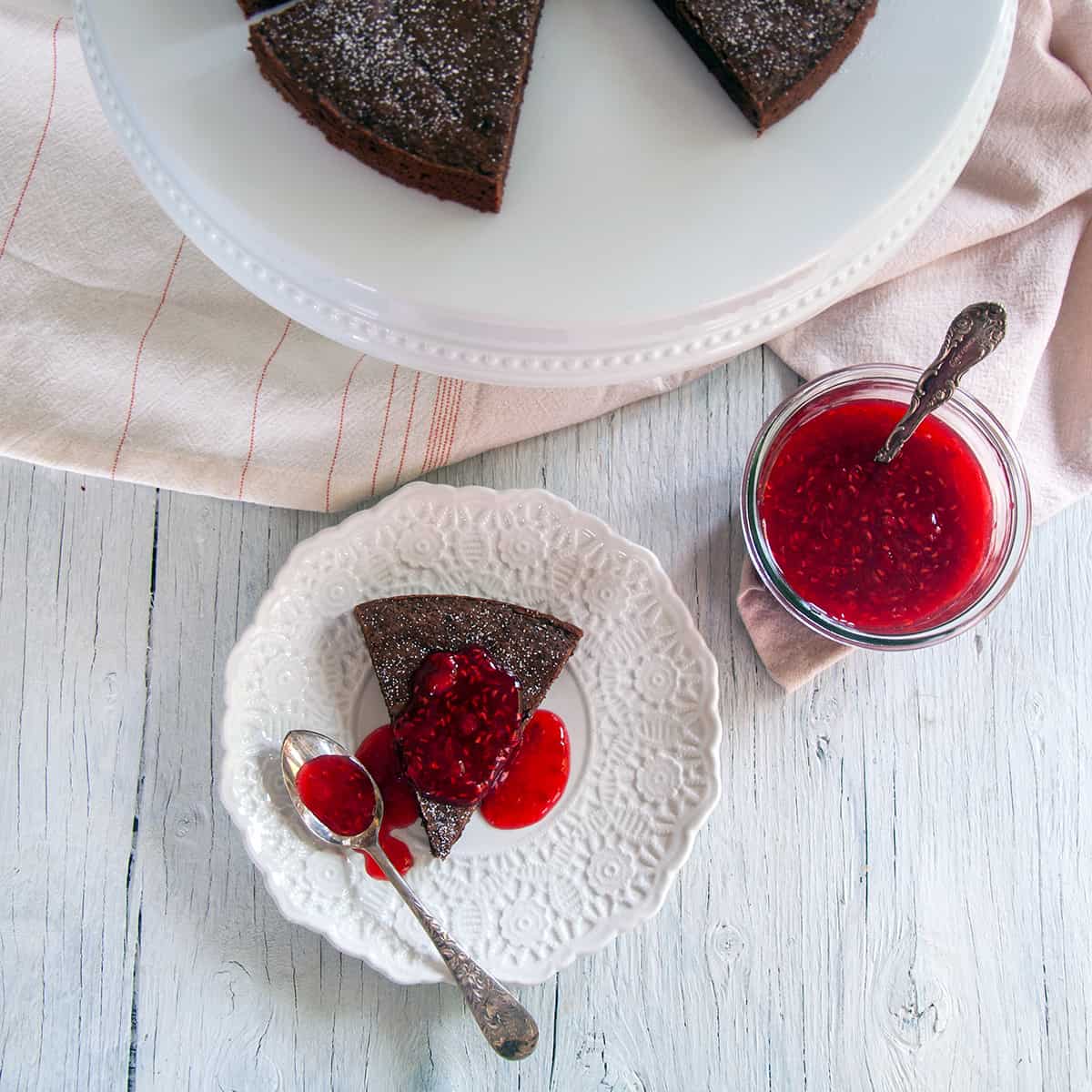 🇸🇪 What makes this recipe special?
This looks a bit like an undercooked brownie, similar to a brownie or maybe a molten lava cake. To be honest... it kinda sort of is. The results are absolutely wonderful, gooey, ooey, chocolatey and is super tasty!
Add in the easy Raspberry sauce and you have something really special. You just mash up some fresh raspberries and then heat them with a few other ingredients. Once simmering, add a cornstarch slurry, and the heat will thicken the sauce. Remove it from the heat and allow it to cool.
It looks spectacular with just a sprinkle of powdered sugar, but add our topping, and it is a bit like heaven. If you are into Scandinavian recipes, check out this Klubb recipe if you are looking for a savory dish. If you want something sweet that is not this, how about this Rabarbrakake (Norweigan rhubarb cake) or Swedish Pancakes?
Whatever you make, make sure to treat yourself to something special!
Jump to:
🍫 Ingredients
The ingredients list below includes the cake AND the raspberry sauce. Check the recipe card if you want to omit the raspberry sauce.
Granulated sugar
Salt
Cocoa powder
Butter
Eggs
Vanilla
Flour
Powdered Sugar (optional)
Raspberries
Lemon Juice
Corn starch
Water
See the recipe card for quantities.
🍲 Instructions
This recipe for the cake is as simple as mixing the batter together and then baking it in a spring form pan. There is a bit of nuance to it, but it just comes down to that.

For the recipe, combine all batter ingredients and mix. Then, we add it to a spring pan and bake for 18 minutes.
Once done baking, it is a 30-minute waiting game to release it from the spring pan. While this is cooling, you can work on the raspberry topping.
Using a Spring Pan
This recipe calls for a springform pan; if you don't have one, perhaps now is the time to invest in one. If you like baking or want to make pretty cakes in the future, a springform pan is a great tool to have in your arsenal. We use a 9-inch springform pan from Nordic Ware that you can find here(Affiliate Link).
In this case, the size of your springform pan might make a fairly significant difference. This is a thin cake; if you use a larger springform pan, the batter will spread even thinner. If smaller than 9-inch, you are going to have a thicker cake. In each case, this can impact baking time and the final product.
Can you use just a cake pan? Sure, but remember that we are dealing with sticky cake. Particularly closer to the center, our kladdkaka may be moist and more apt to fall apart when handled in a regular cake pan. A springform pan gives a bit more leverage to gently wiggle a pie server underneath the cake. Cooling will also impact this.
Cool Your Cake
This cake will seem a bit wet when you pull it out of the oven and very delicate. You will likely ruin it if you try and handle the kladdkaka right out of the oven. Don't get me wrong, it will still taste good, but it will be a mess.
The best way to combat any stickiness or fragility is to let it cool. Give it a good 30 minutes outside of the oven before you try and release the springform pan or scoop anything out. From there, either serve or put in the refrigerator for serving later.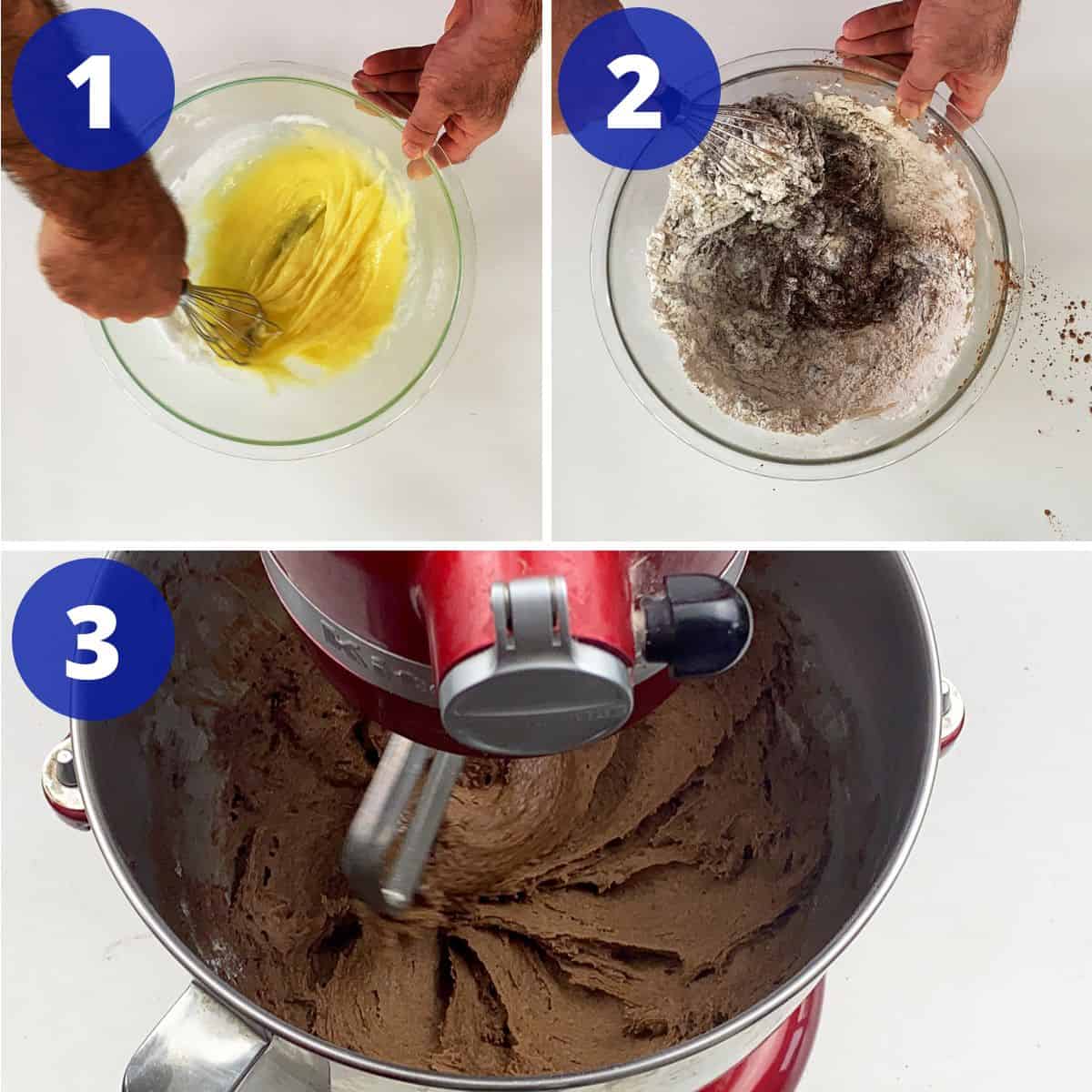 Raspberry Sauce
I love a good combination of chocolate and raspberry. This raspberry sauce recipe is perfect for this recipe. Our sticky cake is thin, but it has an abundance of chocolate flavor. The tasty raspberry sauce adds a nice flavor, texture, and bulk to the cake that really combines to make something special.
The best part is that it is so easy to make. It is as simple as mashing up a container of raspberries and adding a few ingredients. Finally, a cornstarch and water slurry are added at the end to thicken.
Once cooled, it is ready to be served. This raspberry sauce is excellent for this recipe but perfect with many other desserts. It would be great for a simple vanilla ice cream recipe or many other dessert recipes that go well with a sauce.
🤷 Substitutions and variations
There are a few ways you can change this recipe.
Bake Time and Stickiness
As already indicated, we are riding the edge of doneness with this recipe. If you really love a gooey mess, you can make this even more sticky by just cooking it a bit less. We baked this recipe for 18 minutes on the center rack, but if you cook it for between 15-17 minutes, it will get a bit more sticky. You get the picture, right?
One thing to consider is a bit logistical. The less you bake this, the moister this cake will be in the center. If the outer edges of our cake well done, but the center is underdone, you are liable to have your Kladdkaka fall apart when trying to serve the cake.
Allow for a good amount of cooling time, use a springform pan, and your Swedish sticky cake will be perfect.
Other Toppings
Powdered sugar is probably the most common topping you will see with this recipe. It looks really lovely and contrasts the dark coloring of the Kladdkaka.
Ice cream, whipped cream, or anything that would go well on a chocolate cake would also be appropriate here. You could even try strawberry or another fruit topping that works well with chocolate.
Do you need a KitchenAid?
Nah. It just makes this recipe easier. Make sure your batter is smooth, and you should be good to go!
📦 Storage
This cake will store well in the fridge for a few days or you can freeze it for later use.
🎓 History tidbit
Like many nordic cakes, it has the '-kaka' in it. While it sounds like it could be a dubious name, it means 'cake'. 'Kladd' comes the Swedish word 'Kladdig' translates to 'smudgy' or sticky. Once we smoosh the two phrases together, we get Kladdkaka, or smudgy cake.
Recipes like our Krumkake and Rabarbrakake recipe have similar translations and variations on 'kaka' at the end. While it always sounds a bit odd to me, I know that when a recipe has 'kake' at the end, it usually ends up being delicious.
The history of this dish was a tough one to track down. I searched google books, and the earliest recipe I could find here was from the 90s. Some Suggest that this popular Swedish cake was borne out of necessity, as baking soda became scarce in Sweden during WWII.
Baking soda would act as a leavening agent and rise the cake a bit to make it less dense and likely less gooey, as it will rise a bit. I wonder if baking soda would be difficult to come by, but the chocolate was very easy to find?
If you have any tips or explanations of where this cake came from, I would love to hear them. For now, I will just enjoy the chocolaty goodness of this cake.
❓ FAQ
How does Kladdkaka translate into English?
Kladd translates into 'draft' or 'rough copy'. Kladdig means smudgy or sticky. Kaka is a common ending for cake. Smudgy Cake!
Where does Kladdkaka come from?
Kladdkaka is Swedish in origin.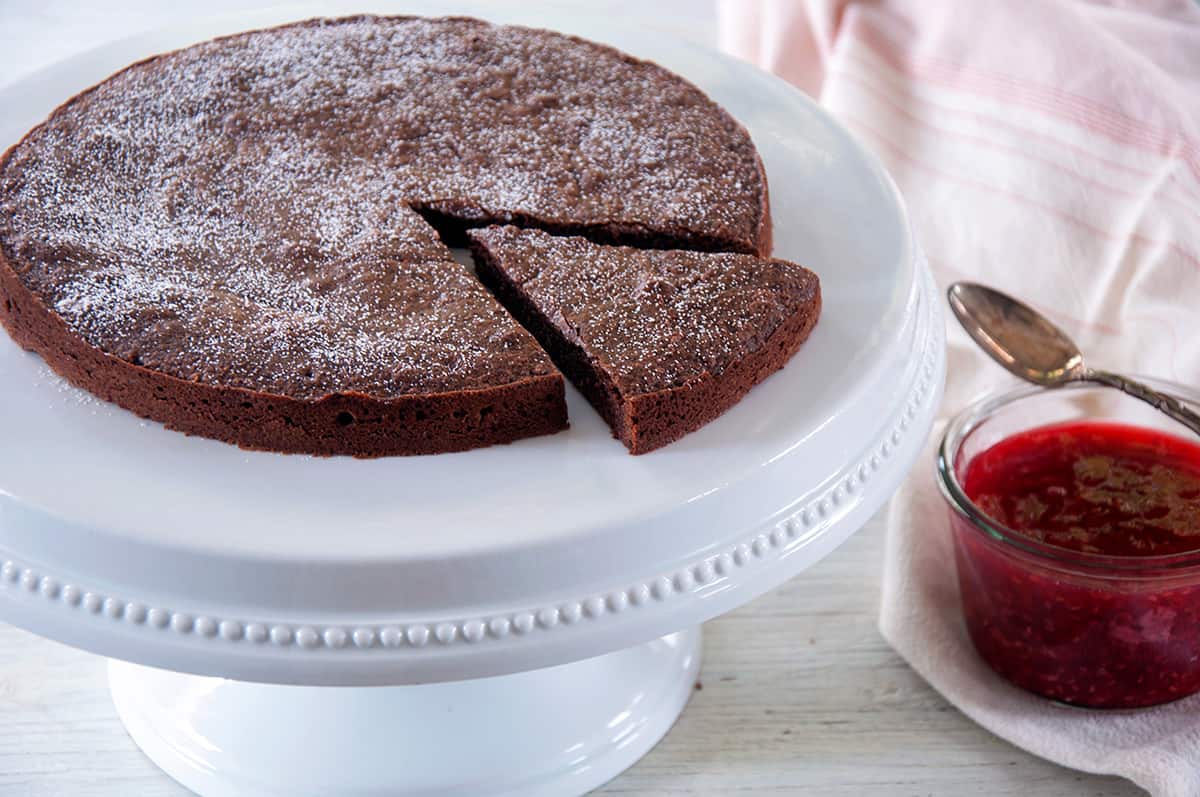 📝 Tips and tricks
Use a springform pan for the best results.
We cook for 18 minutes on the center rack, but the cake will get a bit more gooey if you cook between 15-17 minutes.
Make sure to allow for a proper cooling time.
Raspberry sauce is optional, but any good chocolate topping would be great. Ice cream, whipped cream, or even just a dab of cream would be good on this recipe.
Store in refrigerator once cooled.
😋 Did you make this recipe?
That is awesome, and thank you so much for giving this Kladdkaka Swedish Sticky Cake recipe a try. If you could leave a rating in the comment area below, it would be greatly appreciated. This lets me know how I am doing and also helps others decide if they want to make this recipe. Most of all, thanks for visiting Ramshackle Pantry.
Print
📖 Recipe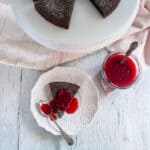 Kladdkaka - Swedish Sticky Cake
Author:

Ben Myhre

Prep Time:

10 minutes

Cook Time:

18 Minutes

Total Time:

28 minutes

Yield:

8

Slices

1

x

Category:

Dessert

Method:

Baking

Cuisine:

Swedish
---
Description
Kladdkaka sounds funny, but this Swedish Sticky Cake is very tasty. It is easy to make and includes a delicious raspberry sauce.
---
1 ¼ cup

granulated sugar

½ teaspoon

salt

½ cup

cocoa powder

1

stick butter melted, but not hot, plus more for greasing spring pan

2

eggs

1 teaspoon

vanilla

1 cup

sifted flour
Powdered Sugar (optional)
Raspberry Sauce (recipe below)
For Raspberry Sauce:
6 ounces

raspberries

½ cup

sugar

1 Tablespoon

Lemon Juice

1 Tablespoon

corn starch

¼ cup

water, room temp or cold
---
Instructions
Add egg, sugar, and vanilla to large bowl and mix until smooth
Then add butter, cocoa and salt. mix.
Add flour and combine.
Mix with mixer paddle in KitchenAid for 1.5 minutes on low or by hand with mixer for a 4-5 minutes
Spread in a 9-inch springform pan greased with butter.

Bake at 350° Farhenheight for 18 minutes — 15-17 if you want it EXTRA gooey

Remove from oven, cool for 30 minutes
Remove from springform pan, top with raspberry sauce(optional) and serve
For Raspberry Sauce:
Crush raspberries in a medium sauce pan
Add ½ cup sugar and lemon juice. Heat over medium heat until sugar is completely combined and just at a simmer
In a separate container add water to cornstarch and mix
Pour water mixture into simmering pan and mix well, allowing it to hit a simmering temperature. It should thicken.
Cool and serve over Kladdkaka
Notes
Use a springform pan for the best results.
We cook for 18 minutes on the center rack, but the cake will get a bit gooier if you cook between 15-17.
Make sure to allow for a proper cooling time.
Raspberry sauce is optional, but any good chocolate topping would be great. Ice cream, whipped cream, or even just a dab of cream would be good on this recipe.
Store in refrigerator once cooled.
Calorie count INCLUDES ⅛ of the raspberry sauce
Nutrition
Serving Size:

⅛ of cake

Calories:

306

Sugar:

45 g

Sodium:

190 mg

Fat:

6 g

Saturated Fat:

3 g

Unsaturated Fat:

3 g

Carbohydrates:

60 g

Fiber:

4 g

Protein:

4 g

Cholesterol:

56 mg