Making your own delicious gin doesn't need to be complicated. Step up your classic cocktail game by constructing your own rustic gin. Join me as we explore how to make gin.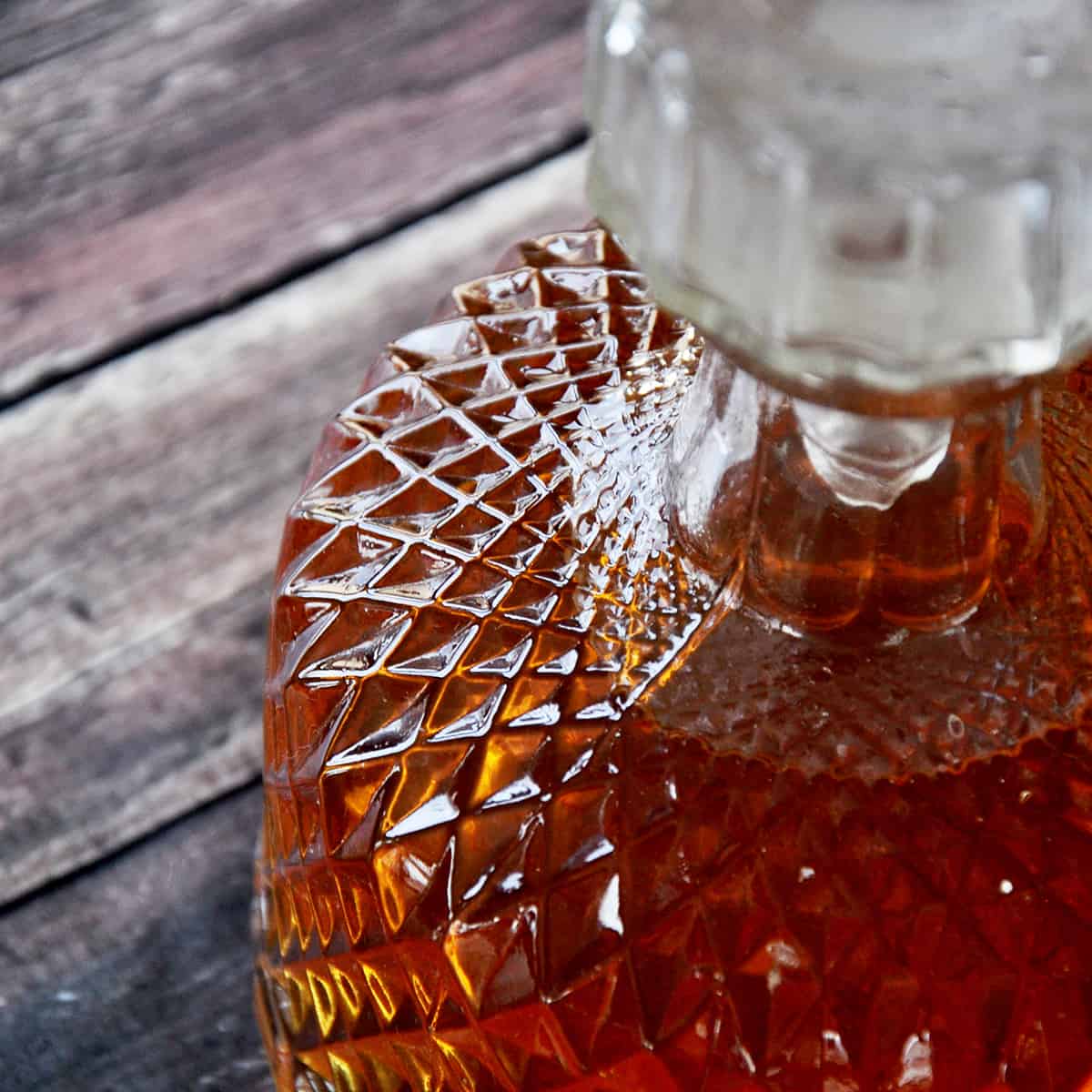 We have already made tonic water and now we are going to make some gin! As indicated in our post of the different kinds of gin, most of the gins bought in stores are distilled with aromatics and juniper during the distillation processes. Composite gin, however, is derived from infusing these items right into a neutral alcohol. Inspired by the recipe from this video, we are going to learn how to make gin at home.
Starting with vodka
Gin tends to be distilled twice. After the first distillation, it is a neutral spirit and then, on second distillation are the aromatics given to the alcohol that make it a gin. In this style of gin, however, we impart the flavorings directly into the alcohol. We are going to start with a neutral spirit…. Vodka. I am choosing to start with New Amsterdam Vodka. Coming in at $15 for a 1.75L, it is a great liquor for the price. This really is an experiment and it is going to be infused with all sorts of goodness. It is, then, going to be mixed with other things. I think going for a bit of a more price conscious choice is not a bad idea, particularly on my first go around.
Is All Gin Made From Vodka?
No. Most Gin is distilled as gin and does not start as vodka. We are making a rustic gin that starts with vodka and that is ok. We are not distilling anything, but just having fun with the ingredients we have at home.
If you are interested in distilling gin, there are resources out there for you. Check for your local rules, laws, and regulations before you start down that path.
How to make gin and the aromatics
All gins need Juniper Berries
, which can be ordered on amazon. Beyond that, I chose to use coriander seed, ginger, lemon peel, lime peel, orange peel, and lemongrass. These were recipe decisions, mostly because I already had them in stock. I also had cinnamon, cucumber, and almonds on hand, but I decided to leave them out. Lemongrass and ginger were already added, which I felt were distinguishing enough.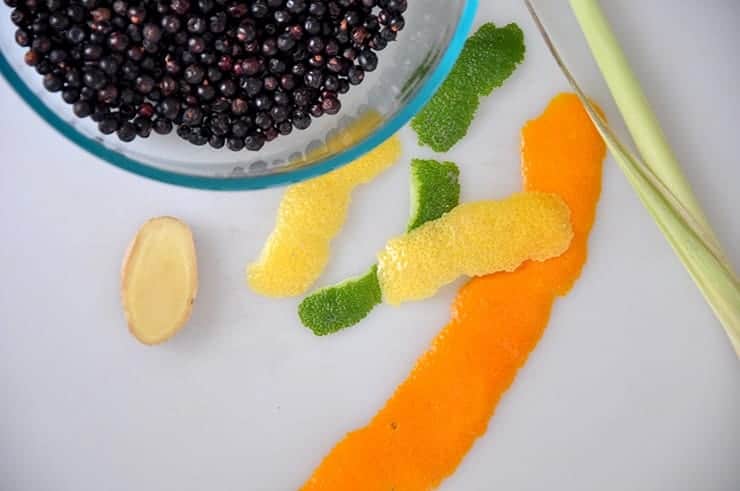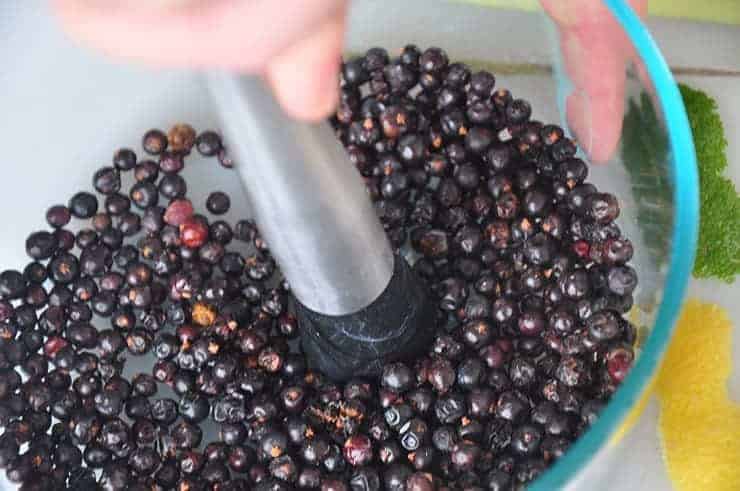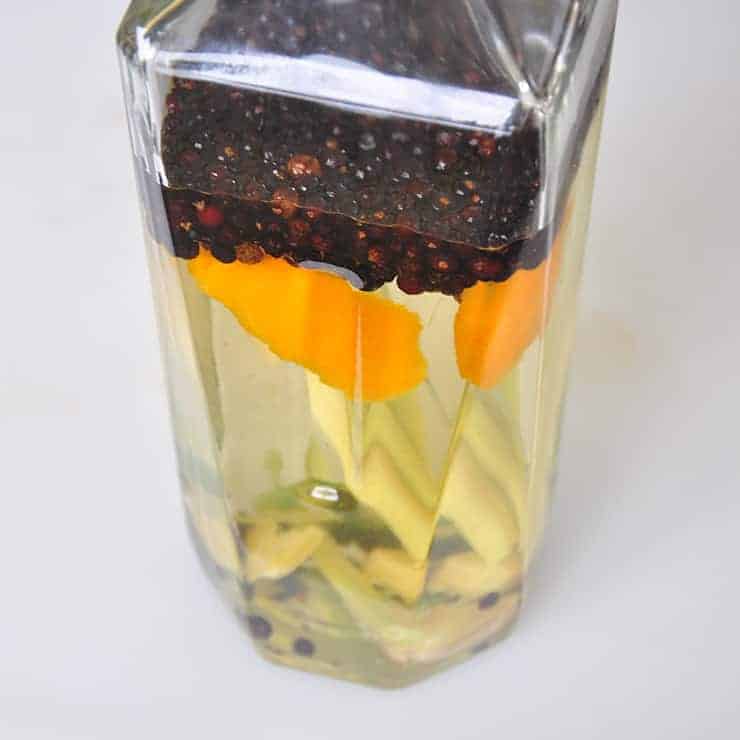 MOAR Juniper
The recipe that inspired mine, had added 25g of juniper berries for 750ml of vodka. I used a grand total of 120g of juniper and I could definitely get the taste with that much of the berry. Starting off with 50g for 6 cups, I let it sit for two days and then strained everything out and had a taste. I decided it needed more. So, I discarded the original aromatics and added 50g more to the bottle. After sitting another day, I gave it a try and it was where I needed it to be. Additionally, I lightly used my muddler on the juniper berries to release the flavor and oils.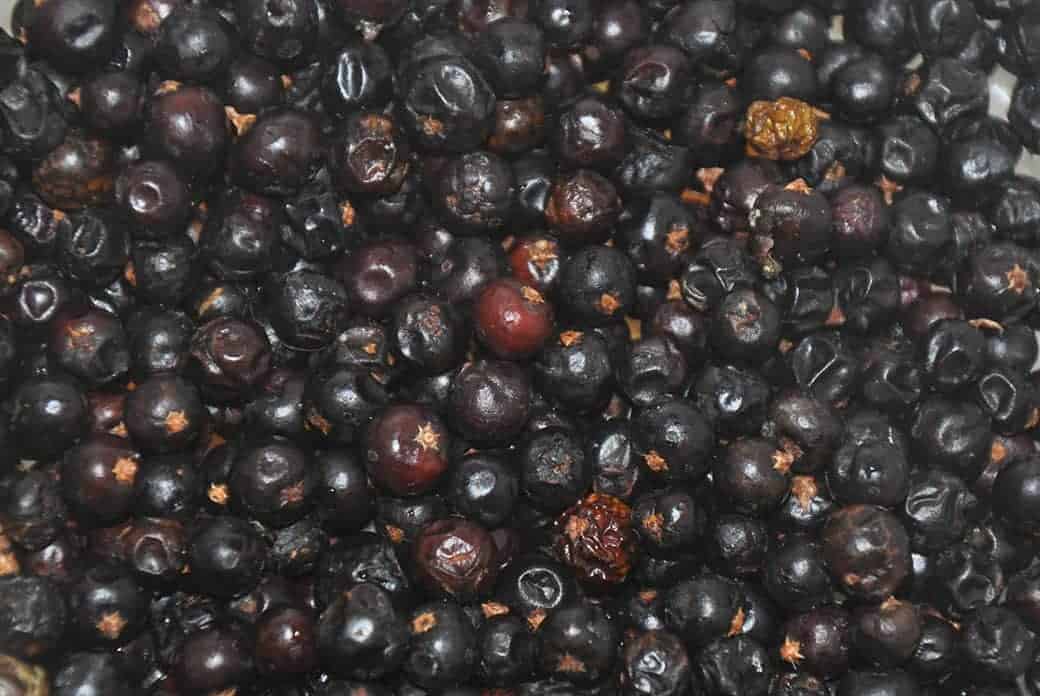 Final Product
It is pretty darn good! The alcohol is going to be a brownish color, so don't let that throw you off. That is normal. I still feel like I get a bit of the vodka taste in there, but perhaps that could be remedied with a better vodka that is more known for its neutrality. All in all, I think I will likely do this again to go with my tonic.
Products Used In This Recipe
Print
📖 Recipe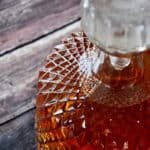 How To Make Gin Right At Home
Author:

Ben Myhre

Prep Time:

30 Minutes

Cook Time:

4 Days

Total Time:

4 Days 30 Minutes

Yield:

32

servings

1

x

Category:

Distillation

Method:

Steeping

Cuisine:

English
---
Description
How to make gin at home! Get a few ingredients and some vodka to make a great and easy rustic Gin
---
6 cups

Vodka

4

inches lime peel

8

inches orange peel

6

inches lemon peel

½

inch ginger root

1

small lemongrass stalk
---
Instructions
Using muddler, slightly mash the juniper berries to release flavors in a separate bowl
Add juniper berries and all other ingredients (minus the 50 grams of juniper berries) to container
Let sit for 2 days
Strain all materials out using funnel and cheesecloth into another bottle or dish (you are going to need to pour it back)
Muddle the remaining 50g of juniper berries and add back to bottle
Add remaining juniper berries
Let sit for another day
Strain again
GIN!
---
Keywords: Make your own Gin