This Pasta Al Forno recipe is a simple way to use fresh ingredients for a delicious Italian weeknight meal. It can be ready on your table in 45 minutes and that is if you are starting from fresh tomatoes. A simple and easy recipe that still brings garden flavors and a homemade feel to your dinner table.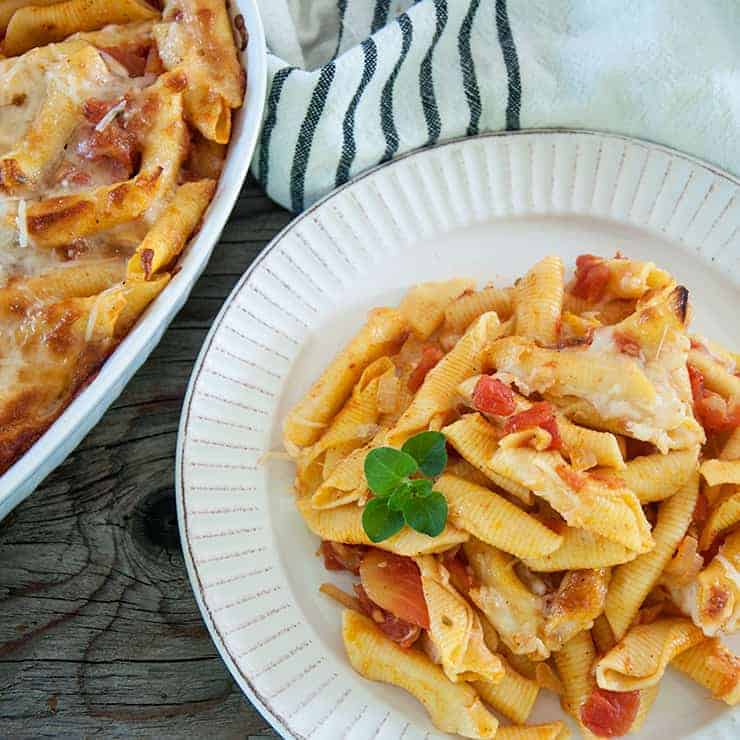 Pasta Al Forno Basics
This has several classic Italian flavors wrapped up into one quick dish. The basics are simple. We cook up some noodles, a very basic tomato sauce, and then put it in the oven for just a tad to get some melty cheese on top. It really is that simple. What makes this a little bit different than many of these types of recipes is that I am having you start from fresh tomatoes.
Fresh garden cooking doesn't need to be hard or complicated. In some cases, you can make some pretty quick and filling meals from scratch. While I give an option for canned tomatoes that cuts about 10 minutes off of the total cook time, you can start from the fresh stuff. So, get out to your garden and pick some tomatoes!
What is Pasta Al Forno?
The Italian term Pasta Al Forno literally translates to 'baked pasta' in English. Simple enough, right? That is the basic instruction of this recipe. We are adding pasta along with some sauce and cheese to a dish and baking it.
Timing this Recipe
This can be a very quick from-scratch dish if you time this right. You will have a few things going on at once, but it isn't that tough to manage. There are essentially 3 parts to the process of this recipe.
Part 1 - Blanching the Tomates
We have now blanched many tomatoes in many recipes, like this Traditional Pasta Sauce recipe or this Pasta Puttanesca. It takes about 10 minutes to blanch and peel tomatoes.
Part 2 - Making the Individual Elements
This part of the recipe includes making the sauce, boiling the pasta, grating the cheese, and preheating the oven. This all can be done almost simultaneously and in about 25 minutes. The sauce, once tomatoes are added, should simmer for about 15 minutes. Maybe a little longer, but that is up to your discretion.
Part 3 - Baking the Pasta Al Forno
All of the work really is done in part 2. This is where we mix the ingredients, put cheese on top, and put in the oven for 10 minutes. Everything is already hot and there are no ingredients that need to hit certain temperatures, so there is a little bit of leeway in this step.
Fresh or Canned Tomatoes
I choose to use fresh tomatoes, but understand if you want to use canned tomatoes. Here are some options for you.
Fresh Tomatoes and Blanching
This recipe calls for 2 pounds of fresh, ripe, Roma tomatoes. You can really use any nice, ripe tomato, but I would stick to tomatoes that are not super large. Roma, San Marzano, and smaller garden varieties (not grape or cherry) work well. Large types of tomatoes, such as Big Boy or Beefsteak are not great for this or other sauces, although, I have been known to use them on occasion.
Using Canned Tomatoes
Canned tomatoes can be great and they do take a step out of this recipe. If you choose a 28 Ounce can of San Marzano tomatoes, that should be a good substitute for the fresh tomatoes I use in this recipe. The benefit of using canned tomatoes is that it saves you a little work and time. You don't need to blanch, peel, or core any tomatoes.
What Cheese to Use?
I freshly shred a 4 Ounce block of mozzarella cheese. Then, I sprinkle one ounce of freshly grated Parmesan cheese over the top. Honestly, I think most shredded cheese combinations would turn out pretty good. It is cheese and cheese is wonderful. Mozzarella is a traditional cheese to use and many families tend to have some around. It makes sense to use and it is flavorful.
Can I use Other Noodles?
Sure! Why not. I use penne noodles, but any similar pasta should work relatively well. Rigatoni, ziti, and rotini would all work well and similarly to the penne I use. Some of the longer pastas, such as linguini or spaghetti noodles, might not work quite as well, but I don't know why you couldn't use them.
Can I add meat?
Yes. Chicken, ground beef, or pork would all work well. Just make sure to cook them separately and add them to the dish in a manner that they will be cooked through to safe levels.
What Baking Dish to Use?
I used a 1.5 Quart Corningware casserole dish. I think they look nice and get the job done. An 8x8 casserole dish would work as well. I know we have several 2 Quart 8x8 dishes around and if it weren't for the whole prospect of taking pictures, I would have likely used one of those, as well.
Pasta Al Forno Process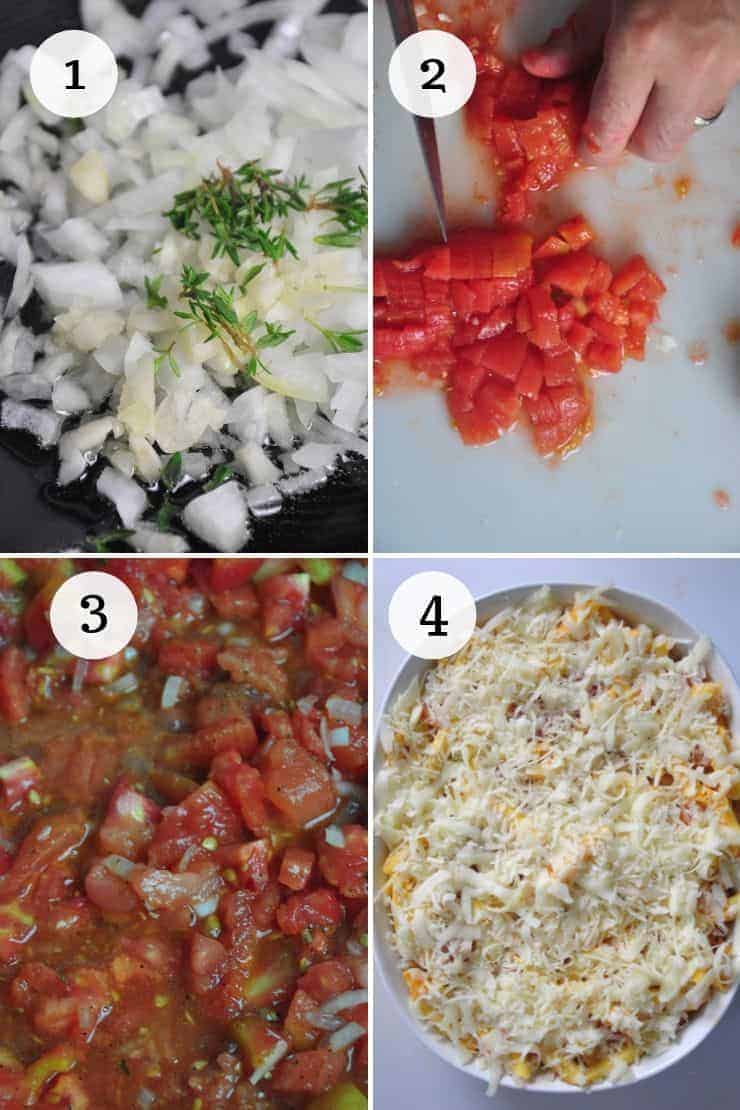 Start by cooking garlic, onion, and herbs over medium-low until sweated out and soft.
While garlic and onions are cooking, chop the tomatoes.
Add tomatoes to pan and simmer for 15-20 minutes. Meanwhile, cook the pasta.
Add All Ingredients to a casserole dish, top with cheese, and get in the oven.
Pasta Al Forno Baking Tips Summary
If you don't have fresh tomatoes, use a 28-Ounce can of San Marzano Tomatoes.
I used a 1.5 Quart Corningware Casserole dish, but an 8x8 pan would work fine.
Don't forget to oil casserole dish before putting pasta in.
Don't like the herbs I used? Use whatever Italian herbs you want and think would taste good.
Simmer the sauce for up to 40 minutes to concentrate the flavor
Products I Used in This Recipe
1.5 Quart Corningware Casserole dish
Large pan
Cheese Grater
Did You Make This Dish?
If you liked this recipe, you could do me a real solid by taking some time to let me know how it went in the comment section below and by sharing this recipe on Pinterest. I always appreciate hearing from you. If you want to see more from me, make sure to subscribe to get updates via email.
Print
📖 Recipe
Pasta Al Forno - Baked Pasta with Penne
Author:

Ben Myhre

Prep Time:

15 minutes

Cook Time:

30 minutes

Total Time:

45 minutes

Yield:

4

Servings

1

x

Category:

Classic, Vegetarian

Method:

Baking

Cuisine:

Italian
---
Description
This Pasta Al Forno recipe is a simple way to use fresh ingredients for a delicious Italian weeknight meal. It can be ready on your table in 45 minutes and that is if you are starting from fresh tomatoes. A simple and easy recipe that still brings garden flavors and a homemade feel to your dinner table.
---
2

Pounds Fresh Roma Tomatoes (or

28 ounce

can San Marzano Tomatoes)

12 Ounces

penne Noodles

2 Tablespoons

olive oil +

1 Tablespoon

to coat casserole dish

2

garlic cloves, minced

2

sprigs fresh thyme leaves

½ cup

diced onion

½ teaspoon

salt

½ teaspoon

pepper

½ teaspoon

red pepper flakes

4 Ounce

mozzarella, shredded

1 Ounce

parmesan, grated
---
Instructions
Blanch, core, and peel tomatoes (if using fresh)
Add 2 Tablespoons of oil to sauce pan and set to medium-low
Once warm, add garlic, thyme, and onion to pan until soft
While onion and garlic is cooking, chop tomatoes AND preheat oven on to 400° Fahrenheit degrees
Once onions and garlic is soft, add tomatoes, salt, pepper, and pepper flakes to pan.
Bring to a boil and then simmer for 15 minutes (up to 45 minutes)
While simmering, cook penne pasta per the package and shred cheeses.
Once pasta is done and drained, mix pasta with tomato sauce
Add to an oiled casserole pan (that extra tablespoon), top with cheeses, and add to top rack for 10 minutes
---
---
Nutrition
Serving Size:

¼ dish

Calories:

532 Caloreis

Sugar:

7 g

Sodium:

476 mg

Fat:

19 g

Saturated Fat:

5 g

Unsaturated Fat:

8 g

Trans Fat:

0 g

Carbohydrates:

75 g

Fiber:

8 g

Protein:

21 g

Cholesterol:

20 mg