This Puttanesca Sauce recipe with linguine has so much Italian flavor going on and, as a bonus, it is super simple and easy to make. This dish's history is interesting and helps explain the flavorful ingredients. We touch on the history of this Italian dish and give you a great recipe that you can make at home. Be prepared for a flavor explosion in this quick, authentic, and beautiful Italian classic pasta dish - Puttanesca Sauce with Linguine.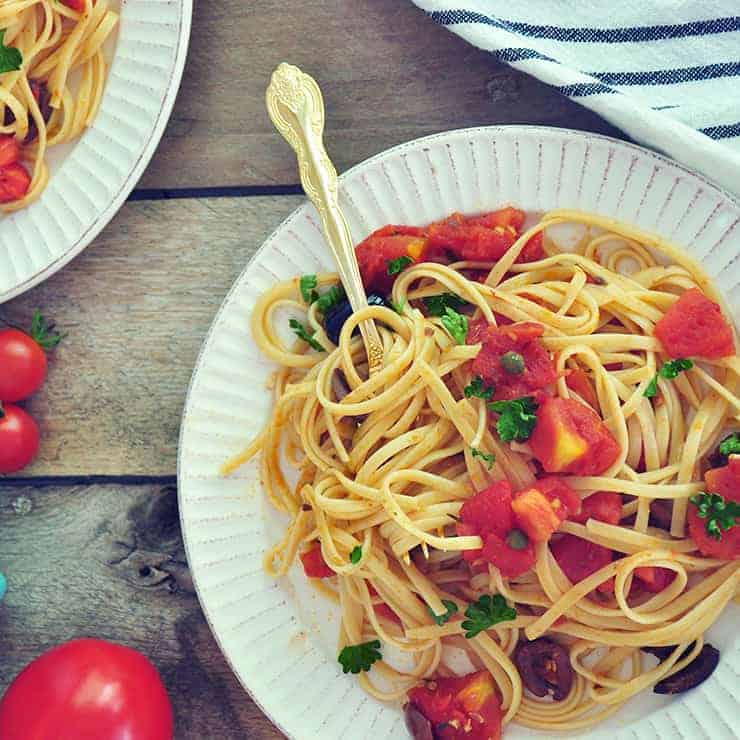 Puttanesca Sauce Basics
The simple description is that this Puttanesca sauce recipe has huge flavors. Anchovies, capers, and Kalamata olives combine together with fresh tomatoes to make a memorable recipe that works together in an interesting way. My recipe serves up 4 large servings and while the amount of sauce doesn't seem like it would be the most hearty, it has more than enough flavors to pack a punch. It has salt-filled and brined ingredients that impart big flavors with a relatively small amount of sauce. A big and uncomplicated dish that can be made quickly, but still brings fresh garden flavors to your table. We also have a great traditional Pasta Sauce recipe that is delicious but takes a bit of time. If you want a quick Italian recipe, this one is for you.
All the Flavors of Puttanesca Sauce
I talked about the salty ingredients, and I am not joking. The trifecta of anchovies, olives, and capers add so much flavor. These ingredients mixed up with some fresh tomatoes and garlic make for a large recipe in a small dish.
Tomatoes
I generally like to recommend a person uses whatever tomato is ripe and beautiful. This recipe is no exception, but I do have some thoughts on tomatoes I would steer you to. For this recipe, I prefer some nice Roma tomatoes or perhaps some smaller ripe tomatoes. I bought three pounds from my farmer's market and that made a very nice sauce for this Puttanesca Sauce.
Blanching Tomatoes and Peeling them.
If you are going to use fresh tomatoes for the sauce (which I like to use), you will have to get used to blanching. It is a very simple process. The end goal is to remove the skin and core (the little top) from the tomato. One way to accomplish this is by placing ripe tomatoes in boiling water for just a short period of time.
There is just a tad of skill that goes into telling whether a tomato is ready to be removed. Often, the skin will burst open and that is a clear sign that the tomato is ready to be removed. This typically happens between 30 seconds and a minute 30 seconds. Sometimes, however, the tomatoes can be a little stubborn. In those cases, if it feels like the tomato should be done, I will poke it with a sharp knife. This assists the skin in peeling and if the puncture starts to widen, you know it is ready. If it gets to be 2 minutes and there is still nothing, I presume it is just done and remove it.
After removing tomatoes from the boiling water, we put it in a bowl of ice water. This stops the tomato from cooking and also cools it down enough so that we can handle them. Once cool enough, a person should be able to simply peel away the skin from a tomato.
Can I use Canned Tomatoes?
Yes. While I prefer to use fresh tomatoes, there is a good argument for using canned tomatoes. The idea is that the tomatoes are picked by the professionals at peak ripeness, giving you a great product! If you are going to go with canned tomatoes, I would consider using canned San Marzano tomatoes.
Anchovies
So much flavor! This adds a super flavorful base to the recipe that fills it with umami and a flavor punch. Even if you are not a big fish fan or are not used to anchovies, it is worth trying. The end product should not have a strong fish flavor, but add a ton of flavor. You might be surprised where anchovies are used (Ceasar dressing) to add pops of flavor.
When purchasing your anchovies, try to get a simple tin without flavoring. We use basic anchovies in oil.
Kalamata Olives
This recipe calls for pitted and halved Kalamata olives. Fortunately, you can buy them prepared this way! So, no need to pit your own olives or even cut them, if you don't want to. This olive variety is native to Greece and has a great flavor.
Capers
Capers are edible flower buds that are pickled and brined. Like olives, they pack a salty punch. They also bring a bright flavor to any dish they are added to.
Noodles
We choose to use linguini in our recipe, but you really could substitute any reasonable pasta that you have in your cupboard.
History of Puttanesca Sauce
There are a few different stories about how puttanesca sauce came about and we will look at a few that I find interesting.
Prostitutes and Sauce
So, if any of you have taken foreign languages, you may recognize some form of the word puttanesca. As a high school Spanish student, it was my job to find out all the words that weren't in the texts books. So, I learned the Spanish word 'puta' at a young age, which is a not-nice word for prostitute. There is also this idea of cognates, where words in different languages have similarities. Sure enough, there is an Italian word that is very similar. Putta, when put into Google Translate returns 'prostitute.'
So, the legend has it that this was the dish of the prostitutes. Why? Well, it was very quick to make inbetween clients and had a stronger aroma to attract people.
Not my favorite origin story and probably not the actual origin, (I mean, why not make a sandwich) but I always enjoy dramatized food history.
Whatever is Around
Another origin story comes from the 1950s where a restauranter, Sandro Petti, was working late at night at a famous nightspot named Rancio Fellone. He had some friends there and they were looking for something to eat, but being so late, there was nothing fresh. Voicing his concerns, the friends said:
Abbiamo fame, Facci una puttanata qualsiasi
In this context, the meaning is apparently 'We are hungry, give us anything.' Although if you put that into Google translate, it comes back with 'We're hungry, give us any whore.' So, he did that. He pulled out the capers, olives, anchovies, which are all ingredients that don't need to be cooked. He made up some pasta and whipped up the first Puttanesca Sauce recipe ever.
I like this theory better. I feel like it is more reasonable and something that makes more sense.
Puttanesca Sauce with Linguini Process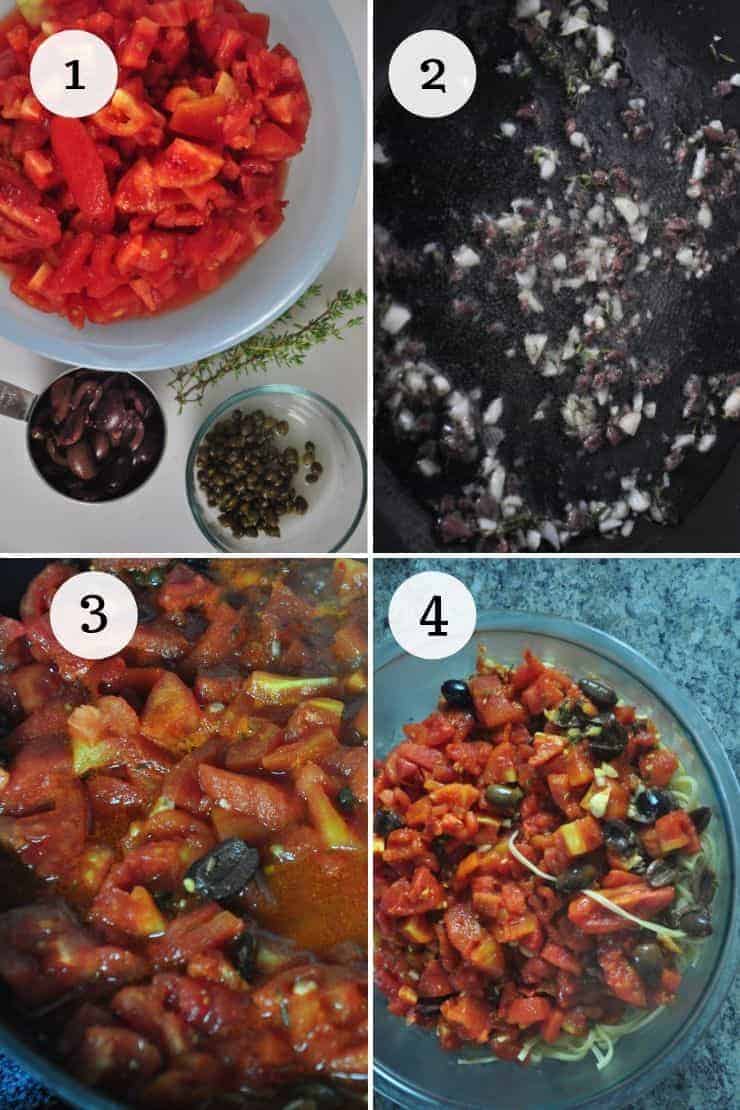 Ingredients for the Puttanesca sauce on a cutting board. Tomatoes are cut and ready to go.
Frying garlic, oil, and anchovies on medium-low before adding the rest of the ingredients.
Simmering all of the sauce ingredients.
Once the sauce is cooked, you toss it with your pasta.
Puttanesca Sauce with Linguini Tips Summary
Use fresh Roma tomatoes if possible, but canned San Marzano tomatoes are great, as well.
For anchovies, buy the tins of them that are unflavored and just in oil.
Purchase Kalamata olives that are already halved and pitted.
This recipe serving size assumes this is served alone. If you are serving a meal with other courses, you might be filled up by halving the serving size.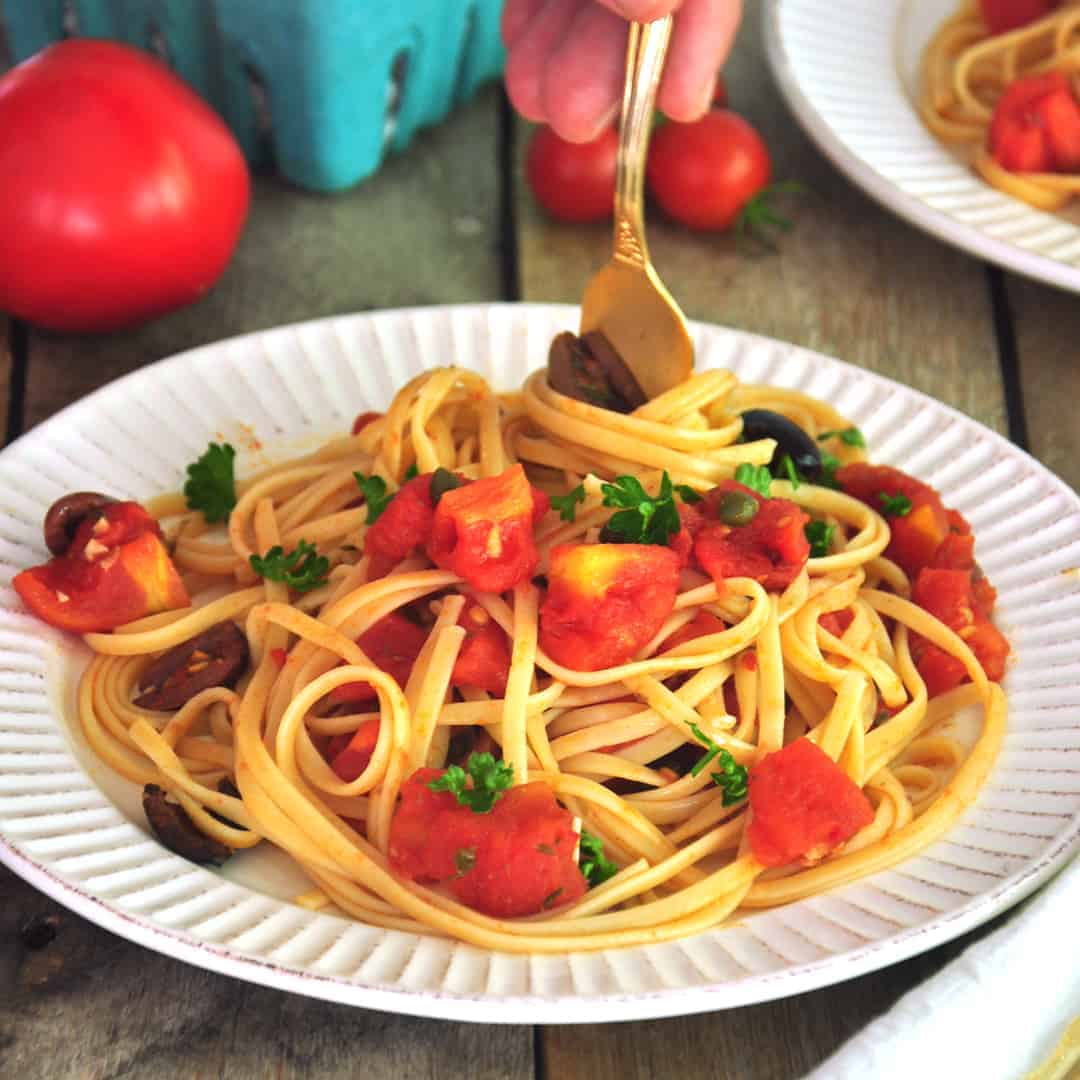 Products I Used In This Recipe
Did You Make This Puttanesca Sauce with Linguine?
If you liked this recipe, you could do me a real solid by taking some time to let me know how it went in the comment section below and by sharing this recipe on Pinterest. I always appreciate hearing from you. If you want to see more from me, make sure to subscribe to get updates via email.
Print
📖 Recipe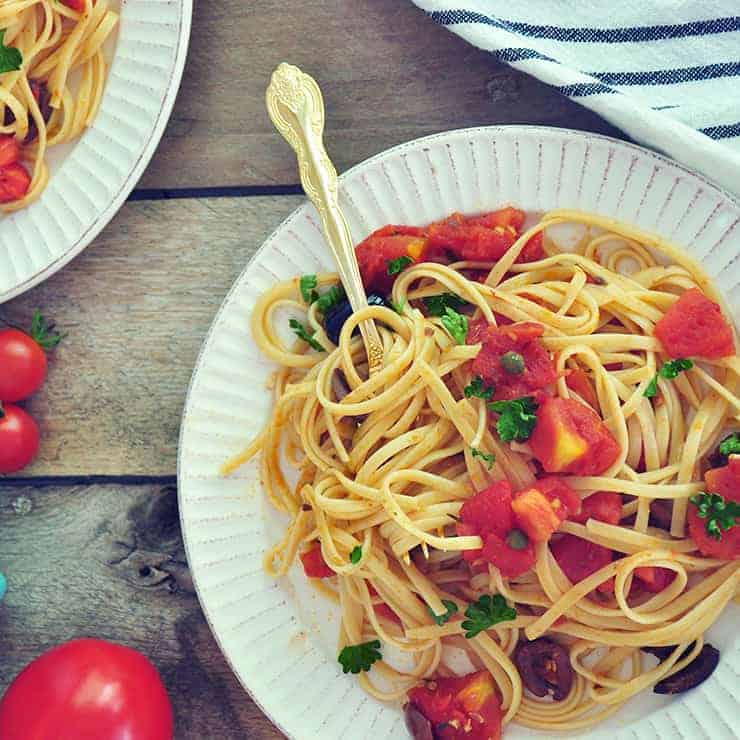 Puttanesca Sauce With Linguine
Author:

Ben Myhre

Prep Time:

10 minutes

Cook Time:

20 minutes

Total Time:

30 minutes

Yield:

4

Servings

1

x

Category:

Classic

Method:

Stove Top

Cuisine:

Italion
---
Description
This is a quick, classic Italian dish that has a ton of flavor. This puttanesca sauce will bring delight to your mouth with big flavors like capers and kalamata olives. You don't need to spend hours over the stove to make comforting Italian dishes, so try this Puttanesca Sauce with Linguini recipe!
---
3

Pounds of Roma tomatoes peeled, cored and chopped

¼ cup

olive oil

4

garlic cloves, peeled and minced

2

Thyme Sprigs (optional. Also, see notes)

2 Ounces

anchovies, minced

2 Tablespoons

capers

½ Cup

Kalamata olives

1 teaspoon

salt

½ teaspoon

red pepper flakes

½ teaspoon

pepper

16 Ounces

Linguine
Chopped parsley for garnish
---
Instructions
Make sure tomatoes are peeled, cored, and chopped
Heat oil in large pan over medium-low
Mix tomatoes, olives, capers, red pepper flakes, salt, and pepper in large bowl and set aside.
Add garlic to pan and allow to cook until soft
Add anchovies and cook for 1-2 minutes
Add the tomato mixture to large pan. Bring to boil and then simmer for 15-20 minutes
While sauce is simmering, cook linguine per package instructions.
Once linguine is drained and sauce is done, mix together in large bowl
Serve and garnish with parsley
---
Notes
Note 1: really, any Italian herb that you would put into a sauce would be appropriate here. Use what you have or what tastes awesome.
---
Nutrition
Serving Size:

4 Ounces uncooked pasta and ¼ sauce

Calories:

849 Calories

Sugar:

13 g

Sodium:

861 mg

Fat:

43 g

Saturated Fat:

6 g

Unsaturated Fat:

57 g

Trans Fat:

0 g

Carbohydrates:

97 g

Fiber:

11 g

Protein:

18 g

Cholesterol:

2 mg
Keywords: Puttanesca Sauce