A Traditional Pasta Sauce Recipe with Spaghetti noodles is one of the world's best and most classic comfort foods. We are marrying together the tradition of a French tomato sauce and sprinkling in a bunch of Italian ragu to make this one of the best and only sauces you will ever need.
Traditional Pasta Sauce Recipe with Spaghetti Summary
I have been making some version of tomato sauce for a very long time. In fact, one of my first personal deep dives into a recipe involved tomatoes when I was trying to make a complete pizza (including sauce) from scratch. Well, we have since become quite the tomato gardeners and I have had plenty of practice in making my own pizza sauce and spaghetti sauce. Today I am going to share the culmination of all of this practice with my best Traditional Pasta Sauce recipe.
This recipe combines the deep flavor of a traditional French Tomato Mother Sauce with the meaty flavors of a hearty Italian Ragu sauce. So, this isn't quite a traditional version of either the French Sauce Tomat (the Mother Sauce) or quite a traditional Ragu, but we are combining them today for some deep, rich, traditional tomato flavors in my perfect Traditional Pasta Sauce
Tomato Mother Sauce
As I stated, we are starting this recipe off with a traditional French Tomato Sauce, which is one of the classic mother sauces. If you don't know what the mother sauces are, they are a list of sauces that are considered the main staples of French cuisine. These include Béchamel, Espagnole, Velouté, Hollandaise, and Tomato sauce.
In fact, I would say that if you don't know what they are, learning how to cook these sauces will improve anybody's cooking game 10 fold. Getting a handle on these sauces can level up anybody's cooking game. It isn't just about the sauce recipes themselves but learning how to construct a sauce.
For this particular version, I am using flour in the pasta sauce recipe to help thicken it over the long term. It is fairly common to use a roux in the classic French tomato sauce, but another method is to just simmer a tomato sauce over a very long period of time to thicken. We are talking a half and half approach here by using a flour roux, but also simmering for a considerable amount of time.
What is a Ragu?
This traditional pasta sauce recipe also skirts along the lines of a ragu, but I don't quite put it in that category. Why? Ragu is a meat-based sauce that has actually very little tomatoes. We are using plenty of tomatoes, so I am a little careful about using this word to explicitly describe my traditional pasta sauce. Since I am starting off with 5 lbs of raw tomatoes, I have a tough time saying this is anything but a tomato heavy sauce.
Another component of ragu is the use of red wine and minced meat (basically ground beef), which we use.
Bolognese
This sauce certainly is not a Bolognese, but I thought I would include a description and how it differs from Ragu. Bolognese is a type of Ragu with regional roots in the Bologna area of Italy. Some distinct differences between Bolognese and straight ragu are the wine, noodle, and amount of meat. Typically, white wine is used instead of red. The noodles are typically wider noodles, rather than spaghetti noodles that are traditionally served with ragu. Finally, this variation has even fewer tomatoes than a traditional ragu.
This Pasta Sauce is not quite a ragu and not quite the mother sauce
This traditional pasta sauce sort of melds the French Mother Sauce and a Ragu together to create some awesome flavors that will have you imagining you are eating in Italy. We start by making a standard French Tomato Sauce and then finish it off by adding meats and wine to the mix. We let that simmer for a good while and then we have our final product.
Choosing Tomatoes
I have always struggled with tomatoes when it comes to sauce. Many of the things I have read tout San Marzano tomatoes are the best for a sauce. Roma seems to be a popular tomato, as well. We have grown San Marzano without much luck. I have used the canned variety of San Marzano in the Wintertime with some great success, but I prefer fresh tomatoes! Right now where I live it is tomato season and we have tomatoes growing in our garden. I am going to use them.
For me, I will choose fresh and ripe tomatoes almost every time. The caveat is that the tomatoes should not be of the giant or huge variety. Medium-sized and plump tomatoes have worked well for me. If you are only growing Big Boy or Beef Steak tomatoes and want to make a really special sauce, I would maybe get some store-bought tomatoes or (even better) from the farmers market.
I guess what I am trying to get at is that there is a tad of an art to this. Romas and San Marzanos are great for sauces if you can get them fresh (and ripe) or if they are the canned ones and you don't have access to great fresh tomatoes. If it is the middle of the Winter and your produce section isn't looking great, I would almost prefer the canned ones. If it is Summer and I have some thick tomatoes that I know are going to be great, I will pick those.
During the Winter, unless I am doing something very special and targeted, I use the tomatoes we canned from our garden.
In this recipe, I used five pounds of smaller-medium sized tomatoes that we found at the farmers market.
What is Salt Pork
We use salt pork in this recipe and it tastes great, but do you know what it is? It is a pork belly product, so it is a close relative to bacon. It is different, however. First, while salt pork is from the pork belly, it is more toward the end of the belly and is more fat than meat. Second, it is never smoked like bacon is. Finally, it is cured in brine longer and with heavier flavors, so it basically is saltier.
It is great to have around and great for a big, hearty sauce like this. In a pinch, you could use bacon or pancetta, but salt pork is the way to go. As a tip, you might find it in the frozen area of your store or ask the butcher.
Why add flour to this ragu style pasta sauce?
We add flour to serve as a thickener in the early stages of our cook. Like any roux, it can help provide a thick base to the sauce. While we do cook this sauce for a long time, I have found that this creates a nice thickening agent to the sauce. Particularly with the leftovers or frozen sauce, the thickening roux seems to help make this a thick hearty pasta sauce recipe,
Can I use other noodles than spaghetti?
Sure, why not! I am using spaghetti just because that is the recipe I want. There is no real reason you can't use whatever Italian style noodle you want for this recipe.
Can I freeze this sauce?
This will freeze very nicely and since we are making a pretty big batch (about 7 servings), there could be some leftover.
A Note on Sugar in Pasta Sauce
Some people swear by sugar in their pasta sauce recipe. By all means, add a bit (maybe a pinch up to 2 tablespoons) if it really floats your boat. I am more in the no-sugar camp, but I get why people like it.
Wine in Pasta Sauce
With my many years of experimenting with tomato sauce, I have to say that I think red wine is one of the best accompaniments to a great tomato sauce. It doesn't have to be rocket science, but I think there are few rules to just pay attention to when using wine in your sauce.
What kind of Wine to Use in This Pasta Sauce Recipe
A dry red wine should do. A Pinot Noir, Merlot, or Chianti will work well. As to the quality of the wine you use, I don't know I would be spending too much on cooking wine. I think there is something to be said about only cooking with wine you would drink, but there are many very reasonably priced wines that are drinkable.
No Mad Dog 20/20 in your sauce, ok?
How much wine to use in this Pasta Sauce Recipe?
I use one cup in this recipe. If you decide to let this pasta sauce recipe simmer for much longer than the time I listed, you might need to add more liquid and I fully encourage using red wine as a way to add some body to the sauce. Remember that is it cooks, the flavors will concentrate.
How Long to Simmer This Traditional Pasta Sauce Recipe?
This really is up to you. Our total cook time is about 3 hours on this recipe. It could go longer, but I think that is all that is needed to maximize flavors and get a full consistency in this traditional pasta sauce recipe.
Traditional Pasta Sauce Recipe Process Description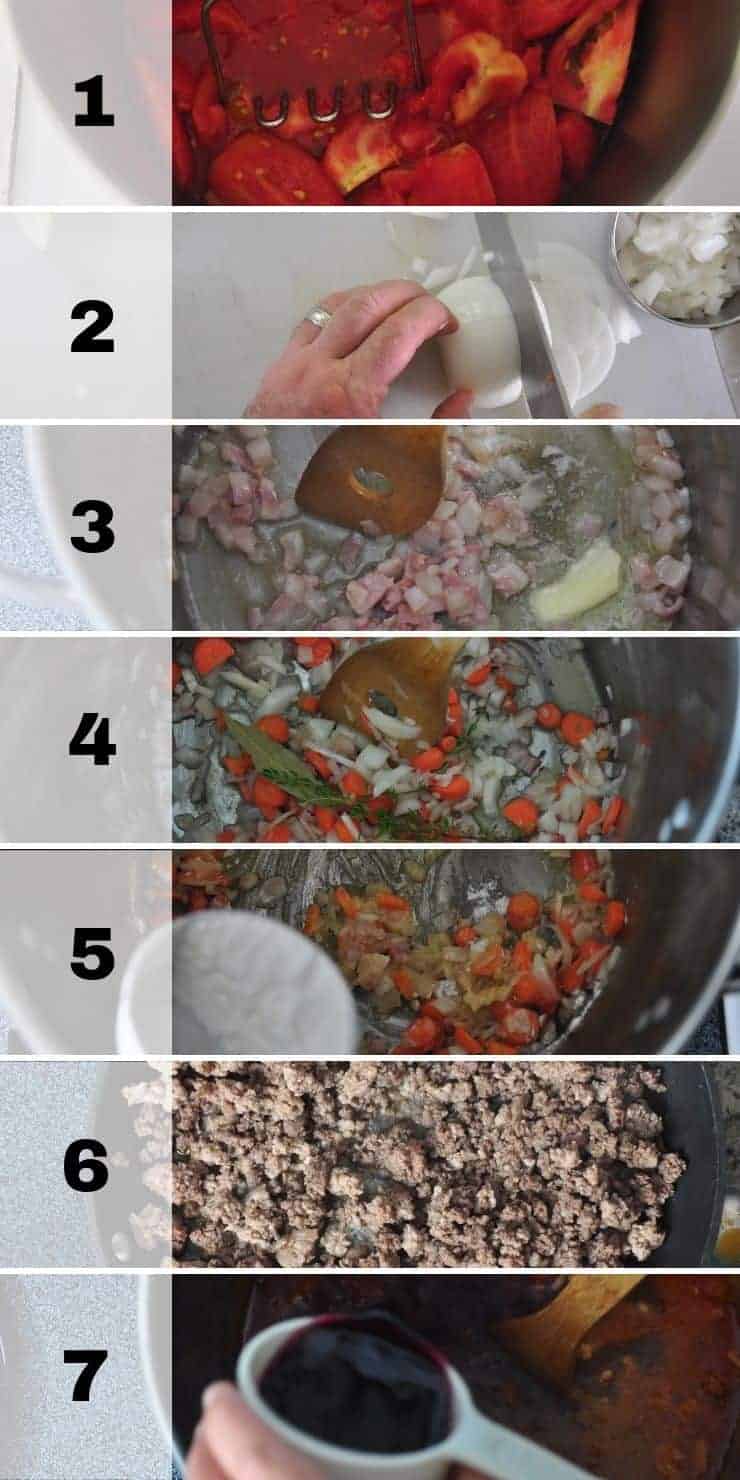 Blanched and quartered tomatoes being mashed before simmering.
Dicing onions, carrots, and salt pork.
Butter and Salt pork rendering before adding carrots and onions.
Adding veggies and herbs to the pot.
Adding flour for the roux to the pot.
Browing pork and beef for the sauce.
Adding wine to the sauce during the last 90 minutes of cook time.
Traditional Pasta Sauce Recipe Tips Summary
Can't find Salt Pork? Ask the butcher in your store or look in the frozen section. I find it in the frozen food aisles at my normal grocery store. If you still can't find it, try pancetta or bacon.
Don't get too worked up about the kind of tomatoes. Some nice medium to medium-small sized tomatoes that are ripe and fresh should do the trick. Roma and San Marzano are very popular for sauces, but I am not afraid of tomatoes that are a little plumper
Chianti, Pinot Noir, or Merlot work great for the wine in this recipe. Buy stuff you would drink, but keep it on the more economical side of things.
Freeze the sauce and keep for leftovers or future meals. This is a great sauce for freezing.
Products I Used In This Recipe
Did You Make This Pasta Sauce Recipe?
If you liked this recipe, you could do me a real solid by taking some time to let me know how it went in the comment section below and by sharing this recipe on Pinterest. I always appreciate hearing from you. If you want to see more from me, make sure to subscribe to get updates via email.
Print
Traditional Pasta Sauce Recipe with Spaghetti
Author:

Ben Myhre

Prep Time:

30 minutes

Cook Time:

30 hours

Total Time:

3 hours 30 minutes

Yield:

7

servings

1

x

Category:

Comfort Food

Method:

Simmer

Cuisine:

Italian
---
Description
This is a Traditional Pasta Sauce recipe that doesn't pull any stops to bring you the most flavor you can get from this Italian classic. From fresh tomatoes to your plate, you are going to get some of the freshest and most delicious spaghetti with this recipe.
---
5 Pounds of Roma (or similar) tomatoes, blanched, cored and peeled

1 cup chopped onion

1 cup chopped carrots

3 ounces salt pork

4 Tablespoons butter

1 Quart beef broth

1 Pound ground pork

1 Pound ground hamburger 93%

½ cup flour

1 cups red wine

Salt and pepper to taste

14 Ounces

spaghetti noodles
---
Instructions
If need, blanch and peel tomatoes

Quarter and mash real well with potato masher

Dice carrots, onion, and salt pork.

Butter and salt pork in large pots.

Cook on medium-low for 5-10 minutes to melt butter and allow fat from salt pork to render

Add carrots and onions and herbs

Allow to cook until softened

Add flour

Stir in beef broth

Add tomatoes

Add garlic, salt, pepper

Bring to boil and then simmer for 90 minutes

At 90 minutes, brown and drain both ground meats

Add meat and wine to sauce

Allow to cook for 90 minutes

Cook spaghetti per package and serve sauce over top
---
---
Nutrition
Serving Size:

2 Cups Sauce and 2 Ounces Pasta

Calories:

668

Sugar:

12 grams

Sodium:

385 milligrams

Fat:

27 grams

Saturated Fat:

11 grams

Unsaturated Fat:

11 grams

Trans Fat:

0 grams

Carbohydrates:

65 grams

Fiber:

9 grams

Protein:

36 grams

Cholesterol:

108 milligrams
Keywords: Pasta Sauce Recipe