This post may contain affiliate links. As an Amazon Associate I earn from qualifying purchases. Please read our disclosure policy.
This Raspberry Bavarian Cream, or raspberry bavarois, is a wonderfully vibrant, velvety custard dessert. A tasty Spring dessert that takes a little effort but is simple enough to put together for a luxurious French treat.
The reward is a great fruit treat perfect for your fresh raspberries and a few empty mason jars. Give it a try today.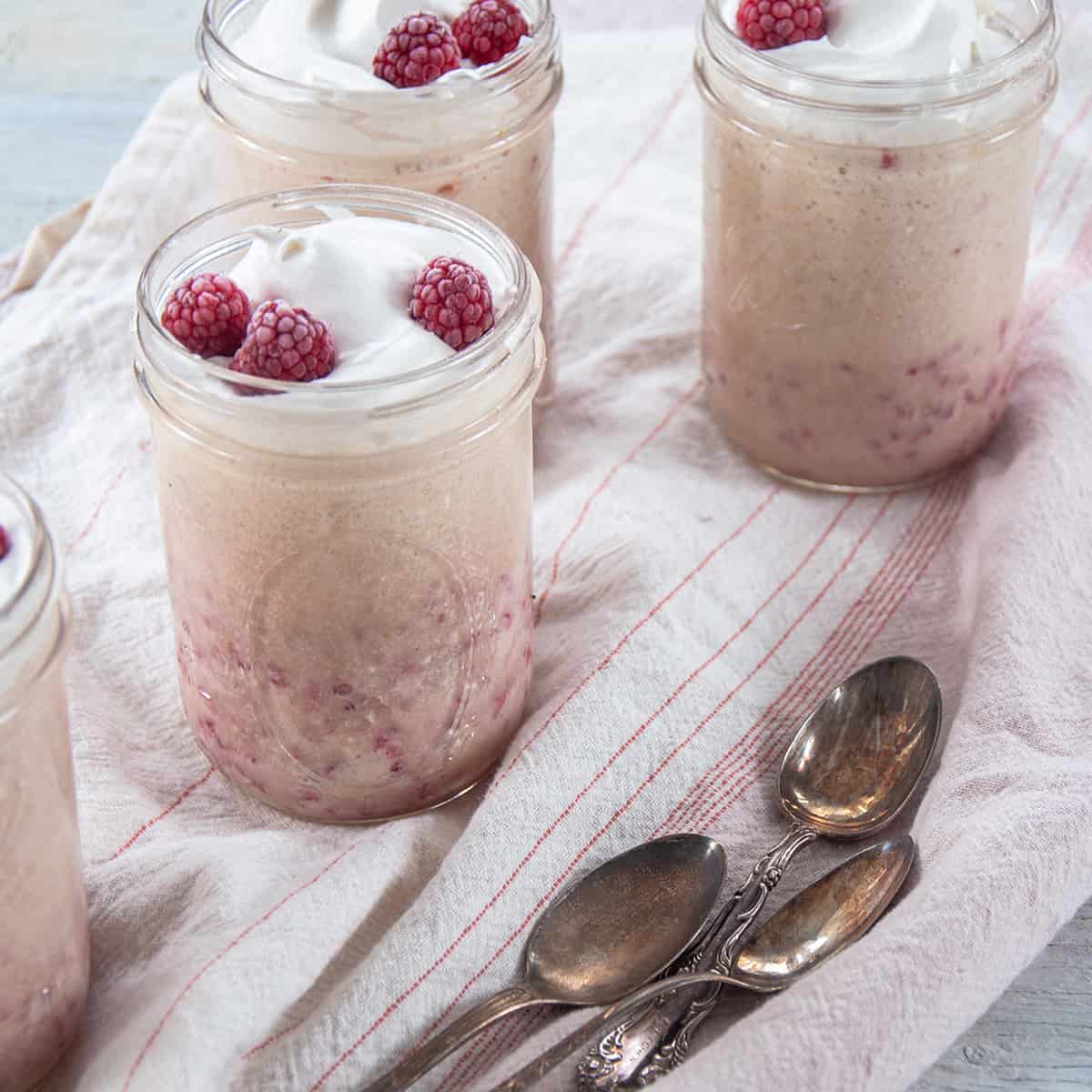 🧁 What makes this recipe special?
What is not to love? Fresh raspberries, velvet textures, and whipped cream combine to make a dessert that is out of this world.
I took the lead from Julia Child on this recipe and used a modified and collated recipe from Mastering the Art Of Frech Cooking (Affiliate Link). I am a big Julia Child fan and have loved everything I have made of hers. Such a classic recipe book that is great for any kitchen.
Additionally, we have a few raspberry bushes that grow in our backyard. One of my favorite things is to use our beautiful fresh fruits in homemade comfort food recipes. This recipe also works great with frozen raspberries or storebought recipes.
If you like this Julia Child-inspired recipe, check out our Garlic Soup, Aigo Bouido recipe. If you are looking for a more adult version of raspberry tastiness, check out this French Martini recipe. We have no lack of Spring dessert recipes and maybe check out this Strawberry Rhubarb Cobbler recipe or our delicious homemade Rhubarb Pie Recipe.
🥛 Ingredients
The Bavarian Cream is the star of this recipe, but raspberries play a big role. Here is a complete list of the ingredients in this recipe.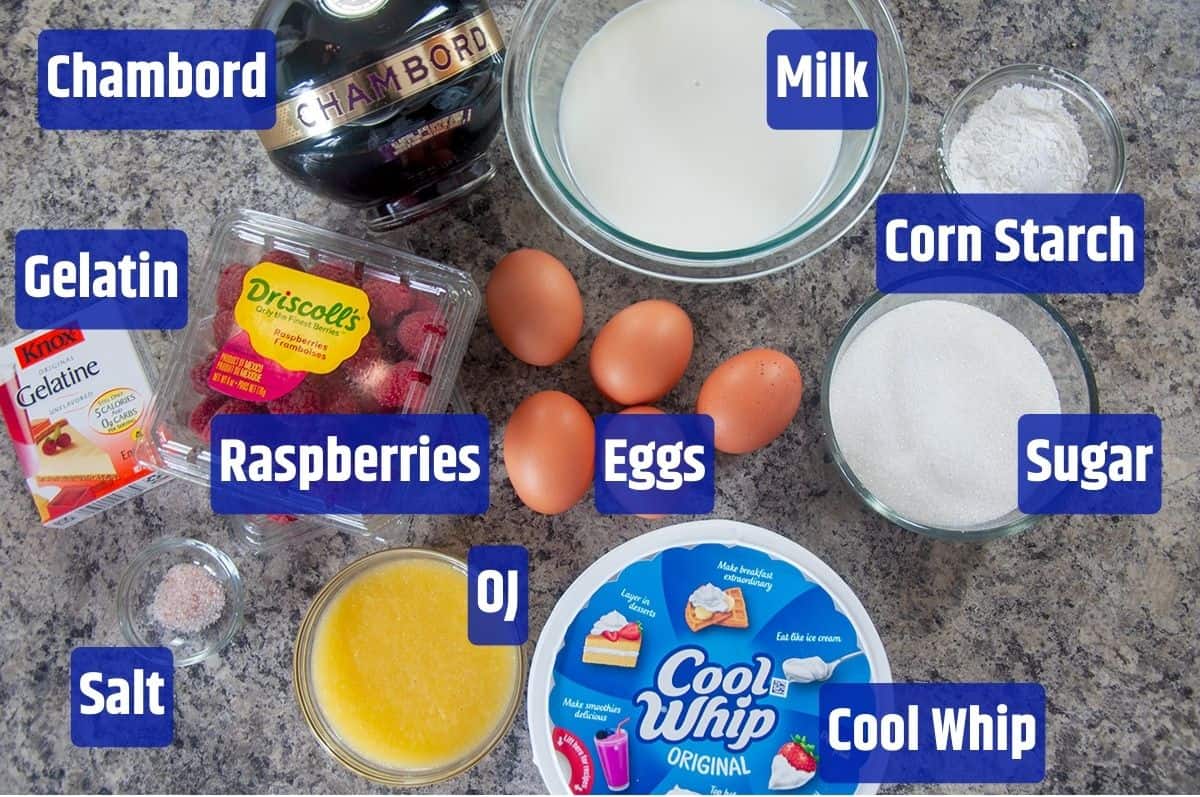 Orange juice or raspberry juice
Raspberries
Gelatin
Eggs
Sugar
Cornstarch
Whole milk
Salt
Sugar
Cool whip
Chambord (optional)
See the recipe card for quantities.
🍲 Instructions
This recipe does not have that much to it. However, there are definitely some nuanced and somewhat complex parts to this recipe. That said, you should try it. It isn't that hard but has a few tricky steps that need attention.
The first somewhat complex step is that we heat an egg, sugar, corn starch, and milk to 170° Fahrenheit. This egg mixture helps thicken the mixture and incorporate the ingredients together to help make a lovely custard.
It is vital to mix while heating to prevent scalding in the pan and we don't want to cook the eggs. Also, when this hits 170° Fahrenheit, remove from the heat immediately.
Another unique part of this recipe is folding in the fluffy ingredients. First, we whip some egg whites and fold that into our custard. After that, we fold in some whipped cream.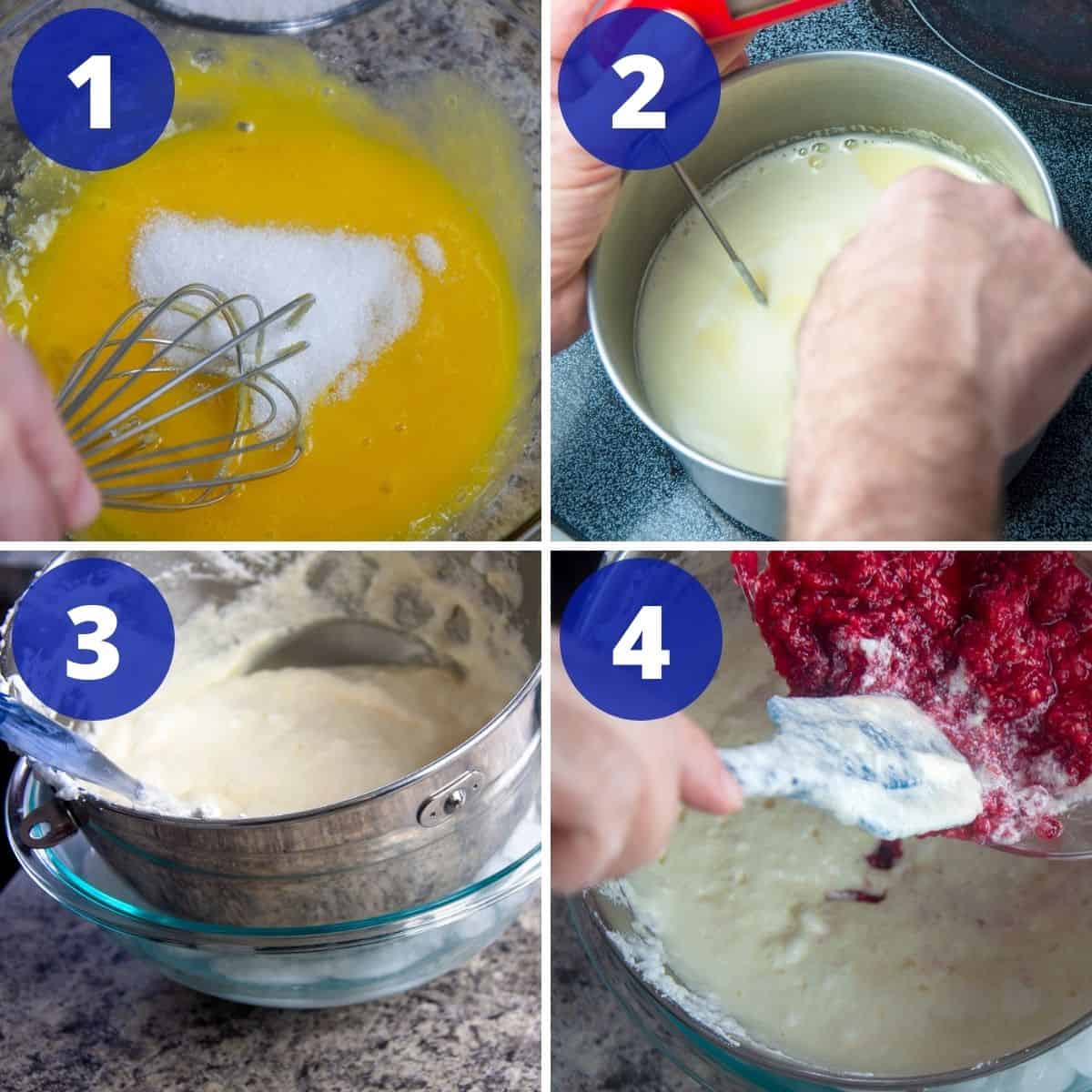 Around this time, we start to cool our ingredients in a double bowl with some ice and water in the bottom one. The cold water helps make sure this cools down appropriately. I fold my ingredients in my Kitchen Aid Mixer over a large bowl filled with ice and water.
Finally, we add our final mixture into some pint mason jars and cool. The traditional recipe has this formed into molds, but I like the mason jars a bit better. It is easier, and it looks good.
I have had the same recipe make between 4-5 pints of the mixture. I suspect the amount depends on how well you fold your egg whites and whipped cream into the mix. This velvety dessert has a lot of air bubbles in it, and that can impact the volume.
🤷 Substitutions and variations
There are a few different options for this.
Fresh Raspberries – I use two pints of fresh raspberries, but I also made this with frozen raspberries (thawed out) and they turned out great.
Orange Juice – This recipe calls for orange juice, but raspberry juice would also work. I bet nearly any fruit juice could work well.
Spring Pan – I make this in mason jars but have also made it in an 8-cup spring cake pan, and it turned out well. I did have to put a few sheets of parchment paper under to prevent leaking from the spring pan.
Chambord is Optional – I know not everybody has Chambord in their liquor cabinet. Still, this raspberry liqueur does add a nice flavor and color to the mixture.
Whipped cream – I use Cool Whip, but you can also use fresh whipped cream made from heavy cream.
📦 Storage
I allow these to set in the refrigerator for at least 4 hours. I have taken them out a bit sooner but have also left them in the fridge for up to 3 days.
When ready to serve, just top with some more whipped cream and raspberries!
🎓 History tidbit
While the history is a bit shrouded in mystery, it is speculated that Marie-Antoine Carême invented Bavarian Cream. Carême is often cited as being the first celebrity chef and was prominent in the late 1700s and early 1800s.
❓FAQ
What is the difference between Bavarian cream and mousse?
The two are very similar, but Bavarian cream is formed with gelatin. In contrast, mousse is formed by the ingredients that already stabilize it. Another difference is that mousse can use different ingredients to capture air and make it light. Bavarian cream always uses cream or milk.
What is the difference between Bavarian cream and custard?
Custard can be sweet or savory, whereas bavarian cream is always sweet. Additionally, Bavarian cream is lightened up with milk or cream. Bavarian cream is made with a custard.
Is bavarois the same as bavarian cream?
YES. Bavarois is just a fancy French name for it.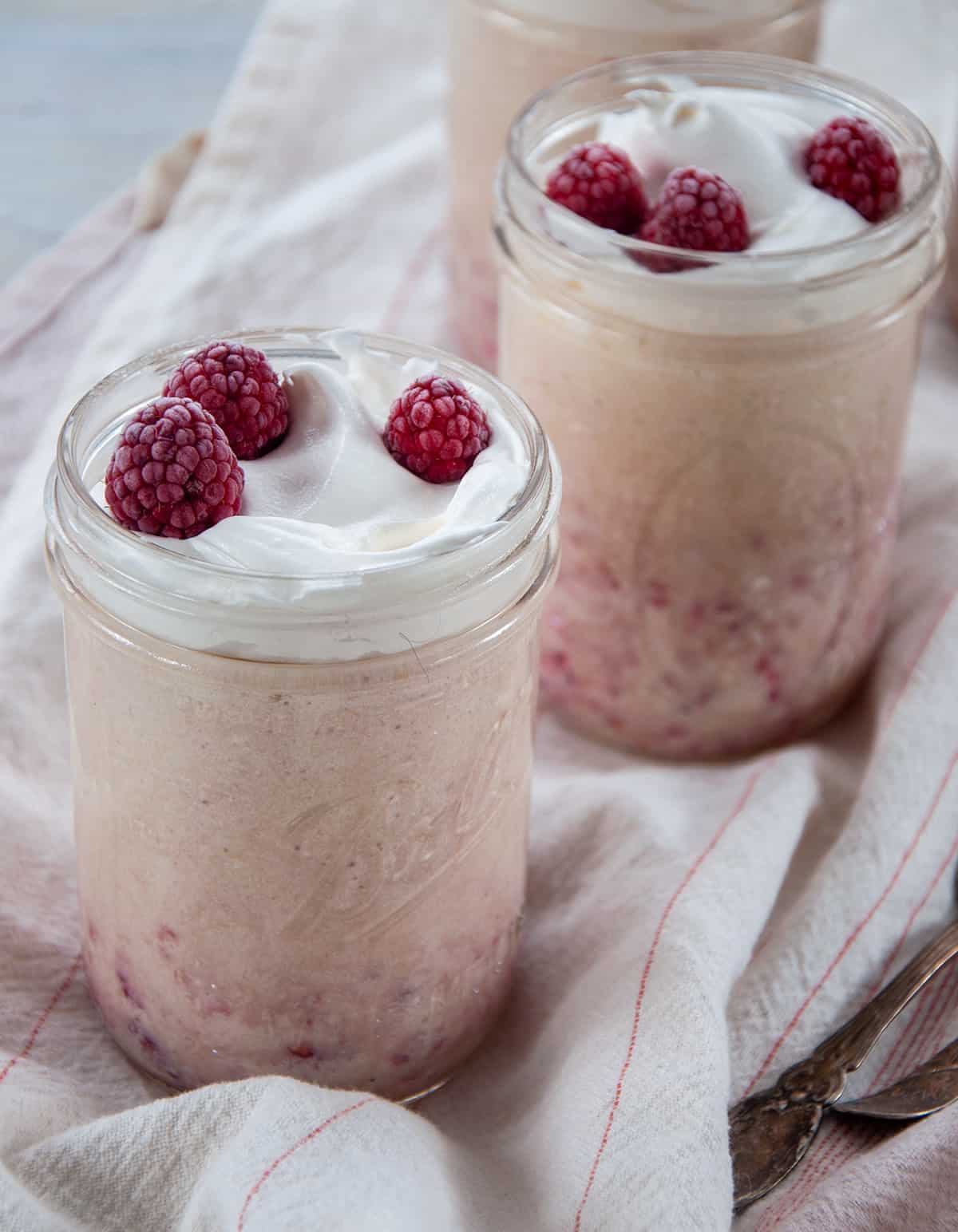 📝 Tips and tricks
While we temper the custard, there is still raw egg whites being used. Consider egg safety and using pasteurized eggs. I did not use pasteurized eggs.
Chambord, a raspberry liqueur is a great addition, but you will end with a great product without it.
I use orange juice, but if you have raspberry juice, that would be great too.
🛠 Products used in this recipe
😋 Did you make this recipe?
Thank you so much for giving this Raspberry Bavarian Cream dessert recipe a try! Could you do me a favor by leaving a review in the comments area below? This helps me know how I am doing and helps others decide if this is their recipe. Most of all, thanks for visiting Ramshackle Pantry!
Print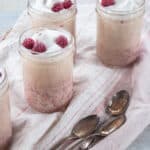 Raspberry Bavarian Cream
Author:

Ben

Prep Time:

50 minutes

Cool Time:

4 hours

Cook Time:

10 minutes

Total Time:

5 hours

Yield:

4

–

5

Servings

1

x

Category:

Dessert

Method:

Stovetop

Cuisine:

French
---
Description
This Raspberry Bavarian Cream recipe is a fruity, velvety, delicious dessert. A great way to use raspberries and want a luxurious and special dessert. This is modified from Julia Child's Mastering the Art of French Cooking and it is a hit in our house. Try this great treat today.
---
1/2

cup

orange juice or raspberry juice

2

pints

raspberries (plus more for garnish)

1 1/2 Tablespoons

gelatin (

1 1/2

packets)

5

eggs, whites separated from yolks

1

cup

sugar + 1 Tablespoons Sugar

2 teaspoon

cornstarch

1 1/2

cup

whole milk
pinch salt

1

cup

cool whip (plus more for garnish)

2 Tablespoon

Chambord (optional)
---
Instructions
Rinse and mash raspberries with muddler
In medium bowl, sprinkle gelatin on orange juice, using bowl big enough to make sure all gelatin absorbs some of the juice, and set aside
Put egg yolks in a large bowl.
In the egg yolk bowl, slowly add 1 cup of sugar while whisking until well combined
Whisk cornstarch into the same bowl
Slowly whisk in milk
Put mixture into saucepan and over medium heat
Continue stirring until the temperature hits 170° Fahrenheight — this takes about 10 minutes – take care not to overheat and remove immediately
Add in orange juice and stir for a minute
Move to a large separate mixing bowl and set aside, maybe the rinsed out bowl that had the egg yolks
Using KitchenAid whisk attachment or manually, add egg whites and salt to new mixing bowl or empty KitchenAid mixer.
Mix on high until soft peaks.
Add 1 Tablespoon sugar and whisk until firm peaks. – this should take a total of about 5 minutes
While whisking, add a few cups of ice and a bit of water to a large bowl that the KitchenAid mixing bowl can fit in
Fold whipped egg whites into the custard and then move back to kitchen aid and place over ice
Continue folding until cool, but not set
Fold in whipped cream, Chambord, and raspberries
Add equal amounts to mason jars (between 4-5 mason jars)
Cool for at least 4 hours and up to 2 days
Top with whipped cream, raspberries, and serve.
Notes
While we temper the custard, there is still raw egg whites being used. Consider egg safety and using pasteurized eggs. I did not use pasteurized eggs.
Chambord, a raspberry liqueur is a great addition, but you will end with a great product without it.
I use orange juice, but if you have raspberry juice, that would be great too.
Calories is for 5 servings
Keywords: Raspberry Bavarian Cream