This post may contain affiliate links. As an Amazon Associate I earn from qualifying purchases. Please read our disclosure policy.
You simply have to try this delicious Strawberry Rhubarb Cobbler. It is an easy dish and it has some great flavors that are perfect for Spring's rhubarb season or whenever you can get your hands on the stuff. Combine our rhubarb with some strawberries for a great filling and a delicious topping to get some perfect mouthwatering magic. Try this easy, tasty, and sweet Strawberry Rhubarb Cobbler today.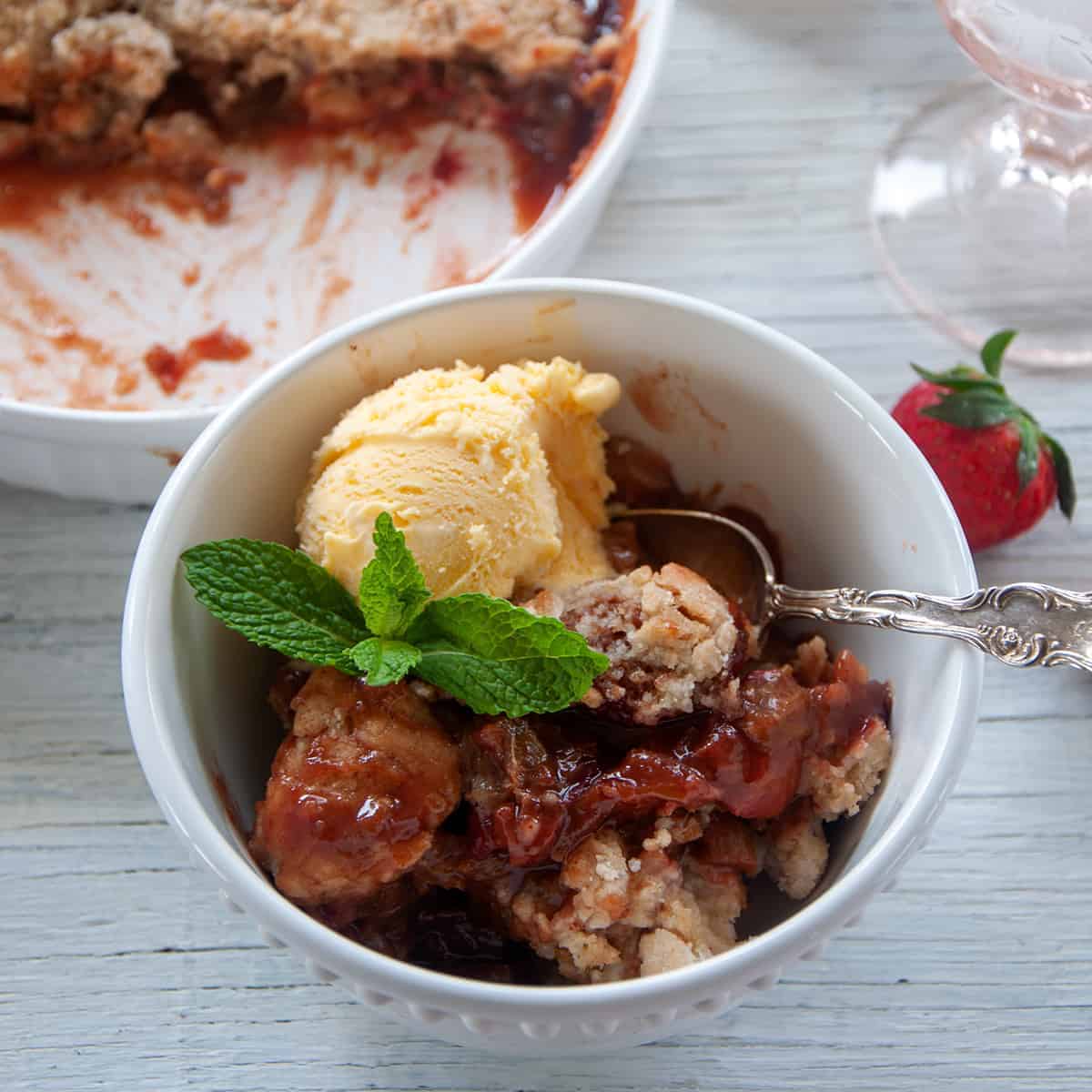 Strawberry Rhubarb Cobbler Basics
A really simple dish that has great flavor. A cobbler generally has two parts and that is no different here. First, there is a tasty strawberry-rhubarb filling.
For the filling, it is a matter of just combining the filling ingredients. The only thing that could take a little time is slicing the strawberries. Even that is a really quick process.
The cobbler topping is a basic flour and sugar combination. Add in a little melted butter and milk to help bring it to the right consistency. Once the cobbler topping is made, hand patty them into small circles and place them on top of the filling.
Finally, our cobbler gets baked. A quick trip in the oven and then the Strawberry Rhubarb Cobbler is ready to be eaten!
Size Of Dish To Use
We have a set of beautiful Corningware dishes and for this recipe, I am using the 1.5 Quart casserole dish [Affiliate Link]. It fits the filling perfectly and is a nice dish for this kind of baked good, but if you don't have this particular dish, there are others you could use.
A 9×9 baking dish would work fine for this. I think the 9×13 dish might start to be getting a bit big, so use this one at your own discretion. It isn't really rocket science though, right? You need enough filling to cover the bottom and then enough dough to cover the top. As long as you can do that, you should be alright!
The Filling Is Very Forgiving
We are talking about fruit and sugar. It is pretty hard to mess up such a great combination. If the amounts of fruit are off slightly, it shouldn't make a huge difference in flavor, but I do advise to stick with the recipe.
I add a few additional things to the filling that I feel add a bit of extra awesome to the dish. Cornstarch helps ensure that any liquid in the filling thickens and becomes a bit more sauce-like rather than a mess. Both the lemon juice and the cinnamon add a small kick of flavor to the dessert.
I decided to add molasses, as I feel a Cobbler to be a bit of a southern dish and molasses just feels right for a dish that is southern to me. It adds a depth of flavor and an interesting twist on dessert. I suppose I could have used brown sugar instead of molasses and sugar, but the simple truth is that I ran out of brown sugar.
Don't fret too much about the filling, as it is very forgiving. This dessert is a sweet mess of awesome and while I always think it is a good idea to follow recipes, remember what we are dealing with. It is a recipe with sugar, sweet fruit, and things that complement sugar and sweet fruit. It is difficult to really mess this one up.
Cobbler Topping
If there is anything tricky about this Strawberry Rhubarb Cobbler, it is the topping. It isn't that the topping is even that hard to make, but I think it is important to embrace imperfection when dealing with a cobbler topping. My nature is to try and make things uniform and crisp. This dough can be somewhat uneven and crumbly.
Imperfection is great in this topping. Unlike my Apple Pie Crust where the ingredients are finicky and the process is paramount, the cobbler topping begs for imperfection. Combine the flour and sugar topping and form them into patties, which then get placed on top of the cobbler.
Our patties probably shouldn't be formed into perfect discs. We love cracks, crumbles, and all the beautiful little tidbits that might fall off the side when forming these.
Imperfection is fine and I think that can be hard for some. Uniformity is often expected and we want recipes to turn out exactly the same, but maybe it doesn't need to be that way. A cobbler is better with a little imperfection.
Dough Consistency
When mixing the dough, the consistency should be solid enough to be able to form a ball, but crumbly enough to fall apart if you mess too much with the ball. There is no need to spend a bunch of time kneading this topping. Just mix it up and get your hands in there to bring it to our desired consistency. There is a picture lower in the post that shows what mine looks like.
Forming the Topping
Making six little patties and plop them down evenly across the cobbler. This recipe makes six pieces, so maybe each piece has its own little patty? It doesn't need to be that way, but it makes sense.
If crumbs fall off of the patty, that is ok. If it cracks when the dough is laid down, that is ok, too. There is nothing about this that needs to be perfect. This is a flour, sugar, and butter mixture. How could it really go all that wrong?
The Extra Bits and Crumbs
If your recipe went anything like mine did, you have a bunch of little crumb-left overs. Don't throw them away! Gather them up and sprinkle them over the top of your baking dish. They are great little tidbits of flavor and there is no need to waste anything
Strawberry Rhubarb Process Pictures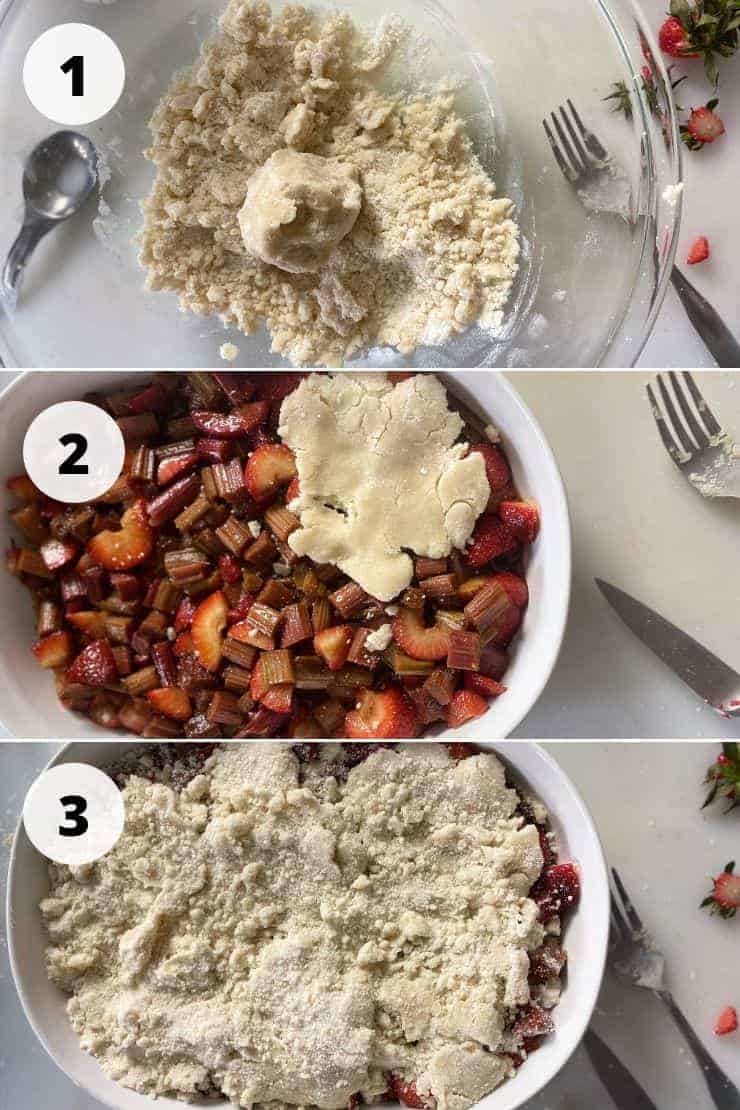 Pictured is the consistency of the dough. It should be thick enough to put together in a firm ball, but crumbly enough where it can fall apart fairly easily.
Here is one of the six dough patties formed and placed on top of the filling. Spread these around the baking dish about even.
All of the dough patties are on top and I have sprinkled the rest of the dough crumbs around the top of the dish. From this step, it is ready for baking.
Cooling and Serving the Cobbler
I would give this dessert at least one half-hour to cool before serving. It probably is still going to be warm, though, which is exactly how we want it! Warm cobbler pairs perfectly with a nice scoop of vanilla ice cream!
History of the Cobbler
Pie has a long history and when settlers moved from Europe to the New World, that did not change. In the New World, though, they did not have the same access to the same fruits. So they adapted and made pies with what they had.
The story goes that as early British colonists began to move West in America, they weren't finding the same fruits that were available, so they improvised with what they could find… they cobbled it together. Also, since they did not have the same tools and equipment, they had to cobble together all of the tools.
Get where this is going? Cobblers were cobbled together.
Tips For Making this Strawberry Rhubarb Cobbler
Don't take the cobbler topping too seriously. It will be crumbly, bumbly, and good. Imperfection is perfect.
Take all the left-over cobbler topping crumbs from forming the topping and spread it evenly over the cobbler.
I use a shallow 1 ½ quart Corningware dish, but you could also use a normal 9×9 baking dish.
Consider serving warm and with ice cream or whipped cream.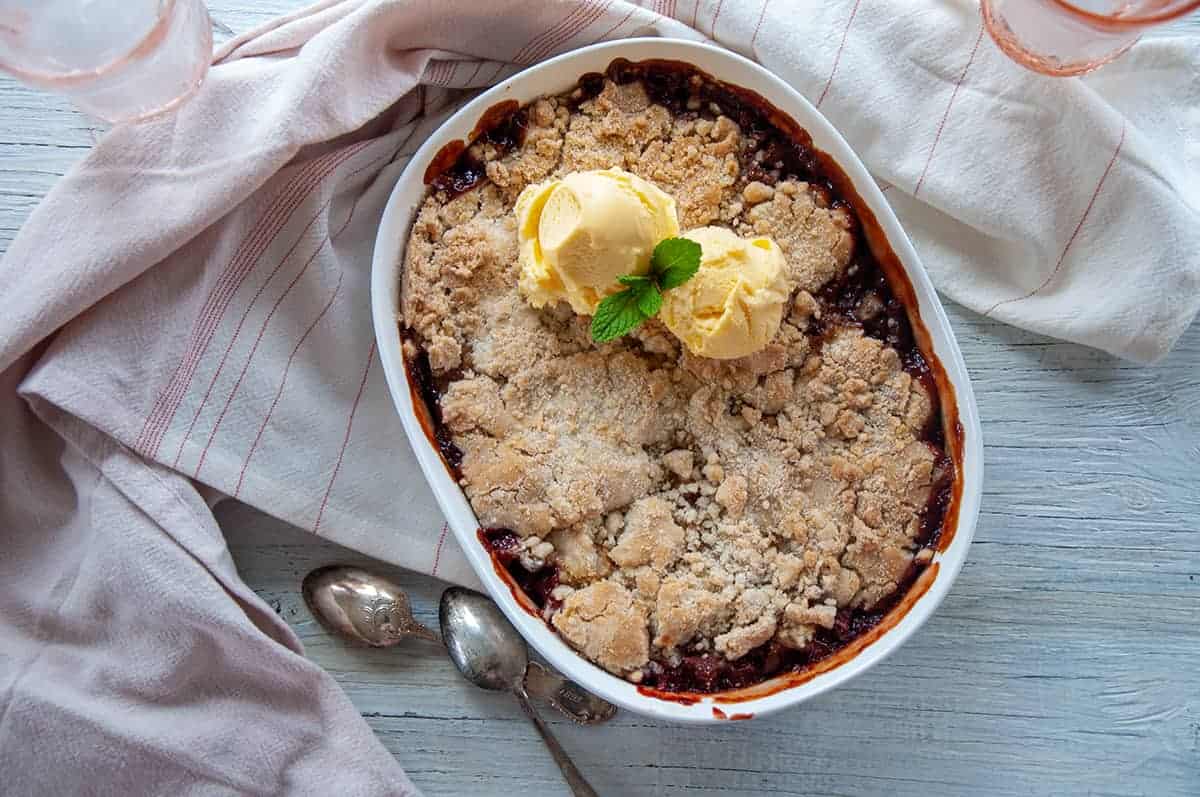 Products Used In This Recipe
Did You Make This Recipe
Thanks for giving it a try! Was it delicious? Let me know in the comments area below. It would be a great help if you shared this recipe on Facebook or Pinterest and let your followers know that you thought this recipe was good! Of course, I would love for you to subscribe to my email, so I can keep on sharing recipes with you!
Print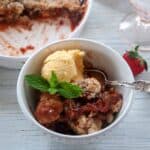 Strawberry Rhubarb Cobbler
Author:

Ben Myhre

Prep Time:

15 Minutes

Cook Time:

50 Minutes

Total Time:

1 hour 5 minutes

Yield:

6

Servings

1

x

Category:

Dessert

Method:

Baking

Cuisine:

American
---
Description
A classic Spring dessert! This delicious Strawberry Rhubarb Cobbler has just the right amount of sweetness and a tang of rhubarb to make this a hit for the whole family. Add in a side of vanilla ice cream and this is such a delight.
---
For Filling
2 cups

rhubarb, chopped and drained

8 Ounces

strawberry, sliced and halved

1/2 cup

sugar

1 teaspoon cinnamon

1 teaspoon corn starch

1 teaspoon lemon juice

1 Tablespoon

Molasses (optional)
For Topping
1 cup

sugar

1 cup

all purpose flour

1 teaspoon

baking powder

1/4 teaspoon

salt

4 Tablespoon

butter, melted but not hot

3 Tablespoons

whole milk
---
Instructions
Preheat oven to 350° Fahrenheit
In large bowl, mix all filling ingredients and set aside.
In separate bowl combine topping sugar, flour, baking powder, and salt.
Add butter and mix well with a fork or spoon. It should start to be feeling like a dough.
Add two tablespoons of milk and mix with fork and hand. It should be able to stay together, but may be a bit crumbly. If the dough will not stay together, add another tablespoon of milk and mix well.
In a 1 ½ Quart Baking dish, dump filling and spread evenly.
The end goal is to have 6 patties of dough on top of the filling for baking. Take about 1/6 of the dough (maybe golf ball size) and form into a patty in your hand. We want thise patties fairly thin. 1/2 inch or so. If it gets a little crumbly, that is 100% ok. In fact, that is good. This does not need to be perfect. Place in corner of dish.
Repeat until the filling is fairly well covered with 6 patties.
If there are leftover crumbles from your topping, just sprinkle them across the top.
Bake in oven for 50 minutes.
Allow to cool for at least 30 minutes and then serve.
Notes
Don't take the cobbler topping too seriously. It will be crumbly, bumbly, and good.
Take all the left-over cobbler topping crumbs from forming the topping and spread it evenly over the cobbler.
I use a shallow 1 ½ quart Corningware dish, but you could also use a normal 9×9 baking dish.
Consider serving warm and with ice cream or whipped cream.
Here is a great recipe for homemade Ice Cream!
---
Nutrition
Serving Size:

1/6 of Entire Dish

Calories:

373 Calories

Sugar:

55 g

Sodium:

185 mg

Fat:

8 g

Saturated Fat:

5 g

Unsaturated Fat:

3 g

Trans Fat:

0 g

Carbohydrates:

73 g

Fiber:

2 g

Protein:

3 g

Cholesterol:

21 mg
Keywords: Strawberry Rhubarb Cobbler