Great dry rub chicken wings are sometimes just what the doctor ordered to cure your hunger! This Sweet and Spicy Dry Rub Chicken Wings Recipe tastes like wing perfection and is great for a perfect game day appetizer or whenever the itch for some wings strike. This delicious wing recipe calls for spices a normally stocked pantry already has, so it is simple AND flavorful. We include a tasty chili-lime dipping sauce that complements the wing recipe perfectly.
Sweet and Spicy Dry Rub Chicken Wings Summary
This recipe has very little fuss and muss. We just fry up some chicken wings in 375° Fahrenheit oil, toss it in our rub, and then start eating them. Really, that is all there is to it. So many wing recipes call for all sorts of pomp and circumstance surrounding cutting the wings, prepping the wings, or baking the wings, but this is about as simple as it gets. Fry them. Toss them. Eat them.
Then, we pull together a super simple sauce that you can make in minutes. The Chili-Lime dipping sauce we serve with this complements the dry rub and tastes great. You can prep this sauce when your oil heats up for the wings and call it done. All in all, you can finish these dry rub chicken wings very easily in 30 minutes.
We Don't Cut Our Chicken Wings
I get why people do it. You can cut your wings and served up the drummette vs the wing separately, which can plate nicely. Additionally, since the individual pieces (drummette vs wings) are a bit more uniform, so you might be able to cook them separately and get them to the safety point. And if you don't know, 165 degrees Fahrenheit is the safety point.
Many recipes call for clipping the little wingtips, but I am not an advocate for that. Well, maybe if you want to save them for chicken stock (check out my Homemade Chicken Stock Recipe), but too many just have you toss them! I don't get it. They are tasty little pieces and there isn't really any meat in them, but they are good to chew on and bite into.
Many recipes just indicate to throw them away, but my opinion is to cook them up and serve them.
Oil Safety
People, we are dealing with hot oil, which can be dangerous. Make sure to follow all safety rules regarding frying. I used a big pot and vegetable oil for frying in this recipe. A big thing to remember is that water and hot oil are NOT friends.
Patting the moisture off of your wings with a paper towel is a good idea. This gets a bit of the moisture off of the wing and helps make sure you don't end up with a messy and/or dangerous situation.
Also, make sure to use an oil that is appropriate for frying. Don't use olive oil, but something like vegetable oil, peanut oil, or canola oil.
Temp Them Wings
The recipe calls for cooking them for eight minutes, but the most important part is temping the wings. Whether it is 6 minutes or 10 minutes, the wings need to get to 165° Fahrenheit. Really, I want my wings out as close to 165° Fahrenheit as possible, while still being above that mark.
When you temp your wings, I do it in two places. First, in the thickest part of the chicken drummette. Then, the thickest part of the wing part of the entire chicken wing. This way, you are certain that you are hitting the right temperature.
I use 8 minutes as the guide and every time I have made these, that was enough for my wings to finish. Depending on some variables like chicken wing size and your fryer, I suppose this might vary. I would just make sure to get one out right away and make sure it is at 165° Fahrenheit, then pull the rest out and spot check your temps on the wings.
If you don't have a digital thermometer, get one! (Affiliate Link)
Dipping Sauce for Dry Rub Chicken Wings
This is such an easy sauce and it tastes great, too. We really just mix up the ingredients and it is ready to go. You could make this in advance and I feel like there might be some marginal benefit to letting the completed dipping sauce hang out in the fridge for a few hours, but totally not needed.
Any sauce will be great for these wings, but making your own doesn't have to be a big deal. Instead of throwing money at the store, just take some sour cream and make something special of your own! Heck, you could even make your own sour cream.
Serving Sizes
I am not gonna lie. I can eat all of these in one sitting. You might be able to, as well. Because I am using 10 wings, I need to either have 2 wings or 5 wings as the serving size. I chose 2, as this really is meant to be an appetizer. Besides, 2 wings really is a bit more than what it may appear. Each wing is one drummette and one wing.
For the sake of simplicity, I made the serving size 2 wings. This is a total of two drummettes and two wings. If you up this to 5 wings, we are talking about 5 drummettes and 5 wings, which really is more than one serving. I will let you be the judge.
If you are truly using this as an app, 2 wings might be enough. If this is the only appetizer you are serving, I would maybe go to the 5 wings for a serving.
Dry Rub Chicken Wings Process Pictures
All dry rub ingredients in a large bowl, but not mixed.
This is what it should look like when all mixed together. I moved it over to another dish to sprinkle on the wings.
The cooked wings with the dry rub sprinkled on top. From here, I add the top to the container and shake to get the powder all over.
Sweet and Spicy Dry Rub Chicken Wings Tips
Products I Used In This Recipe
Did You Make These Wings?
Effin awesome! I am a big fan of wings and these sweet and spicy dry rub chicken wings are tops in my book. I hope you feel the same. Let me know how it went in the comment section below and leave a rating. This would really help me out and let me know if I am doing a good job. Also, if you can share on Pinterest or Facebook, that would be great, too. If you want to get updates sent to your inbox, check out the subscription on this page.
Print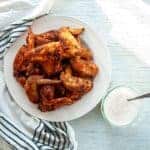 Sweet and Spicy Dry Rub Chicken Wings
Author:

Ben Myhre

Prep Time:

15 minutes

Cook Time:

8 Minutes

Total Time:

23 Minutes

Yield:

10

Wings

1

x

Category:

Appetizer

Method:

Fry

Cuisine:

American
---
Description
This Dry Rub Chicken Wing recipe is sassy, spicy, and sweet. Fry up a batch of these appetizers for game day, a party, or just because you want some dang wings! As a bonus, we are adding a Chili Lime Dipping Sauce recipe to dip these bad boy wings in. Enjoy!
---
Vegetable Oil for Frying

10

Chicken Wings

1 Tablespoon Brown Sugar

2 teaspoon paprika

1 teaspoon chili powder

¼ teaspoon ground mustard

1 teaspoon salt

1 teaspoon pepper

½ teaspoon cayenne powder

½ teaspoon ground cumin

½ teaspoon garlic powder

½ teaspoon onion powder
Chili Lime Dipping Sauce
1 cup

sour cream
Juice from

½

lime

1 teaspoon

chili powder

1 teaspoon

onion powder

1 teaspoon

garlic powder

½ teaspoon

paprika

¼ teaspoon

pepper

¼ teaspoon

salt
---
Instructions
For Chicken Wings:
Mix all dry rub ingredients (Brown Sugar, Paprika, chili powder, ground mustard, salt, pepper, cayenne, cumin, garlic powder, onion powder) in bowl.
Pat chicken wings dry with paper towels.
Heat oil to 375° Fahrenheit
Add wings to oil and cook for 8 minutes
Remove one wing and temp. If it hits the safe temp of 165 Fahrenheit, remove all wings and put on paper-towel lined plate. If below 165, readd to oil and cook for another minute and chek again.
Spot check a few of the wings to make sure they are at 165 Fahrenheit.
Allow to rest for 3 minutes and then add wings to a large coverable bowl.
Sprinkle all dry rub on top. Put cover on bowl and shake to cover!
Serve!
Dipping Sauce
Add all ingredients to bowl and mix well.
Can be served immediately, but your best bet is to give it an hour in the fridge.
---
Notes
Don't cut off those wingtips, but if you have to, save them for Chicken Stock
Temp your wings at 8 minutes and you know they are done when they hit 165° Fahrenheit
Follow all frying safety guidelines
Don't skip the step of allowing to sit on a paper towel-lined plate
If you are grilling your wings, check out our Grilled Tequila Lime Chicken Wings recipe.
Calories listed here are for the wings AND sauce
---
Nutrition
Serving Size:

2 wings

Calories:

324 kcal

Sugar:

6 g

Sodium:

654 mg

Fat:

24g

Saturated Fat:

8g

Unsaturated Fat:

16 g

Carbohydrates:

9 g

Fiber:

1 g

Protein:

19 g

Cholesterol:

54 mg
Keywords: Dry Rub Chicken Wings