The tasty streusel topping makes this recipe special. The topping combines with a delicious crust and Apple filling to make a Simple Dutch Apple Pie Recipe.
We have already shared our perfect traditional apple pie and now we are going to start looking at some of the variations that a person can experiment with. Our experiment today in our apple pie series is a Dutch Apple Pie recipe! We are going to give you our recipe, but also talk about the differences between a traditional apple pie and our Dutch Variety. Enjoy this Dutch Apple Pie Recipe!
What Is A Dutch Apple Pie?
A Dutch Apple Pie is basically an apple pie, but the top crust is replaced with a streusel layer. The filling and bottom crust are basically the same thing as the traditional apple pie recipe. I suspect that the Dutch Apple Pie and traditional pie originated at about the same time in history, but the slight variation of the Dutch Apple Pie Recipe just gave a bit of variety in taste and complexity.
Really, I think a Dutch Apple Pie can be just as good as the traditional. While I definitely have a preference for a nice, flaky top crust, there is something to be said about having a nice sugar-based topping that most flakey crusts don't have.
Why Make a Dutch Apple Pie?
I think the first reason to make a Dutch Apple Pie is flavor. We are replacing out a dough based topping for something that is primarily sugar. It is hard to go wrong with sugar, right? Yes, I love that flakey pie crust, but there is always room for a streusel topping.
In addition to flavor, I think a Dutch Apple Pie is easier to make. A nice, flakey crust can sometimes be difficult to get down. In fact, I made many different crusts before I finally decided on my final pie crust recipe. Then, I made many more pie crusts before I felt comfortable with the process. The bottom crust can be a little more forgiving, as it holds up a pound of apple/sugar mix. Streusel is just a matter of mixing some stuff together and sprinkling it evenly!
Difference Between a Dutch Apple Pie and a French Apple Pie
Well, the mystery continues on this one, for me. I found several sources that say a French Apple Pie and a Dutch Apple Pie are the same thing. In fact, my trusty Betty Crocker cookbook explains the French Apple Pie as a Dutch. Then, I found other sources that give the French Apple Pie a custard layer. Even further, I found some that say the French Apple Pie is what we traditionally call American Pie. I did try to find the answer to this, as I was really interested, but this one is going to have to be stored away in the annals of pie mysteries. Unless, of course, you have the answer. I am always interested in your thoughts on what the difference between a French and Dutch Apple pie are.
The Topping of Our Dutch Apple Pie Recipe
The topping of our Dutch Apple Pie Recipe is very similar to an apple crisp topping, minus the oatmeal. Flour, sugar, cinnamon, nutmeg, and butter are the name of the game on this Dutch Apple Pie Recipe topping. How can it be bad, right?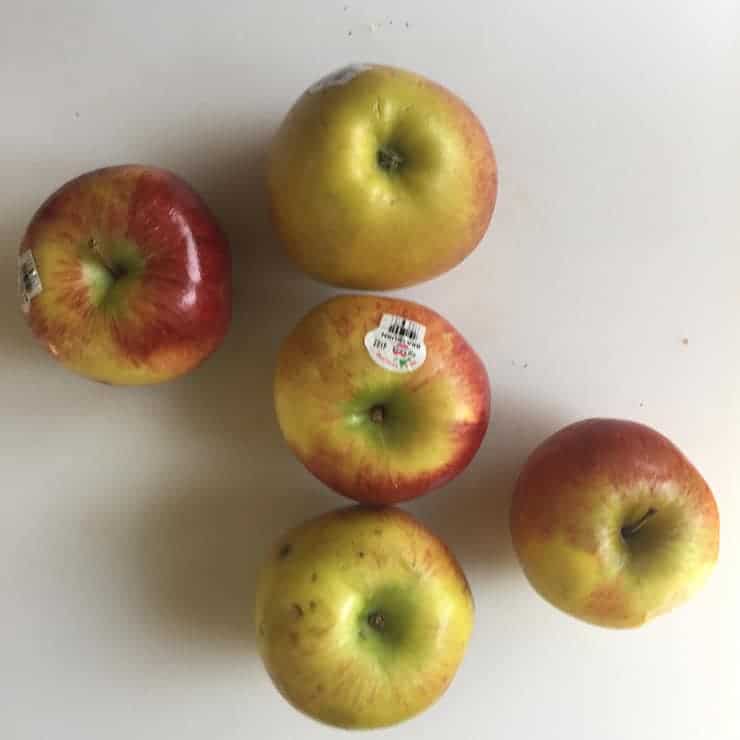 Give this Dutch Apple Pie Recipe a try and let me know what you think! It really is a nice variation of a traditional apple pie and gives an added sugar kick to the traditional favorite. Also, don't forget to subscribe to get updates via email and follow me on Instagram.
Products I Used In This Recipe
Print
Simple Dutch Apple Pie Recipe
Author:

Ben Myhre

Prep Time:

1 hour

Cook Time:

50 minutes

Total Time:

1 hour 50 minutes

Yield:

6

pieces

1

x

Category:

Dessert

Method:

Baking

Cuisine:

Dutch
---
Description
This Dutch Apple Pie Recipe is a sugary and easy twist on the classic apple pie. Get all of your apple pie flavors with an bit more richness from the yummy struesel topping!
---
For Filling and Crust:
1

sticks of unsalted butter

1 ¼ cups

white all purpose flour

½ tablespoon

sugar

½ teaspoon

salt

¼ cup

ice cold water (approximate)

5

Medium Braeburn Apples

⅔ cups

sugar

¼ cup

flour

1 teaspoon

cinnamon

1 teaspoon

nutmeg
For Topping:
¾ cup

flour

½ cup

brown sugar

1 cup

and two tablespoons softened butter

1 teaspoon

cinnamon

1 teaspoon

nutmeg
---
Instructions
Cut 1 sticks of butter into ½ inch cubes
Place into freezer for 20 minutes
Place 1 ¼ cups flour, ½ tablespoon sugar, and salt in food processor and pulse a few times to mix.
After butter has been in the freezer for 20 minutes, add to food processor and pulse 5-6 times. The goal is to mix the butter into the flour. The cubes of butter should be no smaller than peas.
Move flour mixture to large bowl
Add water to flour 2 tablespoons at a time. Toss with fork. We want to get to the point when you take your hand squeeze a handful of flour, it should stick together.
Work dough until it sticks together somewhat well and is in a disk. We don't want the butter to fully incorporate. If you need to add more water, you can, but do so only very sparingly.
Tightly wrap in plastic wrap and place in freezer for 20 minutes
Add ¾ cup sugar, 1 teaspoon cinnamon, ½ teaspoon nutmeg to large bowl
While freezing, peel and finely slice 5 large apples.
Mix apples, ⅔ cup sugar, ¼ cup flour, cinnamon, and nutmeg.
Preheat oven to 425
Take dough out of freezer and unwrap
Get to your zen place. Roll out the dough. I suggest looking at the section above where I talk about rolling out the dough.
Place one pie crust on the bottom
Add pie filling
Mix topping ingredients together well and spread evenly on top of pie
Trim excess dough, but the crust will shink a bit, so leave a bit
Using fork, crimp the crust to give a pie crust look
Put in for 35 minutes
Remove tinfoil
Check every 5 minutes and remove when it looks done. 40-45 minutes
Let rest for at least 2 hours
SERVE
---
Keywords: Dutch Apple Pie Recipe