It has become one of my evening rituals to have a glass of ginger water and honey. I think it helps me get ready for bed and sleep. In fact, many people believe both honey and ginger can aid in sleep. If I can get a great night of sleep, the next day is usually that much better. I thought it would be fun to incorporate this into a toddy recipe and maybe add some apple, as apples go so great with both honey and ginger flavors. We have been diving deep into the world of hot toddies and today we are going to make an Apple Ginger Hot Toddy. Go Straight to Recipe.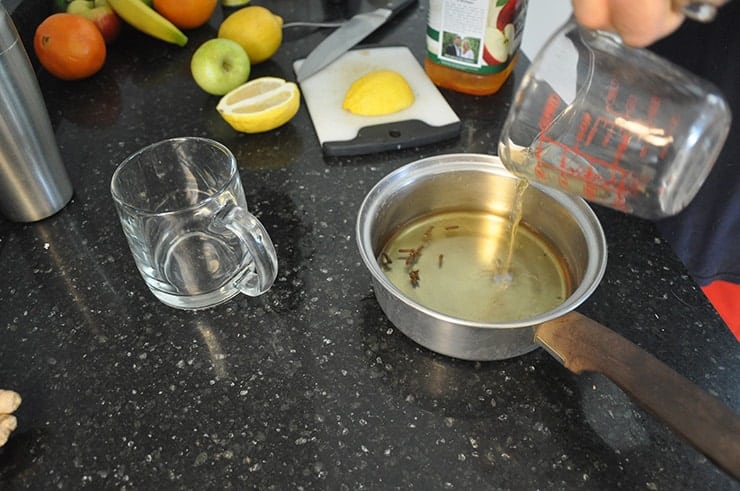 Ginger water
I guess I didn't even know that ginger water was a thing, but I guess it is. I have partaken in Kombucha that was infused with ginger before and it tastes great. My wife made some ginger beer not that long ago and I loved the stuff, but it was quite the process to make. No, it isn't that it is even really a big deal, but it does require care. I already have lots of yeast-based critters that need attention. So I just started boiling some chopped up ginger and stored the resulting drink in a mason jar. Every night I swipe a little bit to warm up and add honey once heated.
Brandy
As we talked about in a previous post, I have made the transition from using whiskey to brandy for my hot toddies. While it could really be any spirit that was available at the time to make a historically accurate hot toddy, I decided that the flavor profile of brandy works better in this cocktail. Additionally, the oldest reference I could find to a specific spirit in a hot toddy recipe was to brandy. For these reasons, I am using brandy as my alcohol in this apple ginger hot toddy recipe.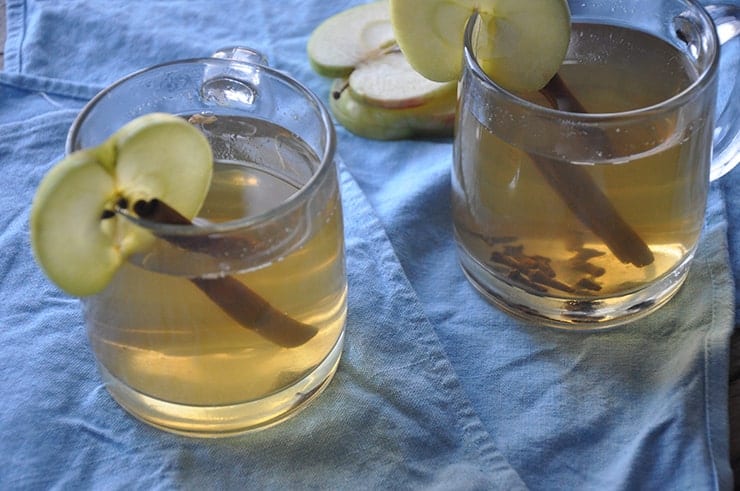 So, get ready for some more Fall and Winter flavors with this apple ginger hot toddy. Please take a second to
PIN THIS RECIPE
and if you are liking the blog, please subscribe!
Apple Ginger Hot Toddy Recipe
Ingredients
For Ginger Water

1 Quart Water

3 1 inch hunks of Ginger

For Apple Ginger Hot Toddy

8 Ounces of water

4 ounces of ginger water

4 Ounces of Apple Juice or Cider

10 cloves

2 Tablespoon honey

3 Ounces of Brandy

2 Apple slice to garnish
Instructions
2
Add Ginger and Water to sauce pan and boil for 3 minutes
3
Once cooled, put in quart mason jar and store in fridge until used
4
To make Apple Ginger Hot Toddy
5
In medium sauce pan, add clove, water, ginger water, and apple juice.
6
Bring to a soft boil and remove from heat
7
While water is warming and before removed, add honey and brandy equally to two mugs
8
Add hot water equally to both mugs
10
Once cooled down enough to drink, add apple slices and serve