Who doesn't like an easy, delicious dinner meal? That is exactly what you will get with this Easy Italian Sheet Pan Chicken Thighs recipe.

As a bonus, it also comes with a sheet of veggies. This dish brings a delicious Italian herb-flavored chicken to the dinner table along with a sheet pan full of carrots and potatoes.
A complete meal with little preparation and done in just 45 minutes. Just because it is easy and quick doesn't mean it isn't delicious. It is tasty. Give this fast sheet pan dinner a try today.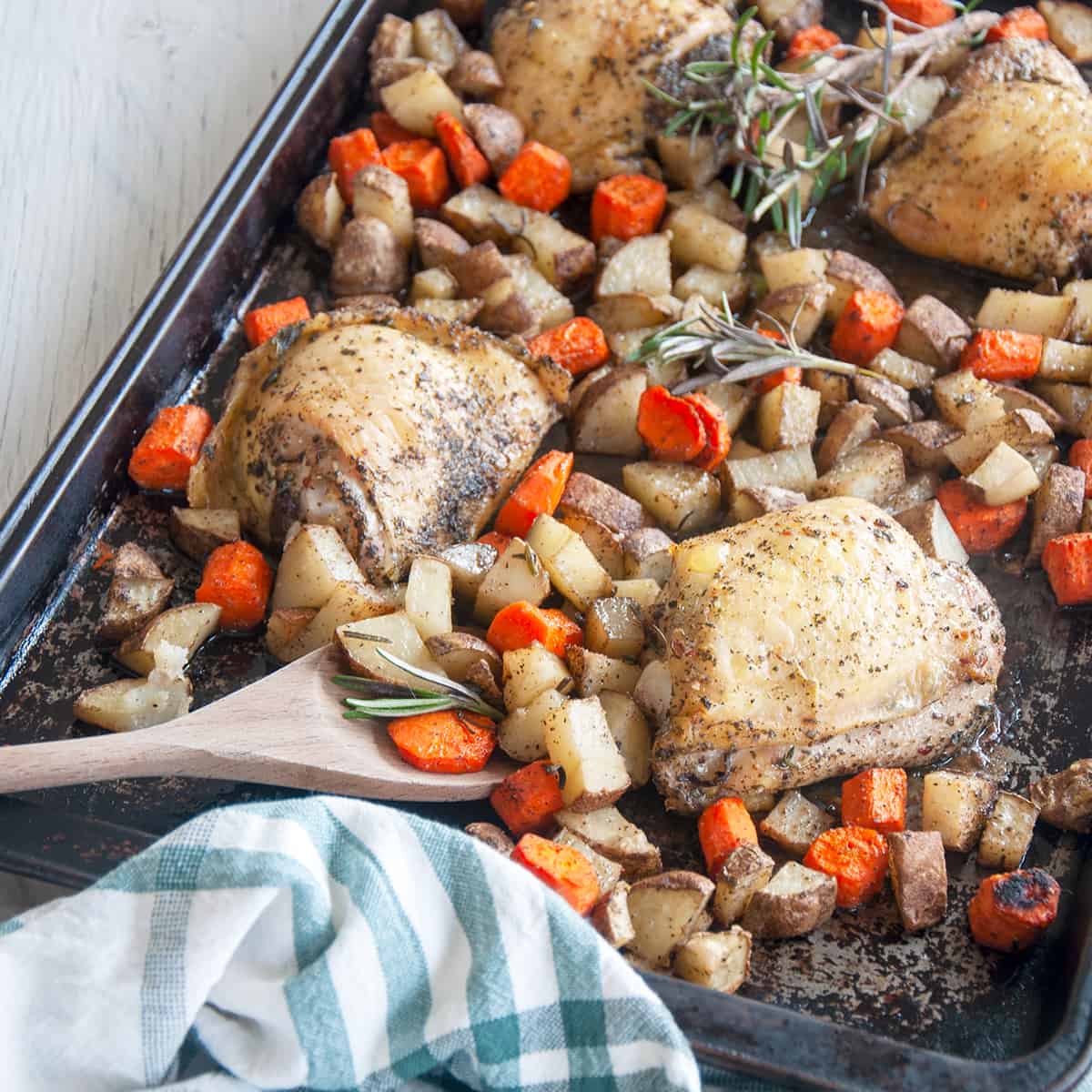 🍗 What makes this recipe special?
Really, it is a simple dinner using my favorite cut of chicken, the thighs. This is also a healthy recipe! A bit of chicken and veggies baked with a kiss of olive oil?
Chicken thighs are great. Chicken breasts can be tasty, but I think they are easier to mess up. Thighs are naturally juicier and more forgiving if you cook them for a few extra minutes. Chicken breasts can be baked to perfection, but it can be very easy to overcook this cut of meat.
Because thighs tend to be tasty, are very juicy, and can be a bit forgiving in bake time, I choose thighs for this recipe. Because we are cooking potatoes and carrots alongside the chicken, I like to give myself some room on this.
If I am not cooking a whole chicken, I tend to gravitate to thighs for all my baking and grilling needs. They taste good!
We are no strangers to chicken thighs and have some other lovely thigh recipes. Check out our Blackberry Homemade BBQ Sauce recipe, which uses thighs or our best Grilled Chicken Shish Kabob recipe.
Jump to:
🥕 Ingredients
There are just a few main ingredients, and the rest is seasoning. Here is a list of what you will need to make this sheet pan chicken and veggies recipe:
Chicken Thighs
Olive oil
Salt
Dried oregano
Dried thyme
Dried basil
Red chili flakes
Black pepper
Russet potatoes
Carrots
Rosemary
Pepper
See the recipe card for quantities.
Herb and Seasoning Choice
Italian flavors make me feel good. Something is comforting when I taste the right blend of seasonings and herbs. I am not even sure it brings my mind to Italy, where I have had some fabulous meals, but to my backyard.
My wife is the gardener, but I love the products of that garden. I love being outside with her in that garden. Our dried herbs (mostly from our garden) are an Italian blend that remind me of spending time in the garden. Oh, and they taste good.
We are using a typical Italian seasoning blend you might find in a store. Salt, pepper, oregano, thyme, basil, and red chili flakes. The chili flakes might not be typical, but I welcome a dash of zing in this recipe.
Because I use this mix for my chicken, I want to give a slightly different flavor profile for my potatoes and carrots. Just a bit of rosemary helps give it a different enough of flavor to bring some contrast to the different elements of this sheet-pan dinner.
Choose Similar Chicken Thighs
Suppose you are cooking your dinner and have a petite chicken thigh right next to the Arnold Schwarzenegger of thighs. In that case, you are going to run into some obstacles. The small thigh is going to be done well before the large.
Choosing thighs of similar sizes helps your sheet pan chicken thighs be consistent. Hey, it is your kitchen and your dinner. Do what you want. Similar-sized chicken things will just make things easier for you.
🍲 Instructions
A very appealing part of this recipe is that it is easy. We can put everything on one sheet pan, pop it in the oven, and be done with it! Of course, we want everything to be done, particularly the chicken.
This meal is baked in 35 minutes, but there are a few things you can do to ensure your Sheet Pan Chicken Thighs are done.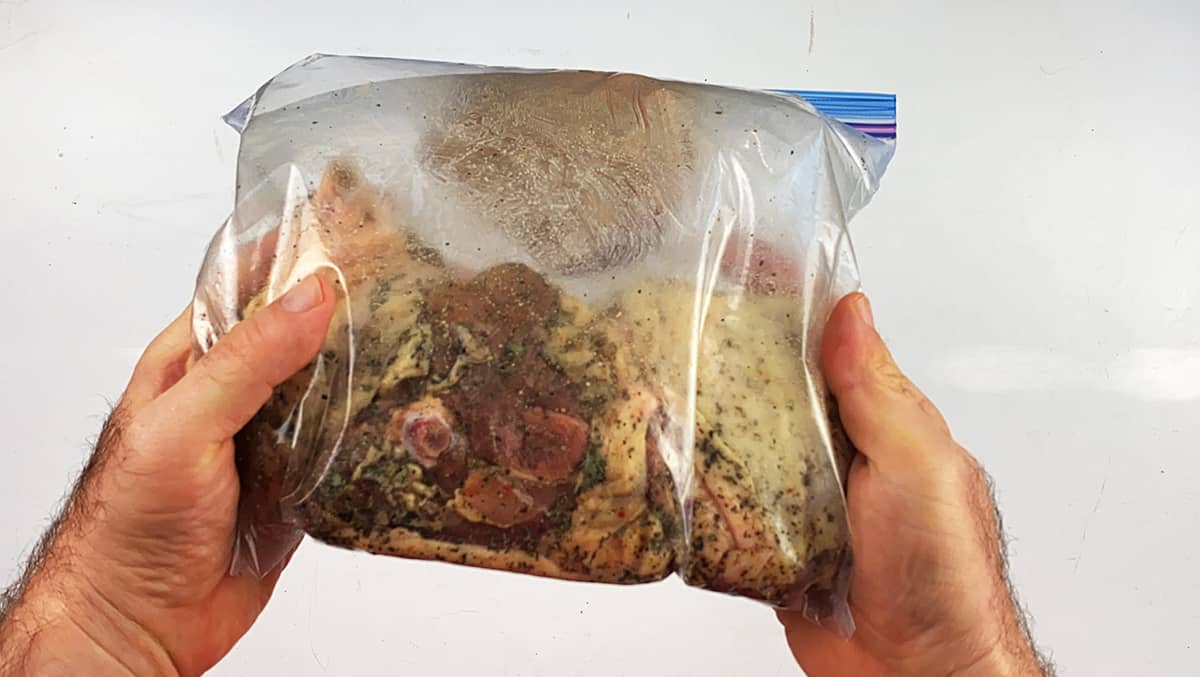 Use a Meat Thermometer
This chicken should be done in 35 minutes. That said, I always recommend using a meat thermometer to ensure your meat is perfectly cooked and safe. If you don't have a meat thermometer, now might be a perfect time to pick one up (affiliate link) to ensure your thighs hit the safety temperature of 165° Fahrenheit.
Chop Your Potatoes and Carrots
Chopping potatoes and carrots fine enough will help ensure that the entire dinner is done. I would try keeping potatoes and carrots to about one-inch chunks. This doesn't have to be exact.
The risk with larger chunks is that you will have potatoes or carrots that are not entirely done, while your chicken is. Chopping these small enough and spreading them around your baking sheet will help ensure that everything is nice, tender, and done.
🤷 Substitutions and variations
There are a few ways that this can be changed up.
Type of potato - I use russet potatoes, but other potatoes can work.
Seasonings - Like most things, I say use what you like. Rosemary is not everybody's favorite herb. If you don't like it... leave it out.
Fresh seasonings - I use a mix of fresh and dried seasonings, but use what you have and just be mindful of your conversions. Usually, if you are using fresh herbs, it is three times the amount. Similarly, dried herbs should be about ⅓ of the fresh amount.
📦 Storage
This meal works well for meal prep or storage. Just divide the recipe into four and store them in airtight containers. From there, place it in the refrigerator for up to three days or freezer for three months.
❓ FAQ
How long does it take to bake chicken thighs?
You have to get the temperature to 165° Fahrenheit, no matter what temperature you bake them at or for how long. 35 minutes at 400° should do the trick.
What is the best temperature to bake chicken thighs?
400° Fahrenheit is my temperature of choice. It gets them done quicking and results in a juicy chicken.
What is Italian Seasoning?
Italian seasoning is a blend of herbs and spices that is commonly used in Italian cooking. It typically includes a combination of dried basil, oregano, rosemary, thyme, and marjoram, although the exact blend can vary depending on the brand or recipe. Italian seasoning is often used to season pasta sauces, pizza, meat dishes, and vegetables. It is a convenient and flavorful way to add a burst of Italian flavor to a wide range of dishes.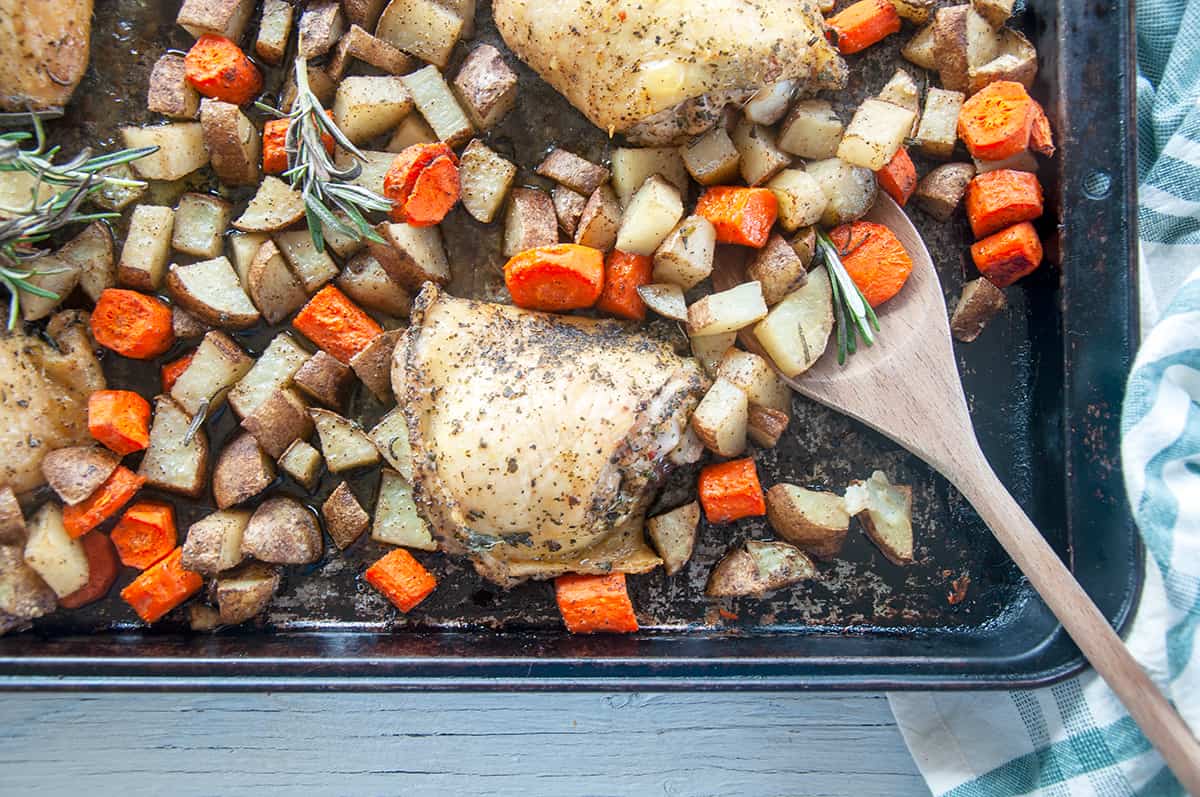 📝 Tips and tricks
I did not make the chicken with fresh herbs, but if you tried it, I would use 1 tablespoon fresh oregano, 1 tablespoon thyme, 2 teaspoons basil. All finely chopped.
I chose to use rosemary for the potatoes and carrots to give a little change in flavor. Use what you like!
Use chicken thighs that are of similar sized.
Use a meat thermometer to ensure your thighs reach 165° Fahrenheit.
Chop your potatoes and carrots to about 1-inch chunks
If your chicken gets to temp, but your potatoes aren't quite done, just remove the chicken and let the thighs rest for a few minutes until your
🛠 Products used in this recipe
😋 Did you make this recipe?
That is awesome, and thank you so much for giving this Italian Sheet Pan Chicken Thighs recipe a try. If you could leave a rating in the comment area below, it would be greatly appreciated. This lets me know how I am doing and also helps others decide if they want to make this recipe. Most of all, thanks for visiting Ramshackle Pantry.
Print
📖 Recipe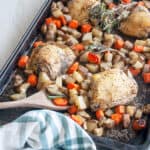 Baked Italian Chicken Thighs and Sheet-Pan Dinner
Author:

Ben Myhre

Prep Time:

10 minutes

Cook Time:

35 minutes

Total Time:

45 minutes

Yield:

4

servings

1

x

Category:

Dinner

Method:

Oven

Cuisine:

American
---
Description
An easy and tasty Baked Italian Chicken Thighs and Sheet-Pan Dinner. Done in just 45 minutes, this recipe will fill you up, give you nutritional needs, is very little cleanup, and the best part is that it tastes great.
---
4

Chicken Thighs

2 teaspoons

olive oil + 2 tablespoon olive oil

1 Tablespoon

Salt

1 teaspoon

dried oregano

1 teaspoon

dried thyme

1 teaspoon

dried basil

½ teaspoon

red chili flakes

1 ½ teaspoon

black pepper

4

medium russet potatoes, chopped

4

medium carrots, roughly chopped

1 tablespoon

fresh rosemary (

1 teaspoon

dried)
---
Instructions
Preheat oven to 400° Fahrenheit
Pat chicken thighs dry with a paper towel
Lightly rub olive oil over thighs
In a gallon bag or a large, coverable container, mix 2 teaspoons salt, oregano, thyme, basil, chili flakes, and 1 teaspoon pepper.
Put thighs in the container, seal, and shake so all thighs are coated with seasoning.
In a separate dish, mix all of the ingredients listed under Potatoes and carrots and combine well.
On a 9 x 13 sheet pan, place chicken on one side (skin side up) and the rest of the ingredients on the other side.
Bake on the middle rack for 35 minutes or until chicken internal temperature reaches 165° Fahrenheit.
If the skin is not crispy enough, remove potatoes and carrots and place the chicken under the broiler for 1-2 minutes.
Notes
I did not make the chicken with fresh herbs, but if you tried it, I would use 1 tablespoon fresh oregano, 1 tablespoon thyme, 2 teaspoons basil. All finely chopped.
I chose to use rosemary for the potatoes and carrots to give a little change in flavor. Use what you like!
Use chicken thighs that are of similar sized.
Use a meat thermometer to ensure your thighs reach 165 Fahrenheit.
Chop your potatoes and carrots to about 1-inch chunks
If your chicken gets to temp, but your potatoes aren't quite done, just remove the chicken and let the thighs rest for a few minutes until your
Nutrition
Serving Size:

¼ dish

Calories:

378

Sugar:

7 g

Sodium:

1902 mg

Fat:

19 g

Saturated Fat:

4 g

Unsaturated Fat:

14 g

Trans Fat:

1 g

Carbohydrates:

35 g

Fiber:

7 g

Protein:

26 g

Cholesterol:

20 mg
Keywords: Italian Baked Chicken Thighs