We have really been diving deep into the world of macaroni and cheese. We have made a traditional mac and cheese, looked at the history of the product, and made a gouda themed mac. The next few posts will be dedicated to variation recipes. I want push my taste buds a bit beyond the traditional recipe. Today, I am going to make a macaroni and cheese recipe that would make twelve-year-old me proud. I am going to try and find some serious comfort food and rich tastes in a Beefy Taco Mac and Cheese. Go straight to recipe
The Tastebuds of My Memory
In the exploration of this topic, one thing that keeps on coming back to me is Hamburger Helper. As a young adult, Hamburger Helper was like a food group. Somewhere in adulthood, I realized that I can make similar dishes that are way tastier and not that much more expensive. And yes, within the past 5 years, I have bought one just to see if I still liked it. The memory of flavor, for me, is pretty powerful. Did I like Hamburger Helper as a grown up in a grown-up kitchen? Not really. Still, the memory of those flavors stick with me. Our Beefy Taco Mac and Cheese is an attempt to capture some of those flavor memories in a much more tasty way.
While a person could adapt the recipe below to also cook it in the oven, I am going to keep this a skillet meal. This is the way I remember it, so this is the way I am going to cook it. Enjoy the Beefy Taco Mac and Cheese recipe and pin this recipe now.
Beefy Taco Mac and Cheese Recipe
Print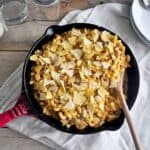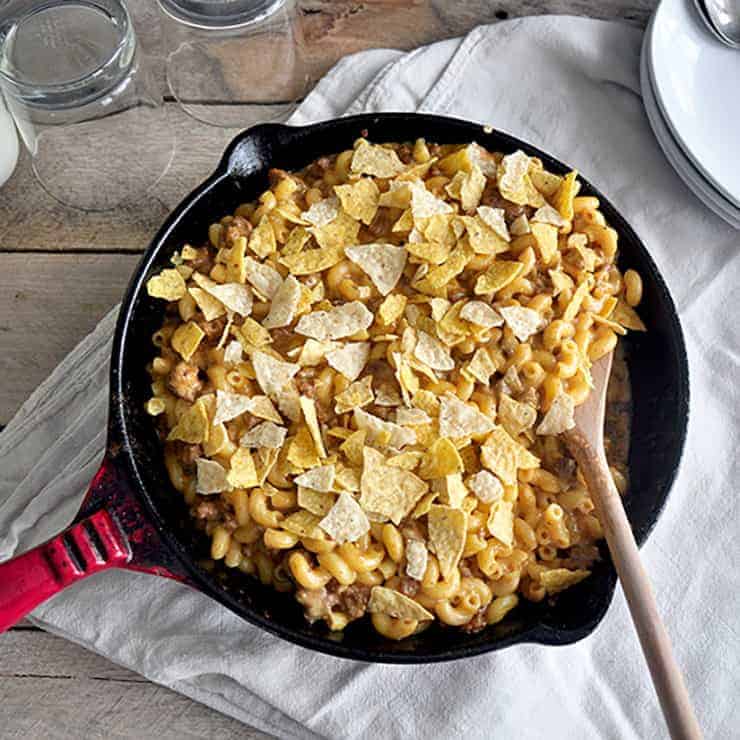 Beefy Taco Mac and Cheese
Author:

Prep Time:

5 Minutes

Cook Time:

25 Minutes

Total Time:

30 Minutes

Yield:

4 Servings

Category:

Casserole

Method:

Skillet

Cuisine:

American
---
Description
This Beefy Taco Mac & Cheese recipe is going to delight your taste buds and bring you back to home cooking memories.
---
Ingredients
1 pound hamburger
1 taco seasoning
2 cups dry macaroni
4 tablespoons salted butter
2 cups whole milk
¼ cup all-purpose flour
2 cups sharp or extra sharp cheddar cheese
1/2 cup crushed nacho chips
---
Instructions
Brown ground beef and add taco seasoning as directed on package in large skillet
Set ground beef aside
While ground beef is cooking, cook macaroni as directed on package
Also while ground beef is cooking, in a large saucepan melt butter on low.
When butter is fully melted, slowly start sprinkling flour in the pan and continuously mix. The idea is that the mixture of flour and butter will form almost a paste.
Pour in just a little of the milk and whisk until smooth. Keep on repeating until all milk is blended in.
Turn heat to medium-high and continuously stir. We want to get the sauce just to boiling and thicken.
When the sauce starts to heat up, you will notice it start to thicken. Just continue to stir and once boiling, continue stirring for one minute.
Remove from direct heat and slowly add 2 cups of the cheese to the bechamel while stirring.
Once this is a smooth sauce, add cheese sauce and macaroni to large skillet with ground beef and mix.
Serve and add crushed nacho chips to top.