This post may contain affiliate links. As an Amazon Associate I earn from qualifying purchases. Please read our disclosure policy.
This Beefy Taco Mac and Cheese recipe is a delicious comfort dish in a skillet that will make the whole family happy. Combining a classic mac and cheese with savory taco flavors is a recipe for happiness.
Combined, this makes an easy and filling dinner that everybody will like. Give our tasty Beefy Taco Mac and Cheese a try tonight.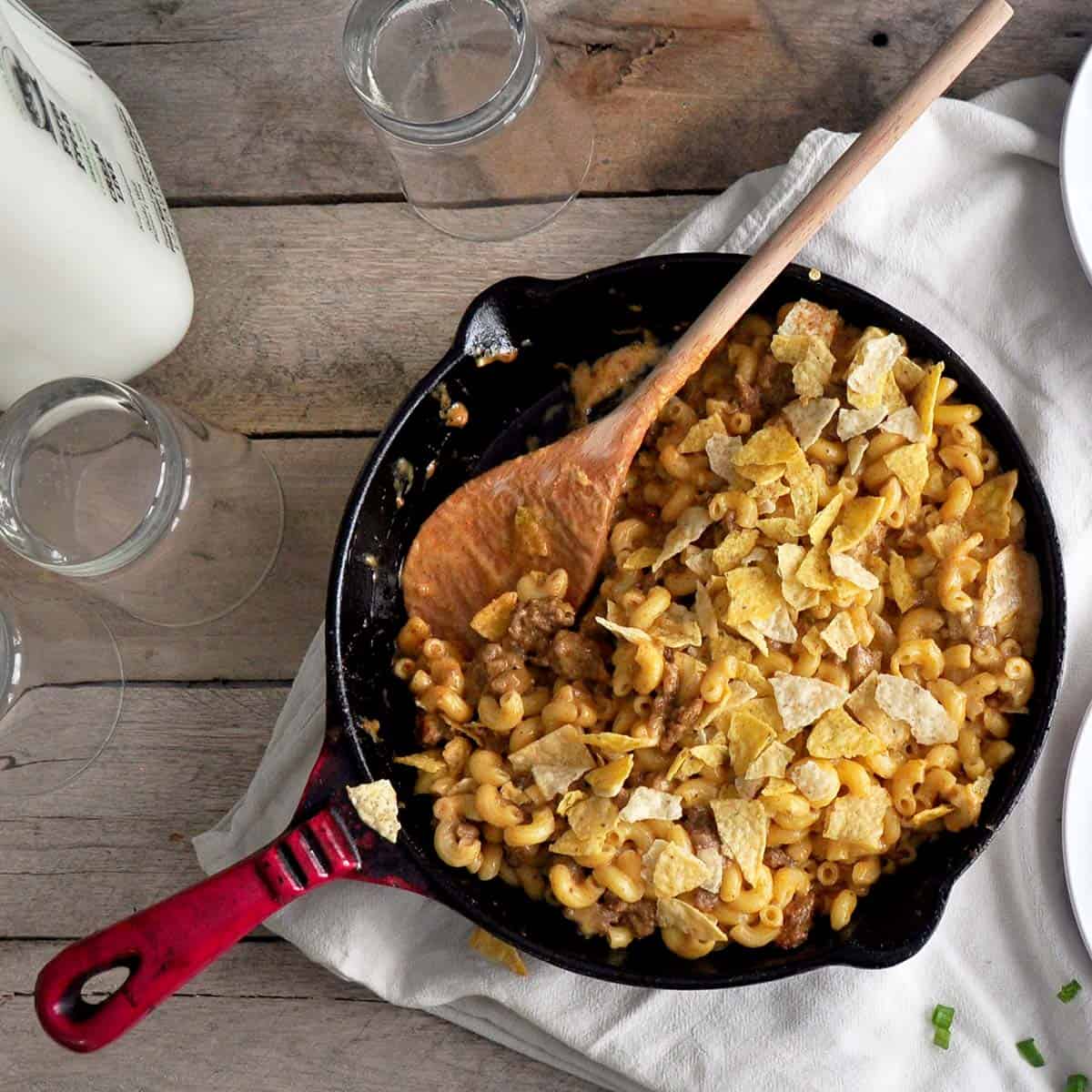 🌮 What makes this recipe special?
Who doesn't love mac and cheese? But here's a twist: adding the bold flavors of taco seasoning and ground beef. It's like a delightful union of two favorite dishes for a great dinner.
Imagine a creamy cheese sauce paired with spicy, savory taco beef. Then, for the cherry on top, crushed nacho chips add a delightful crunch.
This dish isn't just food—it's an experience. Every spoonful offers a burst of flavor and it's so easy to whip up. This fusion promises a comforting yet unique treat. Give your regular mac and cheese a taco twist with this recipe.
If you are looking for other macaroni and cheese recipes, consider the following. Check out our traditional mac and cheese recipe, or take a look at our exploration of the history of Macaroni and Cheese. Or give this potluck pleaser, Rancharoni Macaroni, a try. No matter what you make, make sure to treat yourself.
🧀 Ingredients
Macaroni? Sure. Cheese? Yup. You will need a bit more and here is a list:
Ground Beef
Taco seasoning
Macaroni
Salted butter
Whole milk
All-purpose flour
Cheddar cheese
Nacho chips
See the recipe card for quantities.
🍲 Instructions
First up, cook your beef with taco seasoning in a skillet. While it's browning, get your macaroni boiling in another pot. Two tasks, one goal: deliciousness.
Next, while ground beef is cooking, in a large saucepan, melt your butter. Slowly sprinkle in flour over the butter and then the milk. Stir until it thickens, then blend in that glorious cheese.
Finally, mix the creamy cheese sauce and macaroni into the skillet with the beef. Top it off with crunchy nacho chips and serve. Simple steps to a meal everyone will love!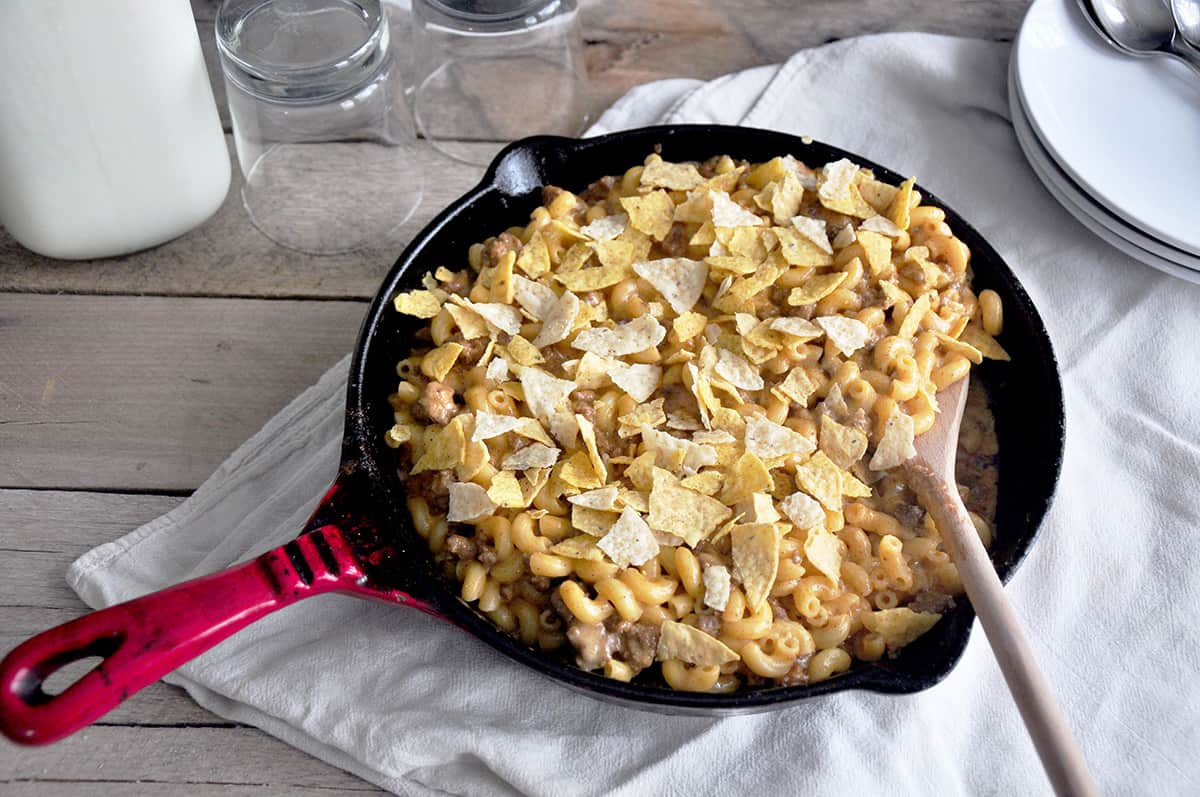 🤷 Substitutions and variations
Don't have 80/20 ground beef on hand? No worries. You can use ground turkey or chicken for a lighter touch. They offer a unique taste while keeping things delicious.
Cheddar not your cheese of choice? Switch it up. Swap in pepper jack for some spice or mozzarella for a smoother finish. Each cheese brings its own flair.
Want to spice it up some more? Add some jalapenos to the ground beef when you are cooking it. Or add a bit of cayenne to your mix.
📦 Storage
After cooking, let your Beefy Taco Mac and Cheese cool down. Once it's at room temperature, it's time to store it away.
For short-term munching, pop it in an airtight container and stash it in the fridge. It'll stay tasty for 3 to 4 days.
Planning to save some for later? This dish can be frozen! Just remember to place it in a freezer-safe container. When you're ready to enjoy it again, thaw it overnight in the fridge and reheat it on the stove or in the microwave.
🎓 History tidbit
Mac and cheese have roots that go way back. Believe it or not, it's been enjoyed since the days of ancient Rome! They had an early version of this creamy dish.
Tacos? They hail from Mexico, dating back hundreds of years. Made with local ingredients and wrapped in soft tortillas, I did write a whole article on the history of the taco.
❓ FAQ
What is Taco Mac?
Taco Mac is a delightful fusion of classic macaroni and cheese with the bold flavors of tacos. It incorporates ingredients like taco-seasoned meat, cheese, and sometimes toppings reminiscent of a taco.
Is Taco Mac kid-friendly?
Most kids love both tacos and mac & cheese, so combining the two can be a hit! If concerned about spice, simply opt for a milder taco seasoning.
Can I use a different type of pasta for Taco Mac?
Absolutely! While macaroni is traditional, you can experiment with other pasta shapes like penne, fusilli, or bowtie. The main idea is to have pasta that holds onto that tasty sauce well.
📝 Tips and tricks
Consider using our homemade taco seasoning recipe.
I keep this as a skillet dish, but it could be modified to also add some extra cheese to the top and bake for a bit.
I used a cast iron skillet for this recipe.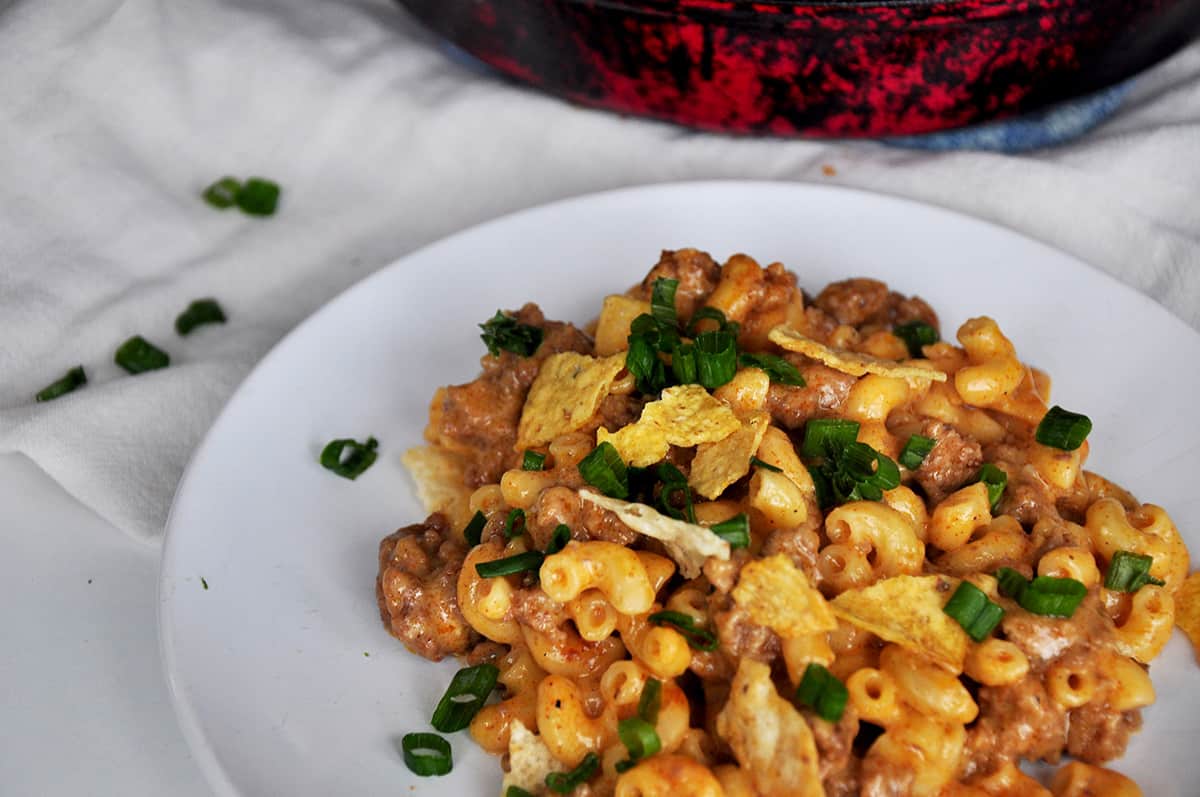 🛠 Products used in this recipe
😋 Did you make this recipe?
That is awesome, and thank you so much for giving this Beefy Taco Mac and Cheese recipe a try. If you could leave a rating in the comment area below, it would be greatly appreciated. This lets me know how I am doing and also helps others decide if they want to make this recipe. Most of all, thanks for visiting Ramshackle Pantry.
Print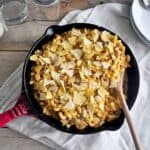 Beefy Taco Mac and Cheese
Author:

Ben Myhre

Prep Time:

5 Minutes

Cook Time:

25 Minutes

Total Time:

30 Minutes

Yield:

4

Servings

1

x

Category:

Casserole

Method:

Skillet

Cuisine:

American
---
Description
This Beefy Taco Mac & Cheese recipe is going to delight your taste buds and bring you back to home cooking memories.
---
1

pound

80/20 Ground Beef

1

packet taco seasoning

2

cups

dry macaroni

4 tablespoons

salted butter

2

cups

whole milk

1/4

cup

all-purpose flour

2

cups

sharp or extra sharp cheddar cheese

1/2

cup

crushed nacho chips
---
Instructions
Brown ground beef and add taco seasoning as directed on package in large skillet
Set ground beef aside
While ground beef is cooking, cook macaroni as directed on package
Also while ground beef is cooking, in a large saucepan melt butter on low.
When butter is fully melted, slowly start sprinkling flour in the pan and continuously mix. The idea is that the mixture of flour and butter will form almost a paste.
Pour in just a little of the milk and whisk until smooth. Keep on repeating until all milk is blended in.
Turn heat to medium-high and continuously stir. We want to get the sauce just to boiling and thicken.
When the sauce starts to heat up, you will notice it start to thicken. Just continue to stir and once boiling, continue stirring for one minute.
Remove from direct heat and slowly add 2 cups of the cheese to the bechamel while stirring.
Once this is a smooth sauce, add cheese sauce and macaroni to large skillet with ground beef and mix.
Serve and add crushed nacho chips to top.
---
Notes
Consider using out homemade taco seasoning recipe.
I keep this as a skillet dish, but it could be modified to also add some extra cheese to the top and bake for a bit.
I used a cast iron skillet for this recipe.
Keywords: Beefy Taco Mac and Cheese