Why buy the packets when you probably have all of the ingredients in your cupboard already!? This Homemade Taco Seasoning Recipe is so quick and easy. Also, it tastes great for whatever Mexican recipe you want to make.
If you are still buying taco mix packets and care about frugality or control of flavor, stop. Making your own Homemade Taco Seasoning is super easy and for anybody that has a reasonable spice rack, you probably already have the stuff, anyway! As part of our taco series , we are going to give you the homemade taco seasoning I use and talk about why it is better than the packaged stuff.
Easy, Simple, Taco Seasoning Recipe
There really is not much to this recipe, but based on the amounts of packets I see at the grocery store, people just don't know how or don't care about making there own Taco Seasoning. I suppose you could use 'convenience' as a factor, but the amount of time saved just isn't that much. You can make a batch of this in just a minute or two.
This recipe really is easy and you should give it a try.
Homemade Taco Seasoning Gives you Flavor Control
First and foremost, we should talk about flavor. I suggest you try this recipe first, but as time goes on, you are going to be able to fine-tune your recipe to something that is completely yours! Add a bit more cumin or maybe remove some chili powder, or perhaps there is a certain brand of pepper you like. For us, we grow peppers in the summertime and make our own Red Pepper Flakes, so we forego the store bought version and use our homemade red pepper flakes in our taco seasoning.
Ultimately, this recipe is going to give you the power to make flavor choices that work best for your kitchen.
DIY Taco Mix is FRUGAL
The packets cost like a buck in the store. To me, that is insane. Many people already have the spices they use in our own spice racks! You can repurpose your spices to make your own taco mix and it will be about a quarter of the price. There is nothing in this recipe that is out of the ordinary and depending on the seasonings you purchase, it can be really cheap to make your own homemade taco seasoning.
Particularly if you prefer more expensive ingredients, you should consider making your own mix. The thing is, if you have specific chili powder, salt, or pepper that you prefer and believe to be superior, you can use that! Outside of our homemade red pepper flakes, we tend to buy our spices from the cheap aisle and generally in bulk. We make our taco seasoning for very cheap and the quality is better.
Homemade Taco Seasoning is GREEN
Most of the taco mixes out there are in single-use packets, which often ends up in the landfill. If you buy your spices in bulk, you can really reduce the amount of waste that comes out of your kitchen by reducing the amount of single-use products in your pantry. Not only can many of the spice containers be repurposed, but if you buy bulk and refill your containers with spices, you can bring it a step further.
How Do I Add To Ground Burger?
Like you would with a Taco Seasoning mix, you would ground a pound of beef. When the beef is done, add a 1/2 cup of water and 2 and a half tablespoons to the beef and mix until the water is reduced. Taco meat!
How to Store This Seasoning
Keep this seasoning in any kind of airtight container and you should be good to go!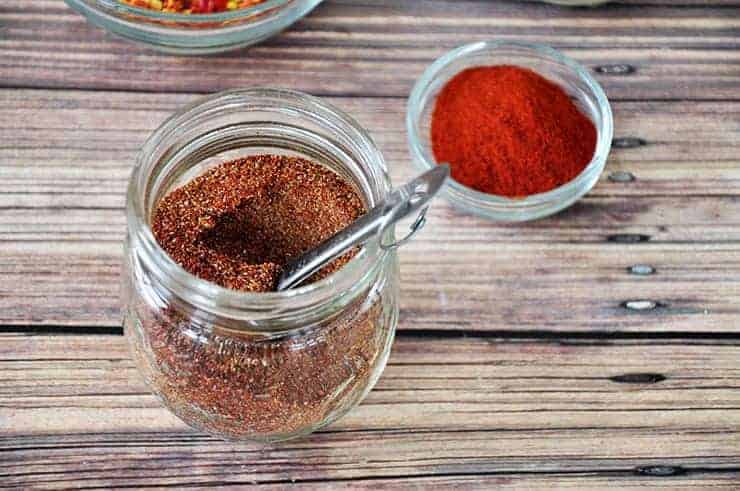 I hope you enjoy this recipe. You can frugal, green, and (most importantly) control your flavors. If you like what we are doing here, please consider subscribing to our email list and our Instagram!
Print
Homemade Taco Seasoning Recipe
Author:

Ben Myhre
Prep Time:

1 minute

Cook Time:

1 minute

Total Time:

2 minutes

Yield:

4

batches

1

x
Category:

Seasoning

Method:

Mix

Cuisine:

Mexican
---
Description
Why buy a mix packet when you can make your own Homemade Taco Seasoning? It is tasty, frugal, and you can make better flavors!
---
Scale
Ingredients
1/4 cup

chili powder

1 tablespoon

paprika

1 teaspoon

garlic powder

1 teaspoon

onion powder

1 teaspoon

red pepper flakes

2 tablespoon

cumin

1 tablespoon

salt

1 tablespoon

pepper
---
Instructions
Mix all ingredients and store in an air tight container.
---
---
Notes
Makes enough for 4 pounds of ground beef.
Keywords: Homemade Taco Seasoning