This post may contain affiliate links. As an Amazon Associate I earn from qualifying purchases. Please read our disclosure policy.
The Best Homemade Tater Tot Hotdish is what we are searching for and it was found with homemade ingredients. This casserole recipe is definitely something special and unique. Find out why and get the recipe.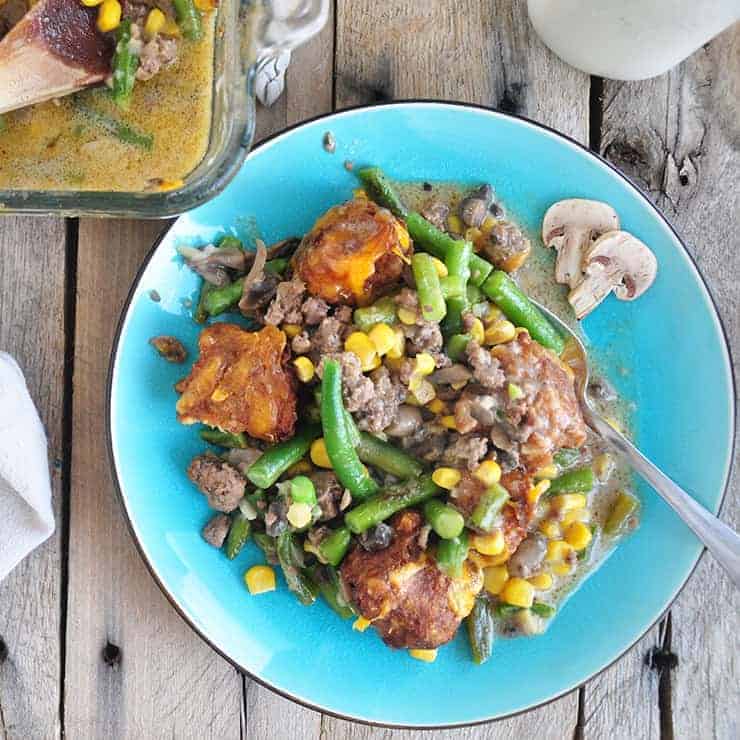 Alright, ladies and gentlemen, the past few weeks have culminated in the recipe we are sharing today. We have looked at the history of the hotdish, made the first printed hotdish, and have made the elements of our hotdish. Today, we are putting our pieces of the puzzle together and making our best homemade tater tot hotdish. We are getting nerdy about this. Everything is from scratch in this recipe. Go Straight To The Recipe.
The Tater Tot Recipe
We previously made homemade tater tots, and we are going to ask you to make a double batch of that recipe for this from scratch hotdish. You can either make these at the same time or you can premake these little guys anytime before and include them in this recipe. While I am not a regular at the deep fat fryer, it was fun to take a stab at making tater tots. As an alternative, you can use a one-pound bag of tots. Yes, it is easier to pull out a bag of the premade stuff, but this particular recipe isn't really constructed for premade. We are doing things from scratch today.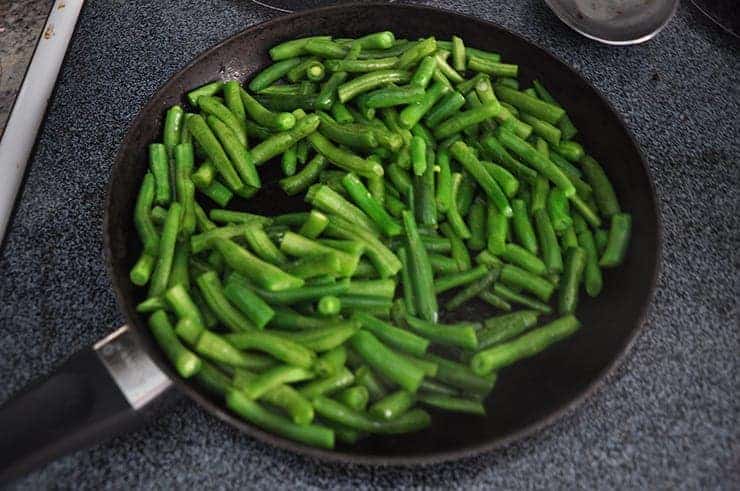 The Cream of Mushroom Soup Recipe
It should not shock you that we made our own cream of mushroom soup recipe, as well. This recipe is going to make it into regular rotation in our house. It is super tasty and there are some variations of this that would make it great for gravy and the like. With a vegetarian in the house, gravy can sometimes be an obstacle and this had a great base for making a veggie gravy. Not to mention, the soup is excellent. This is another one that you could either make previously or include as part of making this. I understand that there might be lots of dishes accumulating for this recipe.
Veggies For Our Best Homemade Tater Tot Hotdish
This really is up to personal preference. I am going to use 1 cup of corn that we harvested this last fall and froze. We are also going to use half a pound of sauteed fresh green beans. You want the equivalent of 4 servings of veggies, as our final product makes 4 servings and I figure one serving of veggies per serving is about right.
While the traditional hotdish really gets a bad wrap from foodies, I think making this dish from scratch really brings an interesting dimension to hotdish. Our best homemade tater tot hotdish has all of the flavors of a traditional tater tot hotdish, but really steps up the fresh game. It might not be perfect, but I think our version really shows that maybe there can be something beautiful in the hotdish.
Print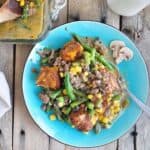 Best Homemade Tater Tot Hotdish
Author:

Ben Myhre

Prep Time:

1 hour

Cook Time:

90 Minutes

Total Time:

2 Hours 30 Minutes

Yield:

4

Servings

1

x

Category:

Casserole

Method:

Baking

Cuisine:

American
---
Description
This from-scratch Tater Tot Hotdish is not a dump recipe, but bringing the hotdish game to a whole other level. From potatoes and Mushrooms to Tater Tot Hotdish
---
Double Batch of Tater Tots

1

batch Homemade Cream of Mushroom Soup

1

lb ground beef

1 Cup

Corn

2 Tablespoons

Olive Oil

½

Pound Green Beans, Trimmed and cut into thirds

1 Cup

Grated Cheddar Cheese
---
Instructions
Cook Ground beef and drain
Preheat oven to 350
Cut green beans into 1 inch segments
Add Olive oil to saute
Heat Saute Pan to medium
Add green beans and cook until tender, approximately 5 minutes
In 8×8 Casserole dish. Mix beef, veggies, and hamburger.
Top with tater tots
Bake for 35 minutes
Remove from oven and add cheese to top
Bake for 5 more minutes until cheese is melted
Remove from Oven and serve
---
Keywords: Tater Tot Hotdish