This post may contain affiliate links. As an Amazon Associate I earn from qualifying purchases. Please read our disclosure policy.
If you want a tasty, easy, classic appetizer for your next potluck, check out this Cheese Ball with Dried Beef recipe! Creamy and salty, this spreads perfectly on your favorite cracker and is great for any holiday or gathering.
It has very little active time and can be ready in a flash. Give this potluck superstar a try today!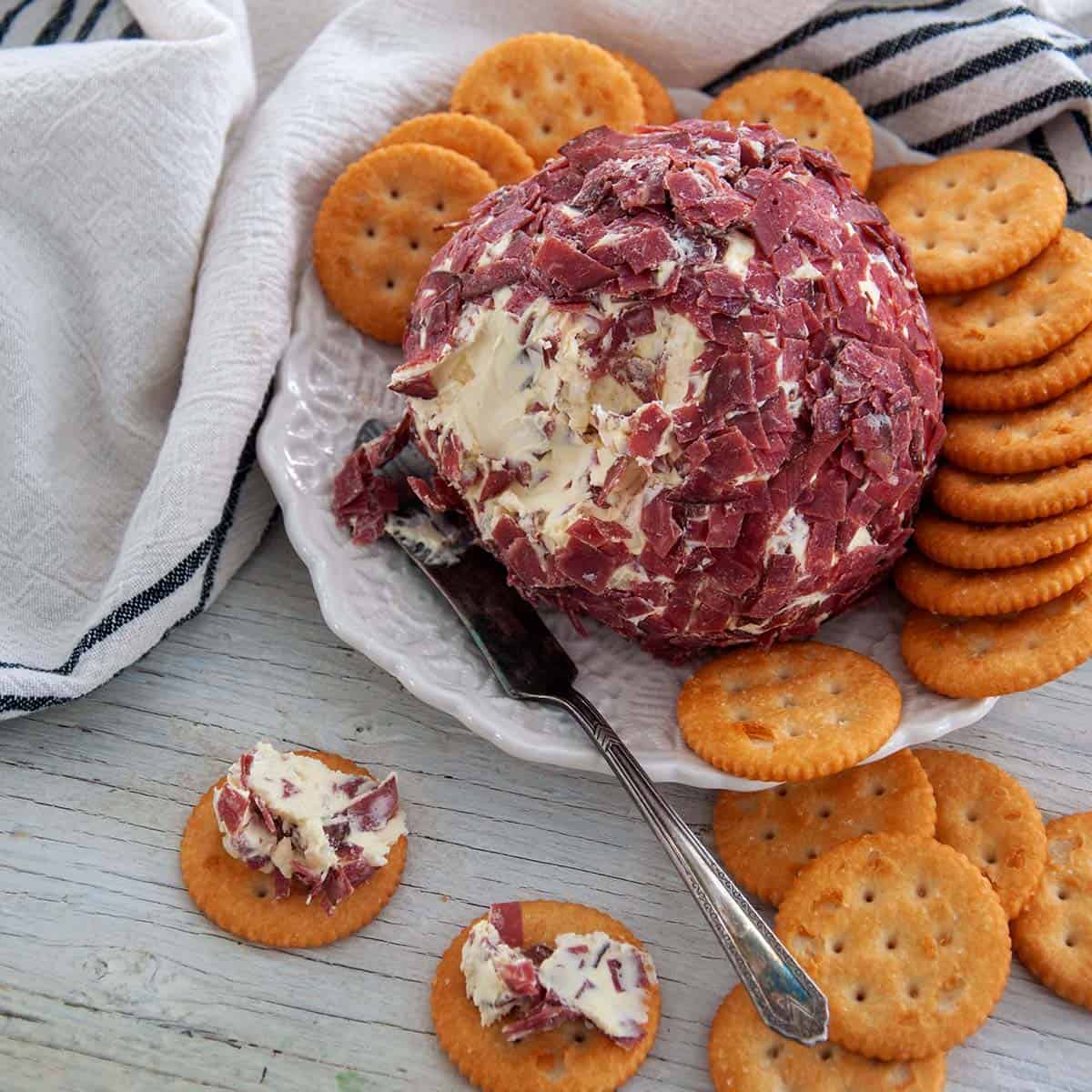 🎉 What makes this recipe special?
This recipe was handed down to me by my cousin, and my aunt Kay brought this to many holidays. While we often have a similar cheese ball at our gatherings now, I always think of Kay when this is served.
I have many great memories of Kay, and this dried beef cheese ball recipe is one small memory I have of her. Do you ever have those recipes where a recipe reminds you of a person? That is what this is for me, and now that I got my hands on the recipe, I will share it with you!
Maybe my aunt's nastalgic recipe for this awesome cheese ball can find its way into your family's traditions and your special events. It is a crowd pleaser, for sure. Other appetizers and potluck favorites are this Dill Pickle Spicy Deviled Eggs recipe, my Potluck Pickle Wraps (also called Minnesota Sushi), and this Crab Stuffed Mushrooms. No matter what you make, make sure to treat yourself!
Ingredients
Cream cheese and dried beef are the superstars here, but all of the ingredients come together with a bit of time to make a great Cheese Ball with Dried Beef.
Most are items found in many kitchen pantries and fridges already. I may have to go to the store for dried beef and cream cheese, but we usually have some other stuff already in stock. This recipe uses: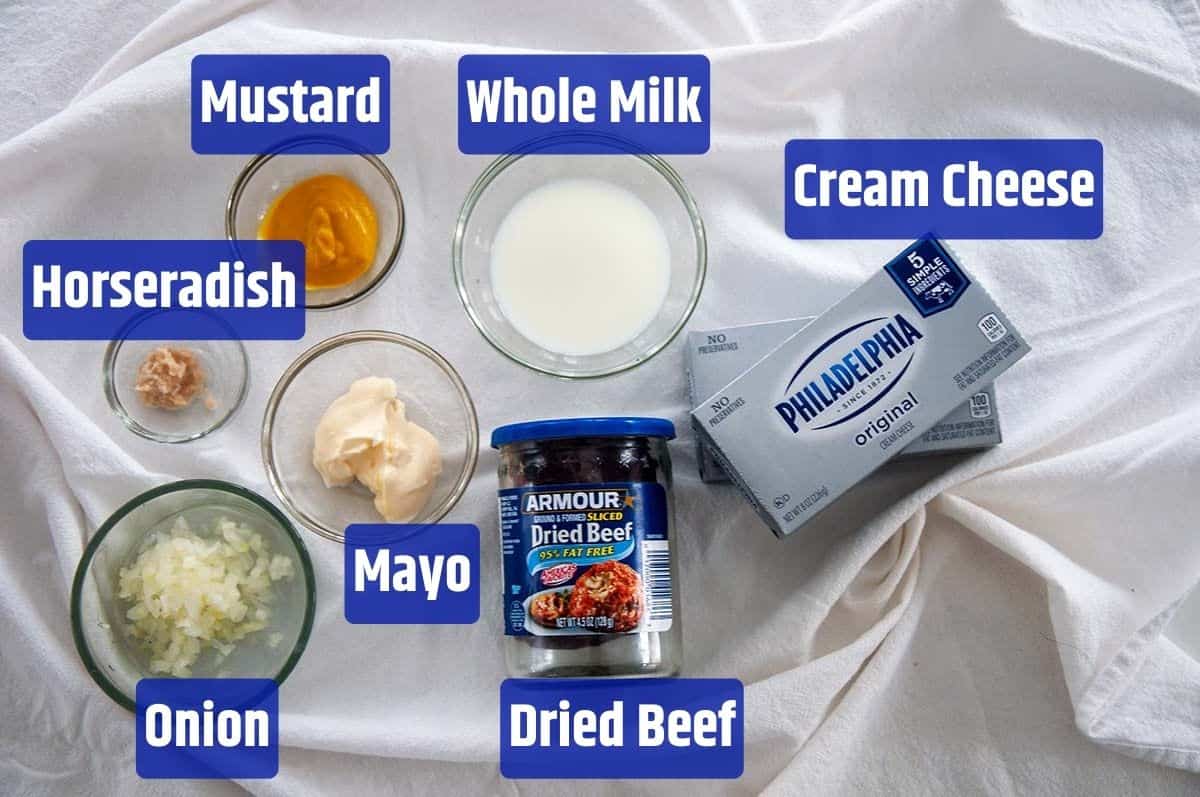 Cream Cheese
Mustard
Onion
Mayonnaise
Whole Milk
Horseradish
Dried Beef
See the recipe card for quantities.
🍲 Instructions
This recipe is as simple as setting half the chipped beef aside and mixing everything else in a large bowl. Once mixed, place in the fridge for a bit.
After the ingredients have cooled and hardened, form it into a nice ball. Coat with the remaining dried beef.
You could serve it immediately, but I suggest making this the night before and allowing it to sit in the refrigerator overnight. Place the ball on a nice plate surrounded by your favorite crackers. Harder veggies would work, too, but I prefer Ritz crackers.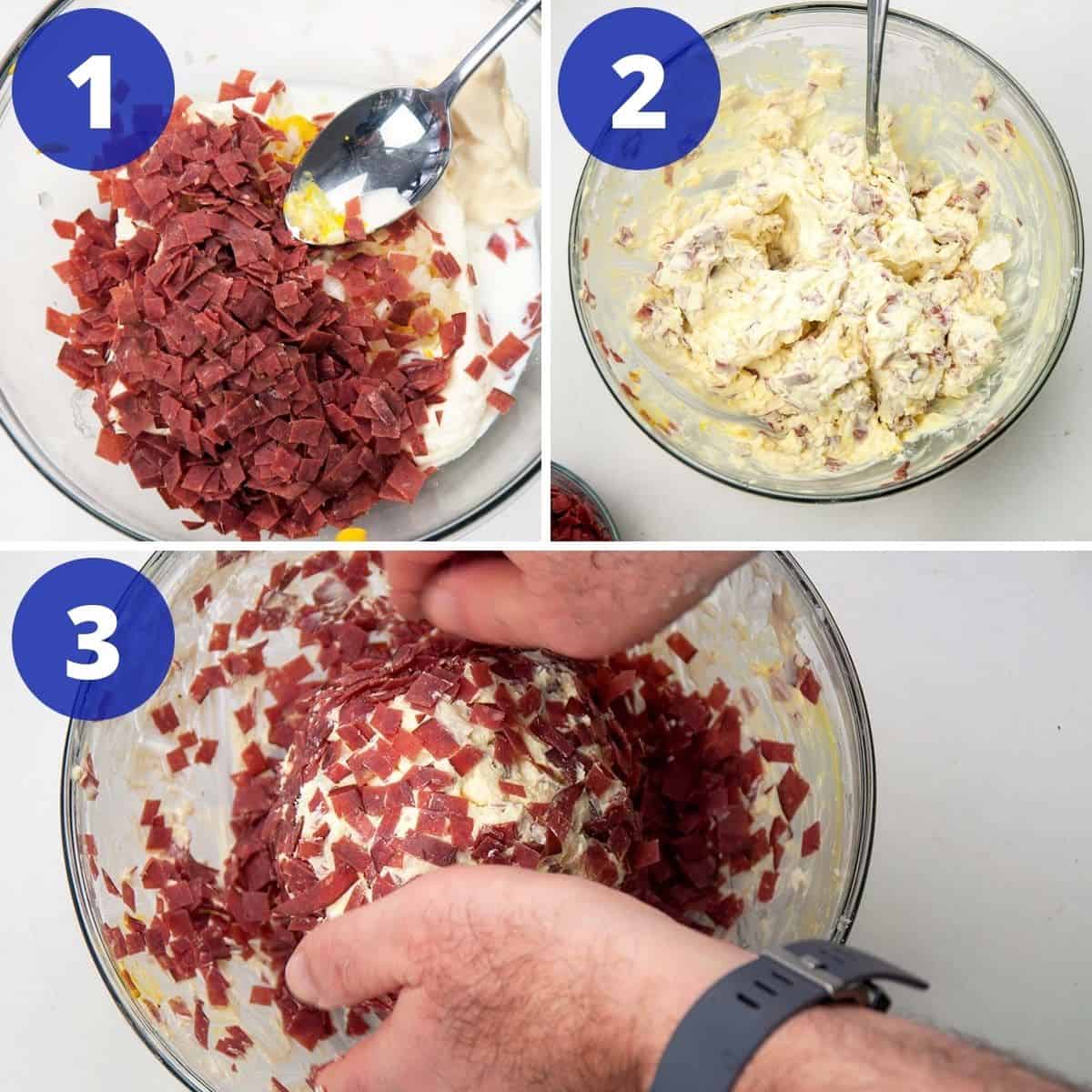 Hint: You might have to get your hands dirty on this one. Maybe not for mixing the ingredients initially, but get those chopped dried beef chips on the cheese ball.
🤷 Substitutions and variations
The recipe I give is well-tested and me-approved, but there are other ways to spice this up a bit to make it better for your family.
Spicy – add ½ teaspoon of ground cayenne pepper to bring a little heat to the cheese ball.
Garlic – do you love garlic as much as I do? Add a clove or two of minced garlic when mixing all ingredients to add flavor.
Green Onions – add a few minced green onions when mixing the ingredients. This adds a bit of flavor and color to the mix.
Beefier – I call for six ounces of dried beef, more than one Armour package. You could add more beef to the mixture. The outside cannot use much more than provided, but the main mixture could have more dried beef.
📦 Storage
While this can be stored in the fridge for up to a week (possibly longer), I see this as a recipe a person makes the night before a party. Like anything, if it smells, looks, or tastes funny… get rid of it.
If there are leftovers, put them in the fridge and if you are using commercially made mayonnaise, use it within a week. If you are using homemade mayonnaise, keep it refrigerated and use it within a few days.
Regarding food safety, there is some mayonnaise in this, so I would not leave it out for an extended period, particularly if you are using homemade mayonnaise. If using commercial mayo (which I bet most of you are), 4-8 hours out at a party or potluck should be fine. Check out this article on mayonnaise safety.
You can freeze this cheese ball by wrapping it in cling wrap and in a freezer bag. I would use it within a month or two.
🎓 History tidbit
During World War I and World War II, dried beef (also called chipped beef) became a staple food for soldiers due to its long shelf life and high nutritional value. It was often served on toast or biscuits as a quick and easy meal.
In the United States, chipped beef became popular as a breakfast dish in the early 20th century. It was often served in a cream sauce with toast or biscuits and became known as "Creamed Chipped Beef" or "S.O.S." (which stood for "Sh*t on a Shingle"). As a veteran, I have had my fair share of S.O.S. while serving.
Chipped beef also became popular in other recipes, such as cheese balls, dips, and casseroles. Today, it is still enjoyed as a breakfast dish, as well as in various recipes that call for its salty and smoky flavor.
FAQ
What is Dried Beef?
Dried beef is a formed, pressed, thinly sliced, and cured beef product. Much like beef jerky, but more processed.
What is the difference between dried beef and chipped beef?
Nothing. They are one and the same.
How long can the cheese ball be stored?
This cheese ball can be stored for a week to two weeks in the refrigerator.
Can this cheese ball be frozen?
Wrap it in cling wrap, place it in a freezer bag, remove as much air as you can and freeze for up to a few months.
Tips and tricks
It can really be any kind of milk, but I use whole
Find Chipped Beef in the canned meat aisle. If you are looking for it, check out the same aisle as tuna.
If you buy Armour dried beef, these containers make great frugal small everyday water or juice glasses! They really are great and don't have the grooves of a mason jar.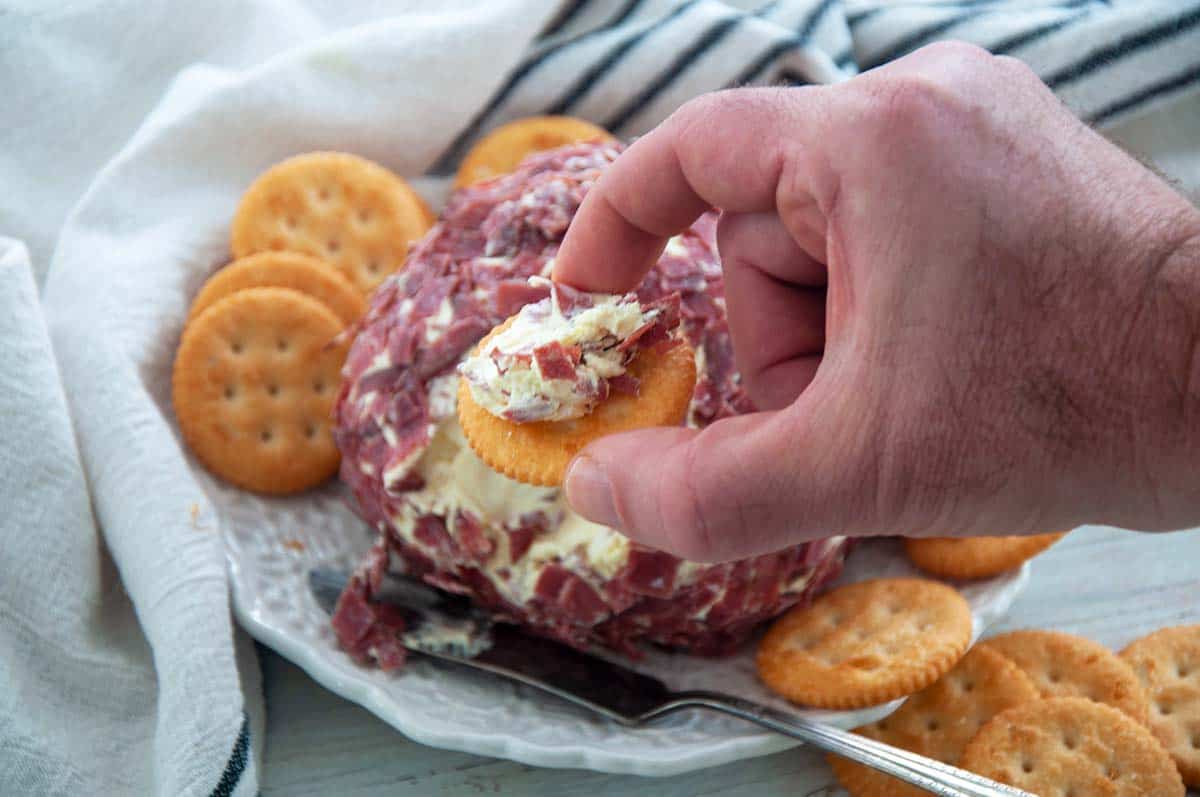 🛠 Products used in this recipe
😋 Did you make this recipe?
That is awesome, and thank you so much for trying this Cheeseball with dried beef recipe. It would be greatly appreciated if you could leave a rating in the comment area below. This lets me know how I am doing and also helps others decide if they want to make this recipe. Most of all, thanks for visiting Ramshackle Pantry.
Print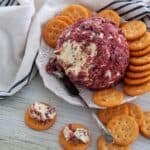 Cheese Ball With Dried Beef Potluck Recipe
Author:

Ben

Prep Time:

20 minutes

Refrigeration:

10 hours

Cook Time:

0 minutes

Total Time:

10 hours 20 minutes

Yield:

24

servings

1

x

Category:

Appetizer

Method:

No Cook

Cuisine:

American
---
Description
A classic Cheese Ball with Dried Beef recipe is perfect for a party, potluck, or next holiday gathering. Simple to make and just a few minutes of active time, this appetizer has great flavors and goes perfectly with your favorite crackers.
---
16 Ounces

cream cheese softened

1 Tablespoon

prepared mustard

2 Tablespoons

minced chopped onion

2 Tablespoons

mayo

2 Tablespoons

milk

1 teaspoon

horseradish

6 Ounces

packages dried beef, finely chopped
---
Instructions
Add all ingredients

except ½ of dried beef and mix well

Refrigerate

for 2 hours

Mold into ball

and coat outside with remaining dried beef

Refrigerate overnight

for best flavor.

Serve with your favorite crackers

.
Notes
It can really be any kind of milk, but I use whole
Find Chipped Beef in the canned meat aisle. If you are looking for it, check out the same aisle as tuna.
If you buy Armour dried beef, these containers make great frugal small everyday water or juice glasses! I know it sounds silly, but they really are great and don't have the grooves of a mason jar.
Keywords: Cheese Ball with Dried Beef