This post may contain affiliate links. As an Amazon Associate I earn from qualifying purchases. Please read our disclosure policy.
This Crab Stuffed Mushrooms recipe is an easy, tasty, and quick appetizer. Great for a party or just a delicious snack. Done in 30 minutes, the time you save with this fast hors d'oeuvre recipe can be spent with your guests or preparing your main meal.
This recipe is perfect for a fancy get-together and tasty enough for a game day snack. Give this Crab Stuffed Mushrooms recipe a try for your next appetizer.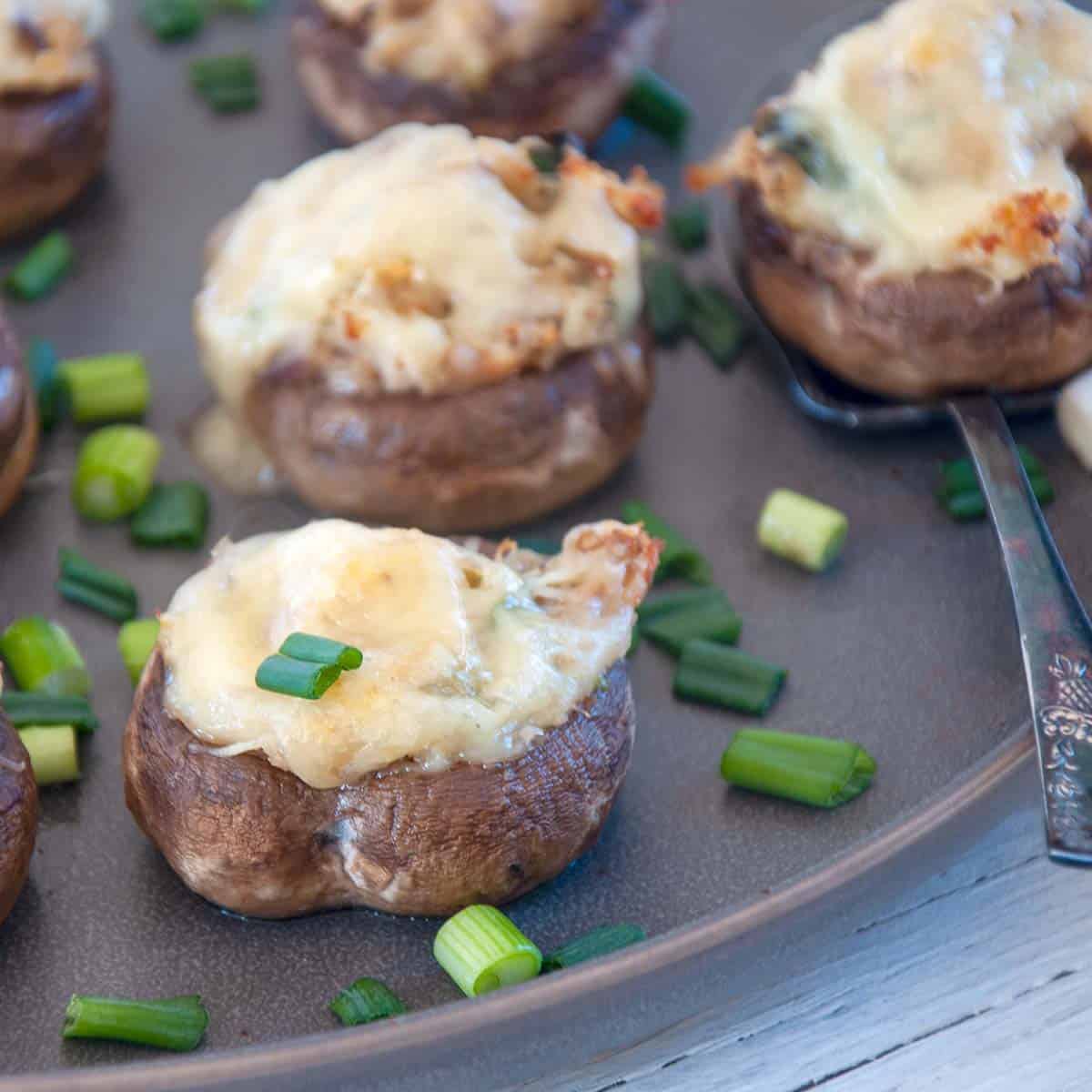 🦀 What makes this recipe special?
This has such a great flavor. Crab, cheese, and mushrooms are an unlikely but extraordinary combination. The filling is creamy, and there is a bit of melted cheese on top.
Another great thing about this recipe is that you can prepare them before your event and then pop them in the oven 20 minutes before serving them! They are easy to make ahead of time and then cook right before your event.
If you are looking for some other appetizers to serve, check out this Potluck Pickle Wrap recipe, this Spicy Deviled Eggs recipe, or this spectacular Cheese Ball with Dried Beef. No matter what you make, make sure to treat yourself.
🍄 Ingredients
Mushrooms and crab are the stars of this recipe, but there is more to it than that. You will need the following for this recipe:
Mushrooms
Green onions
White or yellow onion
Butter
Swiss cheese
Parmesan cheese
Cream cheese
Pepper
Italian bread Crumbs
Lump crab meat
salt and pepper
See the recipe card for quantities.
Choosing Mushrooms
This recipe calls for your regular white mushrooms found in most grocery stores.
One thing to consider, however, is the size of the mushrooms. You want to make sure to buy mushrooms that have bases big enough for stuffing. I have even seen mushroom packages labeled 'for stuffing,' but I don't think this is the norm.
Choose mushrooms that look like they can take a tablespoon of filling. I have made this a few times where there is just a bit of leftover filling, and that is ok! Make a few extra mushrooms or eat the filling as a treat.
Choosing Crab
I use packaged lump crab meat in the cooler section of my grocery store. It probably would be better to get some fresh lump crab meat if you have a local seafood market.
In my case, I live in Fargo, ND, and as you may surmise, our seafood options are a little limited. Because of this, I have found lump crab meat to be a pretty good option. I used this in our tasty Crab Fried Rice recipe we made a while back.
Choosing Breadcrumbs
I went simple with this by using Progressive's Italian Breadcrumbs. It already has some Italian flavoring and works well for this recipe. I think any breadcrumb would work, but I chose this particular brand and style.
🍲 Instructions
There isn't much to this recipe. Once the stems are separated from the mushrooms, mince them up and saute them with onions. Then, mix the sauteed stems with the rest of the filling ingredients. Swiss cheese, parmesan cheese, cream cheese, pepper, bread crumbs, salt, and crab meat are mixed together and work great for this filling.
Butter and salt the mushrooms. Then, after a bit of salt, fill the mushrooms with the filling. Top with a bit more cheese and a few drops of melted butter.
Preheat an oven to 375° Fahrenheit with a rack on the upper third of the oven. Slip the tray of mushrooms in for 20 minutes, and there you have it.
🤷 Substitutions and variations
There are a few ways that this can be changed up.
Crab – I use real crab, but you could get away with using imitation crab for this recipe.
Bread Crumbs – I love Italian-flavored breadcrumbs but use what you have
Cheese – But I think mozzarella or maybe a smoked gouda would be fun
Butter – If you want more butter, use more butter.
📦 Storage
They can be stored in an airtight container in the refrigerator for up to 3-4 days. Before storing, allow the mushrooms to cool completely to room temperature. Reheat in the oven or microwave until heated through before serving.
To freeze, place them in a freezer-safe container or plastic bag and store in the freezer for up to 2-3 months. When ready to eat, thaw the mushrooms in the refrigerator overnight and then reheat in the oven or microwave until heated through before serving.
🎓 Crab in Cooking History Tidbit
The history of crab in cooking dates back to ancient times, with references to crab consumption found in various cultures, including the Greeks, Romans, and Chinese. The crab meat was considered a delicacy and was often enjoyed by wealthy individuals due to its scarcity and cost.
In the 19th and 20th centuries, with the rise of commercial fishing, crab became more widely available and was incorporated into a variety of cuisines around the world. The meat from various crab species, including blue crab, Dungeness crab, and king crab, was used in soups, stews, and salads, as well as in more elaborate dishes such as crab cakes and crab imperial.
Crab has remained a popular ingredient in cooking, especially in coastal regions where fresh crab is readily available.
❓ FAQ
What type of crab should be used in crab-stuffed mushrooms?
Typically, canned or packaged crab meat is used in this dish. You can use lump or backfin crab meat, which is the white meat from the crab's body.
What wine should be paired with crab-stuffed mushrooms?
A crisp, dry white wine such as a Chardonnay or Sauvignon Blanc would complement the flavors in crab stuffed mushrooms well.
Are crab-stuffed mushrooms healthy?
Crab stuffed mushrooms that are made with cheese, butter, and cream cheese can be high in fat and calories and, therefore may not be considered a healthy food option. While these ingredients can add flavor and richness to the dish, they should be consumed in moderation as part of a balanced diet.
📝 Tips and tricks
You can prepare mushrooms beforehand and keep in the fridge until ready to bake
Swiss cheese works well, but I think mozzarella or maybe a smoked gouda would be fun
I use prepared Italian bread crumbs, but you could use plain and then add your own herbs.
If you find you need more butter… use more butter.
This recipe can be easily halved or doubled.
🛠 Products used in this recipe
😋 Did you make this recipe?
That is awesome, and thank you so much for giving this Crab Stuffed Mushroom recipe a try. If you could leave a rating in the comment area below, it would be greatly appreciated. This lets me know how I am doing and also helps others decide if they want to make this recipe. Most of all, thanks for visiting Ramshackle Pantry.
Print
Crab Stuffed Mushroom
Author:

Ben

Prep Time:

10 minutes

Cook Time:

20 minutes

Total Time:

30 minutes

Yield:

24

Mushrooms

1

x

Category:

Appetizer

Method:

Bake

Cuisine:

French
---
Description
These Crab Stuffed Mushrooms are great for your next party, a dinner appetizer, or just a delicious snack. Cook these in just 30 minutes and have a great hors d'oeuvre ready to go! You can even prepare it before hand and just have it ready to pop in the oven.
---
24

medium sized button mushrooms
salt and pepper

3

green onions, chopped

1/4

cup

minced onion

2 tablespoons

butter

4

ounces

grated Swiss cheese

1 1/2

ounce

grated parmesan cheese

2

ounces

cream cheese, softened and chopped

1/2 teaspoon

pepper

1/3

cup

Italian bread Crumbs

6

ounces

lump crab meat

4 tablespoons

melted butter
---
Instructions
preheat oven to 375° Farhenheit with one rack on the upper third of oven.
Remove caps from stems and rinse.
Mince mushroom stems and saute on medium-high with 2 tablespoons of butter, green onions and onions until softened.
In separate bowl, combine 1 ounce Swiss cheese, parmesan cheese, cream cheese, pepper, bread crumbs, salt, and crab meat
mix well
lightly coat mushroom caps with 2 tablespoons of melted butter
salt and pepper mushroom caps
mix sauteed ingredients with cheese mixture.
Fill each of the mushroom caps with about a tablespoon of the filling.
Add remaining swiss cheese to top and each mushroom should get a few drops of melted butter.
Bake on an upper third rack for 20 minutes. Serve.
---
Notes
Can prepare mushrooms before hand and keep in fridge until ready to bake
Swiss cheese works well, but I think mozzarella or maybe a smoked gouda would be fun
I use prepared Italian bread crumbs, but you could use plain and then add your own herbs.
If you find you need more butter… use more butter.
This recipe can be easily halved or doubled
Nutrition
Serving Size:

1 Mushroom

Calories:

73 Calories

Sugar:

0 g

Sodium:

90 mg

Fat:

6 g

Saturated Fat:

3 g

Unsaturated Fat:

3 g

Carbohydrates:

2 g

Fiber:

0 g

Protein:

4 g

Cholesterol:

24 mg
Keywords: crab stuffed mushrooms