Whether you are looking for a brunch cocktail or just a bloody mary fan, this Classic Bloody Mary Recipe is a tasty one and a meal in a glass.
The Bloody Mary is such a classic drink and today that is what we are going to make. We are going to mix up and share our best, most delicious, classic Bloody Mary Recipe. As we saw in our exploration of the history of the Bloody Mary, the origins of the drink and its ingredients are a little muddled. Fortunately, that the origin of the ingredients isn't clear cut is one of the things that I think makes a classic bloody mary so special. It is not a "one size fits all" drink. It is a special drink that is meant to be made unique. So, I am going to share my basic, best Bloody Mary recipe with you today as part of our series, but use that as the base for your best version. Enjoy our Classic Bloody Mary recipe!
Brief Look into Bloody Mary History
There are two main historical thoughts on where the Bloody Mary originated. One is that it was created by famous bartender Fernand Petiot at Harry's Bar in Paris France during US Prohibition. This reported origin story has several different ingredients, similar to how it is made today. This recipe has close ties to the Red Snapper cocktail (a gin drink) that became popular in the US following prohibition and makes sense, as Vodka was not a popular drink the US until after World War II and Smirnoff's advertising campaigns selling the Moscow Mule.
The other involves a famous socialite named George Jessel, who Smirnoff actually advertised as being the creator of the Bloody Mary during an ad campaign of the 1950s. The first references to this drink really only talk about it being a mixture of tomato juice and vodka, which is closer to what George Jessel first was touting as the ingredients.
Each story has its merits and you should really check out the history post to learn more about the drinks fascinating history. The combination of these two stories really has made the recipe what it is today.
Bloody Mary Recipe Ingredients
There certainly are variations to what I am going to share, but my ingredients list are really the base list of how a bloody mary should be constructed. The spicy root flavor of prepared horseradish is essential in my eyes. The odd and interesting Worcestershire Sauce is another essential. This fermented sauce has been around since the early 1800s and really is an umami bomb that can help make the drink.
Celery Salt is another essential characteristic that I would have a tough time not including in our cocktail. We only rim the glass with it, but as a classic margarita needs a salt rim, this drink needs a celery salt rim. And Tobasco! We cannot forget about a hot sauce to spice this mouth-party up. Really, the number of flavors that are going on in a Bloody Mary recipe are crazy. And, if you think about it, it is sort of amazing that these flavors all came together to become the classic drink it is.
That all of these odd bedfellow ingredients came to be "a thing" is a testament to just how good a bloody mary is.
Bloody Mary Garnish
There are probably opinions galore on this matter, but it really is an opportunity to turn this cocktail from just a drink to an entire experience. In my town, there is a bloody mary bar where it has become half art and half science to see how many toppings can be added to the top of the cocktail. There is some architectural miracles that occur on top of some of those glasses.
While the choices of garnish are endless, I would always make sure to have a bit of a celery stalk on a bloody mary and either a lemon or lime as part of the garnish. I don't think an olive or pickle are necessarily needed on a bloody mary, but I would feel disappointed if I ordered one and didn't get them. Other than that, I think the opportunities are endless! In fact, I think we might write a whole article on that.
Experiment!
Use this recipe as your base. Then, go forward and experiment. If you use this recipe combined with knowledge of the history and then also your creativity, you are going to make the PERFECT bloody mary recipe for you and your friends.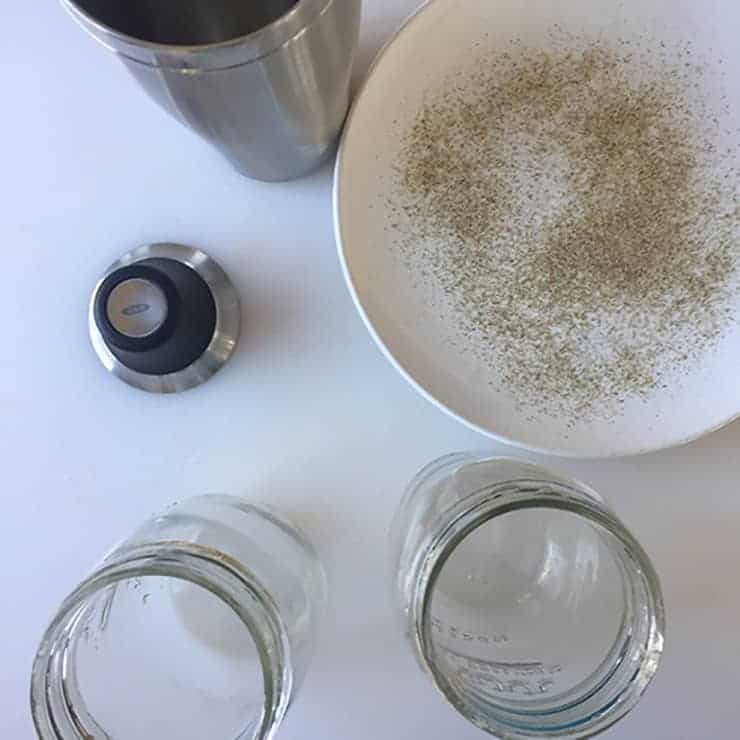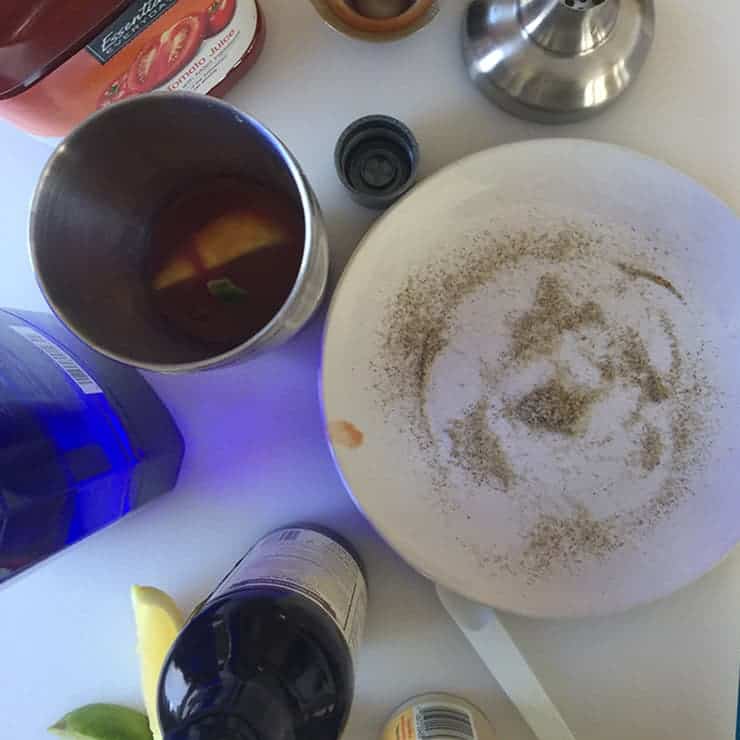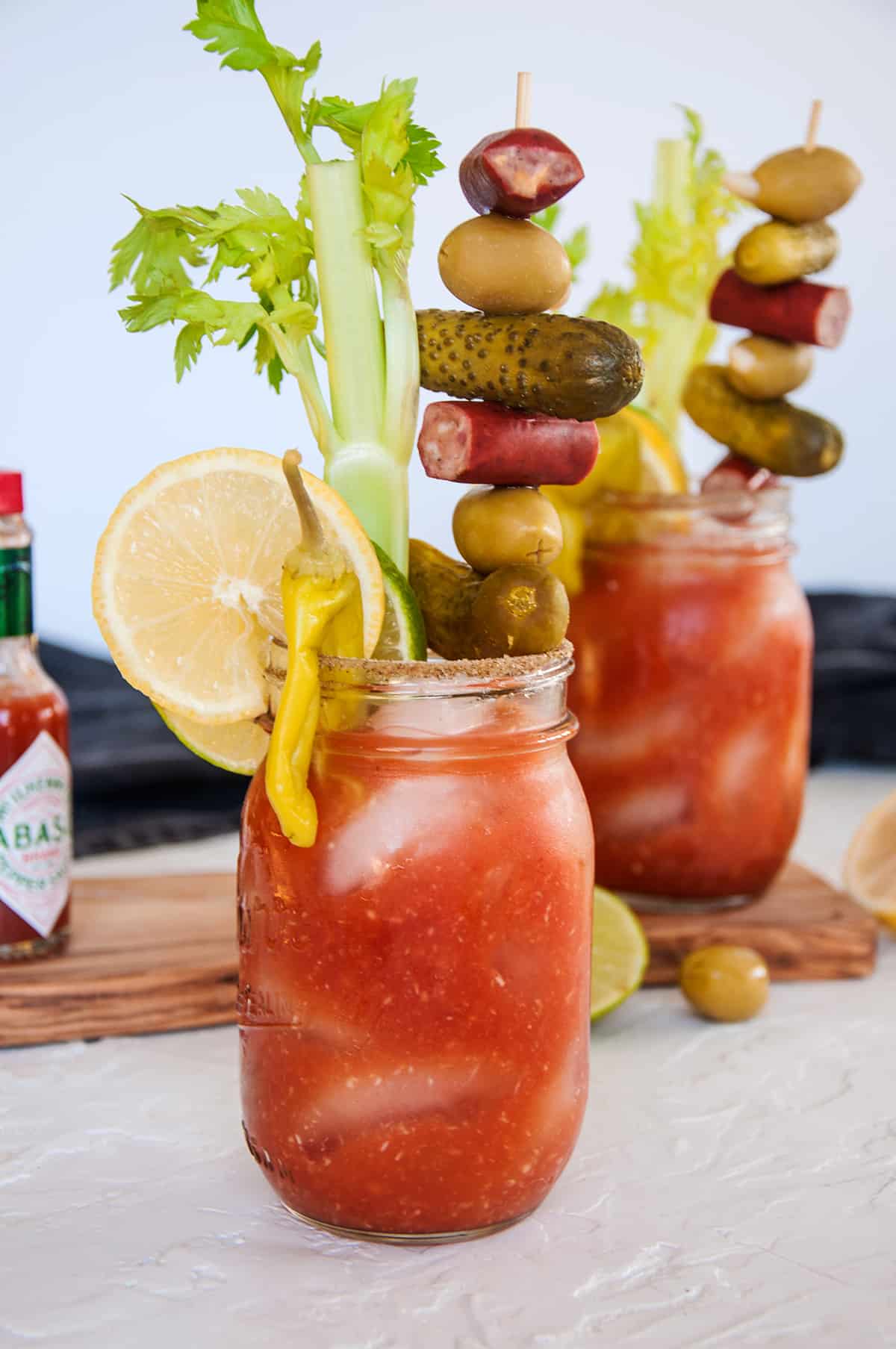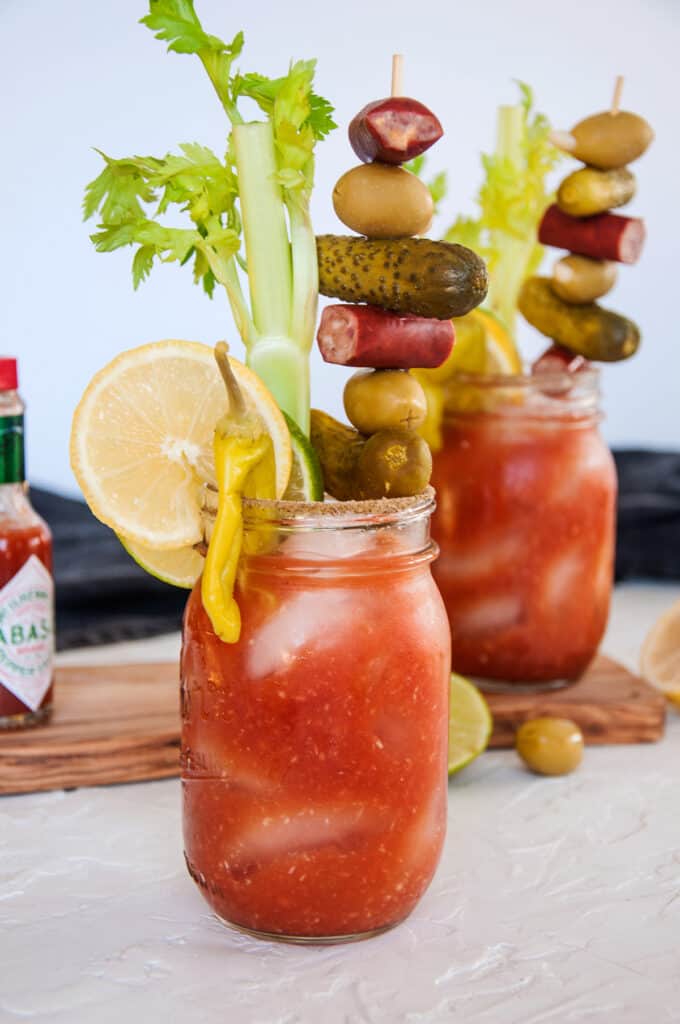 Let me know how your Bloody Mary experiments go! I would always love to see what you come up with. If you like what we are doing here, subscribe to get updates via email, follow me on Instagram, and follow me on Pinterest.
Products I Used in this Recipe
Print
Classic Bloody Mary Recipe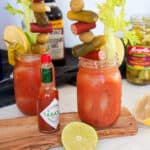 This Classic Bloody Mary Recipe is delicious and a perfect brunch cocktail. This classic cocktail is tasty and a meal in a glass!
Author: Ben Myhre
Prep Time:

2 minutes

Cook Time:

3 minutes

Total Time:

5 minutes

Yield:

1

cocktail

1

x
Category:

Cocktail

Method:

Shaker

Cuisine:

American
Scale
Ingredients
Celery Salt

1

lemon wedge +

1

for garnish

1

lime wedge +

1

for garnish

4 ounces

tomato juice

2 ounces

vodka

4

shakes of tabasco

4

shakes of Worcestershire sauce

2 teaspoons

of prepared horseradish
Splash of pickle juice
Pinch black pepper
Celery for garnish
Pickle for Garnish
Olive for Garnish
Pepperoncini for garnish (optional)
Beef stick (optional)
Instructions
Sprinkle celery salt generously onto a small plate
Moisten pint glass rim with one lemon or lime wedge
Put rim on celery salt plate to coat the rim with the salt
Fill the glass with ice
In shaker, squeeze 1 lemon wedge and lime wedge into it
Drop spent wedges into the shaker.
Add vodka, tomato juice, Tabasco, Worcestershire sauce, horseradish, pepper, and a splash of pickle juice to the shaker
Lightly shake
Strain into pint glass
Garnish with lemon, lime, pickle, olive, and celery stalk.
serve
Keywords: Classic Bloody Mary