This post may contain affiliate links. As an Amazon Associate I earn from qualifying purchases. Please read our disclosure policy.
This Extra Baconey Amish Broccoli Salad is so simple to make and is a great side salad for a weeknight meal, great for a potluck, or perfect for a holiday dish.
A wonderful accompaniment for a filling main course. We add some extra bacon and smoked cheese to make this special! These additions help give our Extra Baconey Amish Broccoli Salad unique flavors that separate this dish from the norm. Plus, who doesn't love bacon?
🥓 What makes this recipe special?
My Amish Broccoli Salad recipe is easy to make. There are very few ingredients, and a person doesn't need to spend hours toiling over a stove. Assuming you have already made the bacon, it is just a matter of mixing and allowing the salad to rest.
We know about bacon at Ramshackle Pantry. Did you know I co-wrote the novelty cookbook, Fifty Shades of Bacon[Affiliate Link] back in 2012? I did, and it was my love letter to bacon, but maybe this recipe can be a love note to your dinner table.
The active time is so minimal that it is great to pre-make for your Easter dinner, Christmas, or Thanksgiving gatherings. It is great as a way to save time and can be a simple but tasty dish to bring to your potluck.
Because we zinged it up with a bit of smokey cheese and extra bacon, it will have a bit of extra flair and flavor. If you are looking for other great holiday side dishes, check out this German Potato Salad, Rancharoni Macaroni, or these cheesy mashed potatoes.
Whatever you make for your special occasion or dinner, make sure to treat yourself!
🥦 Ingredients
The ingredients list is relatively straightforward on this side dish, and it doesn't take much to make something that tastes great. You will need the following:
Mayonnaise
Sour Cream
Granulated sugar
Salt
Cauliflower
Broccoli
Bacon
Smoked Cheddar cheese
See the recipe card for quantities.
Type of Cheese
I use smoked cheddar cheese for this dish, and what cheese you use can be a great way to express your own style and taste. Because bacon is a smoked product, I wanted to get a bit more bacon flavor.
While smoke in the cheese does not directly add bacon, the smoke does help give a bacon feeling to the dish. Another cheese I was thinking about using for this recipe was a pepper jack.
I think that could add a nice zing to the traditional recipe and change it up slightly. I use smoked cheddar cheese, but use what you like or have.
🍲 Instructions
There are just four steps in this recipe. That is how easy it is. Chop all the choppable ingredients and mix them together. Then, mix them together and let them rest for a while!
How Small to Chop the Cauliflower and Broccoli?
Don't overthink this. Just make them small enough so a person can fit each morsel into their mouth. The last thing you want to do is make this salad uncomfortable to eat. Get those pieces small enough so that they are easy enough to handle with a fork and spoon.
Letting The Salad Sit
Like any mayonnaise salad with white granular sugar, you are best served by allowing the salad to rest and cool for a while. You could serve the salad immediately in a pinch, but there will be a taste difference from the recipe as I instruct you to prepare it.
Allowing this Amish Broccoli Salad to rest in the refrigerator will allow the flavors to incorporate fully and give the sugar time to really bring the recipe together. Allow the dish to sit for a while and preferably overnight.
🤷 Substitutions and variations
There are a few ways you can change this up to make it a bit different.
Bacon – Use more bacon. Use less bacon. Use flavored bacon.
Cauliflower – You can change this up as you see fit. If you don't like cauliflower, just add some extra broccoli.
Vegetarian – Omit the bacon
Cheese – I use smoked cheddar, but there are many substitutes that could be made with your cheese flavor.
Couldn't you have added more bacon?
Yes, I experimented with different ways to do this, but they all fell somewhat short. It isn't that they were bad salads, but I just thought that what I came up with tended to be more work than it was worth.
One avenue I explored was making some bacon mayonnaise. I did this, and the mayo was great. Still, making bacon mayo is about adding bacon (and a little grease) to the mayo. Is it worth making a separate mayo if I am just adding it to the recipe anyways? I didn't think so.
Another thing I looked at was bacon cheese, which I know that some places make. I could not find any readily available at my local grocer, so I settled on smoked cheddar cheese. In fact, I think I am happier with smoked cheddar, as it can really have a pleasant smokey-forward taste and likely adds more flavor than bacon cheese.
📦 Extra Baconey Amish Broccoli Salad Storage
This recipe keeps for up to three days in the refrigerator. When I make this for a potluck or holiday like Thanksgiving, I make it the day before and it is ready to go on the big day.
❓ FAQ
What makes a dish Amish?
Amish dishes typically rely on whole foods or food made at home. Things like cheese, mayonnaise, and vegetables might all be ingredients on an Amish table.
📝 Tips and tricks
Let the salad sit for at least two hours, but preferably overnight, before serving.
Mix wet ingredients and then incorporate the rest
My puppy loves broccoli and cauliflower. I keep the stalks and dole them out as treats.
🛠 Products used in this recipe
😋 Did you make this recipe?
That is awesome, and thank you so much for giving this Extra Baconey Amish Broccoli Salad recipe a try. If you could leave a rating in the comment area below, it would be greatly appreciated. This lets me know how I am doing and also helps others decide if they want to make this recipe. Most of all, thanks for visiting Ramshackle Pantry.
Print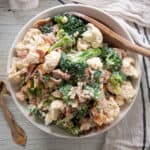 Extra Baconey Amish Broccoli Salad Recipe
Author:

Ben Myhre

Prep Time:

15 minutes

Cook Time:

10 minutes

Total Time:

20 minutes

Yield:

8

servings

1

x

Category:

Salad

Method:

Mix

Cuisine:

American
---
Description
This simple, but flavorful, Extra Baconey Amish Broccoli Salad recipe is easy to make and a great side dish or potluck contribution. Whether you are looking for a weeknight addition or something to bring to a holiday gathering, think about trying this great recipe.
---
1 Cup

Mayonnaise

1 Cup

Sour Cream

½ Cup

white granulated sugar

½ teaspoon

salt

1

medium head of cauliflower, chopped

1

medium to large head of broccoli, chopped

1

pound of bacon, cooked and crumbled

1 cup

smoked cheddar cheese, cubed (about

4 ounces

)
---
Instructions
In large bowl, combine mayo, sour cream, sugar, and salt. Mix well
Fold in the rest of the ingredients
Allow to rest in a covered container in your refrigerator for at least 2 hours, but preferably overnight.
Serve
---
Notes
Let the salad sit for at least two hours, but preferably overnight, before serving.
Mix wet ingredients and then incorporate the rest
My puppy loves broccoli and cauliflower. I keep the stalks and dole them out as treats.
I do my best to provide accurate nutritional information and rely on third-party services to accomplish this. While I do my best to make sure this is accurate, if this is of concern to you, make sure to count your own calories.
Nutrition
Serving Size:

⅛ dish

Calories:

568 calories

Sugar:

10 g

Sodium:

561 mg

Fat:

44g

Saturated Fat:

17g

Unsaturated Fat:

17g

Trans Fat:

0g

Carbohydrates:

15g

Fiber:

4g

Protein:

30g

Cholesterol:

19mg
Keywords: Amish Broccoli Salad