The French 76 cocktail is a twist on a Classic French 75 drink and today we are going to share how to make both! It is a classy and beautiful champagne drink with a history that goes back to the early 1900s. This sweet and botanical lemon-flavored drink is perfect for a happy hour cocktail where you want to treat yourself or a brunch drink where you want a little bit of a kick. The French 76 and 75 are great and every home bartender should have this recipe in their arsenal.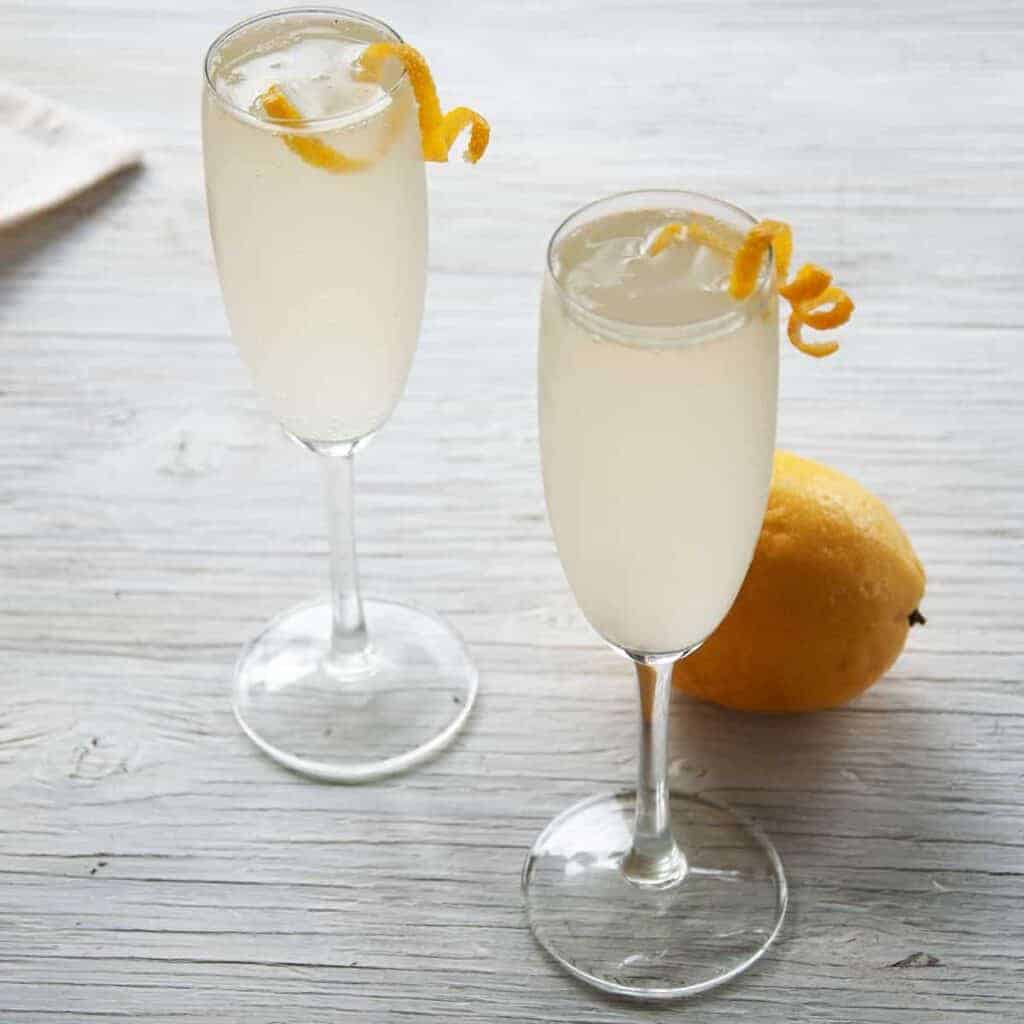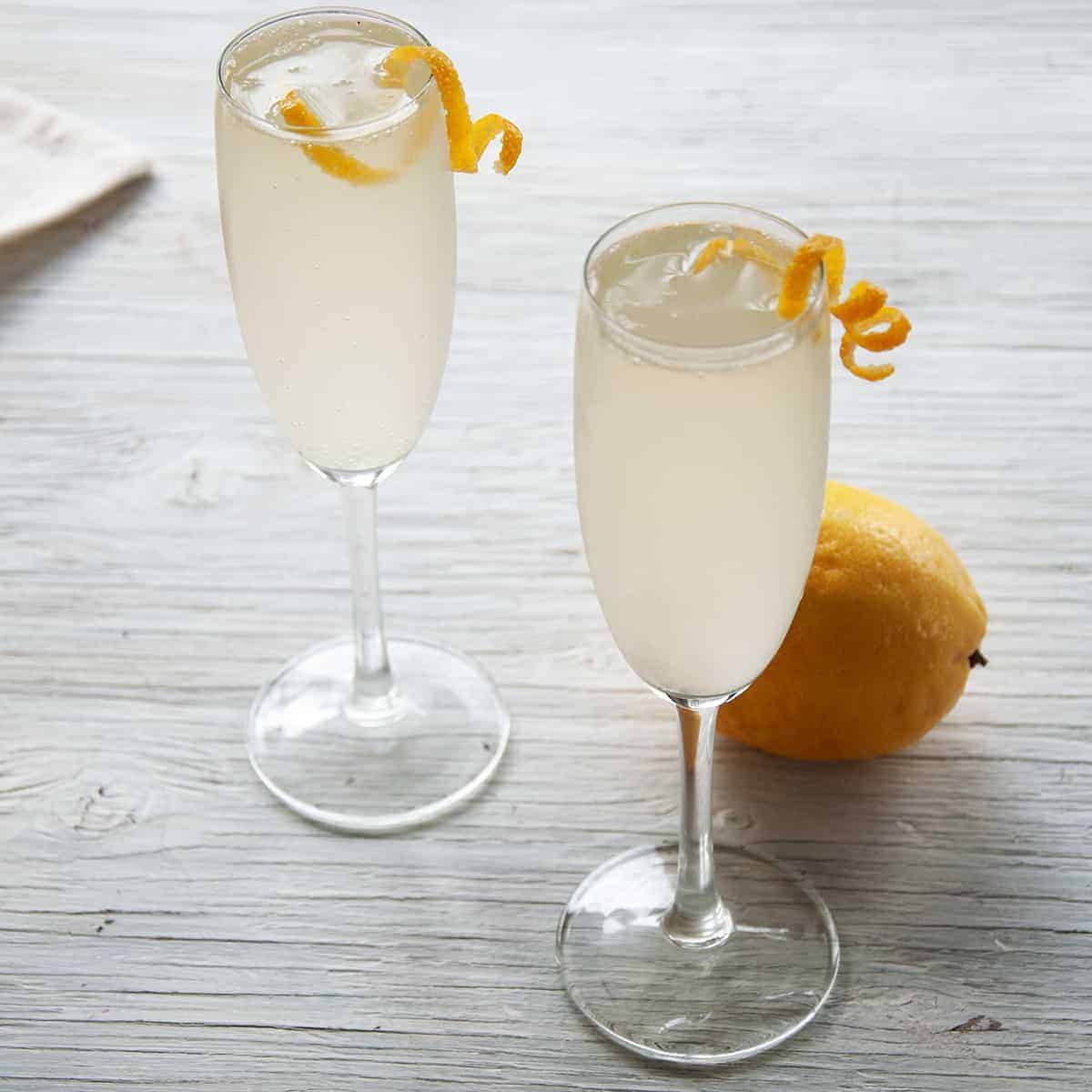 French 76 Summary
The difference between the French 76 and French 75 is the spirit that is used. The original, French 75, is made with gin, while the French 76 is made with vodka. Today, we are going to focus on the classic twist, the 76, but will also talk about some of the differences.
The fundamental recipe is the same. Lemon juice, simple syrup, and vodka or gin mixed up and poured into a champagne flute. Then top it off with champagne and garnish it with a lemon peel. That is all it takes to make a French 76 or 75.
What Kind of Champagne to Use
Leave the spendy stuff in your liquor cabinet or wherever you keep the stuff. This champagne is getting gussied up with simple syrup, hard liquor, and lemon juice. Yes, the champagne is still part of the equation, but a cocktail like this is meant to be used with 'good enough' champagne.
What is good enough champagne? Well, it is the stuff that you would still drink, but maybe not the stuff you would buy for a special occasion. So, for me, that is most champagnes. Lol. In a pinch, you could even use a prosecco and end up with a deliciously beautiful drink.
Gin Vs Vodka
As already stated, the big difference between the French 76 and 75 is the spirit that is being used, but what difference does it make? This will change the makeup of your drink, as the spirits are quite different.
One of vodka's biggest appeals to many is that it is easily hidden and it is supposed to taste like nothing. If you use vodka and make a French 76, you are going to more have the champagne as the primary flavor of the drink.
Using gin, however, adds other flavors and it depends on what kind of gin you are using. The most predominant flavor of gin is the juniper berry, so that is going to be added as a flavor to the drink if you use gin. If you use a Hendricks gin, you are going to have more of a cucumber forward flavor. One of the beautiful things about gin is that there are so many different flavors out there. Picking your favorite gin can be part of the fun of any Gin cocktail.
How To Make Simple Syrup
Simple Syrup can be bought, but it just as easy to make at home. It is a 1:1 mixture of sugar and water. To make it, just add some water to a pan and heat until it is hot, but not quite simmering. Then, add the sugar and mix in until it is completely dissolved. Remove from heat.
Once the simple syrup is cooled down, there you have it. Simple Syrup. We store ours in a small mason jar in the fridge and it should be good up to a month or so, if covered and refrigerated.
History of the French 76
Because the French 76 is a variation of the classic French 75, the more important and interesting history is with the French 75. Like most cocktail history, there is a bit of mystery in its origins, but there are also some concrete timelines for this classic drink, as well.
What we know is that the French 75, as we know it today, was listed as a recipe in Harry Craddock's 1930 famous cocktail recipe book, The Savoy Cocktail Book. This listing solidified its place in cocktail lore, but there were versions printed and being served before that.
It had been printed in a magazine in 1927 with the current ingredients and that is the first known printing of the cocktail. Does that mean it wasn't served before that? No, it was probably served many times before it was printed in a book, but finding these nuggets of information let us place the timeline more accurately.
The Weapon
The name, French 75, comes from artillery from World War I and adopted by the French army in 1897. While the weapon had an official name, Matériel de 75mm Mle 1897, it simply became known as Soixante-Quinze, or the French 75. It became a critical weapon in WWI, as for a piece of artillery this size, it could be fired very rapidly, and because of new recoil technology, it didn't need to be re-aimed after each shot fired.
The '75' refers to the 75mm shells it used. It became a famous weapon, so people started emulating that in various parts of society, including cocktails. Various drinks with the name "French 75" started to sprout up, but many with different ingredients. I attribute this to the French 75 just being a popular name.
Gin to Vodka
We are talking about both the French 76 and 75. While the origin of the French 76 is within the history of the French 75, I think it important to at least try and make the connection between the two.
While I can't find an 'original' French 76 recipe, we do know that the variation did start being served at some point. I think the classic cocktail resurgence of the 2000s plus the emergence of vodka as a very popular spirit in the 80s and 90s made the French 76 an inevitable drink.
We wrote a bit about the history of vodka in the US with our Moscow Mule series. Basically, vodka was not a common spirit in the US prior to WWII and it really wasn't until the 80s that people starting using it en masse and now it is the most popular alcoholic spirit in the US.
In A Tom Collins Glass
We serve these cocktails in a champagne flute with no ice, but there is some historical precedence for serving this in a Tom Collins glass with ice. I mean, if you look at the ingredients of a Tom Collins, it is basically a French 75, but served with club soda instead of champagne. So, if you want to twist this up even a bit further, add some ice to a Tom Collins or highball glass and you will have something special!
Be warned, however, this is a drink with a bit of a punch. Not only do you have the alcohol from the vodka or gin, but that of the champagne, as well. So, when you start adding this to a tall glass, you can have quite the drink!
French 76 and French 75 Tips
Use vodka for a French 76 and gin for a French 75.
For something different, serve over ice in a Tom Collins glass.
Unless it is a special occasion, no need to use spendy champagne.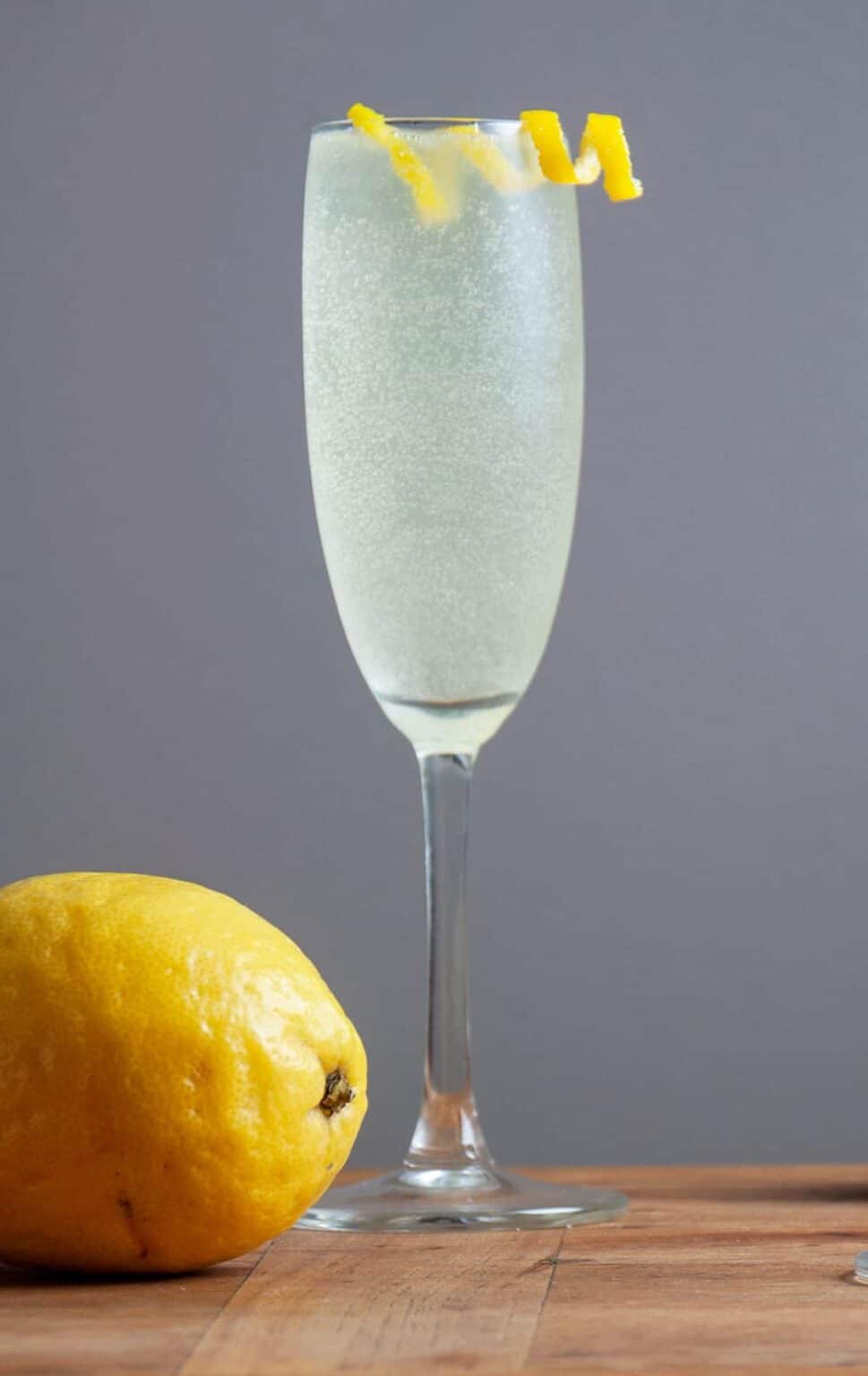 Products I Used In This Recipe
Did You Try This Recipe
Let me know how it went! If you leave a comment below, it will let me know what you thought and any changes need to be made. Also, it helps other people figure out if they should make it (hint: they should). If it tasted good and you liked my post, share it on Facebook or Pinterest to help spread the word. Also, it would help me out and I would greatly appreciate it. Thanks for stopping by Ramshackle Pantry and I hope you have a great day!
Print
📖 Recipe
French 76 and 75 Recipes
Author:

Ben Myhre

Prep Time:

2 minutes

Cook Time:

2 minutes

Total Time:

4 minutes

Yield:

1

Cocktail

1

x

Category:

Cocktail

Method:

Stir

Cuisine:

American
---
Description
The French 76 is a delicious cocktail that is a riff on the classic French 75. We share both today and want you to pick what is best for your taste buds. Try this tasty drink that has flair and kick.
---
1 ½ Ounces

Gin (French 75) or Vodka (French 76)

¾ Ounces

Simple Syrup

¾ Ounces

Lemon Juice

2

-

3

Ounces Champagne (approximate)
Lemon peel for garnish (Optional)
---
Instructions
Add Gin (or Vodka), simple syrup, and lemon to cocktail shaker and shake
Strain into champagne flute
Top off with Champagne
Add garnish (optional)
---
Notes
Use vodka for a French 76 and gin for a French 75.
For something different, serve over ice in a Tom Collins glass.
Unless it is a special occasion, no need to use spendy champagne.
---
Nutrition
Serving Size:

1 glass

Calories:

237 Calories

Sugar:

15 g

Sodium:

6 mg

Fat:

3 g

Carbohydrates:

21 g

Fiber:

0g

Protein:

0 g

Cholesterol:

0 mg