This post may contain affiliate links. As an Amazon Associate I earn from qualifying purchases. Please read our disclosure policy.
This Classic Gin and Tonic tastes so good and is a perfect drink. We use historical ingredients to make this delicious cocktail, but you can use anything you have around. We walk you through making all the individual ingredients so that you can make the best G&T today.
We have been revisiting our gin and tonic series the past few days and today we are sharing our perfect recipe. The Gin and Tonic is such a classic cocktail with beautiful flavors. While the ingredients seem so simple and it looks so plain, there is quite a bit going on. The gin, tonic water, and the history of this drink really make it a special classic cocktail.
Gin in gin and tonic
I really did enjoy making this handcrafted gin and likely will continue to do so, but will always keep a store bought gin on hand, as well. Last night, I threw back a couple of drinks. The first with Hendrick's gin and the second with mine. The Hendrick's version of a gin and tonic really made for a smooth drink. I will say that I felt that the homemade gin version had more flavor to it, but dubbing it as 'rustic' is appropriate. The cocktail with my gin was a bit more of a punch, but that Hendrick's gin and tonic (Schwepp's Tonic) was dryer, a bit smoother, and not as sweet.
The Tonic
Homemade Tonic Water is such a reachable ingredient, but it is easy to get tonic water from the store. No matter what you choose, you will end up with a great tasting cocktail. The homemade version tastes much sweeter than store-bought tonic. Since I am a home brewer and happen to have an extra keg in our house, I think I will fill it with water and keep this tonic syrup around. Between the soda water and the tonic syrup, it will give me so many cocktail recipes at my disposal.
Aren't Gin and Tonic's Clear?
Well, it depends. The thing that gives gin its flavor are juniper berries. Look at the color of juniper berries.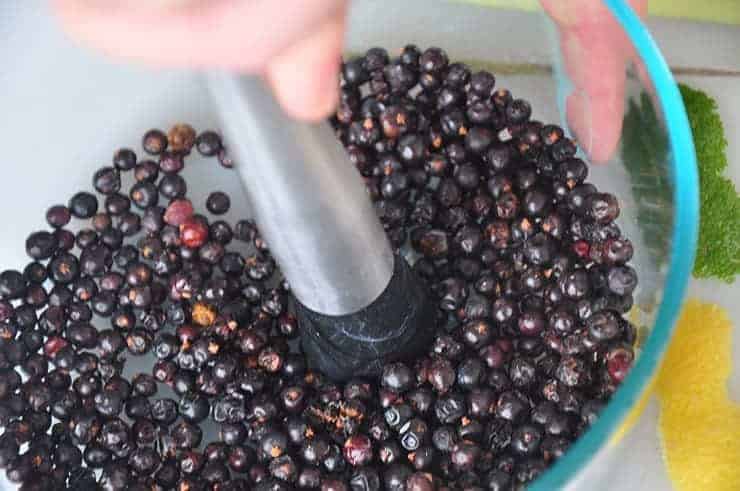 If you steep these little berries in any clear liquid, you will find that the liquid turns colors. We are using an unprocessed Gin that we made ourselves. So, the color isn't going to be clear.
On top of that, we made our own tonic water. Quinine is a critical ingredient in tonic water. Originally, and commonly, the quinine is extracted from Cinchona Bark. This happens to be red. See below.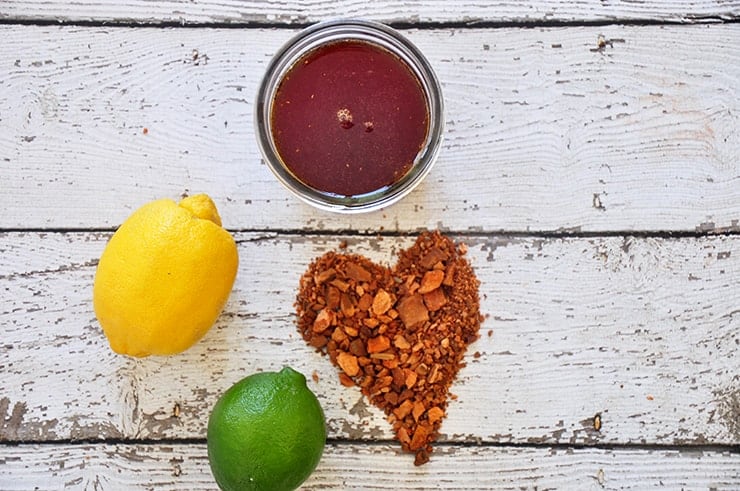 Knowing the actual ingredients in this cocktail exactly explains why it is not a clear drink, if made with historic ingredients.
The final product
I think the gin and tonic with Hendricks gin with our homemade tonic was a perfect combination. The sweet… the bitter… that piney taste. It is like I am magically brought to a place where I am camping. And not the kind of camping with mosquitoes and lack of AC. The kind of camping where everything is perfect.
Print
How to make a beautiful gin and tonic – recipes reviewed
Author:

Ben Myhre

Prep Time:

3 minutes

Cook Time:

2 minutes

Total Time:

5 minutes

Yield:

1

Cocktail

1

x

Category:

Cocktail

Method:

Shaker

Cuisine:

Caribbean
---
Description
This is a simple and traditional Gin and Tonic. An easy recipe that should be a part of every gin aficionado's recipe arsenal.
---
Ice

3 oz

Gin

4 oz

Tonic Water (or Tonic Syrup and Soda Water) or fill to top!

1/2

lime

1

lime wedge for garnish
---
Instructions
Fill highball or medium size glass with ice
Add gin
Sqeeze lime juice into drink
Add tonic water (or tonic syrup and soda water)
Gently Stir
Garnish with lime wedge
---
Notes
Recipe for tonic syrup and homemade tonic water <a href="https://ramshacklepantry.com/make-tonic-syrup-homemade-tonic-water">can be found here.</a>