This grilled peaches recipe is divine and a wonderful way to bring fruit flavors to your grill. We are topping it with a Honey Whipped Mascarpone Cream that is absolutely delicious.
Folks, we have really been having fun in this grilling series and today we are adding grilled peaches to the mix! This Grilled Peaches recipe with Honey Whipped Mascarpone Cream brings luxurious Summer flavors to your picnic table and an interesting way to serve peaches!
I had been thinking on how to grill various fruits and we really wanted to use peaches, so that is the route we went down. Peaches and cream is a classic dish, but that isn't what we wanted to go for. I have used mascarpone cheese before and love pairing it with fruit, so I thought this would be an excellent combination!
How To Grill Peaches
Grilling peaches is very easy if you follow a few simple steps before you even start your grill up.
Use Fresh and Ripe Peaches for Grilling
One of the biggest, and most frustrating, challenges I had in this recipe was getting great peaches. If a peach is not ripe, it is very hard to pit and keep the nice peach halves we want for grilling. So we want peaches that we can easily pit and cut into two halves. Here are some instructions on how to pit a peach, but I would advise you to look for peaches that are fairly ripe. That is, they are not hard and feel like they would be a beautiful juicy mess if you bit into them.
Light Coating of Olive Oil
For four peaches, I use about one tablespoon of olive oil and just lightly coat them. The goal is to just help it so that the peaches will not stick to your grill when cooking. Having a clean grill will also help with this, but just a dab of olive oil can go a long way with this.
Grilled Peaches Temp and Time
Grilled peaches are really a simple endeavor once you have them pitted and halved. Preheat your grill to 400 and have a space for non-direct heat.  5 minutes face down and 5 minutes face up.
Honey Whipped Mascarpone Cream
This is such a delicious treat and it is so simple to make! This whipped mascarpone recipe goes great with these grilled peaches and is such a tasty treat. Really a new way to think about whipped topping if you haven't used mascarpone in this way before.
What is Mascarpone?
Mascarpone is a mild and soft Italian cheese. Probably the most famous mascarpone recipe is Tiramisu, but you can often find it in fruit recipes or really anything that might use cream cheese.
Not All Mascarpone is the Same
One lesson I learned while developing this recipe is that not all mascarpones are the same. That is, I used the exact same recipe with two different brands of mascarpone and got different results. One was perfect and the other had a topping that was soupy! For that reason, it is imperative that you are a bit cautious when adding cream to the mascarpone. You can use any mascarpone, but you should be adding your cream judiciously.
Oranges
We use orange zest in this recipe. It adds an interesting texture and flavor to this topping that both Ashley and I really liked!
Whipped Topping Serving
All you really need is a spoon to dollop this beautiful topping onto the peaches, but you can make it much prettier by using a piping bag to add the topping to this recipe.
Grilled Peaches Process Description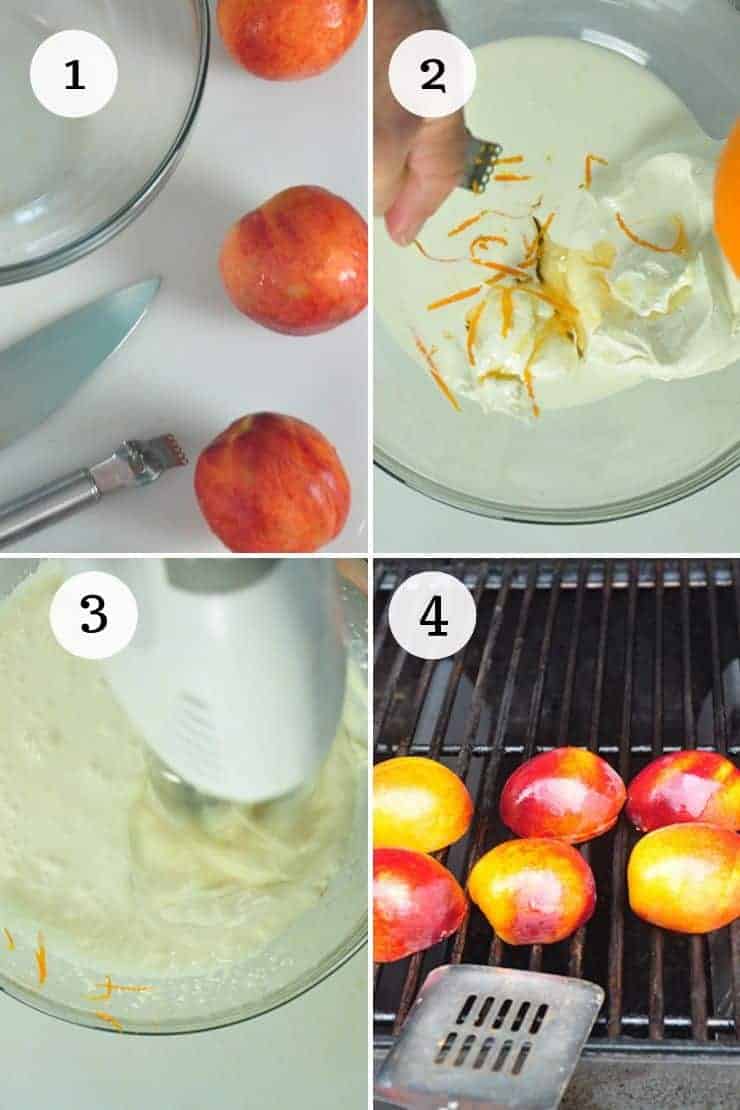 Pit and cut peaches in half. Lightly coat with olive oil.
Add honey, cream, and orange zest to the mixing bowl. Orange zest can really be added before or after it is whipped, as long as they are well combined into the topping.
Using a hand mixer, mix all topping ingredients.
Preheat grill to 400 and grill peaches for 5 minutes on each side.
Grilled Peaches Tips Summary
Use fresh peaches and make sure they are ripe enough to where they can be easily pitted.
Not all mascarpone is the same. I used Bel Goioso brand, but as long as you are paying attention to the consistency of the whipped topping and not letting it get too soupy, you should be good.
Make sure to lightly coat your peaches in Olive Oil to help prevent sticking.
Have a clean grill to help prevent sticking.
If you are looking for something beautiful, tasty, and interesting to put on your grill this summer, you should really give this Grilled Peaches with Honey Whipped Mascarpone a try! You won't regret eating this decadent dessert. Make sure to sign up to get our newsletter and share this on Pinterest!
Products Used in Grilled Peaches Recipe
Did You Eat This?
Leave a comment and rating below. Share this recipe on Pinterest.
Print
Grilled Peaches with Honey Whipped Mascarpone Cream
---
Author:

Ben Myhre

Prep Time:

15 minutes

Cook Time:

15 minutes

Total Time:

30 minutes

Yield:

4

Desserts

1

x
Description
This Grilled Peaches with Honey Whipped Mascarpone is decadent, delicious, and a beautiful Summer dessert!
---
Scale
Ingredients
For Honey Whipped Mascarpone
8 Ounce

s mascarpone (see notes)

1/4 cup

honey

1/2 cup

heavy cream
Zest from

one

orange
For Peaches
4

peaches, pitted and halved

1 tablespoon

olive oil
---
Instructions
Add Mascarpone and honey to dish
Use a hand mixer to mix mascarpone and slowly add heavy cream. You may not need all of the cream and only allow to get to a consistency slightly thicker than whipped cream.
Fold in orange zest.
Put in fridge
Pit and halve peaches
Lightly coat with olive oil
preheat grill to 400, with a direct and nondirect area.
place peach halves on nondirect heat face down for 5 minutes (close the top)
flip and cook for another 5 minutes (close the top)
remove and top with Honey Whipped Mascarpone topping
SERVE
---
Notes
I used Bel Gioioso mascarpone… note that not all mascarpones are equal. Slowly pour cream and only use enough to soften cheese slightly.
Category:

Dessert

Method:

Grilling

Cuisine:

Italian
Keywords: Grilled Peaches