Imagine a dessert that feels like a sun-kissed afternoon in a peach orchard. Our Classic Peach Melba recipe is that daydream come to life, with sweet peaches as the star.
This lovely dessert is paired with a raspberry melba sauce, and every bite transports you to a summer memory. And the finale? A dollop of creamy vanilla ice cream that pairs sweetly with peach and raspberry goodness.
This treat promises a delicious trip down memory lane, perfect for a fancy dessert or a quiet moment on the porch. Ready for a taste? Give this Classic Peach Melba Recipe a try today!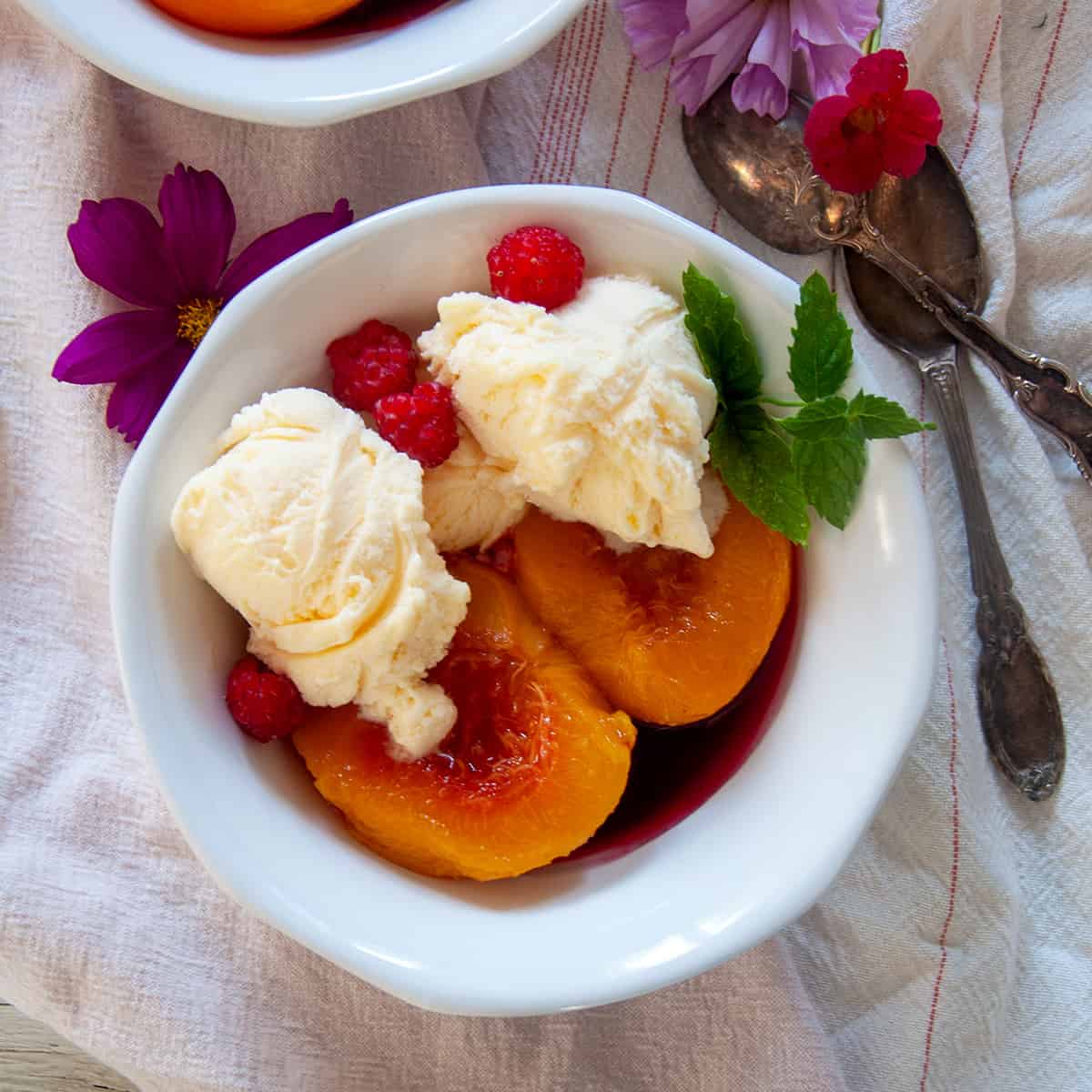 🍑 What makes this recipe special?
There's magic in simplicity, and our Classic Peach Melba is proof. While some desserts pile on the extras, this one lets natural flavors shine. It's a celebration of summer's best gifts.
But it's not just about taste. The blend of juicy peaches, tart raspberry sauce, and velvety ice cream creates a texture dance that's hard to resist. Every spoonful feels like a mini-adventure in your mouth.
Lastly, this treat is versatile! Enjoy it on a hot day to cool down, or warm up those peaches for a comforting winter surprise. No matter the season, Peach Melba is always in style.
If you want a peach recipe, but this one is not for you, try this Grilled Peaches with Honey Whipped Mascarpone recipe. This would be a great dessert for this Creamy Lemon Butter Sauce over Farfalle Pasta or perfect for these Grilled Chicken Legs with Yogurt Mint Marinade. No matter what you make, make sure to treat yourself!
Jump to:
🍦 Ingredients
Peaches are the hero of this recipe, but raspberries and vanilla ice cream are the supporting cast. You will need a few more ingredients. Here is what you will need: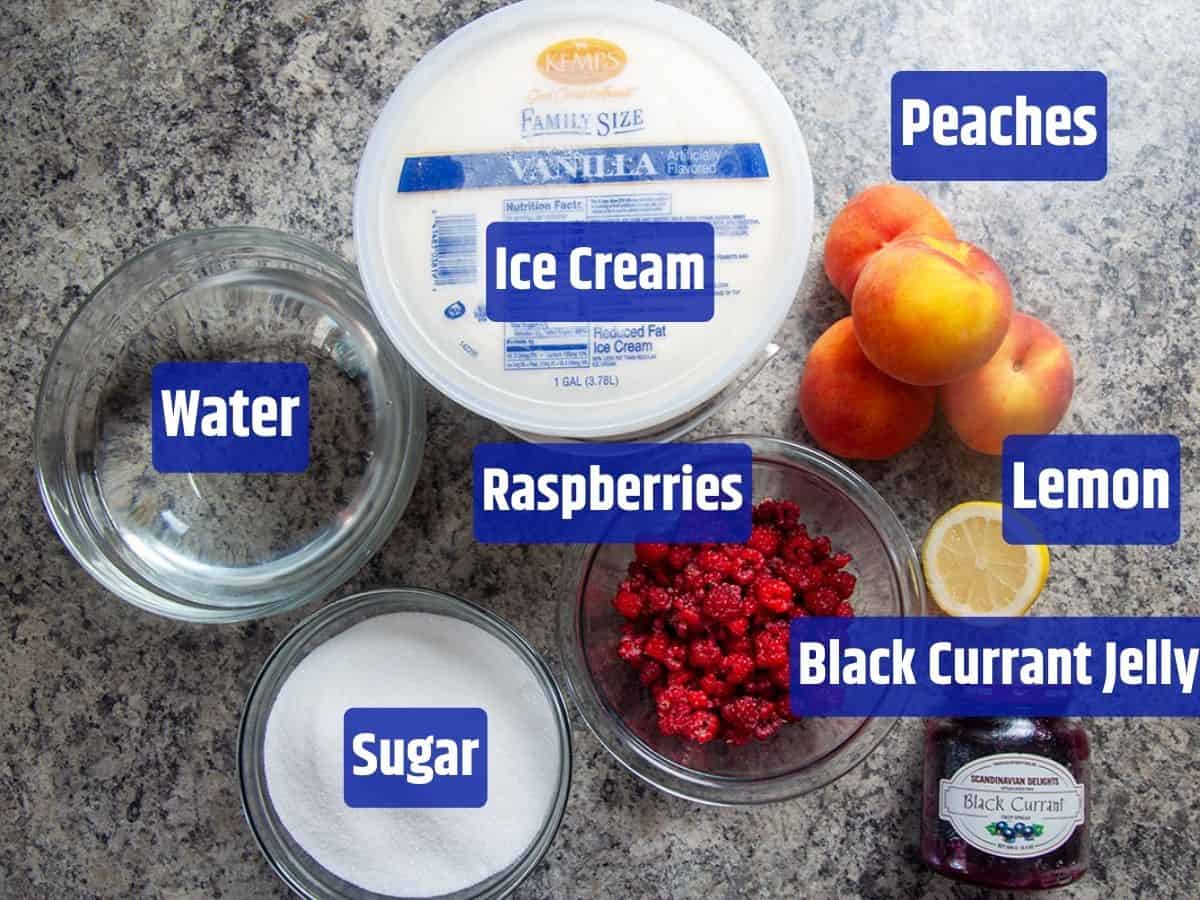 Fresh peaches
Water
Sugar
Fresh raspberries
Black currant jelly
Lemon juice
Vanilla ice cream
See the recipe card for quantities.
🍲 Instructions
Diving into the world of Peach Melba is like starting on a sweet, fruity adventure. Before we embark, ensure you've got your fresh peaches and raspberries ready. Your taste buds are in for a treat!
Starting with skinned and halved peaches, we'll give them a gentle simmer in a sugary bath, letting them soak up all that sweet goodness. As they cool down, they'll become the stars of our dessert. While our peaches are lounging, we'll whip up a raspberry melody that'll become our sensational Melba sauce.
Finally, when everything's cool and ready, it's showtime! A scoop of ice cream, our star peaches, and a drizzle of that tangy sauce. Voilà! The perfect Peach Melba is served.
🤷 Substitutions and variations
Got a twist in mind for our Peach Melba? Great, let's get creative! Substitutions can often lead to delightful new discoveries. So, don't hold back if you're feeling adventurous.
Can't find fresh peaches? No worries! Canned peaches can jump in to save the day. And if raspberries aren't your jam, try strawberries or blueberries to switch up the Melba sauce. Each berry brings its own dance of flavors.

Can't find black currant jelly, it will work fine if you leave it out. It won't be quite the same and it will remove a flavor element of the recipe, but it will do the job.
Maybe you're craving a little crunch? Sprinkle some toasted almonds or crushed pistachios on top. It's your Peach Melba, so let your taste buds guide the way!
📦 Storage
Got some of that tangy Melba sauce left? Pop it in an airtight container and let it chill in the fridge. It'll stay fresh for up to a week, ready to drizzle on just about anything!
And those sugary peaches? Keep them in their syrup in a sealed container in the fridge. The syrup makes for a sweet treat to add to tea, a cocktail simple syrup, or jazz up your morning oatmeal. Peachy keen, right?
Since the peaches and melba sauce are prepared separately, you can refrigerate them and combine with ice cream whenever you are ready for this treat.
🎓 History tidbit
Peach Melba was created in the late 1800s and whipped up by a famous French chef, Auguste Escoffier. And he didn't make it for just anyone.
He crafted this fruity delight for an Australian opera singer named Dame Nellie Melba when she visited London. With its soft peaches and vibrant raspberry sauce, the dessert captured the elegance and drama of the opera stage.
Now, every time you dig into a Peach Melba, you're tasting a bit of showbiz history. From the grand opera houses to your table, it's a dessert that's truly stood the test of time!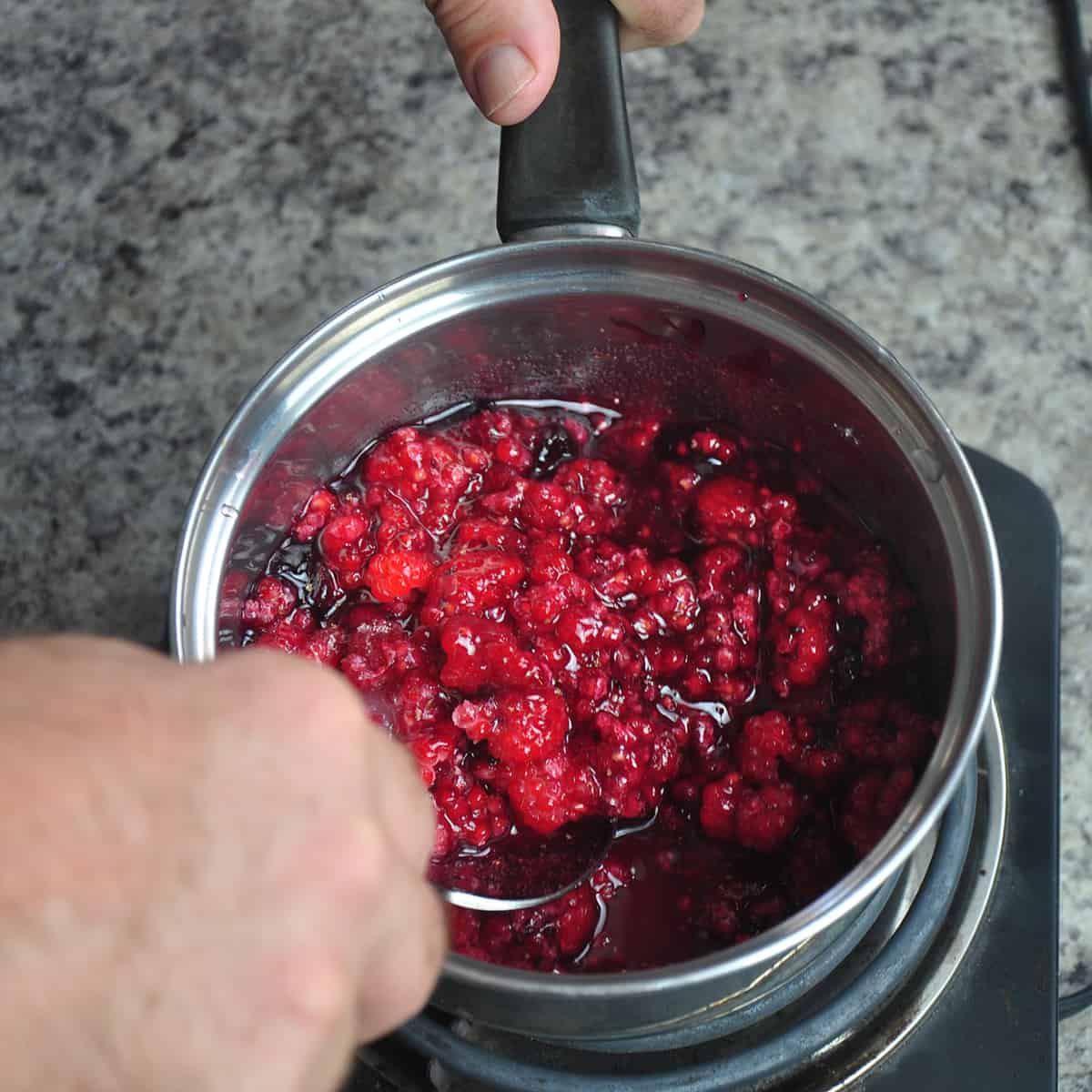 ❓ FAQ
What is Peach Melba?
Peach Melba is a classic dessert combining soft poached peaches with a tangy raspberry sauce, usually served with vanilla ice cream.
Can I use fruits other than peaches?
While peaches are traditional for this dessert, nectarines or apricots can be a good substitute. The goal is to use a juicy, soft fruit that complements the raspberry sauce.
Why is it referred to as Melba sauce?
The name "Melba" in the sauce and the dessert pays homage to Dame Nellie Melba, an Australian opera singer. The dessert was created in her honor, and the raspberry sauce was a part of that original dish.
Is it possible to use different ice cream flavors?
Certainly. Vanilla ice cream is classic, but other flavors like almond or coconut could offer a unique twist to the dessert.
Why do the peaches need to be simmered?
Simmering peaches in sugar water enhances their sweetness and softens them, ensuring they blend well with the ice cream and sauce in the final dish.
How can I use the leftover peach syrup?
The peach syrup is flavorful and can be used in various ways, such as in drinks, over pancakes, or as a sweetener for teas.
📝 Tips and tricks
Keep leftover peach syrup and use it for cocktails, a sweetener, or for tea
Peeling and pitting peaches can be tricky. Make sure they are ripe before starting. Take care in both pitting and peeling.
Blanching is an excellent way to help remove the peel
Make sure to use a fine mesh strainer for melba sauce
You can use canned peaches in a pinch for this recipe.
Homemade Ice cream is best for this, but use what you like!
🛠 Products used in this recipe
😋 Did you make this recipe?
That is awesome, and thank you so much for giving this Classic Peach Melba recipe a try. If you could leave a rating in the comment area below, it would be greatly appreciated. This lets me know how I am doing and also helps others decide if they want to make this recipe. Most of all, thanks for visiting Ramshackle Pantry.
Print
📖 Recipe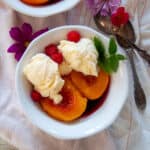 Classic Peach Melba Recipe
Author:

Ben

Prep Time:

20 minutes

cooling time:

2 hours

Cook Time:

20 minutes

Total Time:

2 hours 40 minutes

Yield:

4

Servings

1

x

Category:

Dessert

Method:

Stovetop

Cuisine:

French
---
Description
Succulent poached peaches meet rich raspberry Melba sauce, crowned with velvety vanilla ice cream. Experience the timeless elegance of Classic Peach Melba.
---
4

large fresh peaches

4

cups

water (for peaches)

2

cups

sugar (for peaches)

1

pint

of fresh raspberries

¼

cup

black currant jelly

¼

cup

of sugar
Juice of

½

lemon

2

cups

vanilla ice cream
---
Instructions
Half, remove, and peel skin from peaches. Blanche if necessary once they are halved to make the skin easier to peel.
Bring 2 cups of sugar and two cups of water to a soft boil into a medium saucepan
Add peaches and simmer for 15 minutes. Occasionally stir the mixture making sure peaches get under the water. The peaches should be tender.
Remove from heat and once cooled, put into a container and refrigerate until serving.
In separate saucepan (and you can do this at the same time as peaches), add raspberries, black currant jelly, remaining sugar, and lemon juice
Bring to a simmer and simmer for 15 minutes.

Remove from heat and put through a fine mesh strainer a container.

Cool melba sauce and refrigerate until ready to use
When ready to serve, add a scoop of ice cream to dish, 2 peach halves, and about ¼ cup of melba sauce
---
Notes
Keep left over peach syrup and use for cocktails or tea
peeling and pitting peaches can be tricky. Make sure they are ripe before starting. Take care in both pitting and peeling.
Blanching is a good way to help remove
You can use canned peaches in a pinch for this recipe

Make sure to use a fine mesh strainer for melba sauce

Homemade Ice cream is best for this, but use what you like!