This classic deep dish pizza is perfect, beautiful, and oh-so-delicious. We show you how to make the best Chicago Deep Dish Pizza in this authentic, step-by-step recipe.

Get your tastebuds ready for this epic pizza journey. We focus in on Chicago-style pizza with this authentic recipe you can make today.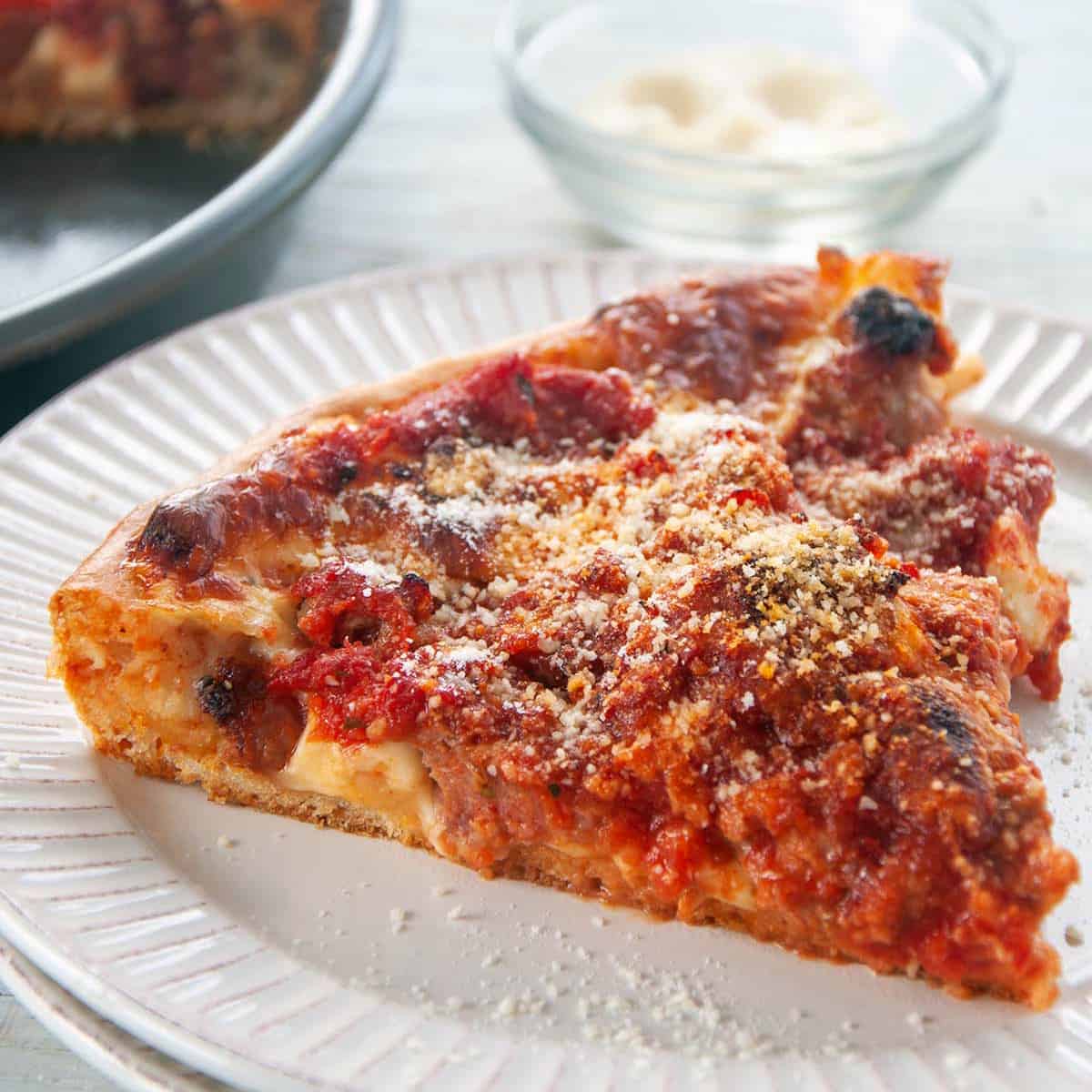 🍕 What makes this recipe special?
Can we make the perfect Chicago deep dish pizza at home? YES. I love pizza, and Chicago-style pizza is one of my favorites. Of course, I love a thin slice of New York style pizza, but I have a soft spot for a big, meaty, hardy deep dish.
This recipe is special because it really walks you through making an authentic, special Chicago-style pizza. No gimmicks or fake recipes, and take it from a person who went to Chicago to binge on some of the classics! From Lou Malnati to Genos East to Pizzaria Uno... I have been working on trying them all!
We love other pizza recipes, though. You can also check out another favorite, Detroit style pizza recipe or our Grilled Weber Pizza recipe. Whatever you make, make sure to treat yourself!
Jump to:
🍖 Ingredients
There are many ingredients in this recipe, but this is a from-scratch recipe that will have your family asking for more. You can find the exact ingredients' amounts in the recipe card below, but here are the basics: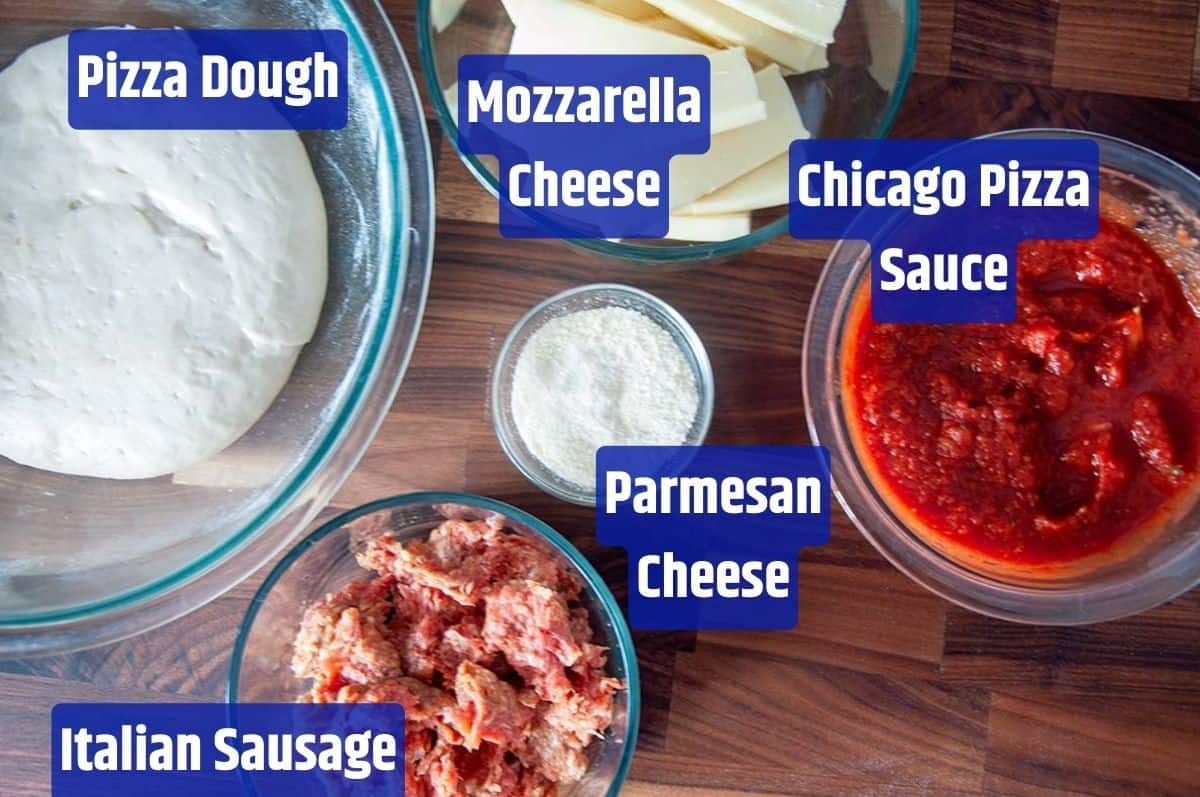 bread flour
warm water
peanut oil
dry yeast
salt
sugar
whole milk low-moisture mozzarella
Italian Sausage
Chicago deep dish sauce
freshly grated parmesan cheese
See the recipe card for quantities.
🍲 Instructions
One of the defining characteristics of a Chicago deep dish is that the cheese is not on top. It is constructed with the crust, then the mozzarella cheese, THEN the ingredients, and then the sauce. You might find parmesan cheese on top or some high-moisture elements on top, but most of the cheese is on the bottom.
The pizza dough
I really struggled with the dough on this one. I made several pizzas trying to get this down (the struggles of a food blogger, right?). When you look into it, it seems there are so many opinions on the Chicago deep dish dough and what makes it great.
Some claim the Chicago deep dish pizza should be bready and huge, but this is wrong. This pizza has some bulk, but the crust should not feel like a loaf of bread. We build the pizza dough to be a perfect combination of flakey, buttery, sturdy, and tasty.
It should be a thin, flaky pizza crust and strong enough to hold the ingredients of this deep dish 'za. There is a debate on whether a Chicago deep dish should contain cornmeal or semolina flour. I chose to make my best Chicago deep dish without either.
A great Chicago deep dish dough should be thin but able to carry quite a bit of ingredients. It should be golden brown like it has been fried just a tad. The edges should not be loaves of bread but have a crisp, golden-brown flakiness.
We tried many recipes and tweaked them in so many ways, but we just couldn't get it right. Then, I found inspiration. It was getting really frustrating until I found Real Deep Dish and deep dish 101. My best Chicago deep dish is a modified version of this recipe.
If you have gotten serious about bread baking before, you know that measurements matter. One thing I really appreciate about Deep Dish 101 is that he gives exact measurements. That can really make a difference.
Just a few tablespoons of water or flour can really impact the dough rise and the final product. So, I have to give credit to Deep Dish 101 on the dough recipe in helping me make the best Chicago deep dish.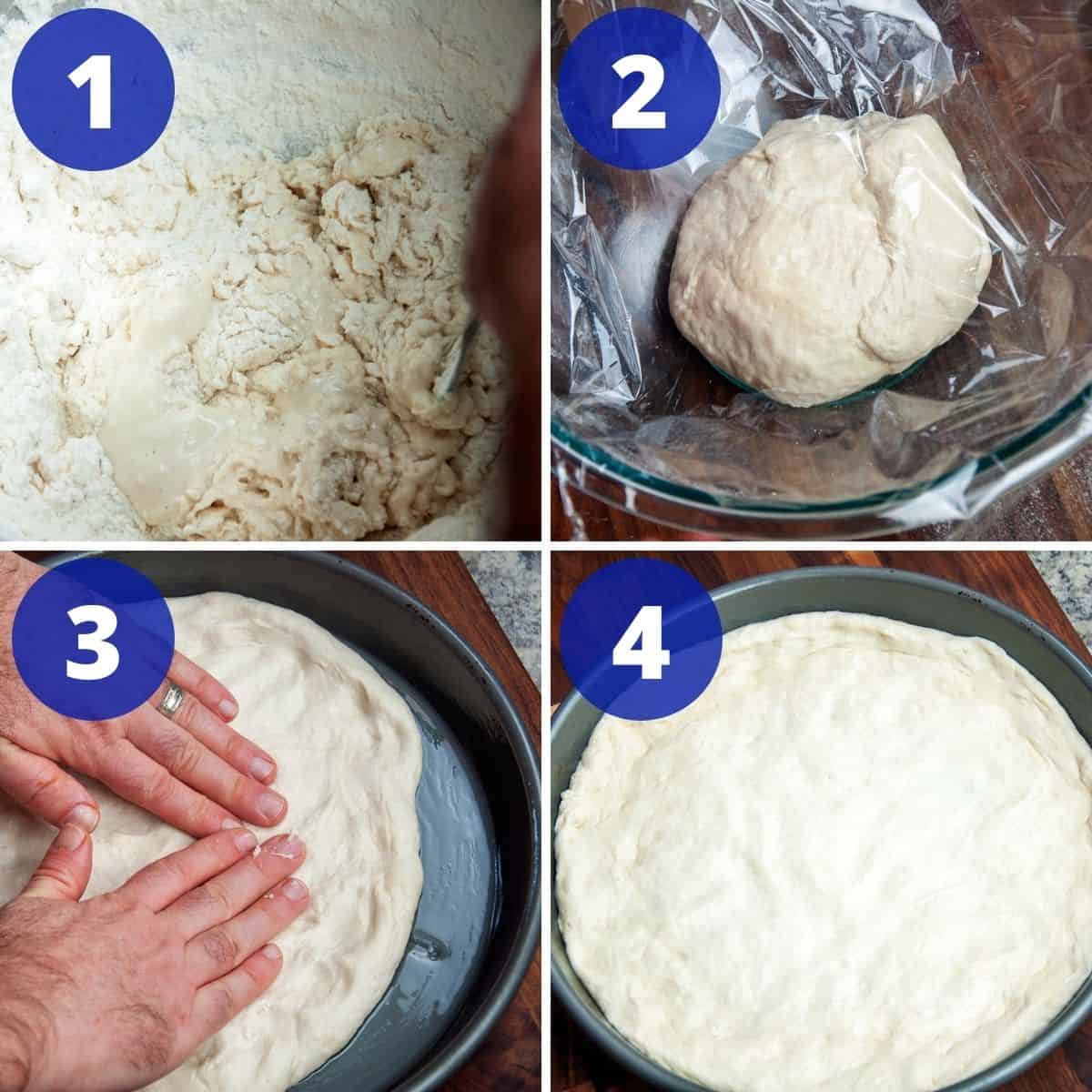 The pizza sauce
The pizza sauce for this style is super simple. I used a simple 28-ounce can of crushed tomatoes, garlic, and herbs. VIOLA! Unlike the other pizza sauce that I cook in a pot and simmer to reduce, this is baked right on the pizza.
I had tried some other crushed tomatoes and crushed my own from San Marzano canned whole tomatoes. The Cento crushed tomatoes worked best for me.
Finally, it is important to strain the tomatoes. We want as little loose liquid floating around in here as possible. I discovered early on that too much moisture can result in liquid pooling in your pizza when baking. That is no fun.
The cheese
Whole milk, low-moisture mozzarella is the cheese to use. Do yourself a favor and get it sliced from the deli or slice your own. I am sure shredded will work, but it is not in the tradition of this style.
We are trying to keep in the tradition of making a GREAT dish, so I recommend going au natural rather than pre-bought shredded cheese.
No, you should not use fresh mozzarella. It might be tempting to purchase those round balls floating in the liquid, but that is not appropriate for this recipe. Get the block of cheese.
Toppings
Well, this is entirely up to you. I am going to keep in Chicago tradition and make this a sausage pizza. For any ingredients that are high in moisture, I drain them.
For example, my wife likes pepperoncini and pineapple. Of course, I try to cook to her taste. I will throw these high moisture ingredients in a strainer for a while to get as much of the moisture out as possible.
For the sausage, we add this as a raw sausage. Make sure that you are separating the ground sausage into small pieces. This will cook to a safe 160° Fahrenheit, but check out some food safety tips from the USDA and ensure everything is safe for you.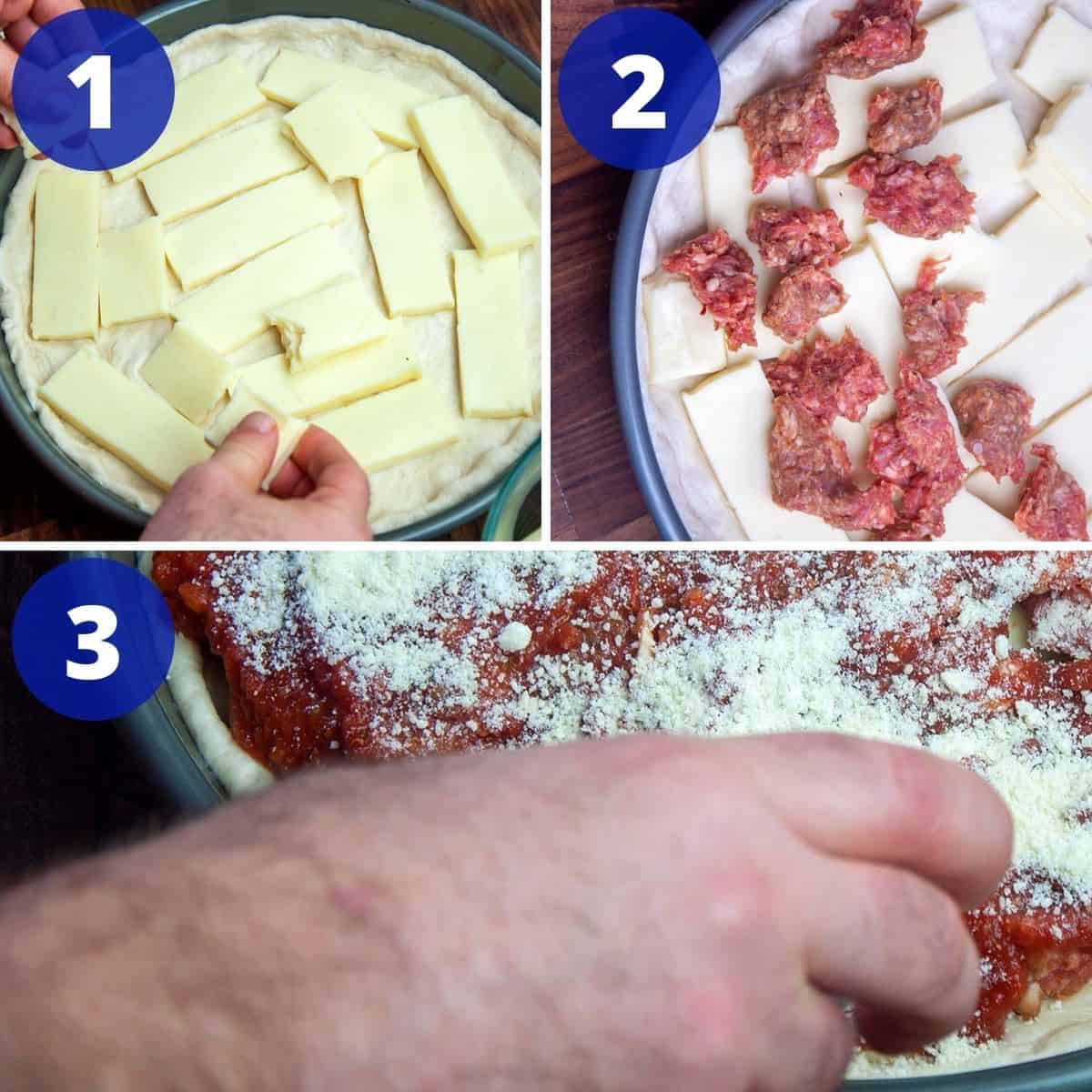 The bake
This is not cooked at medium heat. We heat up a pizza stone at 500° Fahrenheit and then bake our pizza in the deep dish pan on the stone. This helps create a nice crisp bottom and helps bake our pizza pie from all sides.
Cutting and serving
The deep dish can be a little tricky to cut and serve. What I did was cut the best I could using my pizza cutter. Then, using a knife, I cut the small corners to ensure that the pieces were separated before I tried removing the slices.
When everything was cut, I used my pie server to move the pieces to the plate. Remember, this is a bulky pizza best served on a plate.
🔪 Equipment
The other element that Deep Dish 101 used and helped level up my deep dish pizza abilities was the use of a pizza stone. I had initially wondered why I would need a pizza stone, as I am not cooking directly on the stone like other pizza styles.
When I cook a Neapolitan, it goes directly on the stone, but Chicago deep dishes are already cooked in a pan. For this recipe, the pan goes directly on the stone. It turns out that this helps create a nice golden brown pizza crust on the bottom and contributes to the baking of the whole pie. Make sure to give your stone enough time to warm up!
Originally, I was using my 14-inch cast iron for cooking my pizzas. I think this would continue to work, but I decided to splurge and get a 12-inch pizza pan.
I was also thinking about getting a spring pan, as that could make slicing much easier, but most had a rough bottom and I did not want that.
Near the recipe card, I have a full list of equipment I like and recommend for this recipe.
🤷 Substitutions and variations
There are a few ways that this can be changed up.
This recipe calls for sausage, but you really could add or substitute any kind of ingredients you want. The options are endless, as long as you make sure to keep food safety in mind. From green pepper to red onions to whatever you can imagine.
In a pinch, you can use store-bought grated parmesan cheese. This is not my favorite for a great pizza, but it will work.
While I use crushed tomatoes for this dish, you could also use petite diced tomatoes.
Also, for the pizza sauce, I call for one teaspoon of dried Italian seasoning. You can totally use fresh ingredients for this. I like to combine the leaves from two sprigs of thyme, two teaspoons of chopped oregano, ½ teaspoon of chopped sage, and ½ teaspoon of chopped rosemary. Add this herbaceous mix to the can of tomato and you have a nice, fresh sauce.
I use peanut oil, but olive oil would work well.
📦 Storage
Store this pizza in your refrigerator for up to 4 days. I tend to reheat right in the microwave, but you will get some great results if you heat the pizza back up at 350° Fahrenheit for 20 or so minutes.
Freezing can help extend the shelf life of this pizza, but it may affect the texture and taste of the pizza after thawing. To freeze the pizza, wrap it tightly in plastic wrap or aluminum foil and place it in an airtight container. When you are ready to eat it, let it thaw in the refrigerator overnight before reheating in the oven or microwave.
🎓 History Tidbit
I wrote a whole article about the history of the Chicago Deep Dish Pizza, so forget the 'tidbits' and head over to the article to learn more. The spoiler is that Uno's was the first Chicago Deep Dish joint in Chicago. It is all over the nation now and feels a bit corporate, but the story starts there!
❓ FAQ
What makes Chicago Deep Dish different than other pizza?
One of the most unique features of Chicago Deep Dish is that the cheese is placed on the bottom, then ingredients, then the sauce is on top. The order matters with this pizza!
Is deep dish pizza the only unique style from Chicago?
No. There is a popular thin-crust Chicago-Style pizza whose characteristics are a thin, cracker-like crust.
What is the original deep dish pizza place in Chicago?
Pizzaria Uno in Chicago, now known as Uno's.
📝 Tips and tricks
You could have your deli slice cheese for you, but I slice a one pound block on the short end and try to evenly place across the entire bottom.
While you can use the grated parmesean in the green containers, get some fancy parmesan for this recipe.
The sauce recipe calls for dried Italian seasoning, but you can also use fresh ingredients.
Do not overload with toppings if you are using raw sausage. If you do, ensure that you temp the sausage to a safe 160° Fahrenheit.
Make sure that your sausage is evenly spread and only in small clumps.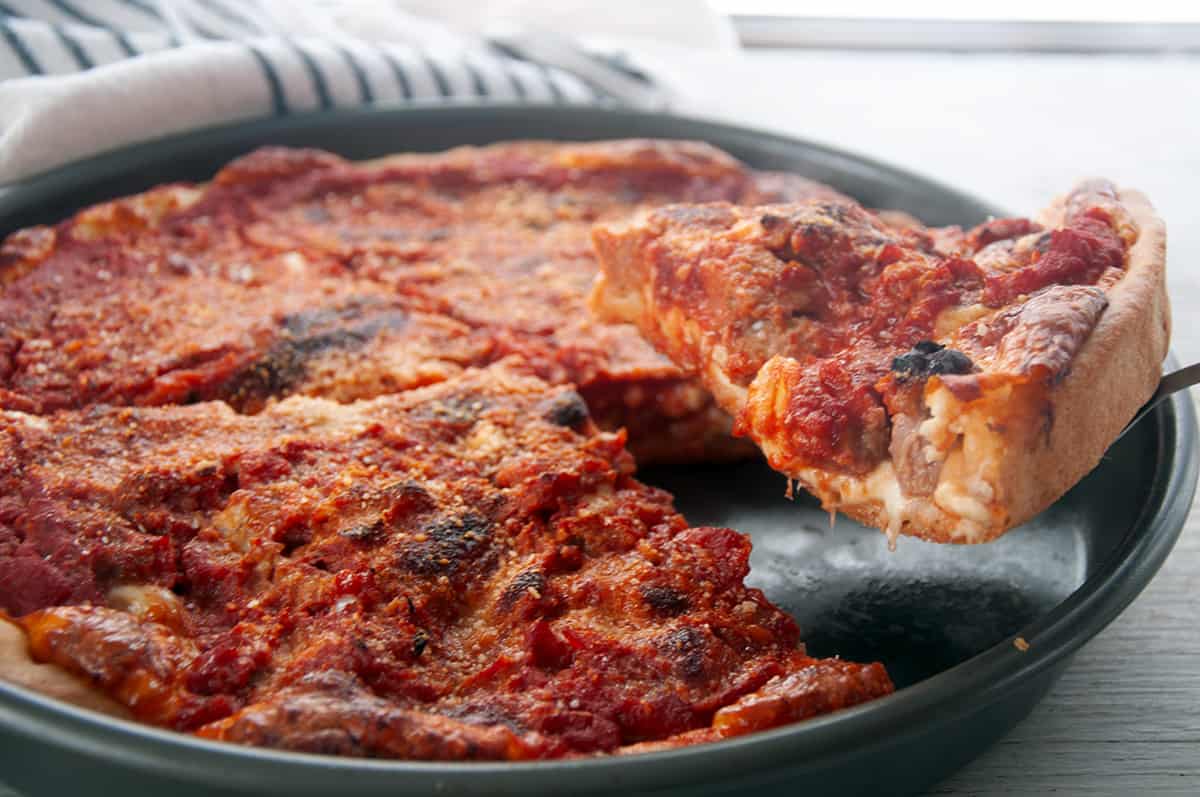 🛠 Products used in this recipe
😋 Did you make this recipe?
That is awesome, and thank you so much for giving this Chicago Deep Dish recipe a try. If you could leave a rating in the comment area below, it would be greatly appreciated. This lets me know how I am doing and also helps others decide if they want to make this recipe. Most of all, thanks for visiting Ramshackle Pantry.
Print
📖 Recipe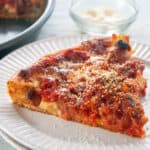 The best Chicago Deep Dish Pizza
Author:

Ben Myhre

Prep Time:

2 Hours 30 Minutes

Cook Time:

30 Minutes

Total Time:

3 Hours

Yield:

8

Slices

1

x

Category:

Pizza

Method:

Baking

Cuisine:

Chicago
---
Description
This Chicago Deep Dish is the best recipe there is and it is easy. So, make your family happy today and make this pizza!
---
283

grams

bread flour

170

grams

lukewarm water

54

grams

peanut oil

2

grams

active dry yeast

2

grams

salt

1

gram

sugar

1

pound

of whole milk low-moisture mozzarella, sliced

14

ounces

of Italian Sausage, uncooked
Other Toppings (Optional)

1

batch of the best Chicago deep dish sauce

¼

cup

of freshly grated parmesan
For Sauce:
28

ounces

Cento crushed tomatoes

2

Cloves of garlic
Salt, to taste

1 Teaspoon

dried Italian seasoning
---
Instructions
In large mixing bowl, add water, sugar and salt
Mix
Sprinkle yeast on top and let sit for 5 minutes
Add ¼ cup of flour and oil to the bowl with yeast mixture.
Mix
Continue adding ¼ cup of flour and mixing until it is of batter consistency
Add rest of flour and mix until combined
Use your mixer and dough hook to mix on medium low for 1 minute OR knead by hand for 2-3 minutes
Form into ball and place in bowl
Lightly cover ball with oil
Place plastic wrap over bowl and place in warm place for 1-2 hours OR until dough size has doubled
While dough is rising, place pizza stone on bottom rack and heat oven to 500° Fahrenheit
Allow stone to heat appropriately (40 minutes to 1 hour)
Once dough has doubled, place dough into lightly oiled 12 inch deep dish pizza pan
Spread dough to cover bottom. It should be flat and even all along the bottom.
Using your pointer finger and thumb pinch up along the sides of the entirety of the pizza, creating the side crust of your pizza
Add sliced mozzarella to the cover the bottom of the crust
Add Italian sausage and any other ingredients you may want. Spread evenly
Add deep dish pizza sauce and spread evenly
Sprinkle parmesan cheese over top
Place pie in oven and cook for 35 minutes
Remove and let rest for 5 minutes
Enjoy!
For Sauce:
Open can and strain tomatoes
In large bowl, add rest of ingredients
Notes
You could have your deli slice cheese for you, but I slice a one pound block ont he short end and try to evenly place across the entire bottom.
While you can use the grated parmesean in the green containers, get some fancy parmesan for this recipe.
The sauce recipe calls for dried Italian seasoning, but you can also use fresh ingredients.
Do not overload with toppings if you are using raw sausage. If you do, make sure that you temp the sausage to a safe 160° Fahrenheit.
Make sure that your sausage is evenly spread and only in small clumps.
Keywords: Chicago Style Pizza