This post may contain affiliate links. As an Amazon Associate I earn from qualifying purchases. Please read our disclosure policy.
This Classic Bourbon Manhattan Cocktail is easy to make, very tasty, and is an excellent drink for any home mixologist to master. Give this classic bourbon whiskey recipe a try today.
🥃 What makes this recipe special?
If you are into cocktails, you know people have opinions about what makes a great drink. I have my opinions, too. Some people love a good rye Manhattan, and I am not opposed, but I love bourbon for a perfect Manhattan.
I also have some pretty strong opinions about the cherries in my Manhattans. That said, I have been known to enjoy all sorts of different ingredients in a cocktail like the classic Manhattan. This booze forward sweet cocktail is a great drink for anybody that wants to get into cocktails.
This recipe shares my opinion on what makes a perfect Manhattan and gives you a base for finding the cocktail that is perfect for you. If you are looking for other classic cocktails, check out this perfect margarita recipe, grasshopper cocktail, or classic bloody mary cocktail. Whatever you drink tonight, make sure to treat yourself!
🍒 Ingredients
Use a clear shot of the ingredients for this recipe, prepped, and labeled if necessary. Insert the ingredients into the list below, omitting quantities.
Ice
Whiskey
Sweet Vermouth
Bitters
Maraschino Cherries
See the recipe card for quantities.
Ice
I tend to use two kinds of ice for making a manhattan. First, what I put in the ice shaker. This is the general ice I use from a tray. Then, the ice in the glass.
For the serving glass, I use a single block of ice with the tray I mentioned down in the Products I Use section, but this is up to you. Some like to go all out and make perfectly clear ice spheres, while others are happy with the ice from their fridge door.
Whiskey
For this recipe I am using Maker's Mark, but sky is the limit on this. One thing I really like about bourbon is that it doesn't need to be 50 years old for it to be great. Some really nice bourbons are young and reachable by everybody.
Particularly since we sweeten this cocktail up with cherries, sweet vermouth, and flavor it with bitters, this cocktail can be forgiving on the brand of whiskey you use.
Of course, your final product is going to reflect the kind of whiskey you use, but there are many affordable options for making a wonderful Manhattan cocktail.
Sweet Vermouth
We tend to have two brands of vermouth in our liquor cabinet. Martini and Rosso and Noilly Prat. Both are fine for a Bourbon Manhattan, but use what you like.
Bitters
We always have a few bottles of bitters around, but the winner for a Manhattan is a good, classic Angastora Bitter.
Maraschino Cherries
Luxardo is a great brand for Manhattan cocktails. In fact, when I order a Manhattan out in the wild, I will make a judgment on their bar based on the cherry I get.
No real hate on the bright red zombie cherries, but if I get a Manhattan with one out in the wild, the next drink will likely be a beer. Luxardo, for me, is the gateway to great cocktail cherries.
🍲 Instructions
I use a shaker as a mixing container. No shaking going on here. Add ice, bourbon, vermouth, and bitters to the shaker. Stir with a mixing spoon.
Pour into a lowball glass with ice. Garnish with cherries and serve.
🤷 Substitutions and variations
There are so many ways to change this drink up. From the bitters you use to the whiskey, there are many ways to make a Manhattan that can make them your drink.
Maybe try flavored bitters. Perhaps a different kind of bourbon or rye that you like. The variations of this drink are endless, but remember that your ingredients will impact your final product.
Some serve the Manhattan without ice at all and I think that is a completely legitamate way to serve this classic cocktail.
🎓 History tidbit
The Manhattan origin story is full of legend, but the main origin stories take place in (who would have guessed) Manhattan in the mid to late 1800s.
One theory is that it originated in the 18070s at a banquet at the historical Manhattan club. Interestingly, the banquet of legend was put on by Winston Churchill's mother, who was an American.
A second theory places the drink's creation at an unnamed bar. Toward the beginning of prohibition, a book was published named Valentine's Manual of Old New York. In this book they took the account of a man named William F. Mulhall, who was a bartender at a famous cocktail spot named The Hoffman House for many years, starting in 1882. It seems like the purpose of the interview was to get a good description of the bar scene of New York before the government banned spirits.
In his account, he states
"The Manhattan cocktail was invented by a man named Black, who kept a place ten doors below Houston Street on Broadway in the sixties — probably the most famous mixed drink in the world in its time."
Whatever the history actually is, its a great cocktail.
❓ FAQ
Why is a Manhattan cocktail called a Manhattan?
The cocktail was invented in Manhattan, NY.
Is a Manhattan served over ice?
This can be served either with or without ice. It generally is mixed with ice.
Is a Manhattan shaken or stirred?
This is a stirred cocktail. That is, if you use a shaker, only do so to stir the ingredients with a mixing spoon.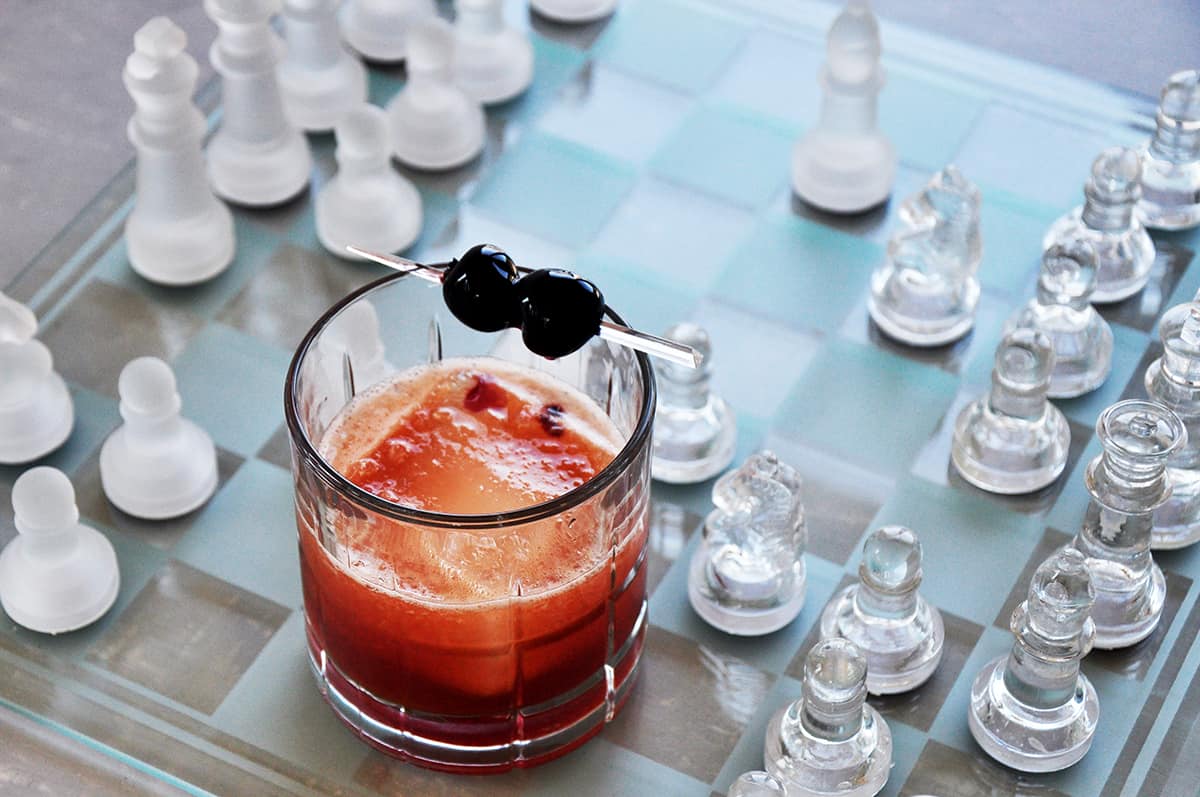 📝 Tips and tricks
The ingredients you use for your Manhattan cocktail is a fun way to make the drink your own.
Luxardo cherries are great for this drink.
🛠 Products used in this recipe
😋 Did you make this recipe?
That is awesome, and thank you so much for giving this classic bourbon Manhattan a try. If you could leave a rating in the comment area below, it would be greatly appreciated. This lets me know how I am doing and also helps others decide if they want to make this recipe. Most of all, thanks for visiting Ramshackle Pantry.
Print
Manhattan variation – bourbon Manhattan drink
Author:

Ben Myhre

Prep Time:

2 Minutes

Cook Time:

3 Minutes

Total Time:

5 Minutes

Yield:

1

Cocktail

1

x

Category:

Drinks

Method:

Shaker

Cuisine:

Cocktails
---
Description
Bourbon Manhattan for The Masses. It is a beautiful and tasty drink.
---
Ice

2 Ounces

Maker's Mark Whiskey

1 Ounce

Sweet Vermouth

2

dashes Bitters

2

Luxardo Maraschino Cherries
---
Instructions
Fill lowball glass with ice for measurement.
Place ice into a shaker.
Add Vermouth, Bourbon, and Bitters.
Use mixing spoon to stir ingredients thoroughly.
Pour entire contents into lowball glass.
Garnish with cherries
---
Notes
The ingredients you use for your Manhattan cocktail is a fun way to make the drink your own.
Luxardo cherries are great for this drink.
Keywords: Bourbon Manhattan