This Christmas Milk Punch recipe is delicious, creamy, and a special drink for the holidays or any time of the year!Try this holiday Milk Punch recipe today.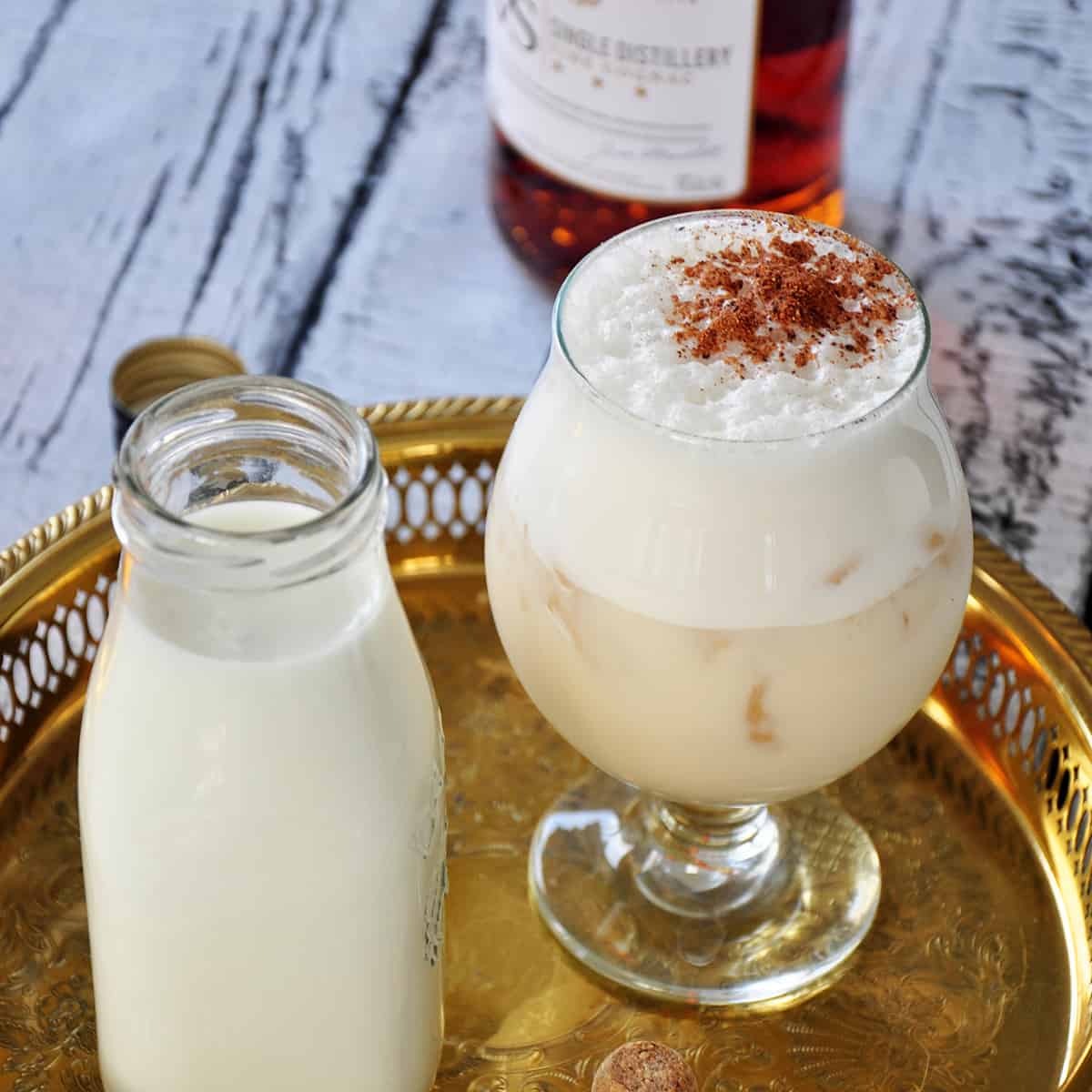 ⛄ What makes this recipe special?
This is a creamy glassful of Christmas and is perfect for the cold months. I love the book Imbibe! by David Wondrich and this book is a great way to explore old cocktails. This book turned me on to the drink.
I have been fascinated with a few different milk recipes and I decided just to try one for the blog. I chose a strong, simple, dairy-based cocktail called Milk Punch and that is what we are going to make today!
Other great Winter cocktails we love are the White Russian cocktail, this Apple Ginger Hot Toddy, or how about some Glogg?
Whatever you drink, make sure to treat yourself.
Jump to:
❓What is Milk Punch?
This recipe really is akin to Egg Nog, but it does not contain eggs, nor is it ever heated. Milk Punch does provide a nice creamy, rich flavor that gives it the feeling of egg nog and that sort of Christmas-ey touch. It also is topped with nutmeg, so that element really adds a holiday aspect to the drink.
🆚 Imbibe! Recipe vs Mine
My recipe is slightly different than the one in David Wondrich's book (which takes from Professor Jerry Thomas's famous book). The original recipe calls for shaved ice. I decided to use the ice straight from my ice maker. I tried both and thought they were both tasty. In fact, I thought the ice acted as a nice agitator for when I shook the drink and helped create a frothier cocktail.
🥔 Ingredients
There is not much to this drink and here is a list of the ingredients.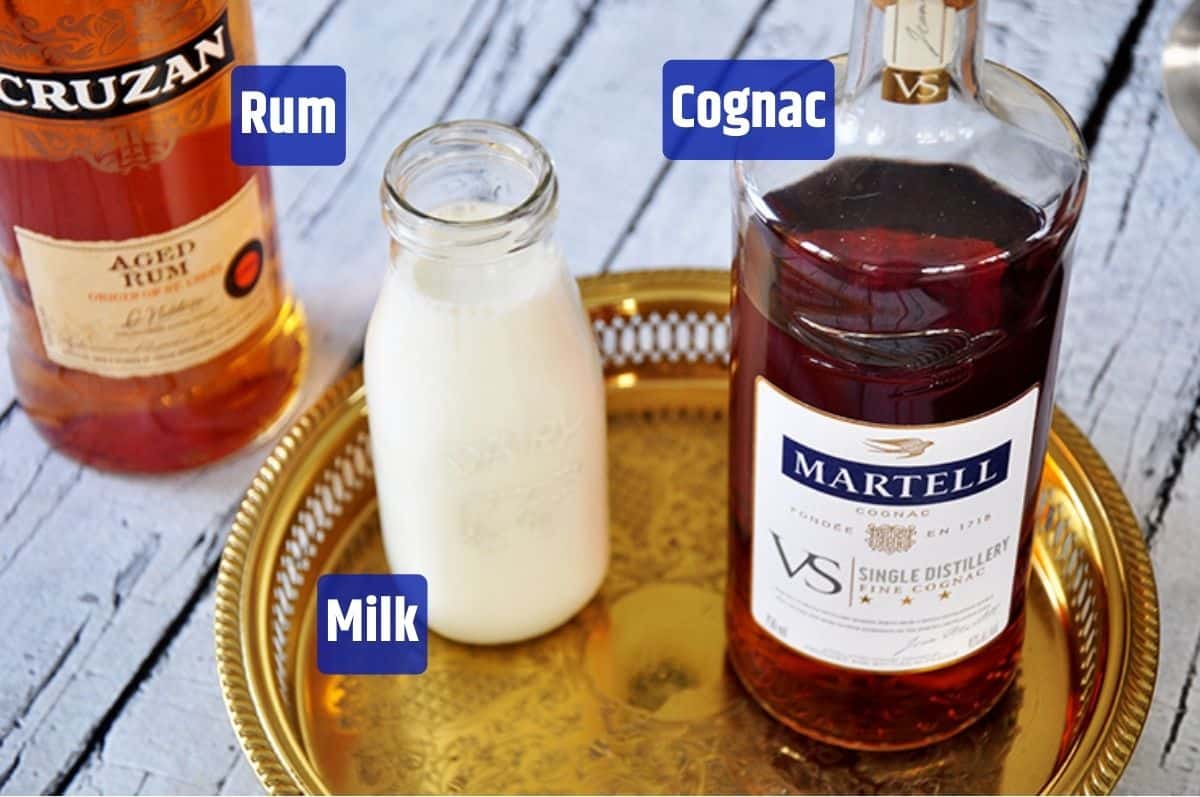 Granulated sugar
Water
Cognac
Santa Cruz Rum
Whole Milk
Nutmeg
See the recipe card for quantities.
Fresh Nutmeg
Of course, you should use fresh nutmeg if you can. If you don't have it or don't want to get it, use the stuff from your spice rack. I would rather you take some time to make this reachable craft cocktail than not because you don't have this one ingredient.
I am sure some people will poo poo on this idea, but I want you to know that you can make this drink without it! When you want to level up your game, get that whole nutmeg!
Santa Cruz Rum Vs. Other Rums
One thing that I found interesting is that Dr. Jerry Brown indicated a specific kind of rum... Santa Cruz Rum. This is a location-specific rum. My understanding is that it is the same as St. Croix rum made in the US Virgin Islands. I chose as best I could and moved on! Pick up a lighter St. Croix rum and you should be good to go.
Cognac vs. Brandy
This recipe calls for cognac, but I do understand that it can get a little pricey (as it is imported from France). Many brandies would work great for this drink, but I keep with the tradition of the cocktail by using Cognac. For those of you who are wondering the difference between the two, they can be wide.
Brandy is any distilled spirit from a fruit. Hence, you can have apple brandy or any other variations of brandy. Cognac is white wine that has been twice distilled and has some fairly stringent location rules around it. So, it comes from wine, but the wine must be from specific regions in France. All Cognac is brandy, but not all brandy is cognac.
🍲 Instructions
Pretty straightforward recipe here. Pour the liquid ingredients into a shaker with ice. Shake it up and then strain it into a 16-ounce glass that is about half filled with ice.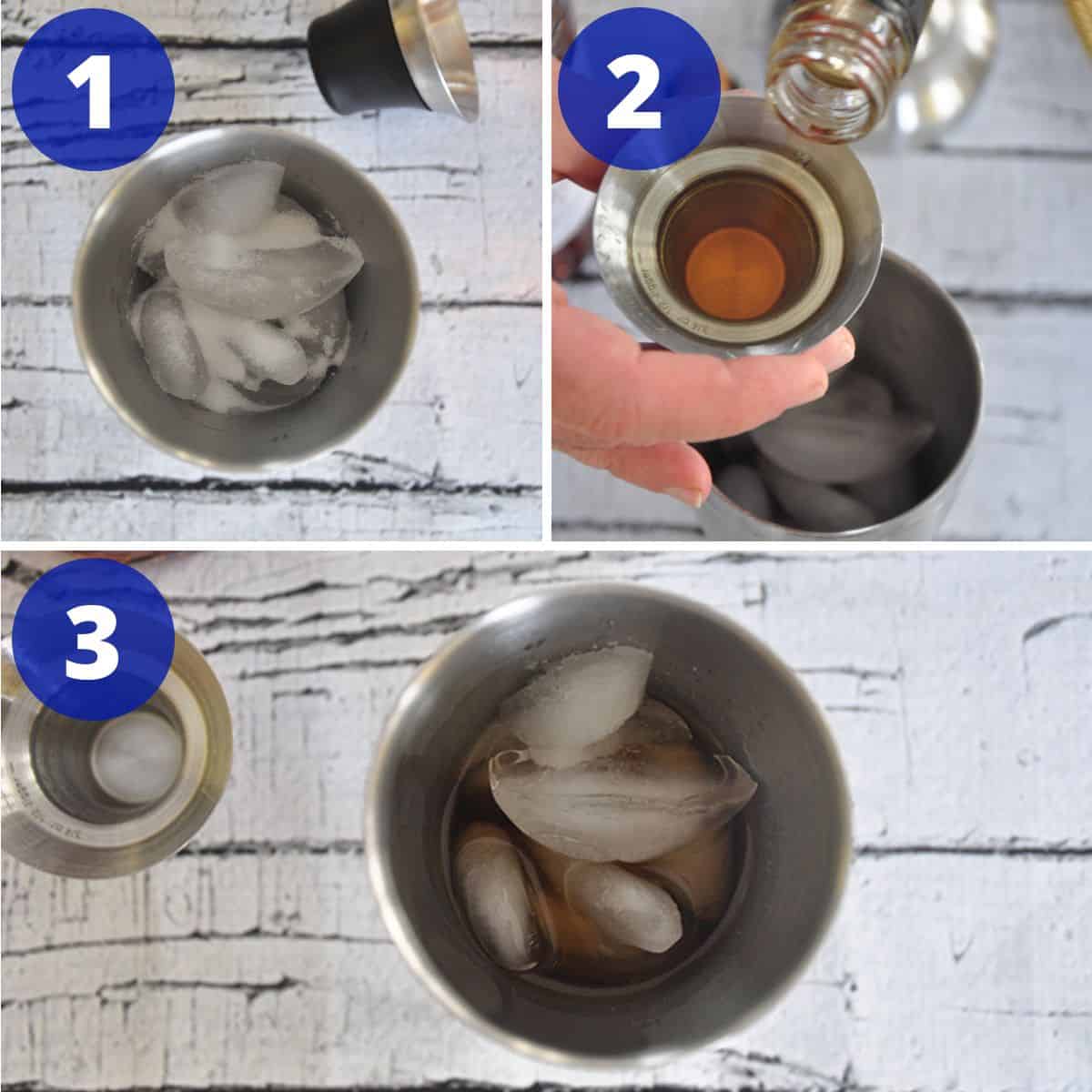 It will be a bit foamy. Good! Grate some nutmeg on top. If you don't have the fresh stuff, sprinkle a bit. Then, drink up!
🤷 Substitutions and variations
There are a few ways that this can be changed up.
Milk - I use whole milk, but 2%, skim, or heavy cream can also be used with varying results.
Nutmeg - I recommend fresh nutmeg, but use what you have!
Congac - You could use brandy instead of cognac.
🎓 Milk Punch History Tidbit
This recipe comes from Jerry Thomas' book. Doctor Jerry Thomas was not really a doctor, but a famous bartender. Likely the first celebrity mixologist and published a drink book, perhaps the first drink recipe book.
❓ FAQ
Is Milk Punch egg nog?
No. There are no eggs in Milk Punch.
Does milk punch go bad?
Yes. There is dairy products in this, so if you do not drink this immediately, keep in the fridge.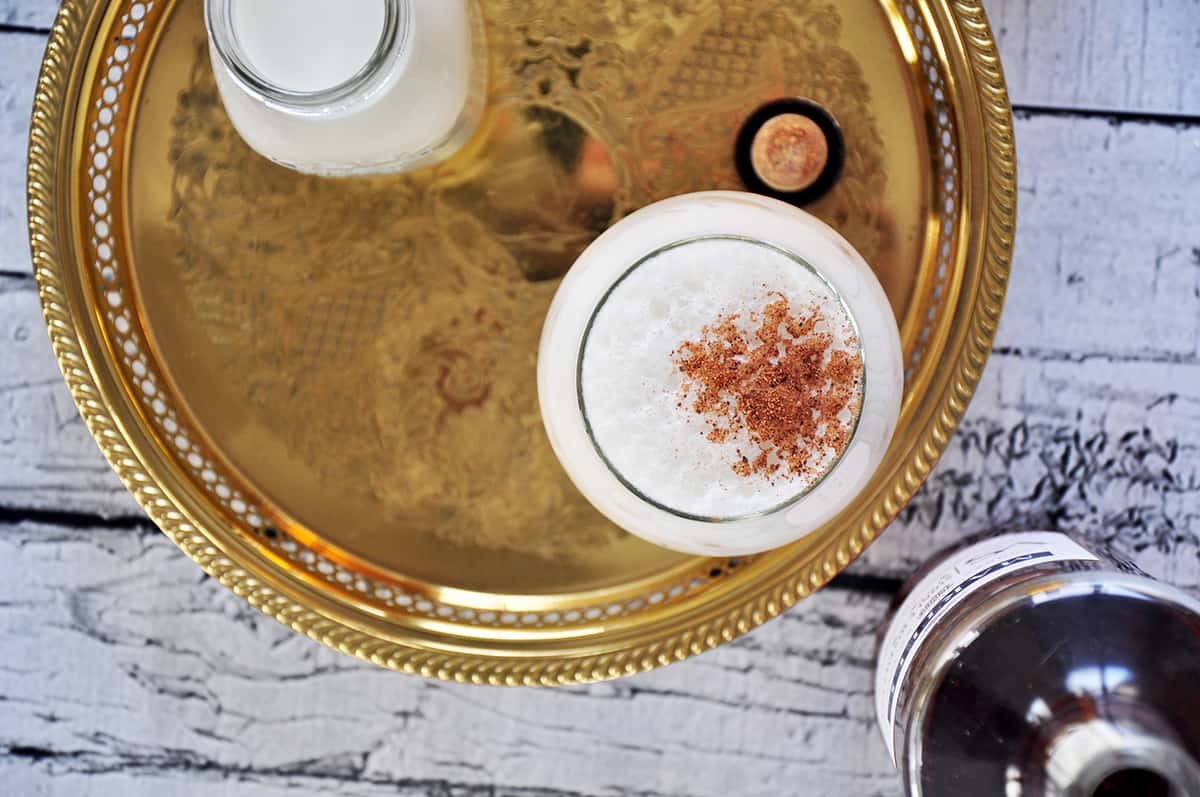 📝 Tips and tricks
I prefer to use whole milk, but any milk works great.
I use some ice for the shaker and also some ice in the glass.
🛠 Products used in this recipe
😋 Did you make this recipe?
That is awesome, and thank you so much for giving this Christmas Milk punch recipe a try. If you could leave a rating in the comment area below, it would be greatly appreciated. This lets me know how I am doing and also helps others decide if they want to make this recipe. Most of all, thanks for visiting Ramshackle Pantry.
Print
📖 Recipe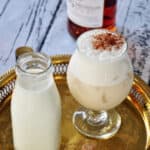 Milk Punch Recipe
Author:

Ben Myhre

Prep Time:

2 minutes

Cook Time:

3 minutes

Total Time:

5 minutes

Yield:

1

cocktail

1

x

Category:

Cocktail

Method:

Shake

Cuisine:

American
---
Description
This Milk Punch is luxurious, creamy, and a taste of history. If you like trying classic cocktails, this is a great Fall or Winter cocktail to try and it is straight from the illustrious Professor Jerry Thomas.
---
2 teaspoons

fine white sugar

2 teaspoons

water

2 ounces

cognac

1 ounce

of Santa Cruz Rum

4 ounces

milk
nutmeg, to top
---
Instructions
Fill 16 Ounce glass half full of ice
Add sugar, water, cognac, rum, and milk, and additional ice to shaker.
Cover and vigorously shake for fifteen seconds
Strain contents of shaker into glass
Grate nutmeg on top and serve
---
Notes
I prefer to use whole milk, but any milk works great.
I use some ice for the shaker and also some ice in the glass.