Hot Toddy in a dessert form? Darn right! This Hot Naughty Hot Toddy Ice Cream Dessert seems so wrong, but it is oh-so-right and dang delicious.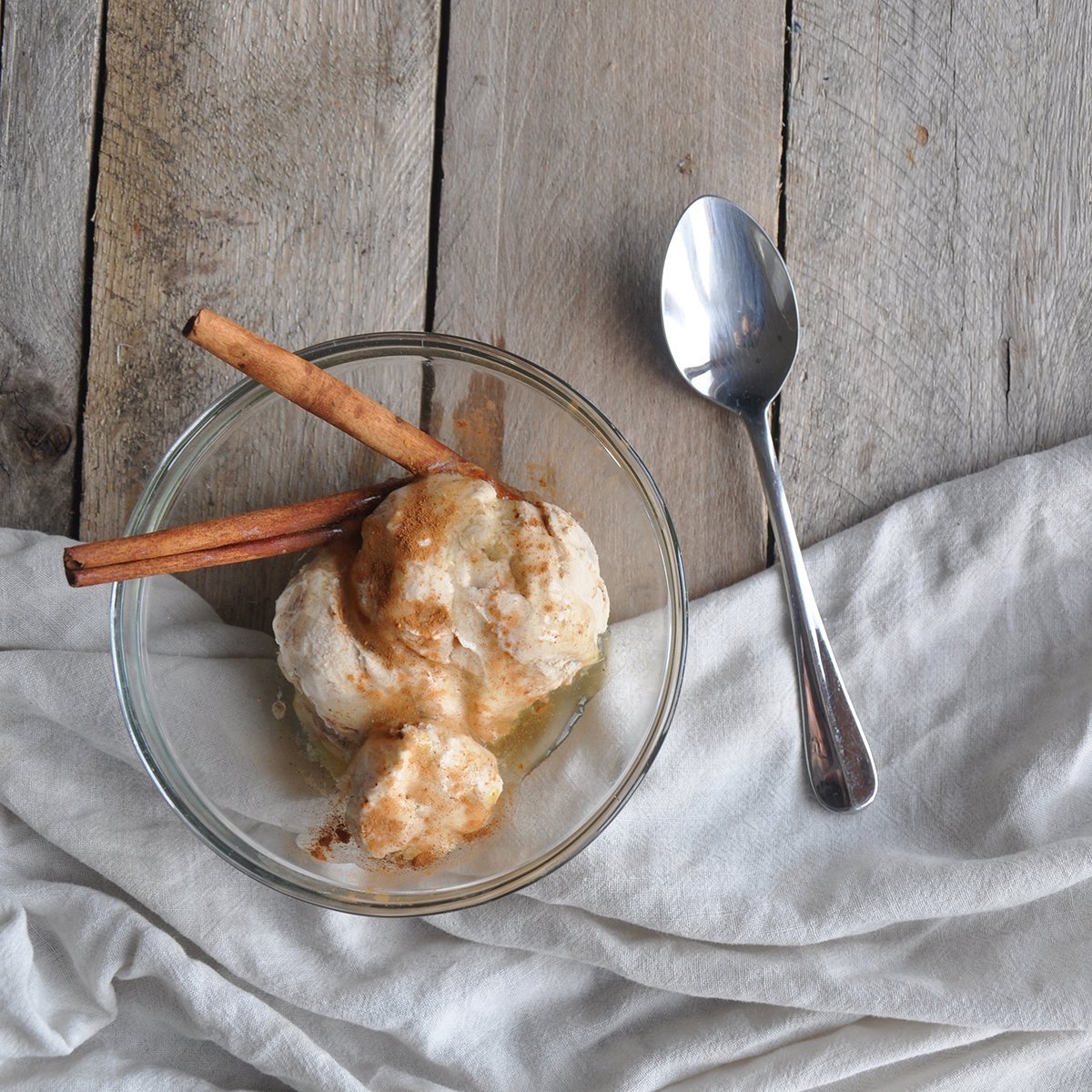 We have been making quite a few hot toddy cocktails lately. We have made a traditional hot toddy and we have a few variations on that traditional recipe coming up. And while I love cocktails, I wanted to try a different recipe for this post. I thought it would be fun to bring the spirit of a hot toddy and fireplace flavors to a dessert. So, today, we are going to flip the story on the hot toddy and make a hot toddy ice cream with a brandy honey lemon glaze topping. Because it is sort of an opposite hot toddy and because it is fluffy friendly (not low calorie), I am going to call this one a Naughty Hot Toddy Ice Cream Dessert.
Quasi Churned Ice Cream
Yes, we do have an ice cream maker. Do I want to churn ice cream? Not really. What I have been in the habit of doing over the past year or so is taking some extra time and just sort of churning the ice cream myself in the freezer. I thought about pulling together a recipe for the gadget, but I decided to roll with what I do when I make this stuff at home. I am sure there are some chefs or foodie people who might be cringing at this, but it tastes good. Besides, we are talking about heavy cream, sugar, and dessert flavors. Can we really go wrong?
Well, one thing can go sorta wrong. I have found that the bad thing about this recipe is you do have to babysit it over a long period of time. It doesn't need that much time, but it does need attention. If allowed to freeze without churning, it can turn hard and if this happens, it is a bit more like a frozen cream block than ice cream. If you give the ice cream the attention it needs, however, it turns out great.
The choice was made to use brown sugar. I thought the flavor profile of molasses (we all know that brown sugar is just white sugar with molasses, right?) would work well since we are trying to create an ice cream with a spice flavor. I feel that the molasses adds to the flavor profile of our Naughty Hot Toddy Ice Cream Dessert
The brandy and lemon flavorings were more appropriate for the topping, so I left those out. Also, I thought it might be a little tricky to incorporate the honey, so I am leaving that for the topping. In our ice cream, we are going to have the spice flavors that you might taste in a hot toddy. I am adding ground cloves, cinnamon, and nutmeg.
Brandy Honey Lemon Glaze
This was a new one for me. I have made all sorts of fruit toppings, but I have never made an alcohol forward ice cream topping. It couldn't be that hard, right? Well, after several attempts, I think I got it right. It is very similar to making a cherry or blackberry topping, but basically with no fruit. It is clear, which isn't ideal, but it tastes good. Tasting good is ideal. To make this, we add all of the ingredients and just let it thicken like we would a compote.
The topping tastes really good cold, but keeping in the hot toddy tradition, I prefer to serve this with a warm topping.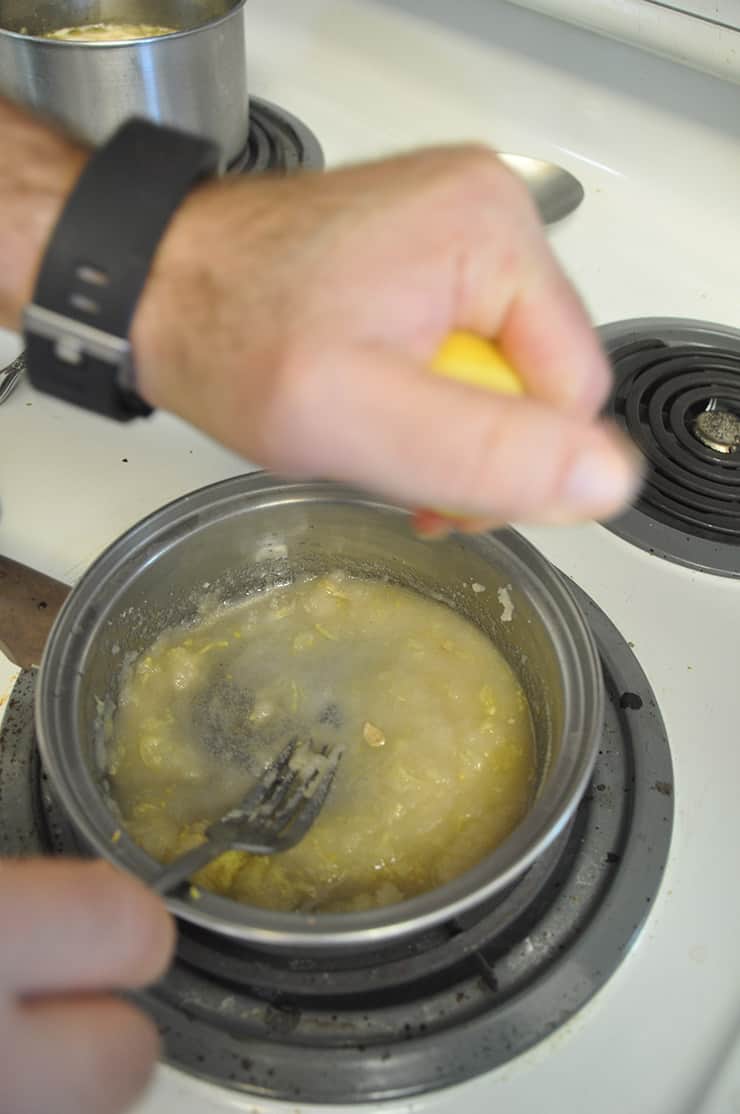 So, I think all of these ingredients come together really nicely to embody the spirit of a Hot Toddy in dessert form. Enjoy the Naughty Hot Toddy Ice Cream Dessert.
Print
📖 Recipe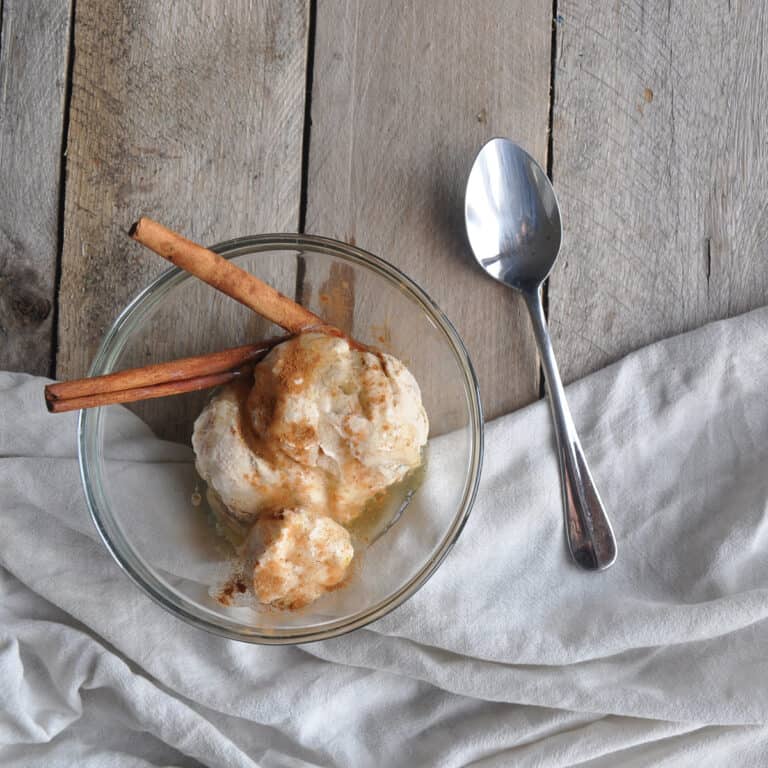 Naughty Hot Toddy Ice Cream Dessert
Author:

Ben Myhre

Prep Time:

30 minutes

Cook Time:

4 Hours 30 Minutes

Total Time:

5 Hours

Yield:

4

Servings

1

x

Category:

Dessert

Method:

Churn

Cuisine:

English
---
Description
The essence of a hot toddy cocktail in a delicious ice cream dessert. The Naughty Hot Toddy Ice Cream Dessert is tasty and a perfect holiday treat.
---
For Cinnamon Clove Ice Cream:
2 cups

of heavy cream

½ cup

brown sugar

½ teaspoon

cinnamon, ground

¼ teaspoon

cloves, ground
Dash of ground nutmeg
Dash of ground cinnamon
Cinnamon stick (optional)
For Hot Toddy Topping:
2 tablespoons

brandy

½ cup

white sugar

2 tablespoons

honey
Lemon Juice, ½ lemon
Lemon Zest, ½ lemon

1 teaspoon

ginger, grated
---
Instructions
Spiced Ice Cream:
Add all ingredients to glass bowl and stir.
Place in Freezer for one hour.
Take out and stir.
Check again in 45 minutes.
Stir.
Check again in 30 minutes
Stir.
Repeat stirring every 30 minutes until ice cream is done and has an ice cream consistency.
Honey Lemon Brandy Topping
Add all ingredients to sauce pan
Bring to boil while constantly stirring, being careful not to allow to burn.
Once at a boil, let simmer for 15 or so minutes, making sure to tend to the sauce and not burn. The goal is to let it thicken. It will be even thicker when cooled.
---
Keywords: Naughty Hot Toddy