Here we are, exploring macaroni and cheese and thinking outside of the Kraft box. Last week, we made a very traditional macaroni and cheese. This week, we are going to try and expand our horizons with a pear and gouda macaroni and cheese. We are going to be putting our breadcrumb recipe to use that I just posted yesterday in this sweet and savory dish.
The traditional mac and cheese recipe calls for cheddar cheese. The fancy word for what the cheese sauce is a mornay sauce. It really is a variation of mornay, but still falls under that family. Also, it is also a bechamel sauce with cheese added. So, a mornay sauce is a bechamel sauce with cheese added. Today's macaroni and cheese is going to use gouda cheese.
I didn't feel that just a change in cheese was sufficient for this variation post. I had considered bacon, and a gouda bacon mac n cheese would be good, but that felt too easy. Sure, bacon is great… I mean I wrote a book about bacon for pete's sake. Just too easy. I wanted something a little different. One fruit that I love is pears, and the combination of gouda and pears sounded really good. I added a bit of our fresh rosemary for a bit of pop of flavor on top of the already sweet and savory dish.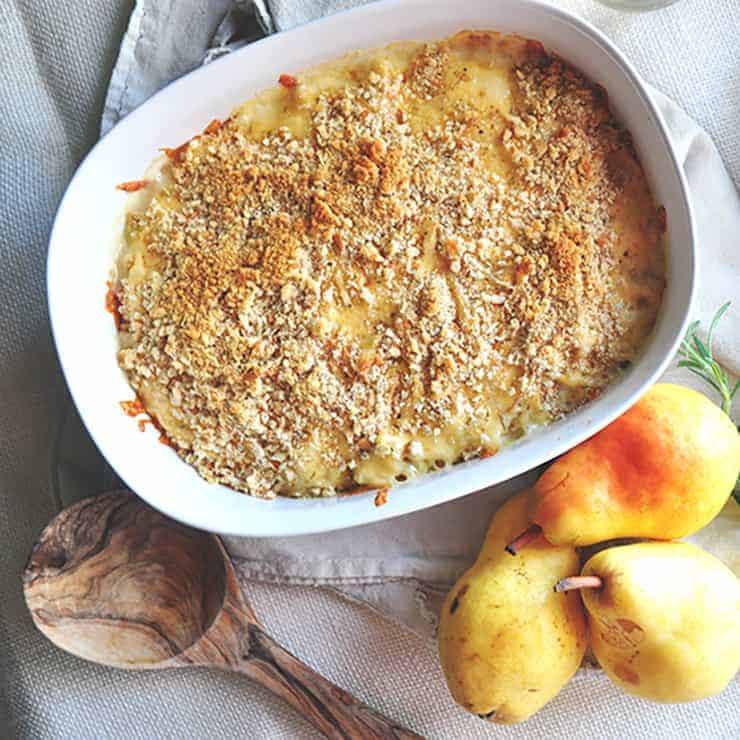 Pear and Gouda Macaroni and Cheese Recipe
Ingredients
2 Pears cored and diced

4 Cups shredded gouda cheese

2 Cups whole milk

2 Cups of macaroni

4 Tbsp butter

¼ Cup flour

3/4 Cup bread crumbs

1 Tablespoon fresh chopped rosemary
Instructions
3
Cook macaroni as directed on package, but only cook for about 80% of the directed time - it will be finished in oven
4
While macaroni is cooking, in large saucepan melt butter on low
5
When butter is fully melted, slowly start sprinkling flour in the pan and continuously mix. The idea is that the mixture of flour and butter will form almost a paste.
6
Pour in just a little of the milk and whisk until smooth. Keep on repeating until all milk is blended in.
7
Turn heat to medium-high and continuously stir. We want to get the sauce just to boiling and thicken, but don't want it to scorch.
8
When the sauce starts to heat up, you will notice it start to thicken. Just continue to stir and once boiling, continue stirring for one minute.
9
Remove from direct heat and slowly add 2 cups of the cheese to the bechamel while stirring.
10
Once this is a smooth sauce, add pears to sauce and mix
11
Add cheese sauce and drained macaroni to a baking dish and mix together.
12
Add remaining 2 cups of cheese to top of macaroni and cheese
14
Put the dish into the oven and bake for 20 minutes or until top layer of cheese is golden brown.